The Visions of Azerbaijan magazine mobile app allows you to travel with us from the alpine to the sub-tropical, from tundra to forest, through the land of fire and ice.
Our new look
digital magazine is packed with articles about the culture, history, and way of life of Azerbaijan, a land at the crossroads of East and West. It's the place to read about saz and jazz, carpets and kilims, poetry and pop, as well as occasional features on business and foreign affairs.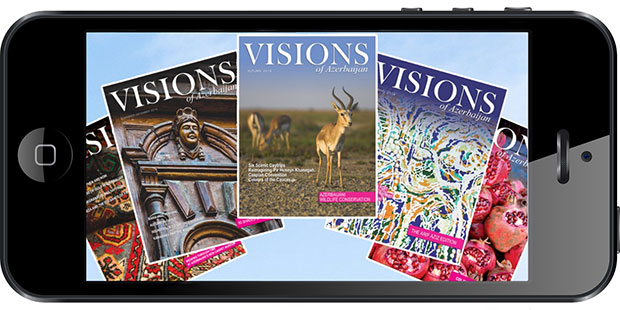 Inside
History:
The key events that shaped modern Azerbaijan.
Culture:
An ethnographic look at Azerbaijani culture from the inside out.
Travel:
From must-see destinations to excursions off the beaten track.
Literature:
Azerbaijan through the eyes of its writers and poets.
Foreign Policy:
Examine the country's activities on the global stage.
The Arts:
How Azerbaijani creatives are expressing their country today.
Cuisine:
The most intriguing Azerbaijani dishes, recipes and restaurants.
Diaspora:
Interviews with Azerbaijanis flying the flag abroad.
Economy:
A look at key trends shaping the local economy.
Ecology:
A glimpse of local efforts to preserve nature and go green.
Subscribe now via our new Android app -
$6.99 per issue for recent issues and $2.99 for older ones, or $20.99 for an annual subscription (4 quarterly issues plus occasional issues on a special theme).
Find it on
Google Play here


Coming soon for iPhone. Stay tuned for updates.