The latest edition of the Qabala International Music Festival was held in Azerbaijan from 29 July to 3 August. Our magazine has faithfully covered this event, which has been held in Qabala for the last nine years. The singer we interviewed this year, on 13 August, has also taken part in this festival a number of times.
Azer Rzazade is a talented young opera singer and the first Azerbaijani to graduate from the famous Italian theatre academy La Scala, where he continues to work and study. Azer was born in 1990 in Baku. He was a soloist of the Azerbaijan State Opera and Ballet Theatre, is a laureate of international competitions, participant of international festivals, and since 2010 has participated in master classes held in various European countries.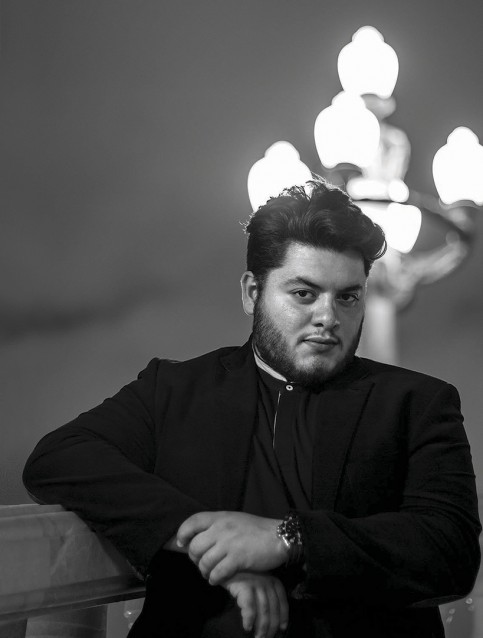 VoA: Azer bey, please tell us about your participation in the Music Festival in Qabala, your impressions?
AR: You know, I'm honoured to participate in the International Music Festival in Qabala, where the best performers and musicians come from around the world. Music lovers from many countries come to Qabala, which has become a centre of classical music, which once again demonstrates the glorious traditions of world music in Azerbaijan, our hospitality, the high level of international events aimed at cultural and spiritual integration between peoples. The festival, which also serves to promote Azerbaijani culture, is also a way of popularising the musical traditions of our country in the world. And I would like to see the tradition of holding this festival continue for many years.


The Qabala International Music Festival is an
 annual summer festival of predominantly classical 
music but with elements of folk and jazz, performed
 by a blend of local and foreign musicians in an open 
setting to the spectacular backdrop of the Caucasus
 Mountains. The event is sponsored by the Heydar Aliyev Foundation in tandem with the Azerbaijani Ministry of Culture and masterminded by artistic directors Farhad Badalbeyli and Dmitriy Yablonsky. This year featured the British-based all-female chamber orchestra FeMusa as well as various Azerbaijani chamber and symphony orchestras filled with young Azerbaijani musical talent. And all this for free...
Which works did you perform at the music festival this year?
My performances at the festival fell on 2 and 3 August. At the chamber concert I performed the work by Asef Zeynalli, Ölkəm (My Country), then the romance by Sergey Rahmaninov Do Not Sing to Me, My Beauty, as well as the work by Ottorino Respighi, Nebbie, and at the closing of the festival, I performed a small aria of Herman from the opera The Queen of Spades with the participation of the Azerbaijan Symphony Orchestra. Then we performed a duet from the opera The Force of Destiny (La forza del destino by Giuseppe Verdi) with baritone Magerram Huseynov, as well as Turiddu's aria from the opera Cavalleria rusticana by Petro Maskani.
You know, being an opera singer is not only about talent and having a strong voice, it's a lot of work, perseverance and patience
Azer bey, please tell us how you started singing, because, as far as I know, you used to work in an absolutely different field.
I was 19 years old when I decided to study music. My teacher was Professor Huseyn Aliyev, to whom I express my great gratitude for his work. He was the one who prepared me for participation in competitions, one of which was the competition named after Bulbul (the famous Azerbaijani opera tenor – Ed.), where I received the title of laureate. Four years after taking part in various master classes, I decided to try my hand at the Academy of La Scala. I sent all the necessary documents and records of my performances. The first victory was that I was invited to the Academy for an audition. It was a huge contest, in which hundreds of young performers from all over the world came to participate. I was the only participant from Azerbaijan. The first round consisted of vocal skills; the second one tested acting qualities. In the third round, I had to sing on the stage at La Scala. It was very nerve wracking. I performed the aria from the opera Rigoletto, and then another aria at the request of members of the jury. About 500 participants attended the contest and only four singers were enrolled in the Academy: two girls from Norway and Japan, a young participant from Italy and myself. At that moment I'd never been happier; I was filled with joy and pride because I'd kept my word to myself.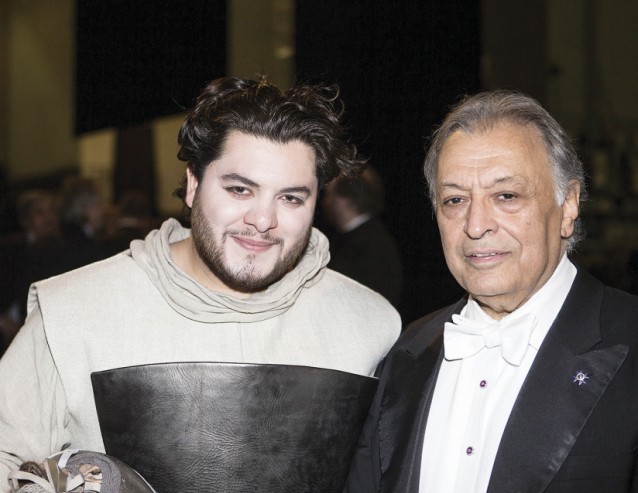 We know that you come from a musical family, your father is a People's Artist of Azerbaijan – Zaur Rzayev, who performs folk songs. How did your parents react to your decision to become a singer?
At first, my father was against it, because he thought that maybe I might not approach this desire seriously, that this is just a temporary hobby, but when he heard the way I sang, and how fixed I was on becoming a singer, he fully supported me. As for my mother, she supported me from the start.
What is it like to be a student at the La Scala Academy?
It's absolutely terrific, since it's a great school for an opera singer. My teacher at the Academy was Renato Bruson – one of the most famous Italian baritones. He played an important role in my formation as a singer. You know, being an opera singer is not only about talent and having a strong voice, it's a lot of work, perseverance and patience.
La Scala (Italian, Teatro alla Scala or La Scala) is a global centre of opera. This theatre has a brilliant history. It was built in 1776-1778 on the site of the church Santa Maria della Scala, from where the theatre got its name of La Scala – the opera house in Milan. The theatre is the cherished goal of musicians from all over the world. Its leading professionals also teach at the Academy, where the main teaching principle is continuous contact with the professional environment, which for the students means gaining experience of live theatre performance on a daily basis.
What features should a person have in order to succeed as an opera singer?
One of the traits necessary to achieve success in any profession is patience. I am by nature quite a patient person. In addition, I believe that in any profession there must be a positive attitude, only then can there be a result, only then can there be a miracle.
Do you have any idols in the opera world?
These are of course Luciano Pavarotti, who doesn't just have a magnificent voice, but also a brilliant nature and knowledge; Placido Domingo, Renato Bruson, Renata Scotto, and at the moment – Anna Netrebko, Yusif Eyvazov, Jonas Kaufman, Elina Garanca, Dmitri Hvorostovsky, Ildar Abdrazakov, who are top-class singers.
Your favourite performances?
There are a lot of them, for example, Tosca (by Giacomo Puccini), La traviata by Giuseppe Verdi, Turandot (by Giacomo Puccini).
Which Azerbaijani works are in your repertoire?
There are a few Azerbaijani works in my repertoire: Sevil by Fikret Amirov, Ölkəm by Asef Zeynalov, Sənə də qalmaz by Tofiq Quliyev, Sevgili canan and Sənsiz by Uzeyir Hajibeyov and some works by Qara Qarayev.
Do you have any roles in your repertoire that do not fit your character?
Yes, of course. It's essential to work on the role, on the look, on the way of walking, you have to get used to the role, because opera requires acting, as well as fitting the opera role, the orchestra and the text one hundred per cent. For example, in October of this year, my debut in the opera Carmen, where I'm playing the role of Don José (the main role), is expected. This character transforms from first act to last; in the first act he's a lyrical hero, in the second – absolutely different, in the third he's a heroic figure, in the fourth... etc.
What kind of music do you like listening to?
Mainly, of course, classical. Since childhood I've listened to Lytviyar Imanov, Muslim Magomayev, Luciano Pavarotti. But in general, I don't care what kind of genre it is, the main thing is that it's performed professionally.
Was it difficult for you to adapt to life in Italy, to the Italian language, to Italian culture?
Adapting to Italy wasn't difficult, as Italy and Azerbaijan are somewhat similar in terms of culture, where traditions are honoured, there are similar family values, temperament etc. I quickly learned the Italian language, made new friends. I have lots of friends and not only in music. The country has become like a second home for me because I have learnt a lot here, and I am still learning...
For me it's not so important to sing on the stages of La Scala, The Metropolitan or even in Covent Garden, for me the most important thing is to be a professional
Are you going to stay in Italy for a long time and continue your career there?
I think so. You know, for the near future I have everything planned. In October of this year, as I've already mentioned, will be my debut in Georges Bizet's opera Carmen, then I will debut in Giacomo Puccini's Tosca, and afterwards will be Giacomo Puccini's opera La Boheme in Venice with the participation of world renowned conductor Myung-Woon Chung, then the opera by Giacomo Puccini Madame Butterfly and Giuseppe Verdi's La Traviata. I have contracts not only at La Scala, but also in other Italian cities, such as Novara, Ravegna, Venice, Bari. At La Scala, I haven't played the main part yet. For me it's not so important to sing on the stages of La Scala, The Metropolitan or even in Covent Garden, for me the most important thing is to be a professional. Being professional doesn't only mean being talented, it also means knowledge, so I want to continue to study further.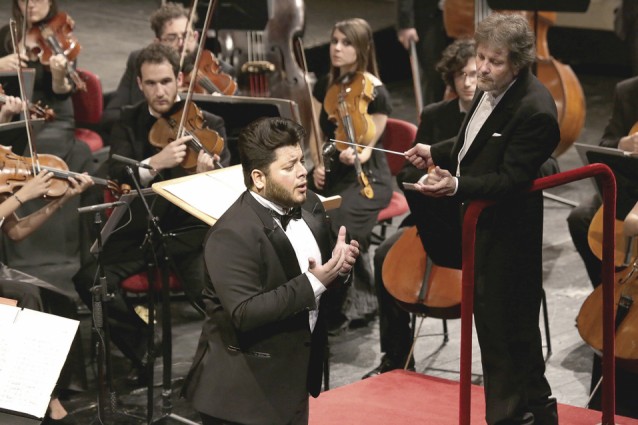 Do you have any friends from Azerbaijan in Italy, how often do you meet and how do you spend your time together?
Yes, of course, I have a few friends in Milan and other Italian cities. We meet when it's possible. For example, my friend and colleague Elchin Huseynov, who lives in Milan, always supports me at my performances, and I support him at his performances as well. Soon, our colleague Yusif Eyvazov is expected to perform in Italy, where we, his compatriots, are going to support him all together. When we manage to get together with friends, we often remember our national cuisine, our native city – Baku.
How often do you manage to come to your homeland?
Unfortunately, not as often as I would like, since my schedule is quite tight. However, soon I'm coming back to Baku, I have concerts here and will stay until 12 September since on 13 September I'm taking part in a concert dedicated to the memory of the famous opera singer Maria Callas.
Azer bey, we wish you great success and are confident that you are representing and will continue to represent Azerbaijan in the future on the world opera stage in a proper and dignified manner!
About the author: Nigar Bunyatzade is an editor at TEAS and a contributor to Visions.