On 21 October of this year the great Azerbaijani poet and freedom fighter Khalil Rza Uluturk would have turned 85.
The name Khalil Rza is familiar to almost every Azerbaijani. Here his name is associated with freedom of speech, independence and patriotism. A few decades ago, however, to the Soviet authorities he was an ardent revolutionary and opponent of communism and its followers. On one hot day in August, I met his wife Firengiz khanim and family friend Zulfugar muellim at their old apartment in Baku. We spent hours at the tea table talking about his life and creativity. Words cannot express how impressed I was by Khalil's wife, a brave 85-year-old woman still carefully preserving her deceased husband's heritage with so much love and trepidation.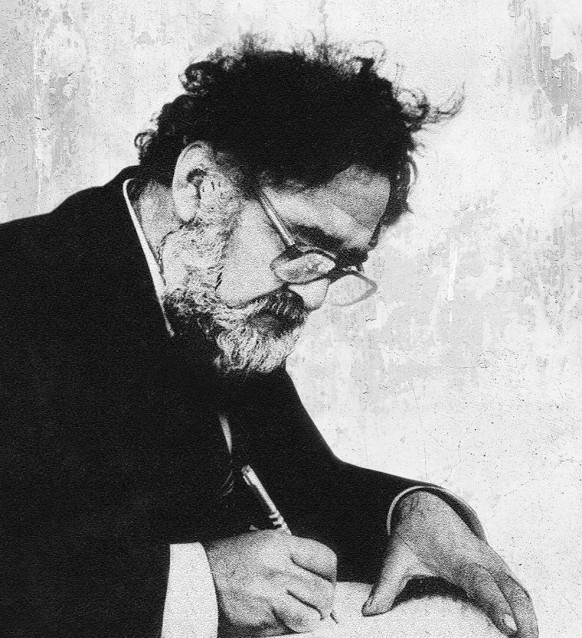 Firengiz khanim began her story with his childhood years. Khalil Rza was born in 1932 in the village of Pirebbe in Salyan. He was the eldest of the family's eight children. As a child he witnessed his wealthy grandfather being jailed and exiled to Siberia. That was probably the moment when the boy's pure soul filled with anger and hatred of communists. Forever.
Gradually, he became obsessed with books and newspapers, so much so that he never let go of any passing newspaper until it was read from the first letter to the last. Later he listened to the radio. As soon as he heard any poem he rapidly wrote it down, but left words missing in some sentences. Looking at those texts later he tried to think of his own words to fill the gaps. This is how the great poet and literary critic grew up.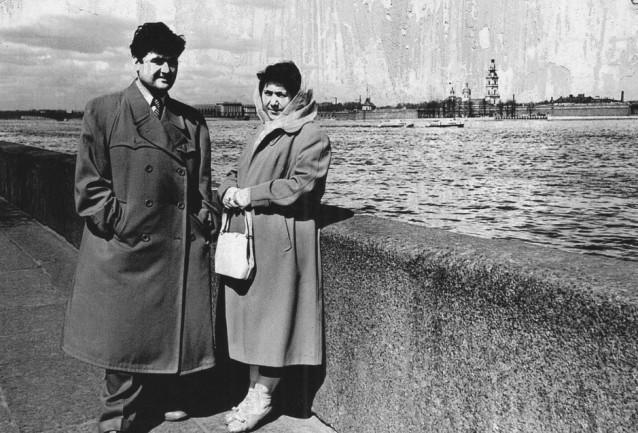 Firengiz & Khalil
I could spend hours listening to stories of how people met and fell in love in the times before cell phones or social networks. This could well be my favourite pastime; most women would probably join me.
The more obstacles they encountered, the greater their love grew
After graduating school with honours, Khalil entered Azerbaijan State University to study journalism. He studied with Firengiz's sister Sima and their faculty was on the second floor. Firengiz khanim cheerfully notes that she was at the same university studying history, but was based on the fourth floor. As the younger daughter, Firengiz would drop in to her sister's class to deliver her mother's snacks:
Sima couldn't go hungry; she worked and studied at the same time... That was where Khalil first saw me.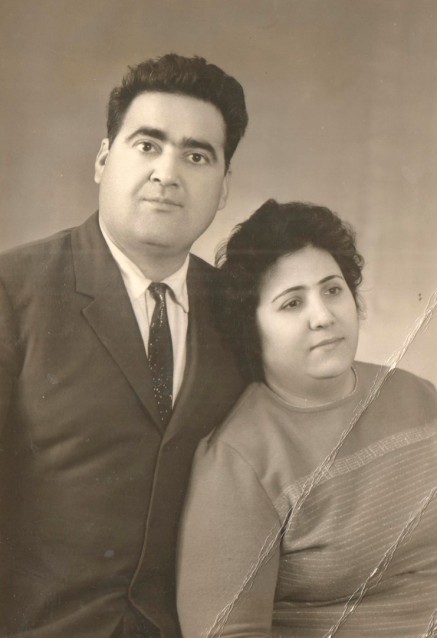 Firengiz khanim's mother came from the well-known Ashurbeyov line and she always wanted to see her youngest daughter marry someone from the same family. Meanwhile Khalil had noticed her and from time to time wrote letters that Firengiz tried to keep away from her mother's eyes.
He used to wait for me under the mulberry tree. As soon as I left the university building he would try to approach me but my brother was always there, 'in time' to take me home.
At home she was afraid of her mother and at university her coursemates objected to Khalil's visits, so Firengiz and Khalil could rarely speak to each other. However, the more obstacles they encountered, the greater their love grew.
Khalil told her not to be a coward and brought books to every meeting; he thought books taught people to fight for their dreams.
But rumours spread everywhere. First Sima's fiancé learned about them, then her coursemates rushed into a fight and the whole thing ended in a conversation with the dean, which is how Khalil's father learned about them.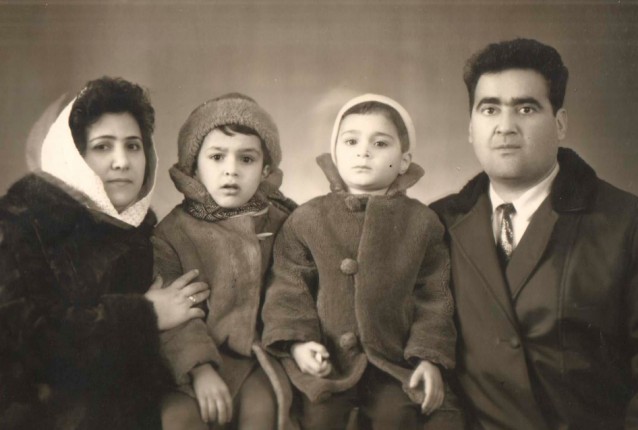 Years passed this way until their fathers finally met in Salyan to talk about their children's future (Firengiz's father was a head physician). Khalil's relatives insisted on meeting and as soon as Firengiz's father gave his approval Khalil's parents visited her family to ask for their daughter's hand. Despite her mother's attempts to separate them, the marriage eventually took place and a new life began.


African Voice
I don't want freedom atom by atom, gram by gram: I'll shatter the chains on my arms!

Smash them!

Smash them!
I don't want freedom like a pill, like medicine;
I want it like the SUN!!!

Like the SKY!!!

Like the UNIVERSE!!!
Away! away, you tyrant! I am the tumultuous voice of the age!
No use to me a dribbling spring! I thirst for oceans!

Baku 1960
Memories of a loyal wife
I was immediately taken to Salyan and my mum was really sad. But Khalil calmed her down. He said he would soon rent an apartment so that we could work here, in Baku. He kept his promise and we started life in a small apartment. Friends often visited us.
They lived a happy life. Firengiz khanim loved reading and 'checking' his poems. Khalil was always asking her to read something and she advised him in return to soften some expressions, words or to change something altogether - to which he would reply:
If I change this I'll be a coward rather than a poet.
In 1957 he was sent to Moscow by the Union of Azerbaijani Writers and attended a two-year course at the Gorky Institute of World Literature. Firengiz khanim couldn't leave him alone and went with him. It was there that the world of literature, including Russian writers and poets, opened up to him.
Khalil had a monthly scholarship and sometimes he was paid for poems published in Azerbaijan.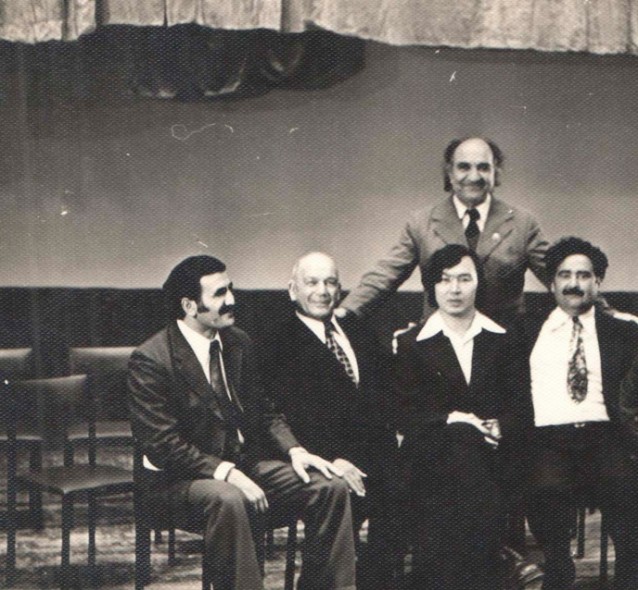 That year his first set of poems (Spring is Coming) came out. The book became a manifesto for freedom. He wrote for the nation, for independence, which contradicted communist ideology. Khalil was becoming popular and was riding the wave of his poetry.
In Baku, he taught literature at the Pedagogical University. He had a good memory and knew many poems by heart. Students loved him and his methods of teaching. He strove for a pure Azerbaijani language. Sometimes he fined students if they used foreign words and rewarded those who didn't.
 His lessons were based on 
a strengthening love for his
homeland; his speech was
derived from revolutionary
 ideas of freedom and was 
the cause of his dismissal.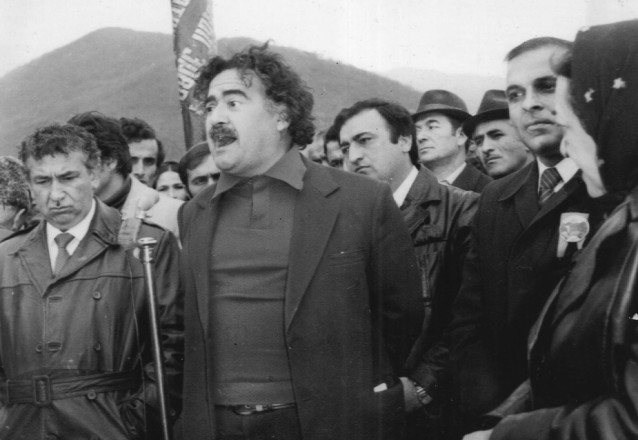 Firengiz khanim remembers that Khalil didn't tell her about that; he remained silent for a long time, not to make us worry about it. Later with help from "Bilik" (Knowledge) Society he was sent to the regions. While he had a number of followers, there were others who didn't understand and were scared of him. Meanwhile, the authorities kept their eyes on him; in his lifetime he was followed and warned a number of times.
He is alive, I thought, his life is here; he lives on in these papers!
And a loyal friend
Zulfugar muellim was Khalil's editor and friend; he protected him and published his books while others were scared of doing so.
Their house was always full of people, he remembers. All the writers, poets visited them; I was always with them. Khalil was quite unique. I have never seen anyone like him; he had such a lifestyle... he wasn't interested in anything but freedom for his motherland. Struggle was the most important thing for him.
Zulfugar stressed the three main directions of this struggle: the Azerbaijani language, the unity of Azerbaijan and independence.
He slept only three hours a day, you wouldn't find him at home for more than half an hour. He never stood still. Azerbaijani history has never seen a writer like him, he wrote every single day.
I didn't fully grasp what this meant until he led me to another room. It was a room full of his works – piles of folders, published books and some not-yet-printed articles, translations, letters – all of them stacked on the shelves one above the other. Most were ordered chronologically – he is alive, I thought, his life is here; he lives on in these papers!
As we stood staring, he went on:
In the whole literary world, there is no other woman like Firengiz. To be so loyal to her husband, so faithful, so true. She is like a glowing candle; with great love in her heart she still takes care of his handwritten works, cleaning and carefully putting them together. She sacrifices her own life for him, she wants all of his books to be printed while she is alive. There is nothing like it.
Since Khalil's death in 1994, Firengiz khanim has managed to print 56 of his books, making a total of 70 books published so far. TEAS Press is now working on a 10-volume diary. Zulfugar muellim stressed:
He wrote systematically every day, he loved it and no one has written like him in the history of world literature!
Happiness in prison [extract]
I pace around our room - our small, narrow room.
In my fist-sized heart are worlds and universes.
Let my enemy crack and explode with rage.

I write my poem in the Istanbul dialect.
This is the language of my heart.
It is flowers, it is buds

The Turkish harmony, the Turkish language

Is sacred; is subtle.

The power of Turkish makes brass knuckles break,

The glow of spring rains down on me from sky and earth.
Lord have mercy - how our enemies fear Turkish!

Is Turkish any different from a blooming bud?
Somewhere a false teacher is slithering.

My line is an arrow finding its target in his heart.

The word "wife" is in my poems, yet I am a wifeless hero;
The word "homeland" is in my poems... the homeland is my mother.


Moscow 1990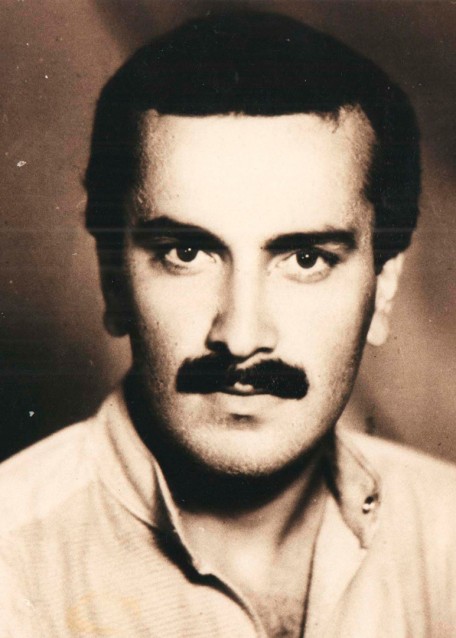 1980s-90s
The political temperature rose in the 1980s when the freedom movement expanded. Khalil stood in the front ranks of this movement exposing Russian chauvinist policy, everywhere, as well as the Armenian Dashnaks who threatened the Nagorno-Karabakh region with fiery speeches. The period when the Soviet empire was trying to prolong its collapsing life didn't pass our motherland by. Thus on 20 January 1990, on the streets of Baku, the USSR's armed forces committed horrible crimes against the Azerbaijani people – resulting in 131 deaths and hundreds of wounded, jailed and missing.
Khalil Rza was one of the greatest dissidents
Those events shocked Khalil, with all his strength for days and nights he called on people to oppose the enemies and in interviews with foreign journalists he tried to inform the world about the situation in Azerbaijan. As a result, on 26 January 1990, he was arrested by Soviet KGB officers and sent to Moscow to Lefortovo Prison. According to Zulfugar muellim he was the only Azerbaijani poet sent to Lefortovo. The result of his eight months and 13 days spent in prison was The Lefortovo Diary, a collection of more than 200 poems, many letters and articles. Zulfugar muellim surmised:
It seems that he was preparing for a trial like this for many years. Imagine, in winter he loved swimming in the sea, he charged his body in the cold water and even took the children with him.
When I asked them how he managed to survive throughout this time I didn't have to wait long for the answer: Because Heydar Aliyev protected him...he was the only poet named by him as a true dissident. Because Khalil's struggle against the authorities was an open one.
Heydar Aliyev looked after Khalil until the last days of his life. Firengiz khanim opened and read a letter from the late president:
The great Azerbaijani poet Khalil Rza gave great service in the development of our nation's culture. What distinguished him was the national content, the power of a national spirit in his great works. That's why some people called him a nationalist. I think he was not a nationalist but a poet who always loved his nation and fought for the nation's freedom. Khalil Rza was one of the greatest dissidents. His works were truthful. But their truth contradicted the era's communist ideology. That's why he was a dissident. But we protected Khalil Rza.
On 18 October the poet was brought back to Baku. After weeks of being tried in court he was finally released. Despite his efforts to persuade Firengiz that he wasn't treated badly in prison, those months in Lefortovo had affected his health. He underwent treatment at home and abroad throughout the last years of his life and began signing himself as Khalil Rza Uluturk.
Life then prepared a further trial for the couple – one of their sons, Tabriz, was killed by Armenian bullets during the Karabakh war in 1992. That's how the poem Tebrizim (My Tabriz) came to be written. Tabriz was later declared a National Hero of Azerbaijan.
Khalil's condition improved somewhat following treatment in Turkey and Germany. He continued to work hard and continued to be surrounded by literary friends. A final trip to France was planned. It was a presidential trip and Khalil's name was on the list. Firengiz khanim, very concerned about his health, decided to accompany him, as she had at every stage of his life. It was a successful visit, a number of contracts were signed and at a dinner one evening the late president praised Khalil Rza and his contribution to literature. Once back from France Khalil would go to the front line of the Karabakh conflict to inspire the army.
But his health deteriorated and on 22 June 1994 he passed away, leaving his beloved wife a huge heritage of unpublished works. Khalil Rza had said: My second life will begin with my death.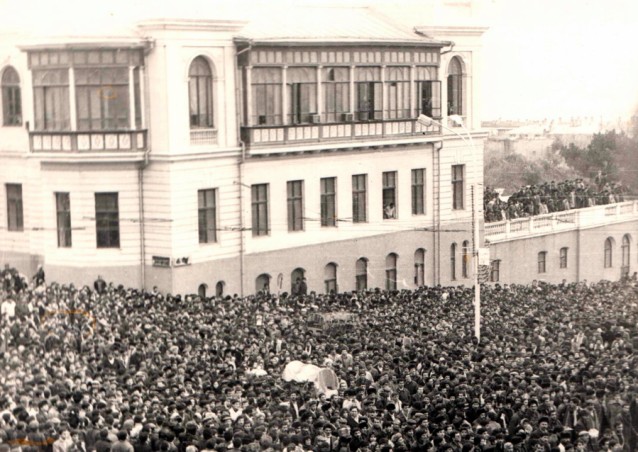 As we talked, Firengiz khanim was going about the room from time to time looking for other papers. She read many of his poems to me and one was very special, it was dedicated to her (My Firengiz). Despite it being 20 years since her husband passed away she is still loyal to him. She has saved all his writings, she works on them, taking care of every single page and she lives in the hope that one day all this will not just be lying on the shelves of his room, but will be available to all those readers who want to know and understand the life of a legendary warrior - Khalil Rza Uluturk.
About the author: Narmin Mahmudova is a young writer with an interest in women's issues. Find more of her work at www.visions.az.