In line with government policy, the Azerbaijani economy is gradually advancing the non-oil sector, which is responsible for most of the gross domestic product. Agriculture has been designated a priority in this drive for economic diversity. Of course agriculture takes many forms and without results and progress in all areas it cannot contribute effectively to the development necessary. The question is: what needs to be done?
In fact reforms to the agrarian sector in Azerbaijan began in the 1990s and they continue still. However, they have not yet produced the desired results; development remains uneven. Indeed, in certain traditional areas of agriculture it has ground to a halt. We are thinking here of the cultivation of tobacco, silkworms and nuts, even though Azerbaijanis have been working these fields for centuries. The fertile soils, climate and geography (allowing easy access to foreign markets) have always been favourable for these sectors.
the president remarked that cotton growing had been destroyed, interest in tobacco farming had been lost and silkworm breeding had receded into history
But this has not been the case in the recent period. Following the collapse of the Soviet Union, the cultivation of crops in the country's agrarian sector stalled. Although greater progress has been made in many other areas of agriculture since renewed independence, no attention was given to non-food crops. All investment and, primarily, infrastructure were focused on ensuring food security; there was no interest in the cultivation of other plants.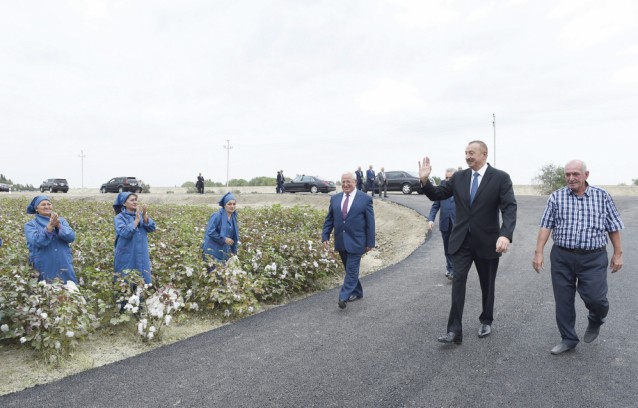 Cotton
However, once head of state Ilham Aliyev drew attention to the cultivation of cotton, the development of all these crops returned to the agenda. In a speech calling for the restoration of cotton-growing traditions, the president remarked that cotton growing had been destroyed, interest in tobacco farming had been lost and silkworm breeding had receded into history, thus impeding agricultural development.
Incidentally, 800,000-900,000 tonnes of cotton were produced here in the 1970s and early 1980s. But by 2015 the returns barely reached 35,000 tonnes, because sowing areas had shrunk and villagers had been distracted from cotton growing.
While cotton accounted for 16 per cent in 1970 and 22 per cent in 1982 of the areas under agricultural cultivation, these figures had declined to 1.2 per cent by 2015, thus the harvest of only 35,000 tonnes that year.
However, two years after the president's rallying call for cotton, a breakthrough was achieved. Production increased. Last year, 2016, all forces were mobilized: equipment was purchased, state support given and land reclamation implemented. As a result, cotton was planted on 51,000 hectares and up to 90,000 tonnes of cotton were harvested. A threefold increase on 2015.
What does all this mean? When you set yourself a goal, you can achieve everything. Let's take a look at the figures: while in 2015 only 18,700 hectares of land were cultivated, last year cotton was sown on 52,000 hectares and this year the figure was 138,000. While in 2016, the harvest – 90,000 tonnes – was three times greater than the previous year's, 2017 is set to harvest 270,000 tonnes from about 140,000 hectares.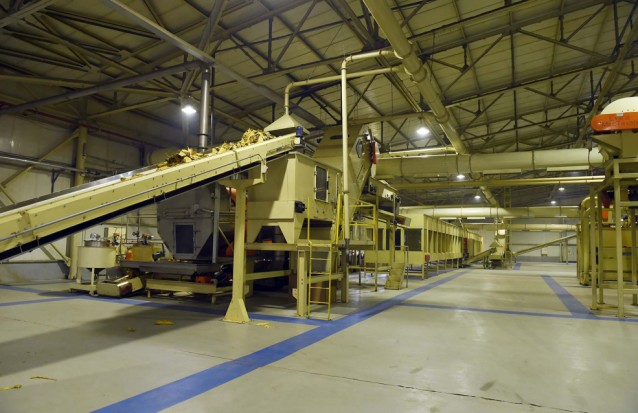 Tobacco
Tobacco growing peaked in 1978. In 1970 tobacco was cultivated on 14,000 hectares, but National Leader Heydar Aliyev drove this figure up to 18,000 hectares. However, by 1990 this figure had fallen back to 14,000. By 2014, tobacco was being cultivated across a mere 1,000 hectares.
by 2015, tobacco growing had almost disappeared into the past
As for production, while 1970 saw a harvest of 24,000 tonnes of tobacco, 1980 more than doubled the figure to 57,000 tonnes. But by 2015, tobacco growing had almost disappeared into the past.
Now the aim is to restore previous levels of production. The government has adopted a state programme on the development of the tobacco industry. Sowing areas are planned to double by 2021, that is to say from the current 3,200 hectares to about 6,000 hectares... Given average productivity of two tonnes, the country will produce 12,000 tonnes of dry tobacco each year.
This is a new export opportunity.
President Aliyev discussed the industry in meetings with leaders of tobacco-importing countries and they reached agreement on the purchase of Azerbaijani tobacco, which is of high quality. In addition, there are countries whose climate is not suitable for tobacco production, but which have several cigarette factories. They need cheap raw tobacco. But as the president also pointed out,
They buy raw tobacco from us, produce cigarettes and then sell them to us [...] Thus, I think we should also establish cigarette factories equipped with the latest technologies.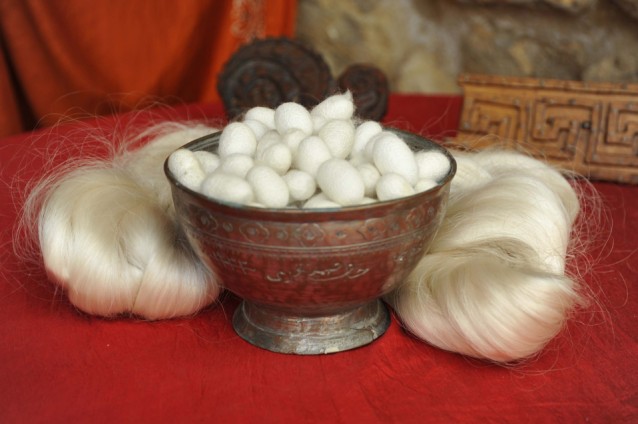 Silk
As far as silkworm breeding is concerned, in 1970 Azerbaijan was producing 3,700 tonnes of the creatures. By 1980 this figure had grown to 5,000 tonnes. However, the industry declined sharply after 1991 and by 2015, only just over 200 kilograms of silkworms were producing the luxury fibre.
This figure has since climbed to 244 tonnes and next year it is planned to see 500 tonnes. 2019 should be producing double that amount... And if all goes to plan, 2025 will produce 6,000 tonnes of silkworms, much greater than in the Soviet era.
Thus, silkworm breeding will become mass scale in Azerbaijan; the need is there and Azerbaijani silk is very well known. The Sheki Silk Factory is currently operational and there are plans to increase its capacity, as well as opening a further factory. Both foreign and local investors interested in the business will receive state support. Investors may be sure that there will be no obstacles to development.
Silk production has a long history in Azerbaijan. Keleghayi production is an Azerbaijani national craft and therefore, as is the case with cotton growing, an appropriate state programme will be adopted to support its speedy development.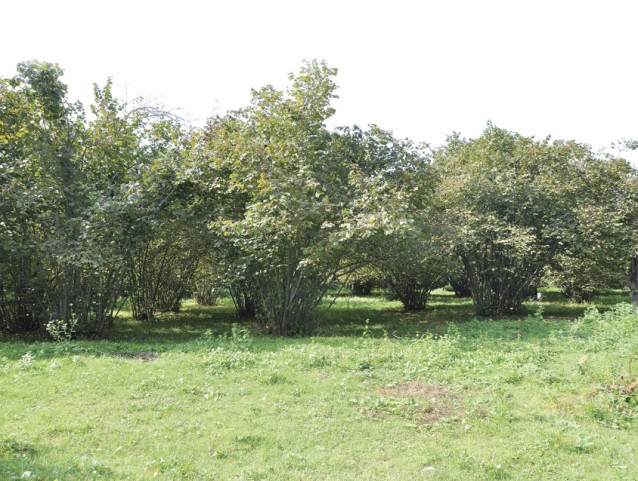 Nuts
Last year nuts were the leading export product from Azerbaijan's non-oil sector. They brought in $105 million. Nuts worth $32.3 million were exported in the first six months of this year and so plans are afoot to create 40,000 hectares of nut orchards across 13 districts. From 2016-2017, 16,300 hectares of such orchards were laid out and a further 10,000 hectares are planned for 2017- 2018. Currently, 9,000 people are employed in nut production, but 20,000 will be needed once the new plantations are complete.
Last year nuts were the leading export product from Azerbaijan's non-oil sector
Unlike silkworm breeding and tobacco growing, nut production has not 
declined in recent years. There were 18,000 hectares of orchards in 2000, in 2013 the figure was 30,000 and by 2015 it had risen to 32,700 hectares.
The government has undertaken to develop this sphere further. All the necessary technical measures have been implemented at government expense and seedlings have been imported. So far, Azerbaijan has exported 14,800 tonnes of nuts. The main buyers are: Italy – spending $40 million, Russia – $30 million and Germany – $24 million. In all, Azerbaijani nuts are sent to 25 countries. Thus the aim is to expand the nut growing orchards to 80,000 hectares.
Incidentally, Azerbaijan's nut production currently ranks fourth by volume in the world. If the planned measures are implemented in full, it may rise to third.
In conclusion, it is clear that the Azerbaijani state is steering copious funding support towards the development of agriculture as well as to investment. There are ample opportunities for the sale of the agricultural products mentioned here: there is no need to go ''from door to door'' looking for markets, all are export-oriented products. The state has provided maximum support and a great upsurge is eagerly anticipated in the country's agrarian sector.
About the author:
Parviz Heydarov is an independent journalist specializing in economic analysis.