Jazz with friends – These four September days brought a new positive energy to a Baku public long raised on jazz, modern trends, well-meaning relationships and most importantly, on warm and friendly interaction and collaboration. The city of Baku has long been a bridge for creating and nurturing collaboration across culture and the arts.
The Barrel Playground entertainment centre, located on the luxurious new Baku Boulevard near Flag Square, is popular not only for its beautiful night views of the city and sea and not only for the life-loving nature of the Baku youth who gather there, but for its very status as an alternative stage for interesting projects and musical events. The public loves the Barrel area. Its setting lends very well to pleasant or spellbinding musical evenings, concerts and meetings, like the aura of the capital and its legendary Green Theatre. The small and cosy tables on the terrace arranged close to the stage and the indoor café in front create a feeling of comfort, whereby people can freely socialise, sit outside by the sea, drink and discuss, all of which added to the festival's unique friendly atmosphere.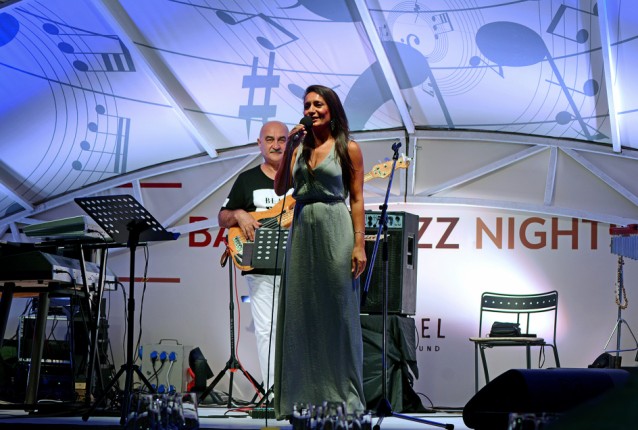 When Caucasians Play Jazz...
... Then there must be a strong energetic drive, strong improvisation and beautiful melodies that unite the musical styles of the various peoples of the Caucasus. The very first day of Barrel Jazz Nights was dedicated to the long-standing artistic friendship between Georgian and Azerbaijani jazzmen, which was represented well by jazzmen from neighbouring sunny Tbilisi, Zaza Tsertsvadze (drums), Levan Deisadze (bass guitar), and Paata Andriadze (piano), all well known to their Baku counterparts. The arrival of young saxophone sensation Khondzi G Junk added a new element; his participation was subsequently one of the most memorable of the festival's evening jam sessions. Junk's playing clearly reveals a stylistic training; he is a student of Rezo Kiknadze, protégé of Kakha Bakuradze's Movement Theatre, one of the foremost jazz centres of the Georgian capital. That evening the musicians presented a variegated programme of jazz standards and original compositions. This is how Khondzi described his first visit to Baku:
This is my first visit to the beautiful city of Baku and my first time participating in such a remarkable jazz festival, for which I'm very grateful to the organisers, especially the Yarat artistic centre and director of the Baku Jazz Club Rufat Aleskerov, for this wonderful opportunity to socialise and play with my Baku colleagues.
Yakov Okun's quartet needs no introduction: this Moscow group, well known to all Baku's leading jazzmen, is a coveted guest of Baku jazz festivals and participant in jam sessions at the Baku Jazz Centre and always attracts special attention. The interestingly conceived and named compositions performed by this quartet are always highly professional and energetic. Their music breathes the freshness and optimism of the bebop or cool jazz styles. Mainstream, adapted and interpreted in the best traditions of bebop and cool jazz, never leaves the audience disappointed, because it possesses a broad palate geared towards touching the listener through humour, contemplation, emotions, experiences and memories.
This was the sort of multifaceted musical programme that we listened to with pleasure on the second night of the festival. Having begun the evening with Sergey Golovnya's Don't Forget About Swing, as well as their own compositions and transcriptions Spillikins (Yakov Okun's blues) and Pent Up Chaos (by Sonny Rollins & Yakov Okun), they transitioned to standards and global classics such as Plain Jane (by Sonny Rollins), Midnight Sun (by Lionel Hampton), an adaptation of Tchaikovsky's romance It Was in Early Spring, the Casta Diva aria from Norma (by Vincenzo Bellini) and Gaetano Donizetti's Me voglio fa'na casa which were given a masterfully interpreted jazz flavour. The joking nod made to the public with an adaptation of Antonio Spadavecchia's song Stand Up, Children; Stand in a Circle (Kind Beetle) from Zolushka (Cinderella), the well-known Soviet children's cartoon, didn't fail to impress the public, adding some colourful jazz humour to the evening.
Okun also tipped his hat to the South Caucasus with a composition on the melody of an Abkhazian folk song called Song About a Cliff, specially adaptedfor Hibla Gerzmava (soprano), a star of the world opera scene. With giant chords that were like huge djigit steps and a harmonic style very similar to Footprints by Wayne Shorter, the piece was initially arranged to reflect the strength and grandeur of the mountains. Besides the abovementioned pianist, the quartet also included Sergey Golovnya (saxophone), Vitaliy Solomonov (double bass), and David Tkebuchava (drums).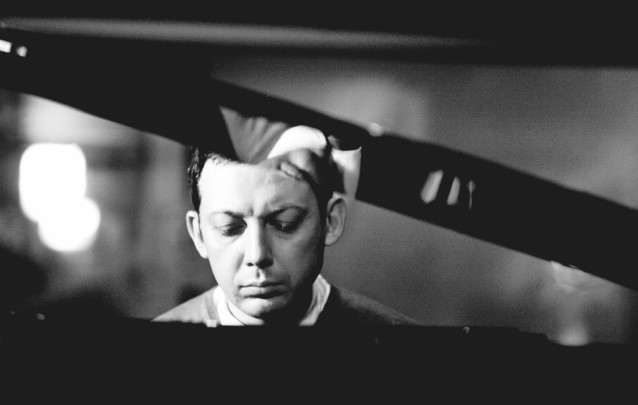 During the evening I was able to chat candidly with Okun and recall the following of his memories in particular:
My first visit to Baku was over 20 years ago as part of the group of the legendary, marvellous German Lukyanov, one of the most revered Soviet musicians, and I immediately fell in love with the city and its tender, open and hospitable people. Naturally, we met Baku's musicians. I remember the Jazz Centre well, along with its remarkable pioneer and founder Nuri Akhmedov, who passionately supported the development of jazz and worked hard to see it prosper. As visiting jazz musicians, we're very grateful to him for that. That was the best place in the city! The Jazz Centre introduced me to many young colleagues like Shahin Novrasli, Isfar Sarabski and Elchin Shirinov... Among my oldest friends I can name Salman Gambarov, whose playing I really love. There were also Vagif Aliyev, Tofiq Jabbarov, Emil Hasanov... and also an amazing musician, my late colleague Emil Ibrahim, art director of the jazz festivals from 2007-2010. As I have observed, you still have many new and young names in music today who love jazz and support mugham. They just gave us a remarkable jam session at Barrel Jazz Nights. Thank you to all the organisers, especially Rufat Aleskerov, for such wonderful collaboration!
I have been to around 97 cities but Baku is perhaps the most special among those
Balkan Blues & Bakoustic Jazz
Just like old times! Musicians socialise, joke, compete with each other in the language of music and jazz; concerts smoothly transition into jam sessions, in which the younger generation set the tone. On the third day of the festival that same stormy spirit of youth prevailed during the performance of the remarkable jazzman, pianist and composer, originally from Baku but now living in New York, Ruslan Agababayev, and his friends. Agababayev was accompanied by the wonderful saxophonist Godwin Louis, percussionist Andrew Atkinson and bassist Edward Perez. This is how Godwin remembered Baku:
I will long remember my first visit to Baku - very clean, beautiful... I have been to around 97 cities but Baku is perhaps the most special among those, and the festival is very well organised. I fell in love with Azerbaijani songs, and all the melodies that Ruslan Agababayev suggested to me. He's a brilliant performer and he opened my eyes to many facets of Azerbaijani music.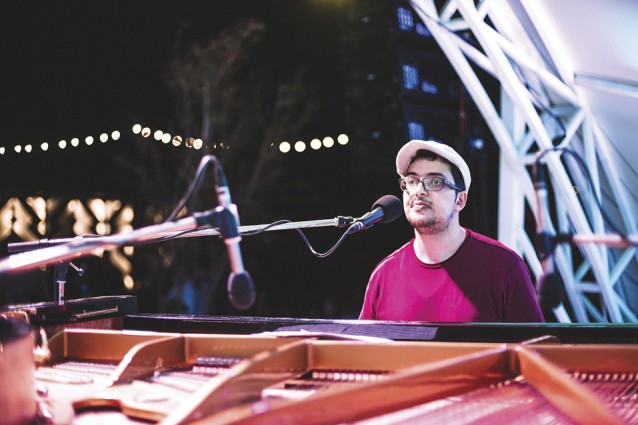 This completely unique and dynamic quartet performed before the Baku public with a clear gravitation toward beautiful ethno music and ethno jazz, at the climax of which came Ruslan's much-loved composition Balkan Blues. They improvised on the song Zibeida by Tofiq Quliyev in a lively, dance-like manner with Latin American colouring, Ruslan occasionally singing along to add eastern sounds. Standards by Vagif Mustafazade, folk songs and dense ethnic jazz arrangements alternated with original compositions by members of the group. Godwin dedicated his composition to the city of Baku and the image of the seaside boulevard.
The final evening of the festival, as is customary for a festive finale, was divided into three parts. The first part was opened by pianist and composer Salman Gambarov's group Bakoustic Jazz together with Emil Gasanov (bass guitar), Tofiq Jabbarov (percussion), and Vagif Aliyev (drums). The evening began with a composition called Windows by Chick Corea, attuning the audience to proper, traditional, fundamental jazz, presented in the traditions of mainstream and with an emphasis on hard and new bop. The composition Little Waltz by Ron Carter and another jazz standard by Charles Mingus were played in a thick post-bop, with an unhurried weighty drive, and the poetic, warm and sincerely delivered Yesterday by the Beatles lent a nostalgic atmosphere to the evening. Having invited highly professional vocalist Sabina Hajiyeva to the stage, Bakoustic Jazz then transitioned to soft ballads and Sabina's selection fell to the lyrical jazz melodies Too Young to Go Steady by Jimmy McHugh and Con Alma by Dizzy Gillespie. Turning to the quiet, ballad-like elements of the cool jazz style, the Bakoustic quartet finished by consolidating the atmosphere of traditional mainstream jazz.
The evening ended with a hint of incompletion, as if to say: "to be continued. See you soon!"
The centrepiece of the evening was a performance by Jamil Amirov's group Savab, formed of Mirjavad Jafarov (oud), Emil Hasanov (bass guitar), Tofiq Jabbarov (percussion), and Vagif Aliyev (drums), who switched listeners to the realm of colourful, epic Azerbaijani ethno-jazz, in which folk themes and Amirov's original compositions – Talisman, Nostalgie, Jirtdan, Lullaby and others – carried a fresh, reverent and inspired sound.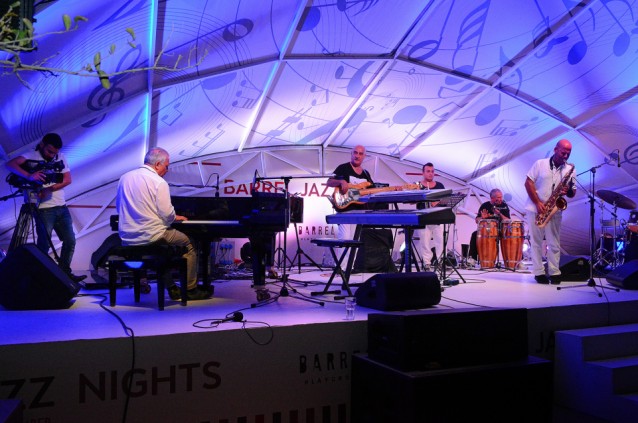 The long-awaited artistic finale of the festival was a jam session, the likes of which have become a rarity of late. Pianists Salman Gambarov, Ruslan Agababayev, Elbey Mamedzade, saxophonist Zaur Mirzoev, trumpet player Firudin Hamidov and other musicians from all generations enthusiastically joined in and made dynamic contributions, so that the evening ended with a hint of incompletion, as if to say: To be continued. See you soon!
It goes without saying that the great role of coordinating the most complicated parts of the festival falls to the organisers, so it would only be fitting to hear their impressions of the event. Director of the Baku Jazz Club and musical manager of the festival Rufat Aleskerov told us:
The idea to hold a four-day jazz festival belongs to the Yarat group, and I'm grateful that they invited me to be the manager of this project. We didn't have much time to organise the festival, but my experience as director of Baku Jazz Centre and also of Baku Jazz Club allowed me to gather friends – jazzmen from Russia, Georgia and the USA – in a short time. I thank all the guests and the musicians who gave us four remarkable days of jazz. I would especially like to express my gratitude to the Yarat centre and its founder, Ms Aida Mahmudova, for their extensive support of the organisation of the festival. Her support made the coordination of this jazz festival much easier and more efficient. We are all hoping that jazz will be reinvigorated in our country and that Baku will blossom with jazz once again!
About the author:
Turan Mammadaliyeva is a researcher of jazz-related issues and a frequent contributor to Visions.