Baku never fails to amuse me. This week I watched a group of young locals making a disturbance by singing in a coffee shop. But the real surprise was when I started to learn more about who they are.
The other night I joined a small group of young professionals who gathered at Coffie Moffie (an artsy coffee bar in Baku) to read Azerbaijani literature out loud together. They had chosen a humorous operetta by Uzeyir Hajibeyov, Arshin Mal Alan (The Cloth Peddler). This group, which has been meeting for about a year, refers to itself as the Strange Writers' Gathering.
Strange? – I asked.
We're each strange in our own way, said a guy with curly hair pulled back in a headband. He was the founder, Gani Nasirov, currently working as a guide for the Free City Walking Tour in Baku. He got the idea to organize this type of gathering when he was working on a master's degree in EU and Russian Studies in Estonia. He liked how students there would gather on Friday nights to read literature aloud in English. The main goal was for people who were tired of parties to have a place to go, hang out and eat snacks. It was nice.
Now he has formed a similar group in Baku that meets periodically, each time selecting a work of literature that can be read within about 2 hours. They tend toward humorous and light themes because they aren't here for philosophical discussions so much as for the sheer joy of reading together. You can't just go home after work. Then you'll be even more tired the next day, said an English teacher named Lamiya, explaining how this gathering helps meet her emotional and social needs.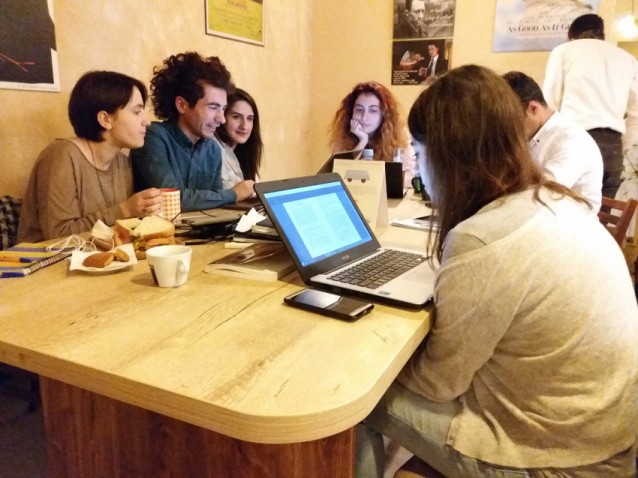 Rock music was pumping in Coffie Moffie as we got started. People trickled in with sandwiches and lattes: first friends of Gani, then others who had heard about the event on Facebook. There was an architect, a paralegal and a university registrar. One had studied in China and one in Turkey.
Everyone opened up the script on computers and tablets. Gani passed out little slips of paper with the character names to assign roles. We started out with just a handful of readers and had to double up on roles, but that was awkward when someone had to read a dialogue with himself. More people showed up as the evening went on.
One newcomer started off reading tentatively but warmed to her role as she saw others' enthusiasm for the story. The goal of the gathering was just to enjoy reading through a classic together in the original language, but it was hard not to get into the acting. Readers looked at each other over their computer screens and gestured into the air. They gave each other stage directions according to the script.
Cry, Gani commanded one girl. She obliged with a theatrical whimper and everyone giggled.

I should have been reminded by the word "operetta" that The Cloth Peddler is a musical, but it took me by surprise when we reached the first song in the script and people started belting out the tunes. One girl who came in late froze up at her first musical line, saying I'm not going to sing this, but other people protested - but you have a nice voice! We've heard it! She finally took a deep breath and started to sing with professional-sounding vibrato. When she came to the end of her part, silence fell, and I realized that the coffee shop had turned off its background music.
At one point as we were all warbling in chorus, another café patron wandered over asking if we were rehearsing for something. (He looked concerned, and rightly so. With no sheet music in the text and only one or two people who confidently carried the tune, it would not have made a stellar performance.) Someone in the group responded that they were just doing this for fun, and then everyone turned back to their scripts and carried on before the disturbed patron had shrugged and returned to his table.
I recently read an article online claiming that Azerbaijan is suffering from brain drain; it made an unfounded accusation that an increasing number of young people are studying or traveling abroad and failing to return to their heartland. But I disagree; I have seen more evidence of a countermovement. In the past year I've discovered more and more young people who have returned from abroad and are pouring their hearts into this country. I asked one girl in the group if she wants to leave Azerbaijan.
Definitely not, she replied. I don't have any plans to move. Three years abroad was enough.
At the end of the reading, there was a quick discussion about other events coming up. I had formed an impression of this group as sort of nerdy young professionals, so I wasn't surprised to hear about their chess tournaments and piano & wine evenings. (The misperception isn't entirely my fault – after all, they did say they are the type of people who avoid parties.) But the next announcement was about running, and I was shocked to learn that this same group of people is the core of the Baku Runners' Club. They meet three times a week to sprint up the steps beside the Funicular or run along the Boulevard. They're undoubtedly strange, but surprisingly well-rounded.