Something unusual happened on my morning commute today.
I always take the shuttle train from Khatai to Jafar Jabbarli and then transfer to the main 28 May station, which involves several blocks of walking through underground hallways. I've learned to redeem the time by reading books on my phone as I walk, using my peripheral vision to shuffle along behind the crowd of other commuters.
But this morning as I read my way through the switch, bleary-eyed, I found myself gradually becoming aware of a shift in the atmosphere. It was like waking up to one of those zen alarm clocks that starts to ding so softly you don't realize you've slipped back into consciousness. I looked up from my book. There was music playing in the hallway!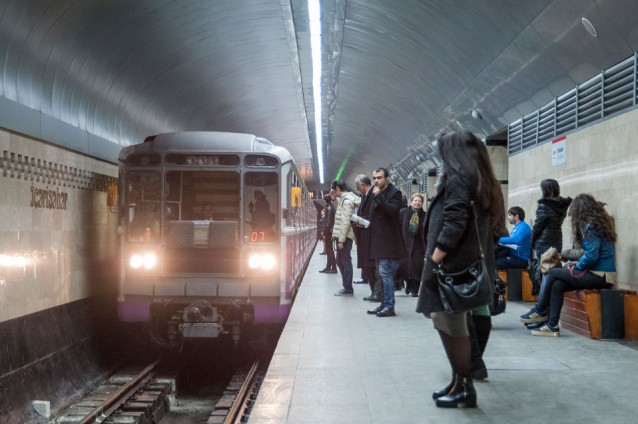 At first I thought I was the only person hearing it, which would have been concerning to me from a mental health perspective, but then I realized other people were also looking around and reacting. As I walked closer to a speaker, I could tell the chorus of the song was about the metro. What a delightful morning surprise to find myself walking through a pop soundtrack about my commute!
I realized this song must be part of the grand celebration for the Baku Metropolitan's 50th Anniversary this fall, which is hard to miss because of the ubiquitous neon-coloured billboards featuring the newly-designed Baku Metro logo.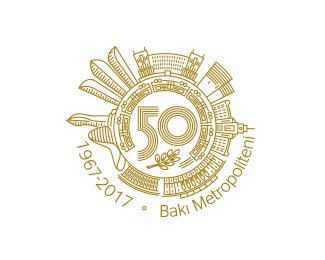 When I got to work, the metro song still stuck in my head, I did some googling to look up the lyrics. I learned that it was released on 6 November, when the radio station 106.3 FM (Free Azerbaijan Radio) broadcast their morning show live from the Icheri Sheher metro station to celebrate the anniversary. As part of the broadcast, they presented this new song penned for the occasion by the band Sheron. (You heard it here first. Watch Billboard!)
These are the lyrics:
Hər dəqiqə, hər saat,
Bizimlədir hər fəsil.
Bizlərə xidmət edir,
Nə az, nə çox- 50 il.
Milli sərvətimizdir,
Şan-şöhrətimizdir,
Dəyərimiz, illətimizdir.
Metro- yer altında böyük şəhər!
Metro- sev onu sən özün qədər!
Metro- işıqlıdır axşam səhər.
Metro- tariximin yaddaşıdır!
Metro- insanların yoldaşıdır!
Metro, Bakı metrosu!
And my literal version in English:
Every minute, every hour
It's with us every season.
It has been serving us
For exactly 50 years.
It's our national treasure,
Our glory,
Our value, our dream.
Metro: a big city under the ground!
Metro: love it as you love yourself!
Metro: illuminated evening and morning.
Metro: a memory of my history!
Metro: the companion of the people!
Metro, Baku Metro!
The quote about the metro as a national treasure is from a historic speech by Heydar Aliyev (which you can watch here) where he says, The Baku Metro is a national treasure of the Azerbaijani people. And I can even say it is one of our most valuable treasures. As a daily commuter who would rather bury my nose in a book than navigate the traffic on the roads above, I would agree.
Congratulations to the Baku Metropolitan on their 50th anniversary. Here's to another 50 years!
Read a Visions article by Camilla Rzayeva on the Baku Metro and the music that normally plays at each station
here
.