The tension didn't break until after 1:30am on Wednesday. Not until a referee's whistle blew in Madrid and Azerbaijani football fans could leap from their sofas and celebrate another giant leap for Qarabag kind. Their team in Europe had taken another point from the mighty Atletico and encouraged them to dream on.
In the euphoria of Qarabag's qualification for the group stage of the European Champions League (the first Azerbaijani team to even come close to that) those dreams tended to race ahead of reality. Drawn against Atletico, Chelsea and Roma, the Horsemen were in a group that the English press deemed tough even for their own champions. And a 0-6 defeat in the first game in London was a harsh reminder of the nature of Qarabag's task.
However, in our interview with first team coach Ruben Selles following that defeat – see http://www.visions.az/en/news/951/943dd6be/ - there was no hint of depression:
It's not about just going to the Champions League, it's about developing the players…. It's like you are new, you just need to test yourself at this kind of level – the first time it's difficult, the second you feel better, you feel good and I think we will be more confident.
Was he right?
Next up was a home game against Roma. The team that's topping the group as we write this scored twice in the first 15 minutes and those of us of little faith feared another thrashing. But Qarabag somehow pulled themselves together and scored before the half hour. The second half was a real scrap in pouring rain, evenly fought, and Roma were relieved to hear the final whistle, holding out for a narrow 2-1 win. A definite improvement by the Horsemen and their first Champions League goal.
Could they maintain progress, with another home game coming up – against Atletico Madrid?
Yes they could, roared on by a crowd now believing in miracles to come, there were no early slip ups. A disciplined display from kick-off to final whistle saw them emerge from a tensely entertaining game on equal terms, 0-0, with a team who were Champions League finalists in 2014 and 2016. Qarabag had their first point, even after playing the last 20 minutes with ten men; striker Dino being controversially accused of diving and sent off.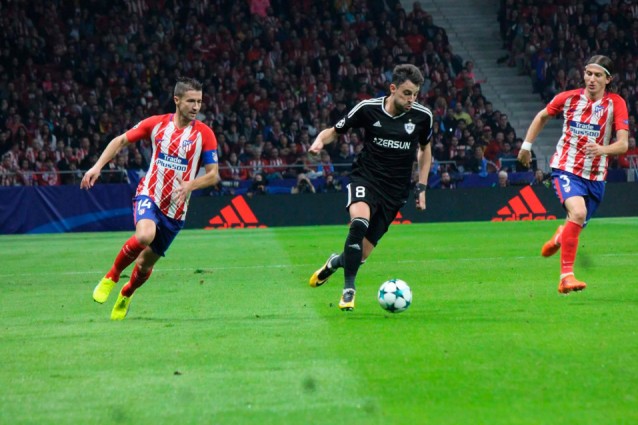 So we settled in front of our TVs just before midnight on Hallowe'en, wondering if the guys could possibly do it again in Atletico's Madrid. Could they! The home team charged forward at kick-off, desperate to get an early advantage, but lessons learned ensured that Qarabag held out until the first wind blew over and began to make their presence felt in the other half of the field. Then from a corner just before half-time, midfielder Michel twists clear of the home defence, gets his head to the ball and sends it unstoppably into the net.
First away goal…
First lead in a Champions League game!
Atletico fire back, scoring a very good goal themselves. Qarabag find themselves down to 10 men again as Henrique is red-carded for a high foot and play 30 minutes of resolute defence to see out a 1-1 draw.
Phew!
Qarabag's head coach Qurban Qurbanov somehow presents himself as calm as ever to restore post-match purpose and perspective:
We're enjoying the UCL [UEFA Champions League – Ed] so much. We're learning a lot…. We need games like this to get experience and improve. Congratulations to my players, games like these help them. They're growing and this will help them for the future.
For this English observer of the team, thoughts went back to a Chelsea fan's comment after that 6-0 opener. He asked – just a tad arrogantly? – why teams like this were allowed in the competition. Well, his team stand four points ahead of Atletico. Why? Because Qarabag have deprived the Spanish team of four points by refusing to be beaten. If that fan had seen the progress made and the joy and belief inspired in sports fans here, I don't think he would have asked the question.
Someone also pointed out that had the Qarabag v Atletico games been in a knock-out round, then the Azerbaijani team would have won the tie (away goals). Would anyone have believed that possible back in September? Still less in July 1993 when Qarabag were bombed out of their Aghdam homes and stadium by Armenia's occupying army.
Watch this space on 22
nd
November. Chelsea come to Baku….