Early morning darkness outside a barred consulate door. A cluster of people press each other forward, peering over shoulders. Tantalizing light shines out from a small, high window.
This scene was playing in my mind as I walked away from the Meeting with Women Filmmakers (a pre-event to the DokuBaku International Documentary Film Festival) this week. If I were to make a short film documenting what I learned at the event, that is the scene I might use to set up the atmosphere during the opening credits. The premise: there is an "in group," and many people outside who would like to get there but can't. The setting: filmmaking in Azerbaijan.
In an ironic twist for an event that aims to make the trade accessible, the meeting was held at the US-Educated Azerbaijan Alumni Association (AAA) office in Caspian Business Center, which is tightly secured. It took me several tries to produce the right combination of phrases for the guard at the door to let me pass through the turnstile (Maybe part of the problem was the number of co-hosts. Whose name do you drop when an event is put on by AAA, Azerbaijan Youth Film Festival, and DokuBaku International Documentary Film Festival, which is organized in partnership with Imagine Euro Tolerance Festival?).
When I finally gained admission, I noticed the bright and youthful atmosphere of the room. It was an informal (read: self-service Nescafe from plastic cups) get-together of women interested in filmmaking in Azerbaijan. The idea was for them to glean from the wisdom of professional filmmakers, starring two women: Maria Ibrahimova, Russian-American director and owner of Cinex Productions in Baku, and Georgian documentary director Tamta Gabrichidze.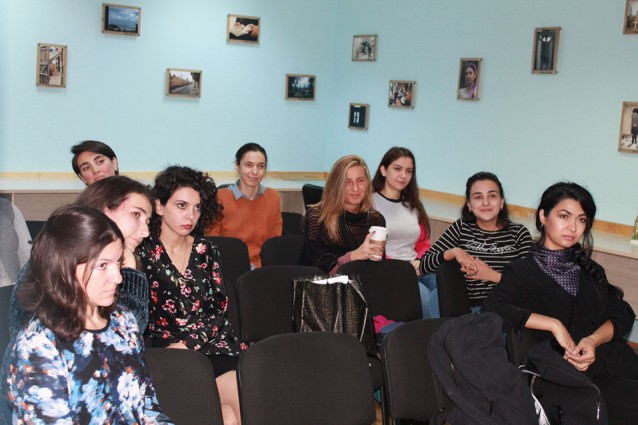 The buzz in the room rose as participants filtered in, shy at first but then starting to mingle as they spotted the coffee and understood the event's dual purpose, which was for them to network. Attendees I spoke to were new to the field of filmmaking but hoping to find a treasure map showing them where to start. Many of them admitted they were carrying the embryos of stories they had written—stories that dreamed of embodiment as short films.
Your story has a right to exist, Maria urged them. Find a way to tell it. But the gestation process for a film is anything but simple. Maria admits that many women in Azerbaijan lack the persistence it takes to bring a film to full term. She says women need a supportive community along the way, a large dose of motivation, and sometimes a push to get them in the door of filmmaking, because it can be an exclusive industry.
Nobody's going to open the door for you. Nobody's even going to show you where the door is! You have to wander for a while looking for possible opportunities, Maria says. As a way to open doors for other aspiring filmmakers with less resources, Maria founded Women in Motion, a US Embassy-funded project that helps local women take first steps by including them in professional film production.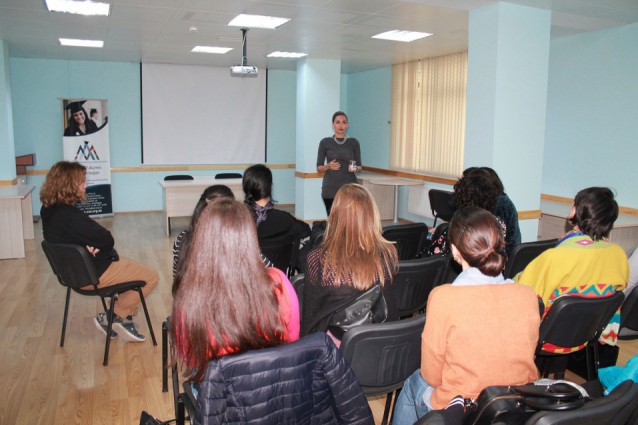 For Maria, the project has been an outlet for a new level of life-giving creativity: nurturing other women. Even though it means taking time out from her own directing endeavours, she feels the initiative has been fruitful because it energizes her to watch other people learn about her craft. At points, Maria's career journey has paralleled her physical journey to motherhood. The first film she directed was in the final stages of editing just as she had her first baby over a decade ago; then two years back she made a segue from directing into producing after the birth of another baby (and Women in Motion). In this way, she has shifted her identity from individual to mother as she has made the transition from an ambitious career focus to a broader aspiration of leaving a legacy in others. (To find out more about Maria and see some of her work, see http://cinex-az.com.
In the crowd of women at the meeting there was one "odd man out," event co-organizer Mike Raybourne, who has been directing Azerbaijan Youth Film Festival (AYFF) since 2012. During his time in Zaqatala as a US Peace Corps volunteer, Mike discovered that his students had a passion for amateur video. Using his filmmaking background, Mike started a student film club which eventually grew into AYFF with the help of a grant from the US Embassy. This year the national AYFF event, held on October 1-3 in Baku, included a competition among 42 submissions by young amateur Azerbaijani filmmakers.
Mike's emphasis is less on professional studio work and more on amateurs who make independent films on phones, but like Maria, his passion is to see a more open and inclusive filmmaking community in Azerbaijan. He describes a rift between people who make films and people who want to make them. The goal of film festivals like AYFF and DokuBaku is to bridge that gap.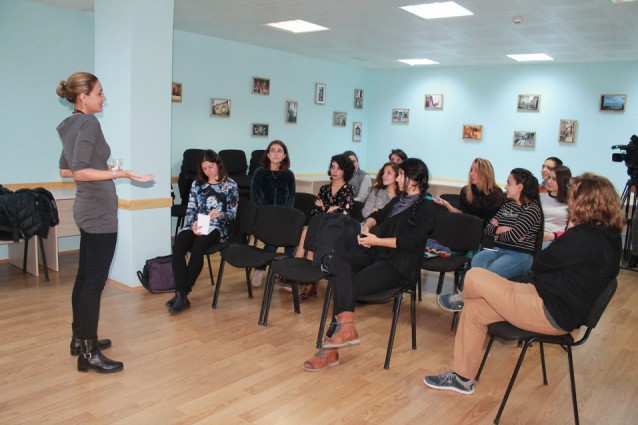 Mike has seen growth in amateur filmmaking in Azerbaijan over the past five years, but notes that women are lagging behind in this field so far. He mentioned that one of the reasons for coordinating the Meeting with Women Filmmakers was the noticeably small number of film submissions from women to both AYFF and DokuBaku. The organizers hope to inspire more women to participate in the coming years.
DokuBaku, the first international documentary film festival in Baku, will be held from October 12-20 with screenings, concerts and masterclasses at various venues around the city (see https://www.dokubaku.org/single-post/2017/10/03/Announcing-the-international-programme for the programme). It will feature premiere screenings of 17 international documentary films (in original languages with English and Azerbaijani subtitles) as well as a competition among 15 original short films from Azerbaijan. Both DokuBaku and AYFF hope to nurture rising filmmakers and throw open the doors for more amateurs to step into the filmmaking community.