Spanish football coach Ruben Selles first arrived in Azerbaijan in 2013 as an assistant coach at Neftchi where he worked for almost two seasons before leaving Azerbaijan briefly to coach at Norwegian side Strømsgodset. It was there that "The Horsemen" came calling and in 2015 Ruben was back for a second stint in Azerbaijan.
In the build-up to tonight's Champions League fixture against Roma, Visions spoke to Ruben about the recent defeat at Chelsea, the FK Qarabag philosophy and life in Azerbaijan.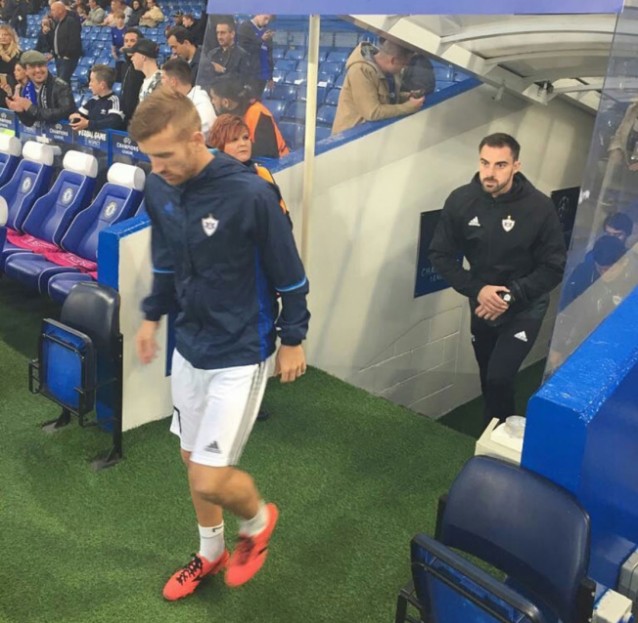 As a Russian-speaking Spaniard who's been plying his trade in Azerbaijan on and off for the last five years Ruben Selles is somewhat of an anomaly. Unusual too was how we first met at the language centre where Ruben learns Russian while I grapple with Azerbaijani.
We met early one morning last week in the swish surroundings of Port Baku and without further ado set about unpicking the recent 6-0 Champions League loss away at Chelsea on 12 September. Our mutual conclusion was that yes it wasn't the club's greatest night in Europe, but, as Ruben said…
If you go against Chelsea and want to defend 90 minutes, you're going to lose 100 per cent […] It's better to lose 6-0 but you tried to do something and [for] the next step you are ready.
However, to both his frustration and ours, it was clear that the media, as well as Ruben's coaching peers at big clubs in Europe, had failed to put the heavy defeat into perspective.
To arrive here we passed three rounds, six games, he stressed. We played against only champions from their countries […] Everybody needs to be realistic with the position. We know it will be difficult to get almost one point from the group, but we need to try…
In fact, the one notable exception was Chelsea manager Antonio Conte, with whom Ruben spoke after the game at Stamford Bridge:
Antonio congratulated us for the kind of football, for the qualification. He knows the team from before because they played with Italy against Azerbaijan two years ago.
The "kind of football" Conte was referring to is Qarabag's trademark style of playing with the ball at one's feet and trying to attack, inspired by the club's philosophy-first, results-second approach; the theory being that, as Ruben said, If you are on the right path the results will come. So we shouldn't expect to see Qarabag sit back and defend in the Champions League.
But what exactly is the Qarabag footballing philosophy? According to Ruben, it's about leadership, trying to keep possession and moving forward in every sense – both on and off the pitch. Of course the club's recent history and symbolism, having been forced to play in exile since Armenian forces invaded Aghdam in 1993, fuels a sense of togetherness and a never-say-die attitude.
It's not about success, it's about how to do it … It's not about just going to the Champions League, it's about developing the players, putting the name of Qarabag in Europe.
Which is exactly what happened when "The Horsemen" made history by conquering Danish champions FC Kobenhavn on 23 August to become the first Azerbaijani club to qualify for the group stages of the Champions League.
I can tell you that after the game against Kobenhavn, I made more than 20 interviews, more than 200 Whatsapps…
Another key aspect to the Qarabag philosophy is developing and fielding local Azerbaijani, a theme reflected in the crucial contribution of Rashad Sadigov, Maxim Medvedev, Afran Ismayilov and Qara Qarayev over many years. Of the younger generation he identified Mahir Madatov, who recently made his debut for the national team against Norway, as a star of the future and a clear example of our philosophy.
But, overall, he was reluctant to single out any individuals, pointing instead to the team's "collective soul" as a source of inspiration and strength. All of these trends Ruben attributes to Qurban Qurbanov, the club's head coach for the last nine years – a big person with a big character. Only if you have this kind of manager, you can have this kind of success, he said.
Ruben hopes to follow in Qurbanov's footsteps and become a head coach himself, yet while the latter was an old fashioned centre-forward for the Azerbaijani national team for many years, Ruben's route into coaching hasn't been so direct. Although once a promising footballer, he missed out on turning pro but nonetheless wanted to forge a career in professional football and remain as close to the pitch as possible.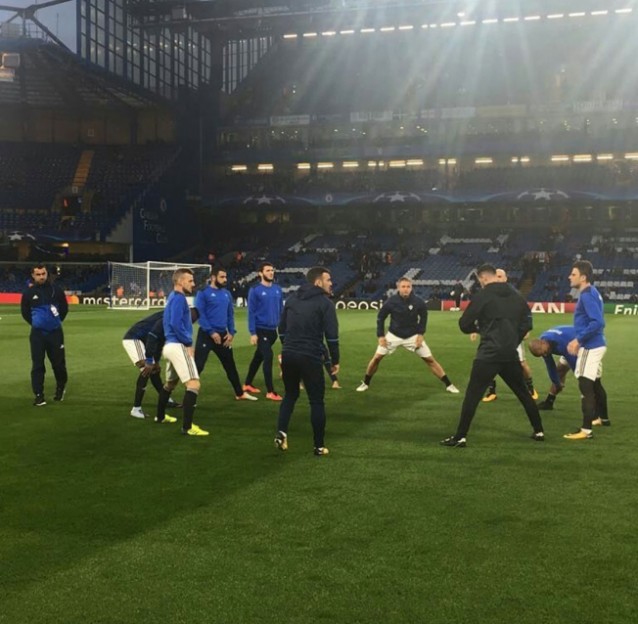 A nine-year career has taken him to numerous countries, often at the drop of a hat and entailing a certain amount of risk, something Ruben considers essential to achieving success. His journey began in 2008 with an assistant coaching position at Greek side Aris Saloniki, followed by stints at home in Valencia and then back in the Greek Super League. A six-month placement at Russian club Shinnik Yaroslavl in 2010 also tested his mettle:
From the beginning they didn't pay one salary […] But it was also good experience, it's what got me to here now.
"Here" in one sense means life in Azerbaijan, a country he has come to understand and appreciate especially since settling into FK Qarabag:
Of course, it's different [than if] you live in Europe or Spain or London or Oslo but one thing I can tell you I feel more comfortable living in Azerbaijan than in Norway, that I can tell you.
Why? Was the natural response.
Maybe because I'm from Spain and the character of the Spanish people is just a little bit... about the rules... In Norway everything is the correct way, everything is close to that way and you cannot go out from that way. In Spain we are... maybe a bit more relaxed and maybe you cheat a little bit [laughs]… and these kinds of things, almost like in Azerbaijan.
But "here" in a more immediate sense means FK Qarabag, the Champions League and tonight's match against AS Roma. So what might be different from "The Horsemen" in their second game in the Champions league?
I think we'll be more ready, about especially the external environment, the Champions League environment and about the speed of the action inside of the game. It's like you are new, you just need to test yourself at this kind of level – the first time it's difficult, the second you feel better, you feel good and I think we will be more confident, especially playing in Baku, more adapted to the weather and the conditions.
And Roma aside, what are his broader expectations for Qarabag in Group C of the Champions League?
It's difficult… we need to compete in every game. I expect… I want to win a couple of games, especially in Baku, and try to get some points away […] You need to be on your best day and they need to be on their worst day… something like that.
As ever Visions wishes "The Horsemen" the best of luck!