My arrival in Azerbaijan was the result of the challenge in a newspaper advertisement: "Come to teach in Baku." After checking geographical references, I was so ashamed of my totalignorance about a capital city of two million people that I decided I had to find out at first hand
What a lucky day that was!
I clearly remember, four days after landing here, walking along Husi Hajiyev and Istiqlaliyyat streets, looking up and around at the architecture and just knowing that these buildings and their occupants had lots of stories to tell. Reading the novel, Ali and Nino, gave me an imaginative insight into the history of the people who had built and lived in them. I knew that I would stay. This promise to myself is slightly threatened now by the changing skyline of Baku. Someone told me that the ambition was to make Baku look like New York - do I have the right to plead that Baku should look like Baku? Development to improve people's lives is fine, but I would be reassured if someone could indicate the planning, or control, behind it all.
Otherwise, the six years since 2000 have fully lived up to expectations; it has been a time of wonderful discovery. Happiness is seeing, hearing (and tasting) new experiences - in other words, learning. (What else would you expect from a teacher!)
Azerbaijan is very keen to reveal its treasures to those who have eyes to see - I can't imagine meeting and befriending so many creative and talented people in the UK, where celebrity separates people to a much greater extent than here.
Of course, not everything in this desert garden is rosy - there are still many social, political and economic problems to be resolved, not least that of the cancerous corruption. A shock such as the collapse of the Soviet Union, out of which the modern Azerbaijan was born, is bound to affect the stride pattern. The real wealth of a nation, however, is its people, and if as much effort is put into tapping their potential as into extracting the hydrocarbons, then Azerbaijan will surely have a future as bright as the fires it fuels across Europe.
I have wondered about the narrowing approach to education in the UK. The desire to ensure that the products of education are "fit for work" seems to overlook the benefits of imagination - to the point where, for example, music has disappeared from some schools. My own experience of being allocated just six hours to "teach" Shakespeare via edited bits of Romeo and Juliet left a bad taste. It seemed to be a mere gesture to tick boxes labelled "literacy" and "heritage"; the magical experience of watching the play, as intended, in a theatre was definitely not on the agenda.
Education in Azerbaijan also has its problems and is grossly underfunded but, even from my own limited contact with schools and universities, it is clear there are numbers of teachers dedicated, even desperate, to offer the best they can to the next generation. And, from somewhere, I had the great fortune to be in an Absheron village hall when a 15-year-old used his knowledge of Fizuli, Vahid and other poets to draw thunderous applause and football-like chants of support as he composed strict, metrical rhymes with spontaneous wit and skill in a meykhana competition. How far could his speed of thought and invention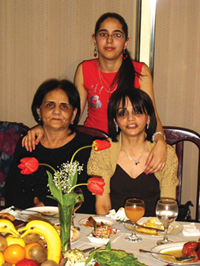 take him, with recognition and support?
It was very encouraging to visit Fakhri Khiyabani (the cemetery for the nation's great and good in Baku) and to discover such a large proportion of artists, scientists, musicians and actors - as opposed to the politicians and generals who usually monopolise such places. The monuments above the graves invariably pay very creative tribute to the commemorated and would grace an outdoor art gallery.
Despite the sad plight of education in Azerbaijan, it still commands respect and priority among ordinary people who struggle to pay, pay and pay again to ensure their children are equipped with not only the skills necessary for successful job-hunting, but also with a knowledge of their own culture and often with music or another art as a means to express themselves. The cultural results are still apparent, despite the increasing pervasiveness of western pop music. Western influence is inevitable, but so is that of the north, south and east. The second Baku Jazz Festival this year, attracting the likes of Herbie Hancock and Al Jarreau, is testimony to the musical and national pride and determination of the inheritors of a modern "tradition". Perhaps more important is the exposure and experience that this gives to local musicians. Visits to the Jazz Club and Jazz Centre to hear, relatively cheaply, the live music of some excellent players are essential for the culturally curious as well as for aficionados. The same applies to concerts of music from different origins: mugham, ashug and the home-grown classical music of Hadjibeyov, Garayev etc. It is a pity that the opening of the Philharmonia has made some of these concerts more exclusive - some very expensive, others by invitation only but here too, in most areas there are some fine young musicians developing.
There are, of course, many galleries around the capital and the art displayed is inspirational despite, again, often being produced in the most unpromising financial circumstances and the most unlikely places. How many times did I go into Baku Soviet metro ignorant of the hive of creativity going on in a warren of studios just under the dome of the building opposite? How many ex-pats have climbed the clunky iron steps opposite the Russian theatre to enter the world of Yusif Mirza's imagination?
The more you look the more you find: an Oscar-winning scriptwriter's theatre in an old city front room, an experimental theatre group's phantom-like existence in the attic of the national theatre, the stunning sculptural representation of Sattar Bahlulzade on his grave in little Amirjan village.
Returning to the nitty-gritty of education, I came here as an English teacher with the hope of helping Azerbaijanis make their way in the proverbial "global economy". I have seen the response of those given the chance to participate in the exploitation of the country's natural resources. The determination and humour of middle-aged (long out of school) oil workers grappling with a grammar as irregular as the Caspian's geology has been awe-inspiring. For our part, we have to be aware that we are adding to a valuable, existing culture rather than "bringing enlightenment to the natives".
One of the fascinating natural attributes of Azerbaijan is its variation in climate and geography - from the freshness of a Caucasian mountain village cut off by snow for nine months of the year, through the bony and baking central desert lands, to the lush, tea-growing areas near the Iranian border. And where else can you see natural, eternal flames, burping and gurgling mini-volcanoes, cloud-catching canyons and even burning water - not to mention the man-made miracle of Oily Rocks?
The brevity of the winter season is a major attraction to one from a northern country fed up with seemingly endless months of trudging out to work in the cold, dark and wet, trudging back through the same conditions and huddling down for the night. Even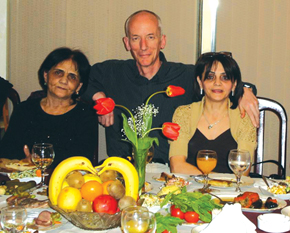 in winter in Baku there are cheap places to go for entertainment, or just to enjoy the company of others.
These climates provide a variety of delicious fruit; some of which is only seen in expensive, mini-pack-form in UK supermarkets. I would go (and have come!) a long way to taste freshly picked figs and persimmon (khurma).
How do you balance the perfect shape, size and colour of the fruit in a UK supermarket with the often misshapen, blotchy and blemished produce on sale here? For me, the fact that the latter has a taste answers the question. Science has come a long way, but has not yet matched the sweetness of the juice dribbling down the chin in the shade of an Absheron fig orchard, late August.
Having played down the importance of fruit's appearance, I now recall driving to Guba in the same month and being forced to stop and taste by the sweet shimmer from lines of roadside fruit stalls.
Perhaps the final contrast I have come across has been in the importance of family in Azerbaijan. In the west, the trend for some time was for youth to seek "independence" from parents at an earlier and earlier age. Recently, financial constraints and governmental worries about declining family and moral values have worked against this process.
My experience of the family here has been at first hand - my wife is Azerbaijani -and adjustment to the expectations/duties to the family has occasionally been a challenge. Birthdays, marriages, deaths and family relationships in general entail a much greater commitment - of time and money - than is usual in the UK. Life in the "global economy" is lived at a faster pace, with less time and importance afforded to such celebrations, and it's not easy to balance the needs of a demanding job with those of family obligation. In the end, I suppose, you decide whether you're working to live, or living to work - and compromise accordingly!
One custom which I suspect will decline is that of erecting a funeral tent in the street. The frustration this causes in the city centre, where narrow streets are already choked almost to gridlock, may boil over at some point. It can hardly be appropriate to sit in memory of a loved one in a tent surrounded by the angry hooting, whistling, sirens and duck-calls of a monster traffic jam.
The way this problem is solved may be a small pointer to how the family values of Azerbaijan contend with the new era.
The driving here is, of course, a subtopic of its own. My questions are: why doesn't the average, family-centred Azerbaijani driver care about anyone else on the road? Why does he become enraged at the sight of someone's mother/father/sister/brother trying to cross the road in front of him - even on a crossing? How does he feel when his own mother/father/sister/brother is made to run for his/her life in the same situation? On these points the UK driver, by no means perfect, wins hands down.
Apart from this gripe, the good luck I enjoyed in meeting a woman from such a welcoming family in such a fascinating country, may be adding a rose-tint to my vision, but I have no intention of leaving my new home - there is still much to discover.