"Music is an outburst of the soul." ― Frederick Delius;
"Without music, life would be a mistake." ― Friedrich Nietzsche;
"Music gives a soul to the universe, wings to the mind, flight to the imagination and life to everything." ― Plato
I could continue this list of quotes but sometimes words aren't enough to express music. Every nation seeks to express itself to the world and music is the most entrancing way to communicate the culture inherited from one's ancestors. Of course, ethnic music emerges from the instruments devised by that culture and while there aren't so many skilful instrument makers left in Azerbaijan, one who maintains a family tradition of innovation is Musa Yagubov.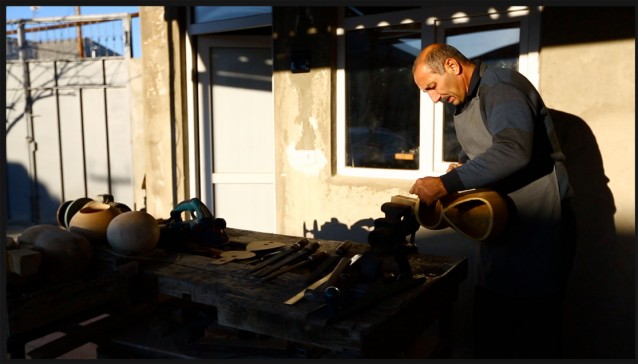 In Azerbaijan people believe that Karabakh is the cradle of their ethnic music, especially mugham. Many of our musicians, such as the composers Uzeyir Hajibeyli, the author of the national anthem of Azerbaijan, and Suleyman Alesgerov, and the singers Bulbul and Khan Shushinski are from that region. So it's no surprise that our instrument maker is also from Karabakh.
Innovative instruments
We meet Musa early one morning in his detached house in Binagadi, on the Absheron peninsula, where he lives and works. His son Ilkin and kamancha player Merkez Shushali also accompany us during the interview.
Musa started to learn this family craft when he was a child and now continues it as his grandfather's legacy. He is the third generation and his son, doing the same work, is the fourth. Later, Musa created an ensemble called Bard Folklore which played a total of 17 musical instruments, all made by himself. One of these was the arganun, a medieval stringed instrument whose rebirth was a lengthy process, while the other was the chang. The chang is a Persian musical instrument similar to the harp. It has 28 strings normally but Musa increased their number and made one with 48. His musicians always used to complain that the chang was too big to carry when they went on tour, so Musa found a unique solution and made it folded.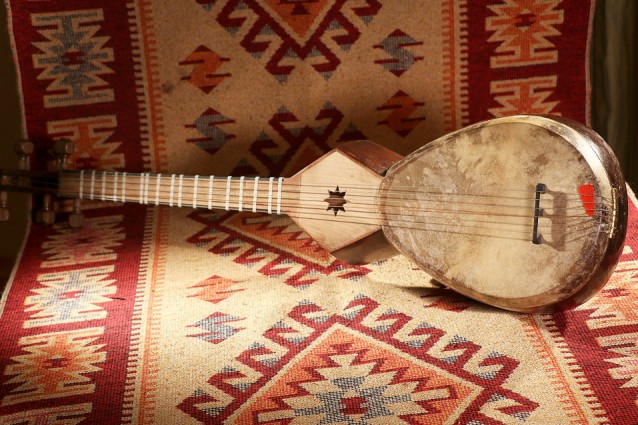 Then he began to invent new instruments, among them a double-neck kamancha (a bowed string instrument), which he thinks is very helpful both for singers and kamancha players:
The advantage of a double-neck kamancha is that one neck is soprano, the other is bass. An ordinary kamancha has four strings, but this one has eight. The two necks are attached to a single body. The good thing about this instrument is that if you're playing live on air and there are two singers performing in different tones, both can be accompanied by the same instrument. Airtime is limited and there's no opportunity to change the tuning. One can sing soprano while the other sings bass.
He was struck later by another unusual idea and made a type of kamancha that was absolutely unique, even to Azerbaijan.
After the double-neck kamancha I made a new one… Sometimes I go fishing. There are always turtles by the sea. A craftsman's mind is always in search. One day I found a dead turtle. I thought I could make something with it. I took it back and worked on it for a year. I made changes to the neck of the instrument, cleaned the shell and made a kamancha from it. I called it a turtle-shell kamancha. It has a nice sound.
As a kamancha player and teacher of the kamancha at the Azerbaijan National Conservatory Merkez Shushali can easily distinguish the turtle-shell kamancha from the others.
The difference in sound is that when a kamancha is played, it can be heard 10 metres away, but when the turtle-shell kamancha is played, it is heard 20 metres away. Its sound is louder, but otherwise it's similar to that of an ordinary kamancha.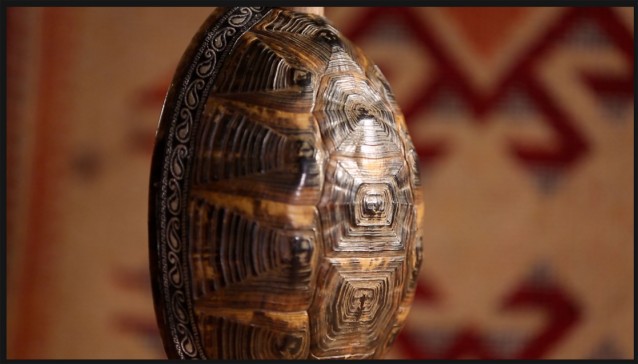 How to make a tar
Another of the instruments made by this master craftsman is a tar (a long-necked plucked relative of the guitar), which is an integral part of our national music, mugham. The Azerbaijani tar is included in the UNESCO Representative List of Intangible Cultural Heritage. Musa always pays great attention to every detail of his instruments so it's impossible to see any irregularities. As a result he makes a tar with exceptional technical and dynamic capabilities. In his enthusiasm he makes no secret of the materials he uses and how his magic instruments are made:
Mulberry wood is used in making the body of the tar. The sunny side of the tree produces the best wood; shaded wood is not suitable. The neck, headstock and pegs are made of walnut wood. The pegs can be made of either walnut or pear wood; both are fine. But all the parts of the kamancha are only made from walnut. Kamanchas for kids can be made from mulberry and pistachio trees, but the best is walnut.
Then we go to his small studio in his yard, which is where Musa spends most of his day. He wishes to have a bigger one to help him realise his new ideas. He dons his apron and starts to work. The instrument he chooses to make is a tar. When we look at a tar we can't imagine all the stages it goes through; it requires scrupulously hard work and great accuracy.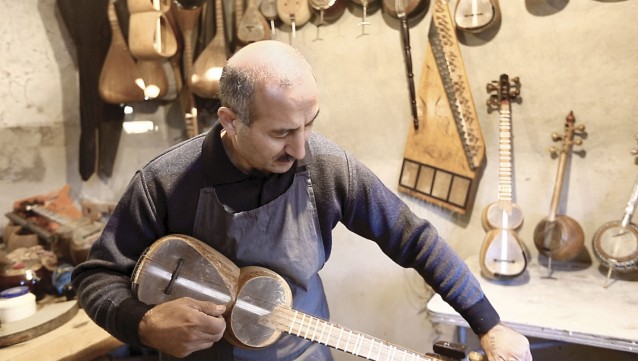 Firstly, we take the block and shape it into a cube. After shaping the surface, we place it on a template, mark it and then start carving. We use a scraper and mallet and we start by shaving the outer side. We carve it into the tar shape and wait for it to dry out. It can take three, four or five years to dry. After drying we smooth the body with a file. When we finish shaving the body, we start to make the neck. Then we put the neck, headstock and body together. We have to make sure it's all straight.
Then we work on the headstock. After shaping this, all the parts have to be glued, and then we wait for them to dry. There are other finishing details and the last stage is when we string and tune it. The tar is ready.
For Musa, a craftsman must be able to play the instrument he makes: To make an instrument you should be able to play it. If someone can't play an instrument he makes, then he isn't a master. There are aspects of playing that he must know. He should be able to play so that he can remove any irregularities.
His main aim is to keep this craft alive for many years. His son Ilkin continues his path and at the same time teaches tar. Ilkin plays an Azerbaijani folk song on the tar for us which we enjoy very much. When he plays, we can feel every note he touches. The haunting melody that seems to flow from his fingertips is masterful.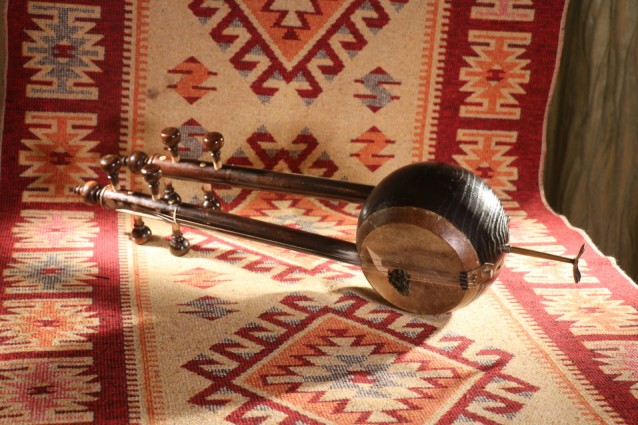 Future generations should know that these are our national instruments, says Musa. This craft should not be lost. All these national instruments belong to Azerbaijan. They were passed down from our ancestors. We also want to hand them down from generation to generation.
We finish our conversation later that afternoon at a mugham concert held in the Mugham Centre on Baku's Seaside Boulevard, where a talented Azerbaijani child singer amazes us with his performance of the famous Azerbaijani mugham Karabakh Shikestesi, which reflects the national longing for Karabakh. Through the singer's pure voice one can feel the full pain of this longing and his sad singing is accompanied by a tar and a kamancha made by Musa. As a master instrument maker from Karabakh, he couldn't be more proud.
About the author: Fanara Bunyadzade is a producer for the Visions digital team.
Meet Musa himself in the video below, made by Fanara and her team…