Tomorrow night FK Qarabag become the first Azerbaijani football club to play in the group stages of the Champions League. As they prepare for an away jaunt to English champions Chelsea, here's why their European campaigns are special to all Azerbaijani fans.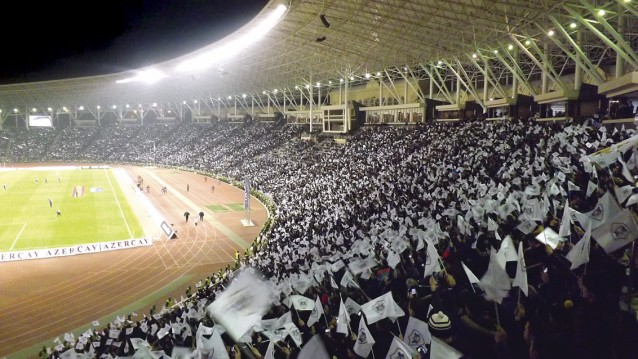 In Baku, it was well after midnight on 23/24 August when the final whistle blew on their game against Kobenhavn, with their away goal sending them through to previously uncharted territory for an Azerbaijani club. Immediately there was pandemonium on the streets: ecstatic fans roaring, car horns blaring and Azerbaijani flags waving.
Qarabag is more than just a football club, as Visions has noted in the past: read American journalist Thomas Goltz's The Qarabag-Agdam Horsemen to understand the history and symbolism behind this club. Goltz embedded himself with the squad during their maiden run in the Europa League group stages in 2014/15 to make his film On Aggregate http://www.thomasgoltz.com/on_aggregate.
In a nutshell, however, the story is an inspiring battle against the odds, a rise literally from the ashes since the club's home ground in Aghdam was destroyed, along with the city itself, by invading Armenian forces in 1993. As Goltz points out, they are champions without a home. Azerbaijanis, especially the 800,000-plus deprived of land, homes and property by the invasion, naturally yearn to return to their lands and Qarabag's success has become a beacon of hope. Even supporters of other teams rally en masse to the team's European campaigns.
In their first Europa League run in 2014/15, Qarabag came oh-so-close to beating Inter Milan and qualifying for the knockout phase. They were dramatically denied in the dying seconds of the game when Richard Almeida's deflected shot wrong-footed the Italian keeper and crept into the net, a perfectly good goal ruled out by a late flag, inexplicable even to the Italian press. The 'goal that should have been' is replayed in Goltz's film to continued bafflement. Meanwhile Qarabag have continued to enjoy domestic success, winning the Topaz Premier League for the fifth time last season, setting them up for the current campaign.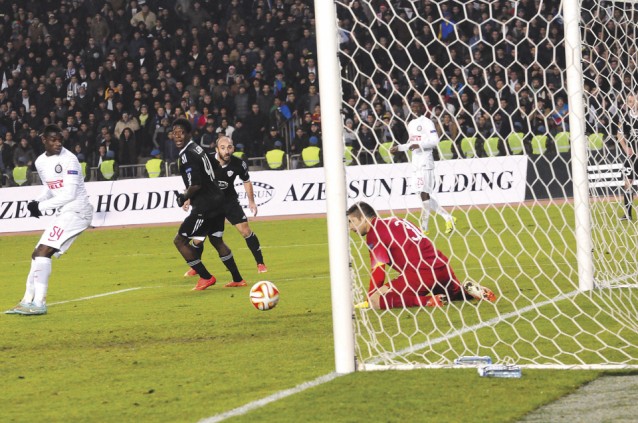 To reach this new frontier, Qarabag had to overcome Georgian champions FC Samtredia and FC Sheriff from Tiraspol before knocking out Danish side FC Kobenhavn (1-0, 1-2).
This won't be Qarabag's first experience of the Premier League elite. Last season the Azerbaijani side faced Tottenham home and away in the Europa League and although they ended up losing both games (0-3 in London; 0-1 in Baku) their tika-taka style masterminded by long-time coach Gurban Gurbanov left one British radio commentator gobsmacked by Qarabag's audacious playing out from the back.
Qarabag have had a firm policy of nurturing local talent, always fielding at least five Azerbaijanis (Chelsea fans take note!) but are ambitious in adding international talent to their squad. South African striker Dino Ndlovu showed clinical finishing by scoring twice against Kobenhavn, while a fleet-footed local, 20-year-old Mahir Madatov, is rapidly maturing. Five Qarabag players recently lined up in Azerbaijan's 5-0 win against San Marino, including Aslan Ismayilov, who scored a brace.
Ismayilov is a tricky winger with a penchant for dribbling, but not always to maximum effect. While receiving the pioneering team following their achievement, even the Azerbaijani president remarked on this, advising him not to dwell so long on the ball, much to the amusement of the rest of the Qarabag squad.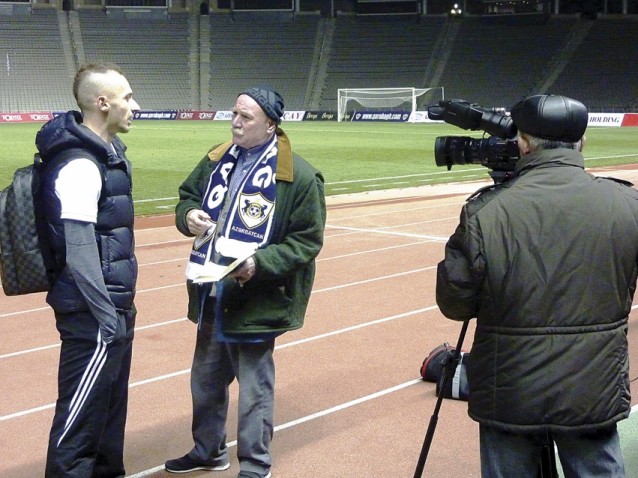 The names mentioned above may not be as familiar as the global stars of Chelsea, Roma and Atletico Madrid, and the Qarabag squad is valued significantly less, but the whole of Azerbaijan,
Visions
included, will be up again until after midnight hoping that "The Horsemen" (a nod to the legendary beauty and stamina of the Karabakh horse) do the unexpected and emerge from Stamford Bridge as the dark horses of Champions League Group C.