Shahin Novrasli is a name that will surely become more widely known across the world. (Visions of Azerbaijan, Winter 2008)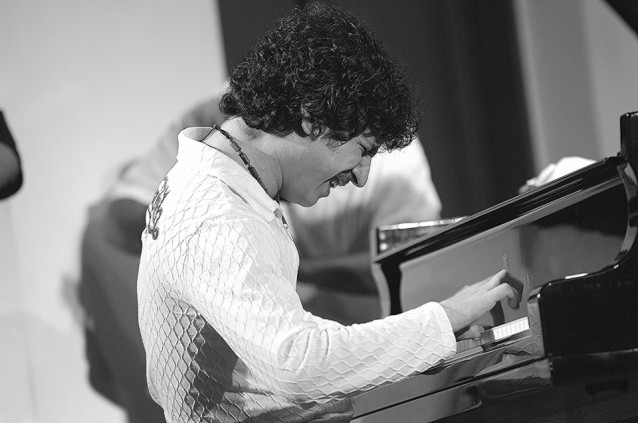 The release of Emanation, Shahin's latest album, is one very convincing step towards the fulfilment of our prophecy. You don't need to be an aficionado of jazz, or even mugham, to appreciate an album that demands only 59 minutes of undivided attention in which to persuade you of its excellence.
If (when!) you find yourself entranced, you will be in the best of company, for none less than legendary American jazz pianist and bandleader Ahmad Jamal co-produced the album and has promoted Shahin's appearances on some prestigious stages. The album was launched at the Blue Note Jazz Club, New York, September 2016 and in May they were at the Festival Jazz à St-Germain-des-Prés for a concert also supported by TEAS's Paris office.
Ahmad Jamal's long-term bass collaborator James Cammack also contributes much to an album that has its roots firmly in Azerbaijan but lacks nothing in internationalism. French drummer Andre Ceccarelli lays down a solid foundation throughout, while his compatriot violinist Didier Lockwood and Georgian Irakli Koiava's percussion provide intriguingly idiosyncratic atmospherics.
From a thorough classical training, Shahin will list the great jazz pianists, among them Ahmed Jamal and Keith Jarrett, as other early influences, but soon focuses on Vagif Mustafazadeh (1940-79). This Azerbaijani pianist is revered for his pioneering syntheses of western jazz with the traditional mugham music of his homeland. Both forms of music allow the performer a certain improvisational leeway. Adding in the discipline, technical skills and virtuosity of Shahin's classical background offers some explanation for the musical variety and verve, both oriental and occidental, to be enjoyed on Emanation.
Verve is plentiful in Novrasli's performances, with fingers a blur while producing clarity of form, but even more breathtaking are the pauses in a sense of timing that teases into tense expectation. Yellow Nightingale, a track that recalls his interpretation of Elinde Sazin Qurbani on an earlier album, is a fine example; with Koiava's percussion he produces the yearning beauty signed by the title.
The eponymous opening track is a true overture, setting a tone with a straightforward theme paced to draw the listener in, then offering a softly improvised sprint as a taste of the virtuosity to come. Next up is Song of Ashug, referring to the traditional Azerbaijani troubadours who record and comment on life's ups and downs. Bright and upbeat with a driving rhythm, Shahin's fingers are fully flexed to race out the tale.
Saga and Ancient Parallel take their time with picturesque detail and setting from bass and percussion. An adventurously expressive violin and insistent piano join to relate a more varied historical vision; Shahin delivering ghazals mugham-style on the latter track.
There's a blues, the jaunty Tittle Tattle and Jungle and the aural vista of Land.
The musicians are excellent; the compositions (Novrasli's own) have thought and vision, with blood in the vein and flair in the brain. Get Emanation.
Emanation is available to buy at www.amazon.com. To hear Shahin's thoughts on his new album, look no further than the video below…