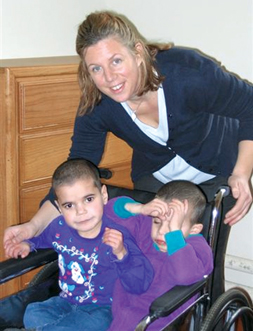 Gwendolyn Burchell with Leyla and Nigar
Pages 54-56
by Gwendolyn Burchell MBE
United Aid for Azerbaijan, country director
Sevda Alieva is a 33-year-old mother of a girl with cerebral palsy. She is a teacher by profession but does not work because she needs to look after her daughter. Her husband left because he could not cope with a disabled child so she must care for and financially support the family by herself. One day, one of UAFA's social workers arrived at her home, having been informed by the local polyclinic that her child was registered in the area as having a disability. Nobody ever expected the girl to do more than sit in a chair, certainly she was not able to walk. This was the first time that anyone had come to her home to give support. The social worker encouraged her to visit the UAFA Family Support Centre in her area, so that she could learn more about cerebral palsy and meet other parents. Her daughter was invited to join therapy activities designed especially for disabled children to teach them independent living skills and improve their social skills. She was also informed about what education and medical services she was entitled to, facts that she previously did not know. As a result of the visit by the social worker, Sevda and her daughter are regular visitors to the Centre. The social workers helped Sevda to obtain a wheelchair from the Social Protection Department and, before long, her daughter was able to walk by herself! Sevda no longer feels isolated from society, she knows now that she is not the only person facing these problems and, through the support of UAFA social workers, child development specialists and other parents, she is feeling much more positive about the future. She now wants her child to go to school - which she is legally able to do, and she plans to support UAFA's advocacy efforts to open daycare for disabled children, so that she is finally able to use her teaching skills and earn money to support her family.
When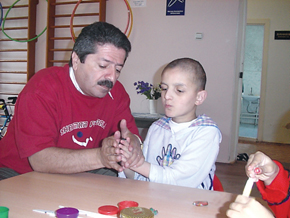 UAFA staff member with child at Shagan home for children with mental and physical disabilities - developing a child's sensory skills
someone has a health problem that needs the attention of specialists, too often they leave Azerbaijan and go to a foreign country for treatment, paying large amounts of money. Some families can not afford to do this and must appeal for donors - some are lucky and get the support they need, others are not so fortunate.
Why should anyone need to go abroad when it is possible to develop the services in Azerbaijan, merging local and foreign expertise?
UAFA first brought an occupational therapist to Azerbaijan in 2000. This was the first exposure that local child-care workers had had to western child development practices. Occupational Therapists are qualified health professionals who assess a person's ability to function in daily living (self-care, education, work etc.) and then design therapeutic measures to enable the person to function independently. Occupational Therapy is new for Azerbaijan and a much-needed complement to traditional treatments such as medicine, massage and physiotherapy. Since 2000, UAFA has brought about 20 occupational therapists, social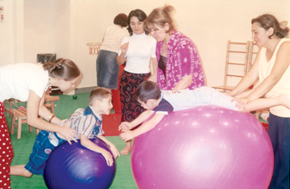 Group session
workers, physical therapists and special needs educators to Azerbaijan in order to build the capacity of local child development specialists. This team of more than 30 trained and experienced Azerbaijani people are able to offer Azerbaijan support to raise the level of health and social care for disabled children.
UAFA's role is to develop the capacity of Azerbaijan to fulfill the rights of vulnerable and disabled children. The UAFA team practise their skills on a daily basis in one of UAFA's many projects that run in children´s homes and communities around Azerbaijan. UAFA has also developed many materials in the Azerbaijani language, including the Manual on Child Development for Care-givers, Parents and Child Development Specialists. These are much-needed resources that should be widely available in this country.
UAFA's projects aim to pass on the child development skills we have gained to parents, care workers in the children´s homes, and volunteers who help us to increase our outreach. The demand for our services is huge, but UAFA's team is still not large enough to meet this demand. For this reason, our projects focus on mechanisms for delivering services that can be adopted by government. New, low-cost services will actually reduce the financial burden that institutions and dependent citizens create on the economy of Azerbaijan.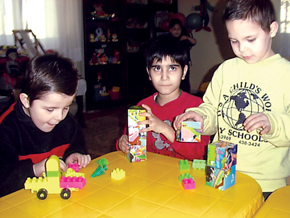 A child who does not learn how to walk or feed herself independently is a child who will one day require the care of the State when her parents are no longer able to look after her. The cost of residential care is very high in comparison to the cost or including a child in mainstream education.
Finally, through training and awareness, UAFA supports the State sector to manage the new services that are developing. UAFA works closely with all government departments that are relevant to our work - in the regions, we work with educational and health departments, Executive Committees and Municipalities. At the national level, we work with the Ministries, Cabinet of Ministers and Milli Mejlis to advocate new services which help to improve implementation of existing legislation.
UAFA's work will take many years to mature, yet it can still function now with support. Like a young child developing, it is very important to build development step-by-step; it can not be rushed, a child must go through each stage without missing any elements: rolling, crawling, sitting, standing, walking....country development follows the same methodical pattern. If one stage is missed, it can cause many difficulties in future. Since Azerbaijan became an independent country, and is still in a state of on-going conflict, the country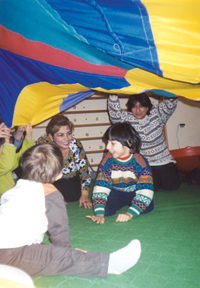 Mehman the son of one of UAFA staff our 'little star'
has benefited from much needed foreign assistance. However, as the country's economy has stabilised, and revenues from oil exports begin to enter the economy, so the foreign financial assistance has started to reduce. Social development is particularly under-funded, most likely because it is viewed as a responsibility of the country now that it has the budget to be able to address the needs of people. In the field of child development, Azerbaijan has a highly skilled and experienced team of people - the UAFA team. However, funds are still needed to help us help Azerbaijan improve children's services. It is time to develop the understanding of philanthropy and "social entrepreneurship" amongst Azerbaijani society. Without support coming from local sources, these resources will be lost.
Traditionally, people are reluctant to trust an organisation with their money. They do not trust that the organisation has the capacity to meet real needs; they worry that the money will not be spent on the purposes that it is given for. However, in countries where social development has reached a high, internationally recognized level, this has been precisely because society has supported the non-governmental organisations which have the flexibility to pioneer new ideas.
Azerbaijan's society must learn how to trust non-governmental organizations so that social development can meet the pace of economic development. There are many ways of learning which organisations are worth supporting:
spontaneously visiting projects and talking to the people that are being helped
talking to the staff of the organization to find out their background and daily responsibilities
checking on the track record of the organisation to understand its own process of development
has the organisation received repeated support from different donors?
Once you do decide to donate funds, a good organisation should be able to develop objectives, activities and a set of monitoring indicators which give you an opportunity to check that your money is being used for the purposes you intended. You would be able to check this at any stage, and feel satisfied that your donation is making a difference to a child's life.
Azerbaijan has tremendous potential for social development – family networks are strong, the growing economy affords opportunity to many more people, and the government is responsive to change. As the story at the beginning of this article indicated, new services are urgently needed to help more vulnerable children and their families integrate into society and contribute to Azerbaijan's future. You can help Azerbaijan to support itself by supporting organisations such as UAFA.