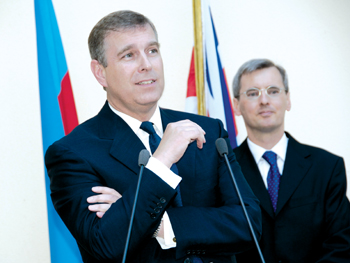 Prince Andrew and British Ambassador Laurie Bristow
Pages 6-7
On the last day of his visit to Azerbaijan, 1 July, Prince Andrew helped to celebrate his mother's 80th birthday at a reception at the Park Hyatt Hotel organised by the British embassy. British Ambassador Laurie Bristow spoke with satisfaction of the mutual understanding and support between Azerbaijan and Great Britain and noted that relations between our countries are based on the principles of strategic partnership.
The chairman of Azerbaijan's Milli Mejlis, Ogtay Asadov, congratulated Britain on the 80th birthday of Queen Elizabeth II on behalf of the Azerbaijani government and nation.
He said that our countries are cooperating closely in the struggle against international terrorism and in ensuring energy security. "The support of official London is very important in exploring oil and gas fields in the Azerbaijani sector of the Caspian basin and in creating trans-national transport infrastructure to deliver energy resources to world markets," the speaker said.
In his speech Prince Andrew mentioned that this was his second visit to Azerbaijan and expressed his pleasure at the hospitality of the Azerbaijani people. He noted that Azerbaijan is a very important partner for Britain and took pride in his contribution to the development of Azerbaijani-British relations. The Duke of York said that the remarkable development in Azerbaijan is a sign of the establishment of a modern state, based on the principles of democracy and a market economy. At the end of his speech he thanked Azerbaijani officials and the Azerbaijani friends of Britain for attending the birthday reception and wished peace and prosperity to the Azerbaijani nation.