One dark day in January found us upstairs in Casual Brasserie, awaiting Baku's leading exponents of experimental doom pop. They arrived two minutes early – wrapped darkly against the cold. Early was a surprise, but they'd actually aimed for 15 minutes in advance, so not altogether untraditional, a motif for the interview. As for 'experimental doom pop,' you should junk now all gloomy apprehensions; DiHaj are brightly serious about their music.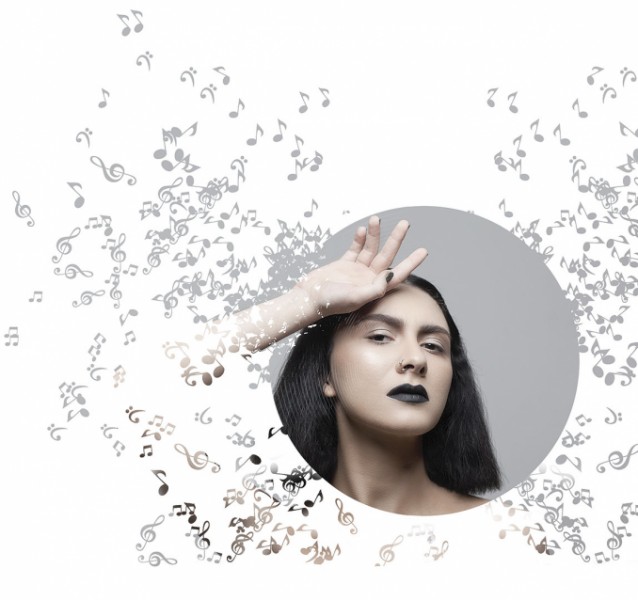 They are Ali Nasib on drums, electronic percussion and effects; Anar Abdullayev on guitar and synths and Diana Hajiyeva, vocals, synths and effects. We knew more about Diana through her youthful membership of Beri Bakh (more on that later) and subsequent solo sessions at the Jazz Club. But DiHaj had already impressed with their yearning electronics when Diana was proclaimed Azerbaijan's representative for this year's Eurovision Song Contest. Thus the interview, and the telling of career trajectories revealed their awareness and respect for the traditions they extend.
Ali - joints and splits
I started playing drums in 2004, but not seriously. I was studying in Egypt at that time and I had some university mates, said Ali, who was in Egypt because visas to study in China were in short supply that year….
Seriously it began when we formed a band with Tural (Ganbarov, now their manager) and another guy here, when we both came back from Egypt in 2007. We started a band by name Black Garage, because that was where we started - a garage.
Just to express seems to have been the point, the form flexible: We were playing funk music, some experimental stuff, then later one of the best rappers joined our band and we started playing rapcore.
Awareness and respect for the traditions they extend
Expertise developed mainly via natural talent and musical camaraderie: I had some private lessons, a few times. I don't know if it's ok to say this, but I was picking up everything fast and I was trying to pick up information from different places and those guys, other drummers, helped me out at certain points.
And Ali's career has honoured the rock tradition of regular band break-ups: ….we had to split up because…. the usual stuff, how it happens!
From Black Garage he moved to Radio & Video and cover songs until, Anar joined and we started to make our own music. We actually made some interesting sounds; it was not classical like rock bands or electronic sound mix….. And right after that we separated from the leader of the band.
Of course.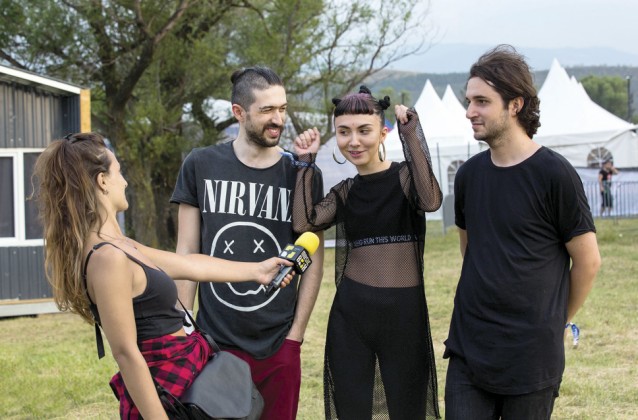 Their new group was called 3 from 4 – Why? We had our first hint of the country's rock history: ….because all of us are from the fourth generation of rock music in Azerbaijan and we were three from the four members of the band. We were three guys and we were playing fusion experimental and some mass technical stuff, but not that much. We didn't make any recordings, but we still carry those ideas. And then DiHaj happened….
Anar – death and deaf metal
Anar took us back to about 12 years ago when he was captivated by the guitar player in Sacra, a Russian hard rock band. There were two stages where local rockers and rappers played regularly:
We were in one of those places and I said out loud that I was looking for a guitar teacher. Sasha Goncharov came up from somewhere at the back and said, "are you looking for a teacher? Well here I am." And he taught me from the very beginning…. I was about 15 or 16. He taught me for two years, then I formed a group…. (Sasha Goncharov was the founder of another popular rock band Sadnos).
So first there was Psycho Drama: We were just playing whatever we could, because we weren't very good then.
All of us are from the fourth generation of rock music in Azerbaijan
Then came Pro'n'Con: By then we knew what we were playing – hard rock, death metal, typical technical stuff…. There was a place dedicated for guys to play, a garage, and the audience was the workers.
Ali: The fun fact about this was that this was a place for deaf people. It was their place, but it was also used for concerts.
Anar: We also played where the Veten Cinema is and in different clubs, wherever we could.
Rock record
Having established that by now we were at 2007, Ali returned to his rundown of Azerbaijani rock history:
That's why we're saying that we're from one rock wave. We used to think of Azerbaijani rock as in four waves, and now there's a fifth. The first was in the 70s, then the 80s, 90s and 2000s. The 70s with Experiment OK, who played folk rock and soft rock. The 80s were more about Charlie ATL. They also played ethnic, but they were technically better; they would also use a lot of satire in their lyrics.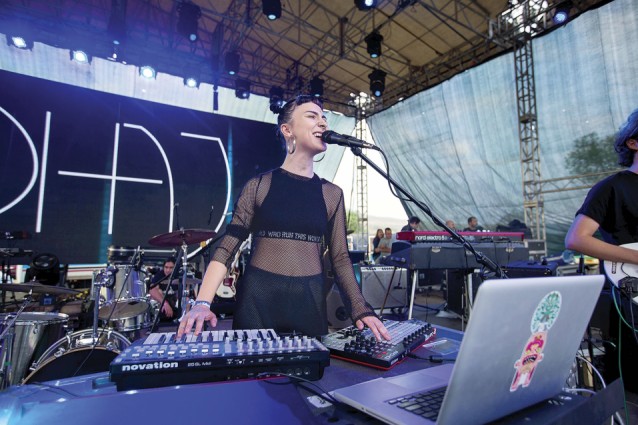 It was interesting to hear that rock and satire were thriving while the Soviet Union was in terminal decline.
The 90s are best-known for Coldunya…. playing artrock and progressive at one point. In the 2000s there was Unformal - alternative rock, everybody knows them; they are legends.
And Unformal's lead singer was Dilara Kazimova, who sang for Azerbaijan at Eurovision 2014. Anar came back to complete his route towards DiHaj:
Pro'n'Con lasted for two or three years, but we didn't get on so well. I got a job in the Music Gallery shop; there was a bass guitarist there and I started doing stuff with him….
The Music Gallery organised a contest in the Jazz Centre for guitarists, vocalists, drummers. I won my first guitar, a Yamaha, in the competition and I'm still playing it. I was invited to play with the group Radio & Video, the band Ali was playing in….
Ali: When I was playing with Radio & Video I started checking out electronic devices and then when we connected with Diana I already had an idea about putting the electronics here, and acoustic stuff was all around, so we started to create our own sound.
Diana was another apprentice to sorcerer Rauf Babayev
Dihaj herself
Having got two of them together in history, we turned to the group's eponymous vocalist, Diana Hajiyeva. Our article about the Orient Xpress combo (Visions July-August 2015) featured the experiences of Anar Yusufov and Farid Mailov in the youthful vocal group Beri Bakh and Diana was another apprentice to sorcerer Rauf Babayev. On completing his popular career with harmony group Qaya, Babayev had turned to fostering the next generation of musical youth. Diana had plenty to say about his influence:
Well, basically I might say that this was my musical grounding, all the basics that I've learned; how to switch voices, how to move my vocal cords and everything. Everything I know now I know from Beri Bakh. I must say that Rauf Babayev is a great teacher, really. Maybe a bit strict, but he had to be. It was a very nice grounding. I hope that everyone can have a grounding like that.
Of course there are some teachers who are very nice, real teachers, but none who have made an ensemble as Rauf did. I don't know of any other band that was created from the very beginning where there was a teacher who everyone could ask questions to, a super teacher!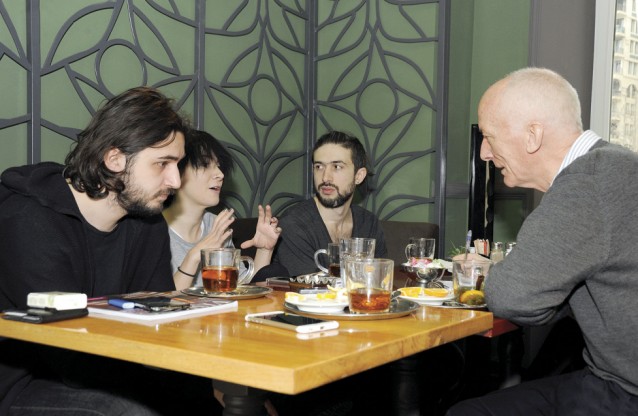 From the age of six, Diana was with the group for 11 years, performing locally, internationally and learning all the while. When the time came for the apprentices to test their own enterprise, she stayed at first within the jazz tradition:
I started to sing solo in the Jazz Centre. I was invited by Emil Ibrahim. I'm very thankful to him, he gave me the opportunity to try myself, only me on stage. Before I only sang in groups and to be a soloist is another condition. Then just singing, singing, singing everywhere, I was just singing. After that, I graduated from the Baku Music Academy. I went to study in London.
To the Institute of Contemporary Music, where she met other musicians who shared her latent enthusiasm for electronic and progressive music:
From the age of 15 or 16, I had decided to learn music software and I started to compose music, but nobody knew about that, I kept it for myself. And then in 2012 I met Ali and I went to their concert, the Radio & Video group; I was just listening and then I realised I had to change something in my life.
Dihaj itself
2014 saw the creative results of that decision. Diana and Ali had a baby and DiHaj produced I Break Again, a breakthrough track written with and featuring the excellent Isfar Sarabski. The two creative processes ended beautifully, but neither is an easy one as, for example, the group's tale of I Break Again made clear.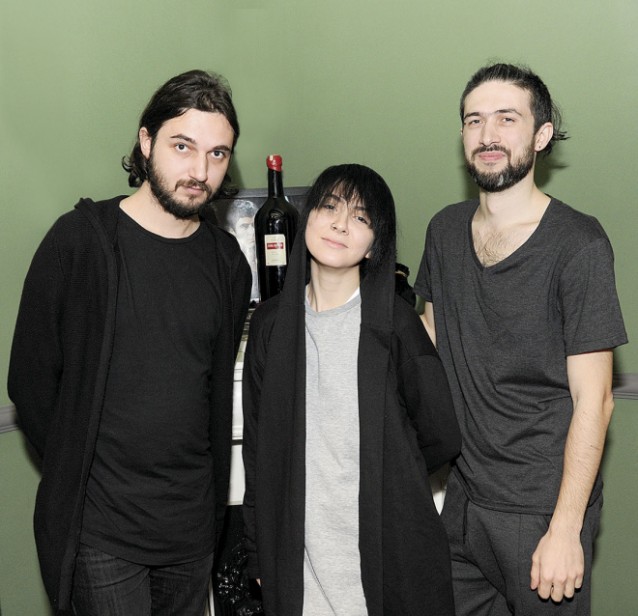 Diana: Well, we composed it in one night, and on the second night we were already recording it. So it was, like, done in two days.
But….
Ali: We were doing different songs and it was really difficult. We were thinking and doing and like, you know, it was so long; we sat for about four hours, thinking, you know: Isfar was playing, she was singing, I was playing drums and we were so tired and after….
Diana: We had a break…
Ali: Yeah, we had a break…
Diana: And Isfar just put his hands…
Ali: And it's not working and we all sat there for one minute and then Isfar goes dring, dring… [imitates the opening riff of I Break Again https://is.gd/spTCb2] and that was it….
Diana: And then it just started!
And start it did. Sound and word spread, Vilnius's Culture Night Festival in 2015 was followed by an award for Best Debut Band at the Tbilisi Open Air in 2016, at which a further highlight was the presence of rock guitar legend Steve Vai.
Our question about Vai's performance and age was swiftly countered by Anar: He will always be young. In his mind and the way he plays. He will die young! He's a favourite guitarist. It was my dream to be at one of his concerts, and it came true.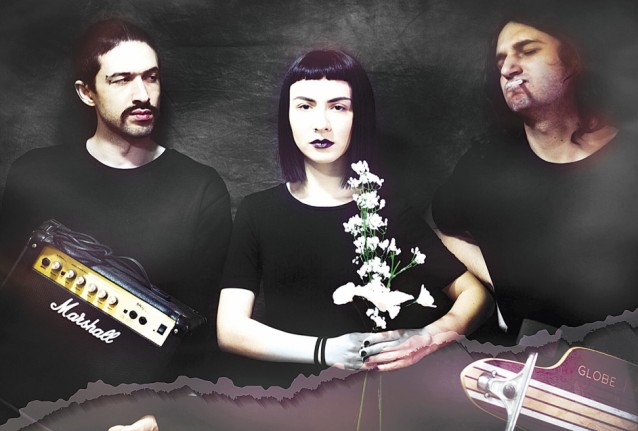 As we write, preparations for Eurovision are winding up, especially after the release of Diana's video for her song Skeletons, but DiHaj gigs continue and we cut a hole in the smoke to see them celebrate one year at the popular underground Etud bar – both joyous and lung-threatening, but what's life without a little risk? An album is promised after Kyiv and they have already filmed their part in a forthcoming movie by director friend Ru Hasanov.
If you have heard of Diana only via Eurovision, then check out her work with DiHaj on the social media; as well as I Break Again, you will find Gecələr Keçir - their take on a traditional Azerbaijani song, Complain and Eşqini Aşagı Sal among others. But we end with Diana's hopes for May:
My main point is to blow everyone away when I am on stage and I really hope the show, my show, will be very moving, from the inside, fundamental, to share my own feelings on stage.