I was three or four years old when I went to Ganja for the first time. Naturally, I remember nothing more than what a child of that age can do. My father was very much interested in such matters. He wanted us to know about each region in Azerbaijan. Over time, I began to read a lot about Ganja. It really is a majestic city, full of mysteries that no one has been able to solve; I think that's why it's so popular in Azerbaijan. My family and I loved its beautiful views and clean air. We wanted to return home, but couldn't every time. And as fate would have it, I recently returned again.
If I'm not mistaken, I was on my way to Icherisheher (Baku's inner city or old city) when I received the email from my colleague. Ayan, the European Youth Festival is going to be held in Ganja from 29th September to 3rd October. Do you want to go? I accepted the offer with pleasure and two days later, together with our photographer Eldar Farzaliyev we were on our way to Ganja, the European Youth Capital 2016.
European Youth Capital
Last year Ganja competed alongside 12 cities across Europe for the title of European Youth Capital 2016, a competition run by the European Youth Forum to encourage new ideas and projects aimed at developing the role of young people in society.
Ganja was selected over five other cities that reached the final selection round – Badajoz (Spain), Galway (Northern Ireland), La Laguna (Spain), Varna (Bulgaria) and Vilnius (Lithuania).
In an interview with Visions, Kanan Mammadov, Chief Media Adviser at the Ganja city Executive Authority, credited Ganja's victory to the president's policy and in particular a presidential decree on Azerbaijani youth signed in 2011. He also pointed out that, whereas 14-29-year-olds form 21 per cent of the population of Europe, this figure is 29 per cent in Azerbaijan and 29.8 per cent in Ganja, so it was fitting that the city became this year's Youth Capital.
The official opening ceremony was held in May of this year, attended by high-ranking officials and featuring dance and traditional music performances, an exhibition on "Ancient Ganja," samples of the best in Azerbaijani folk arts and crafts, and extracts from Nizami Ganjavi's Khamsa, a selection of the great poet's five enchanting poems.
Throughout 2016, the city has hosted, according to Mr Mammadov, 129 events with the participation of over 35,000 young people. Many of these have been educational in nature, touching on diverse subjects such as discouraging early marriage, drugs and religious radicalism, and promoting multiculturalism, professional journalism and young entrepreneurialism.
Mr Mammadov went on to describe some of the positive infrastructural consequences of Ganja's selection: A new park (the European Youth Park) has been opened, along with a Youth House, which has a billiards hall, fitness centre, dance rooms, library and a range of social, science and arts clubs.
Day of the festival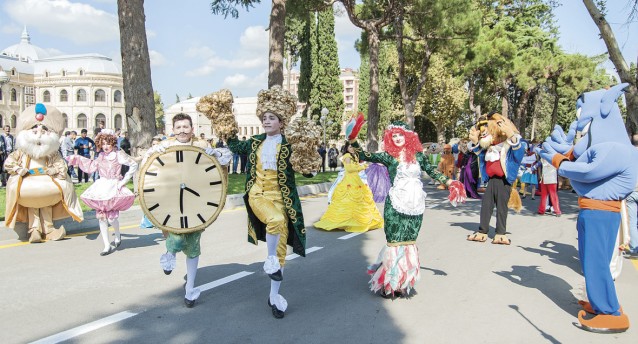 It was about 10am on 1 October and we were already at the Heydar Aliyev Centre, waiting for the beginning of the event. Soon after officials had laid flowers to the monument of Heydar Aliyev, in the conference room, Elmar Valiyev, Head of the Ganja City Executive Authority, declared the festival open by welcoming guests to the land of Nizami. He talked about Ganja today, its future plans and projects and concluded with the words of national leader Heydar Aliyev: Azerbaijan's youth is Azerbaijan's future.
Speeches were then made by Ismayil Ismayilov, Deputy Minister of Youth and Sports, Johanna Nyman, President of the European Youth Forum and Allan Pall, Secretary General of the European Youth Forum, Elmir Valiyev, Chairman of the Ganja European Youth Capital 2016 Public Union and a range of other officials. After the official part was over, the ceremony finished by awarding the prizewinners of the 31st Summer Olympic and Paralympic Games held in Rio de Janeiro from 5 to 21 August.
Is that all? We couldn't help but ask. What about the festival?
Fortunately, the organizers then advised us to go to the "Ganjachay" boulevard-park complex, and in five minutes, we found ourselves in the middle of a magnificent exhibition. On arriving, guests were presented with our national drink – sherbet - and welcomed by people dressed up as the city's favourite sons: Nizami Ganjavi, Mehseti Ganjavi, Mirza Shafi Vazeh and Javad khan. And soon after a performance of the Overture from the opera Koroghlu, considered Uzeyir Hajibayov's masterpiece, by the folk instruments ensemble and soloists of the Ganja State Philarmony, took us back through time.
A series of colourful national and foreign dance shows followed, performed in turns by smaller and larger groups. A guitar performance by young people was accompanied by the joyful dancing of guests. Then there were performances by soloists from Ganja Music College and the Ganja State Chamber Orchestra and a dance by cartoon characters. But among all of these performances, coming one after the other, it was those of the young children that attracted my attention. This was probably the first such experience in their lives and it was wonderful to see the excitement and confusion in their faces when they forgot the moves. Seeing them reminded me of the concerts and dances that I loved performing when I was taking dance classes nine years ago.
When the entertainment came to an end, Eldar and I strolled through the park. On one side, women were baking bread in a tandir oven, and on the other, some other women were rolling out dough and preparing qutabs, pancake-like flatbreads stuffed with meat or vegetables. And then we saw the tables with our delicious national dishes, including various types of dolma and plov, the king of Azerbaijani cuisine, as well as delicious sweets and famous Ganja baklava and dovga, a traditional soup made from yoghurt and herbs. As we tasted these dishes along with the other guests, we noticed the vibrant colours of several Sheki kelagayi headscarves waving in the wind in front of us, looking really very beautiful.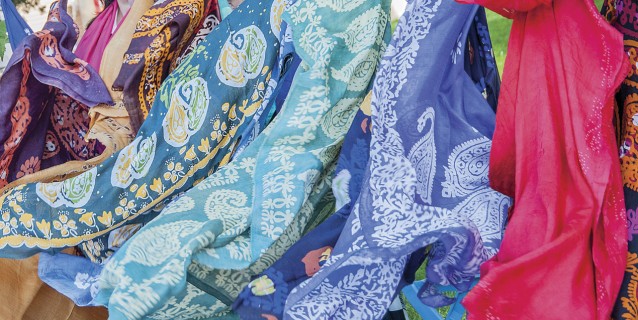 Towards the end of the festival, the city's young people gave demonstrations of judo, taekwondo and weightlifting skills. An exhibition of aikido by a girl of 14-15 years old, in which she seemed to symbolise the power of Azerbaijani women, drew especially loud ovations from the audience. As a member of that audience, everything really impressed me, and seemed to have been organized with great attention. But it would also be interesting to hear from some of the festival's foreign guests: How did they enjoy the European Youth Festival? And what do they think about Ganja's selection as the European Youth Capital?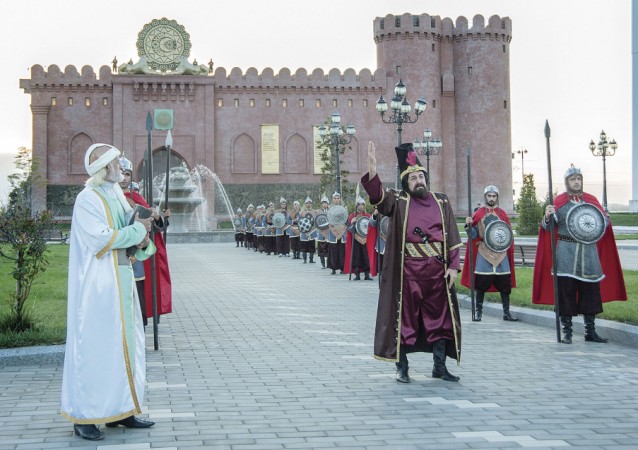 Noah Ringler, 20 years old, from Washington DC, USA
A few weeks ago I came to Baku and this is my first visit to Ganja. As you see, they prepared really well. Really, everything looks perfect. We haven't just been entertained; we've also experienced the ancient history of Ganja, which is the side of Ganja I like the most.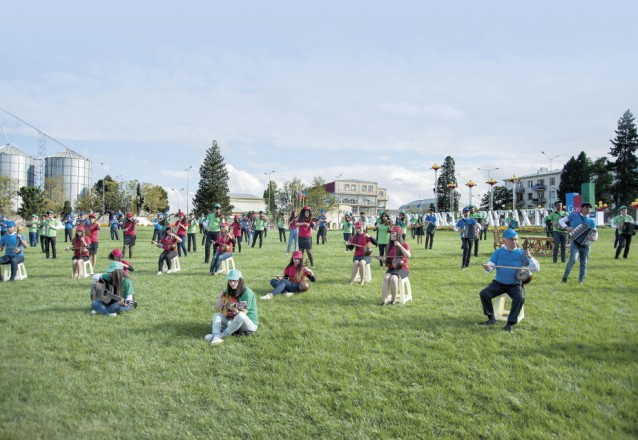 I've traveled to many countries, such as Georgia, Turkey, other European countries and Mexico. In comparison with them and the cities that I visited there, Ganja is really worthy of being selected as the European Youth Capital. As far as I know, Ganja is rapidly developing economically and politically and besides, Ganja has a great young image. So I think that Ganja deserved this.
The organisation was better than I expected. I could even say it's been the best festival I've ever seen. I'm really happy to be here. Thanks to everybody …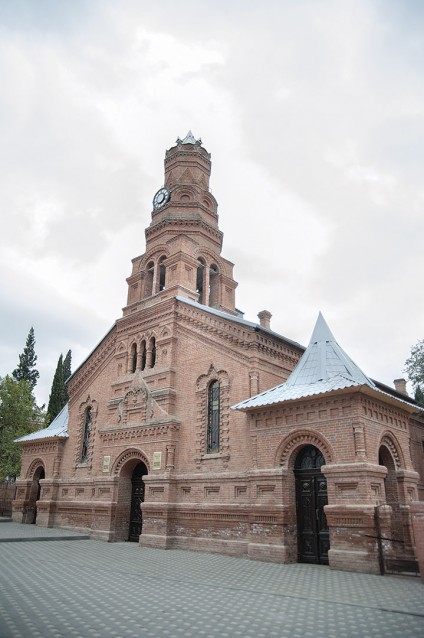 Gaëtan Cep, 20 years old, from Paris, France
I haven't seen a lot of things in Ganja, but the most impressive place I saw, I don't know the name of it, but it was where the opening ceremony and concerts were, the place where there was what looked like the Arc de Triomphe in Paris. But this alley was very beautiful. It was the most impressive place in Ganja for me.
I think that Ganja is an original choice [for European Youth Capital – Ed.] because Azerbaijan is not very well known in Europe, so I think it's ok, why not?
The food that I ate was really great, lots of choice, lots of diversity, I love the traditional food of Azerbaijan, and at the concerts I appreciated that there was a good mood, there were lots of people dancing, it was cool.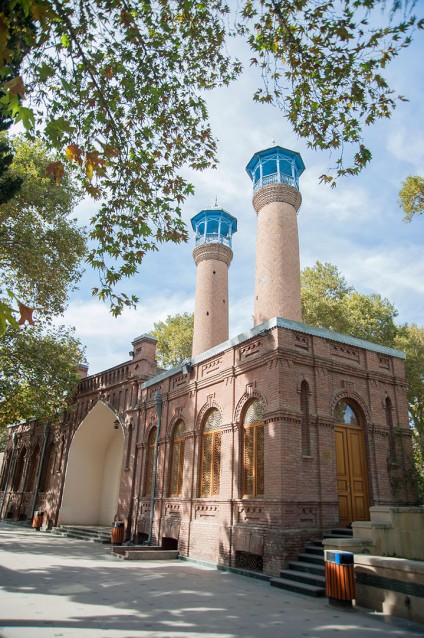 Irlan Shokulov, 18 years old, from Nalchik, Russia
To be honest this is not my first visit to Ganja, I was here maybe two years ago, but just for one hour. Now I think it's a good city, a cultural city, like St. Petersburg for Russia. The people here are interested in you and where you are from.
I think Ganja is not Europe… I mean it is Europe; it's a part of Azerbaijan which is Europe, but it's not like Berlin, it's not like London, with parties everyday. But it's a good city yes, there were a lot of people dancing. It's interesting because I never thought that Azerbaijani people would dance like this, would be like this, you know, like someone from London…
I think the organisation is good here and it's a good forum. It's interesting for me, for other young students from other universities, for the guests. They showed us some cultural things: exhibitions and galleries in Ganja, the building built specially for this event. And Ganja is an old city, that's why I like it. I like Azerbaijan and this.
The festival concluded with a flash-mob, in which students of the Ganja Music College performed on ancient Azerbaijani musical instruments, and with the planting of trees by officials in the European Youth Park.
Ganja's rich history
Ganja today is best known as the homeland and source of inspiration of the great Azerbaijani poet of the 12th century Nizami Ganjavi. Many streets, libraries and museums have been named after him, but the city's history goes back much further than this.

Archaeological excavations of 1940 proved that an ancient settlement was founded here BC, although the exact date is not known. The city has been attacked several times, particularly in the 7th century, when it was destroyed first by the Persians and then by the Arabs. Ganja became the regional capital in 979, under the Shaddadids who came to power after the Salarids. Caravanserais, bridges and trade zones were built in the city; more durable city walls were constructed; the famous city gate was erected by the smith Ibrahim in 1063. Gatran Tabrizi, a poet of that time, described Ganja under Shaddadids' reign as like a paradise...

A sudden earthquake at the beginning of the 12th century (30 September 1139) completely changed the appearance of the city and killed between 200,000 and 300,000 residents. But along with the grief, it also brought happiness. It created Goygol and the seven lakes around it: Maralgol, Qaragol, Zeligol, Ordekgol, Aghgol, Aynagol and Shamliggol. Goygol in particular enchants everyone who sees it.

Ganja was rebuilt in the same century, just to the west of the original city. The Atabeys' state appeared and chose Ganja as its capital. This is regarded as Ganja's greatest period. Agriculture and cattle breeding developed, along with art. Silk production was also widespread in Ganja, and among the city's inhabitants were scientists and poets such as Abul-ula Ganjavi, Mehseti Ganjavi and Nizami Ganjavi. Nizami's mausoleum, built in the 13th and 14th centuries of white limestone and completely renovated in 1990-1991, is a major tourist attraction today.

The Ganja khanate with Ganja as its capital existed in the 18th century as an independent feudal state, until it was annexed by the Russian Empire in 1804 and renamed Yelizavetpol. It became prohibited to mention the city's former name, but a number of cultural institutions continued to be built, many of which are still there today: the Shah Abbas Mosque (current Juma Mosque), which used to be a state library, the Divanxana, built by Qanbar and the Huseynbey brothers in the 19th century, the Veten Cinema and the German church, which is now the Ganja Puppet Theatre.

Ganja became the temporary capital of Azerbaijan Democratic Republic in 1918, regaining its historical name that year. But sadly, under 20 years later, in 1935, it was renamed Kirovabad in honour of Sergey Kirov, the former Bolshevik leader in Azerbaijan. In 1989, it regained its historical name.