Walking down the street of the capital city of Azerbaijan, Baku, I frequently receive salutations of Ni Hao! (hello) in Chinese because of my foreign appearance. Occasionally, I may even marvel at the decent pronunciation and idiomatic Chinese expressions of someone I bump into in banks, the metro or supermarkets, who starts a conversation with me and talks about their adventures in China fluently. Receiving complimentary words on their language ability, they would mildly wave their hands and answer modestly Nali Nali (literally where where, a humble way to say that something is not worth mentioning), as if they were actually Chinese.
The situation was somewhat different just several years ago when Asian faces were much more likely to be greeted in Korean or Japanese by the hospitable locals. How did this change take place? What is the fuel for people's enthusiasm in Chinese language learning? As a Chinese language teacher at Baku State University (BSU), I would like to unveil the history and current status quo of Chinese language education in Azerbaijan.
Sino-Azerbaijani relations
The bond between China and Azerbaijan dates back to approximately 200 B.C. when the Silk Road first came into being. In the 1990s, China was among the first countries that acknowledged Azerbaijan's independence and in 1992 a bilateral diplomatic relationship was established between the two countries. In August the same year, the Chinese embassy in Azerbaijan was set up in Baku.
Modern-day Sino-Azerbaijani relations are being further reinforced as China adopts the Belt and Road Initiative, aimed at promoting regional economic cooperation with countries along the old Silk Road and strengthening exchange among different civilizations. In December 2015, the Azerbaijani president Ilham Aliyev paid a state visit to China and later China also sent high-level delegations to Azerbaijan.
Ever since then, cooperation in the fields of economy, education, culture and tourism have achieved substantial results. According to statistics from the Azerbaijan State Customs Committee, China ranked as the ninth biggest trade partner of Azerbaijan in 2015. The total value of trade between the two countries was recorded as $565 million. The oil industry has remained the pillar industry for Chinese-funded enterprises in Azerbaijan in the past few years.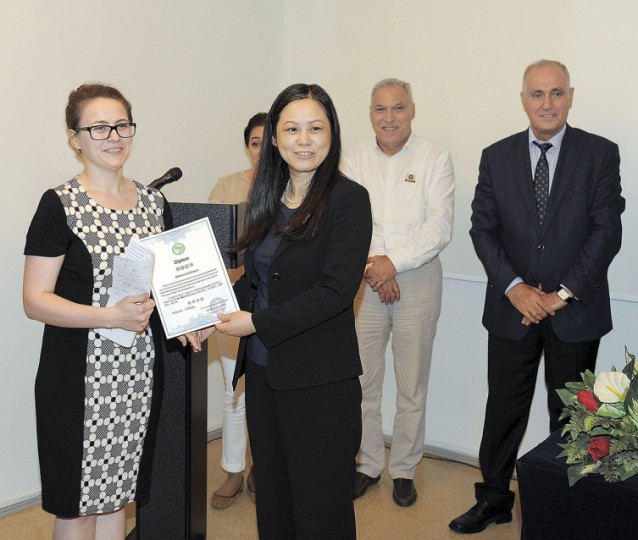 More and more Chinese students opt to study in Azerbaijan each year and half of the total number are sponsored by the China Scholarship Council (CSC). According to data from the Chinese Embassy in Azerbaijan, Azerbaijani universities now register approximately 100 Chinese students majoring in oil engineering, Russian language, computer science, education and other courses.
Stimulated by the visa on arrival policy for Chinese citizens visiting Azerbaijan, which was newly introduced this February, more and more Chinese tourists, especially backpackers, are attracted to this previously barely known land. In July, China Southern Airlines reopened its Urumqi - Baku direct flight. A new route has been opened between Guangzhou and Baku.
The Belt and Road Initiative, also called the Land and Maritime Silk Road Initiative, refers to the proposal to build a Silk Road Economic Belt and a 21st Century Maritime Silk Road by Chinese President Xi Jinping during his visit to Central and Southeast Asia in 2013.
Chinese language education in Azerbaijan
With the Chinese economy surging, the Chinese government initiated the Confucius Institute programme in 2004. The programme is a language instruction curriculum carried out by Hanban (the Confucius Institute headquarters - www.english.hanban.org), a public institution affiliated with the Chinese Ministry of Education. It is committed to providing Chinese language teaching resources and services worldwide and strives to meet the demands of foreign Chinese learners and contribute to the development of multiculturalism. By the end of 2015, China had established over 500 Confucius Institutes worldwide, over 100 of which were in countries along the Belt and Road.
The first Confucius Institute in Azerbaijan was opened in April 2011. Operated by Anhui University in co-operation with BSU, the Confucius Institute of Baku State University (CIBSU – www.ci.bsu.az.chinesecio.com/ru) also holds other teaching centres including those at ADA University (formerly Azerbaijan Diplomatic Academy) and the Academy of Public Administration under the President of the Republic of Azerbaijan. So far, approximately 1,500 students have taken courses at CIBSU.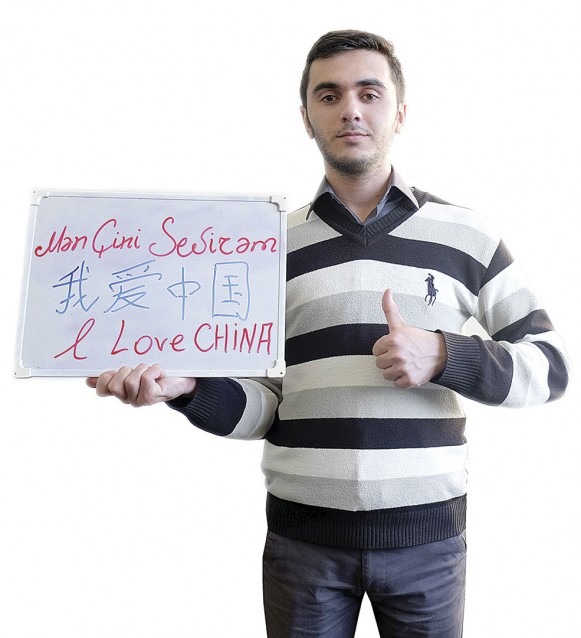 Currently, the institute hosts around 300 students for three levels of courses. Classes are also offered for special purposes, such as preparation for HSK, the standardised Chinese language proficiency test organized by Hanban (http://www.chinesetest.cn) and business communication. Registered students may participate in the Chinese culture curriculum, which ranges from tea ceremonies, Chinese calligraphy and painting to Taiji.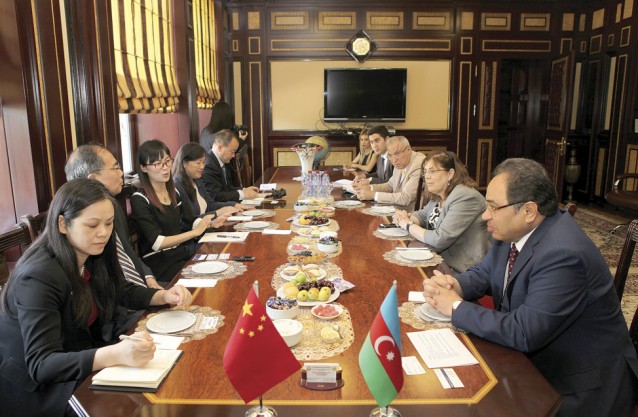 Various events are held to enrich students' knowledge of China and allow them to learn through practice. Apart from celebrations of traditional Chinese festivals such as the Spring Festival, the Mid-autumn Day and the Lantern Festival, the institute also organizes an annual summer camp in China and the Chinese Bridge Chinese Proficiency Competition Azerbaijan Zone. Recent events include the Confucius Institute Day, which features three sections: an exhibition on Chinese films, a summer camp photography show by Azerbaijani students and lectures on Chinese contemporary literature.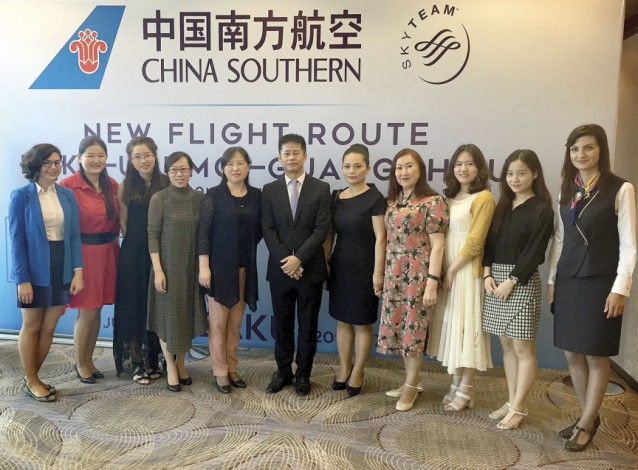 In June, a new Confucius Institute was opened in the Azerbaijan University of Languages (AUL). With newly arrived Chinese teachers, the two Confucius Institutes will definitely bring about a new fervour in Chinese language learning. Besides the Confucius Institutes, two Azerbaijani universities host bachelor degree programmes in Chinese regional studies; one of them is the time-honoured BSU and the other is the burgeoning AUL.
Boasting a history of 12 years, the Chinese regional studies major in BSU is affiliated with the Far Eastern Languages and Literature Department together with Japanese and Korean languages. In 2009, a master's degree programme was launched and up to this July 90 bachelor's degrees and five master's degrees have been awarded.

VOICE OF THE AMBASSADOR

Wei Jinghua, Chinese Ambassador to Azerbaijan:
In recent years, Azerbaijan has been presenting the utmost sincerity in its cooperation with China. In politics, the Belt and Road MOU was signed during President Aliyev's visit to China and is aimed at coordinating bilateral development strategies. Our mutual trust has strengthened and more high-level visits can be expected.
In respect to transportation, Azerbaijan aims to construct two railway arteries that connect North and South, East and West. China has been welcomed to transport goods to Europe along these railways via Georgia and Turkey, according to the Azerbaijani government. Based on the agreement on education, the two countries offer 50 places respectively for a government scholarship each year and in the current year the quota is fully occupied.

VOICES FROM THE TEACHERS
Ogtay Jalibayli, Head of the Far Eastern Languages & Literature Department, BSU:
Not many people know that the Chinese major at BSU may actually be traced back to the 1990s when later it was closed due to a teacher shortage. During my term of office at the BSU Arabic Language Department as a Japanese language teacher since 2000, I started to seriously consider establishing a department focused on the Far East, due to its significance on the global stage. I used to be a visiting professor in Japan and I am clearly aware that Asian culture is deeply rooted in China. Therefore I included Chinese in my plan along with Japanese.
As the founder of this department, I have witnessed its expansion throughout the years. Thanks to the CIBSU our students have obtained more opportunities for language training and visiting China and because of the hard work of the Chinese teachers, a new Chinese language textbook will go to press at the end of this year. With annotations in Chinese, Russian and Azerbaijani, this unprecedented trilingual textbook will be a great help for our Azerbaijani students.
Luo Xiaozhi, Director of CIBSU, former Director of the V. N. Karazin Kharkiv National University CI in Ukraine:
Compared with Ukraine, Chinese language education in Azerbaijan started a little late and still lingers on language itself rather than broader sinology. I think this is due to the relatively few connections between the two states throughout history. However, with the bridging of diplomatic relations and strengthening of cultural communications, language education is also gaining great momentum.
Besides universities, our teaching centres also cover Azerbaijan State News Agency (AZERTAJ) and Azerbaijan National Academy of Sciences (ANAS). We give lectures to journalists from AZERTAJ and also help develop their Chinese webpages, making Chinese one of the seven languages of its official website.
Due to the establishment of research communities on Chinese studies in the ANAS, including the Belt and Road research group, more courses are being offered to academicians and researchers.

Sun Yan, Teacher at CIBSU:
I worked as a volunteer at CIBSU after it was founded in 2011 and now I work there as a teacher. It is no exaggeration to say that I have spent my best years in Azerbaijan. Back then I was the only volunteer assisting the only teacher, who was also our CI director. Everything was difficult in the beginning. I lived in a small and humid room frequently haunted by mice. Nobody knows our organisation, so we shot a TV advertisement and handed out leaflets by ourselves. We worked from morning to night, with no time to rest even on weekends.
Now however, there are 14 volunteers and teachers. We have much better teaching facilities and accommodation. CI and its scholarship are so well known that applicants even cross our threshold prior to the time of registration. My students are scattered all over the world. I have complicated feelings when I look back, but everything pays off and all the efforts are worthwhile I think.

VOICES FROM THE STUDENTS

Narmin Babayeva:
The year I attended college, BSU happened to launch a new programme in Chinese regional studies. I think Chinese language may bring better job opportunities, so I replaced American regional studies with it in my priority list. It turned out to be a wise option.
Back from China, I continued my studies at BSU. With a master's degree at hand, I successfully gained a decent job with China Southern Airlines Baku office. I love my job. Some of my colleagues are Chinese and I learn new things incessantly each day. Our office resembles a mini-sized China in Baku to me.

Vusala Abdurahmanova:
I like Chinese characters. They look nice. Through learning Chinese, I have realised that if I believe in something and keep on trying, anything is possible.
Chinese people are very friendly. My teachers at Nanjing University of Information, Science & Technology are highly responsible. The local students are always ready to make friends with me once they know I am a language learner. Even now, I still consult them when I have questions.
There is also a dorm supervisor who we call "auntie." She always says to us overseas students: "Please take me for your mum since your own mothers are far away." She even cooked delicious soup for me when I was ill, which really moved me.
Nazrin Vakilova:
I studied international relations in Beijing for eight years at China's top university, Beijing University. I used to think that China was an exotic country and that people had peculiar ways of doing things. It turns out that it is well integrated with the global village and people are quite down to earth.
Studying in China transformed me in every single way. I once volunteered for the 2008 Beijing Olympic Games and accumulated some experience in event planning and organizing. Later I developed it into my career.
Though China may not be widely acknowledged as a superpower today, this process has begun. Fundamental changes are taking place there and it is no longer the country I first visited in 2006. China continues to shape my life, seen from this perspective.
Nurlana Shirinava:
Chinese language was my destiny. Though my knowledge about China was almost nil, a strong impulse suddenly rose in me at the time and compelled me to learn Chinese. That's why I always think it was my fate.
Chinese forms such an important part of my life. In China, I met so many nice people and admired with my own eyes its diverse culture. I never imagined China to be so prosperous and Chinese cuisine so yummy! Now I still work with Chinese people. They are simple and understanding. I feel at ease communicating with them.
Turkan Rustamova:
When I took part in the Chinese Bridge contest in China as the champion of the Azerbaijan zone, I visited many scenic spots and was deeply impressed by the picturesque views.
Having earned a master's degree from Central China Normal University, I worked at AZERTAJ for two years. Now I am going back to China to pursue my dream. I want to be a Chinese language teacher.
Gunel Aghazada:
My father is a businessman who has been doing import and export with China for ten years. Our whole family moved to China several years ago when I was at high school. Now I study at Zhongshan University in Guangzhou.
China is such a densely populated country. There are people everywhere! Yet I love China. I would like to find a job at an embassy here upon graduation.


Language tips:
Chinese is no easy language. Hence Chinese language learners need to be extraordinarily persistent and patient. A great amount of time and energy have to be invested. Learning Chinese is rewarding though. Once you acquire the key, you shall find Chinese an extremely expressive and beautiful language.

About the author: Wu Hui is a teacher of Chinese language at Baku State University dispatched by China's Minnan Science & Technology Institute via the Hanban programme.