Visible learning and teaching occurs when teachers see learning through the eyes of students and help them become their own teachers.
- Professor John Hattie


On 16 November 2016 over 600 teachers, principals and educational leaders all around Azerbaijan bid their students goodbye for the autumn break and joined a two-day International Education Conference called Empowering Learning, organised by the Azerbaijan Teacher Development Centre (ATDC) in cooperation with The European Azerbaijan Society (TEAS) in Baku from 17-18 November.
ATDC Director Graeme Pollock opened proceedings and welcomed the two international keynote speakers – Bill Martin and Debra Masters, workshop presenters and conference participants. He wished that everyone would feel inspired and leave the conference with a thought or an idea to implement that would make a difference for children.
He concluded:
Teachers are the people who shape the future of the nation – they are the ones who educate the future business leaders, scientists and workers that will provide the prosperity of the nation. Teachers are at the very centre, then, of all we will be discussing during the two days of this conference.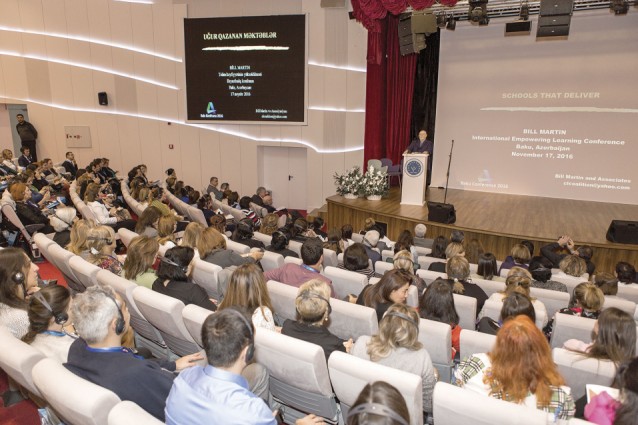 Tale Heydarov, Chairman of TEAS, spoke next, noting that the previous day's opening of ATDC's new building was a contribution to the State Strategy on Development of Education approved by President Ilham Aliyev. He ended by stressing the importance that TEAS attached to the development of education in Azerbaijan:
The founding of ATDC, which we consider to be a new teacher development model in the post-Soviet area, is a major achievement in the educational sphere. The Centre is licensed as a further educational resource for teachers…. The Centre is professionally staffed and has an up-to-date pedagogical library to assist teachers' development. We are very pleased that the opening of our centre is followed by this high-level international conference. The conference's work will be effective and new ties will be established. The importance of teachers cannot be overstated. For the development of any nation, the quality of schools and the quality of teachers is most important. The better the teachers, the better the students, the better the future of the country.
Other guest speakers included Isa Habibeyli, Vice-President of the Azerbaijan National Academy of Sciences (ANAS), Jafar Jafarov, Rector of the Azerbaijan State Pedagogical University, and Ruslan Gurak, Head of the State Inspectorate of Education Institutions in Ukraine.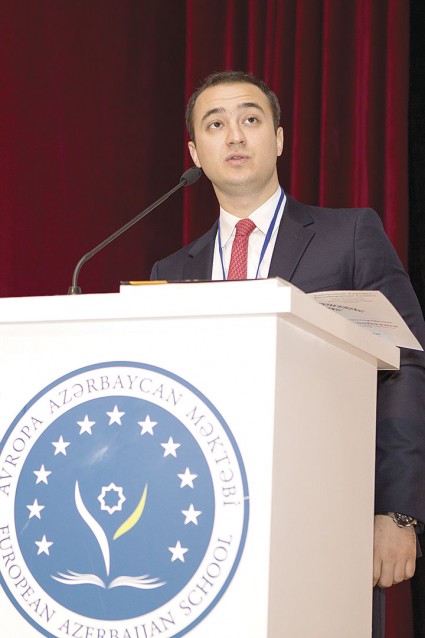 Bill Martin's Keynote Speech
Bill Martin, a leading educational researcher, loves working inside schools to build positive learning environments for children. His latest contribution to international research on schools that are performing well was as co-author with John Edwards of a new book, Schools that Deliver, an Azerbaijani translation of which is in prospect. Since 2003, he has worked with over 180 schools across six countries to support efforts to create powerful learning cultures.
Bill began by discussing Daniel Kim's Levels of Perspective model to explain what stood at the core of effective change:
No one will buy into change wholeheartedly if their ideas and life experiences and their beliefs and values have been ignored or undervalued…. So, the starting point in school change must be to tap these core resources to create a Shared Vision.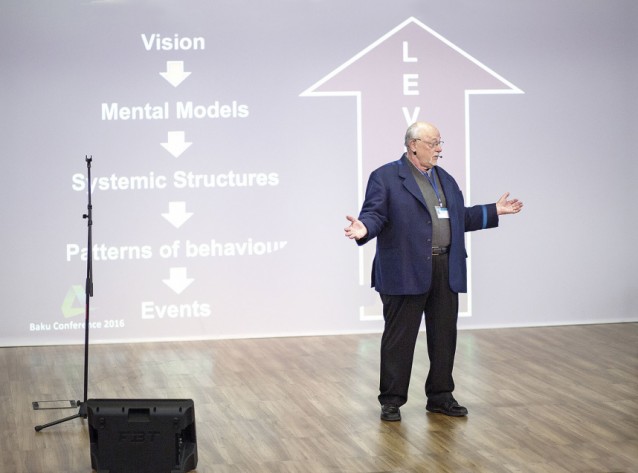 Bill's question, Who does all the work in the class? challenged an attentive audience to reconsider their role from transmitters of knowledge to facilitators of learning. Bill made sure to employ his strategy of perception checks/talk with a colleague throughout his speech to help participants take in the new ideas and discuss their relevance to Azerbaijani culture:
How well are Azerbaijan's mental modes supported by its systems and structures? Who is an expert teacher? What really convinces you of the quality of education in Azerbaijan? etc.
Bill put us all into a "Learning Pit" (Butler & Edwards) and proved how one always gets worse before getting better at something new. Quoting Edward Elmer: Knowledge that comes the hard way is knowledge that really sticks with you. In this respect the Learning Pit is something teachers should be expecting to happen in their class and they should help their students to come out of it before moving on to a new topic. His audience's responses and feedback were evidence of how much his words had resonated.
Debra Masters
Debra Masters is the principal consultant at Cognition Education in New Zealand and Global Director of Visible Learning, establishing the internationally acclaimed Visible Learning model of school change. Together with Professor John Hattie and Kate Birch she has co-authored a new book Visible Learning into Action.
Her speech Using Evidence for Impact presented one of the biggest and most critically acclaimed research projects ever undertaken in education, i.e. Visible Learning (VL) led by Professor Hattie, and how it had been translated into success stories in the classrooms of schools around the world:
Hattie collected this evidence from existing international research studies that measured specific interventions (eg. feedback) and their impact on student achievement. To do this he had to create a common scale so that comparisons can be made. The scale used is called an effect size – it is an existing statistical measure by which progress over time can be measured. Hattie continues to search for new studies and is constantly updating the Visible Learning research. His latest work has now identified over 250 influences. The influence that has the greatest impact on student achievement is teacher collaboration. When teachers collaborate and believe that by collaborating they will have a positive impact on student achievement, it can quadruple the speed of learning for students.
To the question,
What works best?
Debra's answer was inspiring, as research shows that 95% of what educators do has a positive effect on student achievement. The research also revealed that teachers account for about 30% of the variance in student achievement, which is the largest influence after student effort. That means,
it is what teachers know, do, and care about that is very powerful in this learning equation, as Hattie puts it.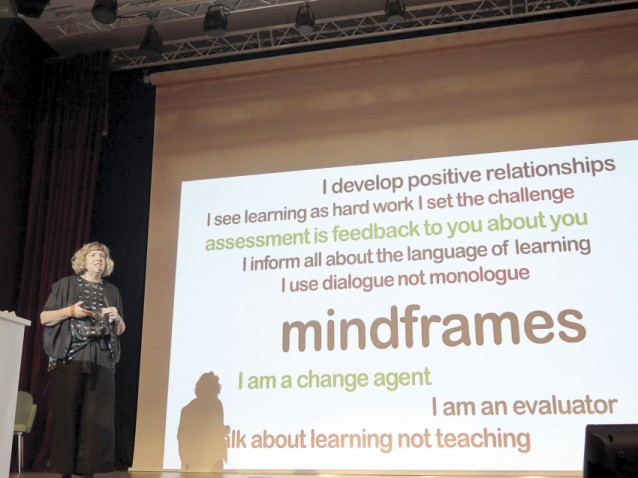 How do students talk about their learning? In her open workshop,
Building and Developing Visible Learners
, Masters led participants to a greater understanding of students' perceptions of their learning. Visible learners are students who are able to explain the assessments they take, where they are at, and their next learning steps. Via video, students talked about how they learn and discussed how teachers could best support them and facilitate their learning.
Breakout Sessions
In addition to the keynote speakers, the conference featured a wide variety of breakout workshop sessions by ATDC trainers, as well as international and local educators presenting successful classroom practices that affect student learning, leadership and the impact of technology. All topics, whether
Competence-based Education: New Education Paradigm for Azerbaijan; How to Organise Effective and Efficient Group Work; Inquiry-based Learning; Motivation: The Key to Success in Teaching and Learning; or Teaching How to Learn
focused on empowering learning.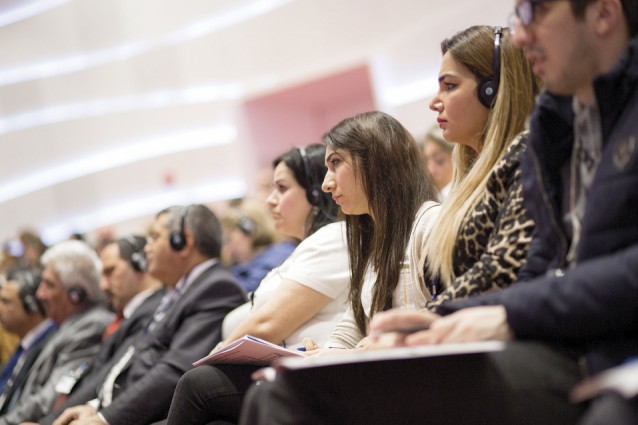 Plenary and Closing Remarks
During the plenary, keynote speakers Bill Martin and Debra Masters and guests Mahabbat Veliyeva (Head of Baku City Education Department) and Asif Jahangirov (Education Advisor of TEAS Baku) answered participants' questions. Afterwards Mahabbat Veliyeva extended her heartfelt thanks and congratulations to the ATDC team for organising a conference that for the first time in Azerbaijan had placed so much emphasis on student learning rather than on curriculum, textbooks, facilities etc. She also said that the Baku City Education Department appreciated ATDC's participation in its Open Doors (2015) and School Workshops (2016) projects and hoped to build even stronger ties to improve teaching and learning in Azerbaijan.
In his closing remarks ATDC Director Graeme Pollock thanked participants for their commitment to the challenge of leading their schools, classrooms and institutions. He also emphasized that the educators present that day would make a difference for the nation and its future and, therefore, they should never ever give up.
Besides the written feedback, the conference received much spoken praise from directors and teachers. They were impressed with the speeches by the keynote speakers, as well as the workshop presenters and left empowered to try new approaches in their classrooms to turn their schools into ones that deliver.
Participants' Feedback:

Levels of perspective and mental models – good stuff. Opened up understanding into what guides our actions and that good teaching/learning is not made up of a collection of methods, but is much deeper.

After listening to Bill I promised to enter class as a quite different teacher.

Deb's enthusiasm inspired me. Her voice will follow me along my career.

Both Deb Master's workshops were fabulous. I'm sure in my teaching strategies there will be considerable changes, moving children towards independent assessment and problem solving.

Excellent summary of Hattie's research and main points. Loads of info. Will process this for a while! Very good!

I'm getting out of the (learning) pit gradually.

Good to see how visible learning is carried out in practice. Made it clear that this is possible, not just a dream, but yes, kids can learn to be their own teachers.After listening to Bill I promised to enter class as a quite different teacher.

Deb's enthusiasm inspired me. Her voice will follow me along my career.

Both Deb Master's workshops were fabulous. I'm sure in my teaching strategies there will be considerable changes, moving children towards independent assessment and problem solving.

Excellent summary of Hattie's research and main points. Loads of info. Will process this for a while! Very good!

I'm getting out of the (learning) pit gradually.

Good to see how visible learning is carried out in practice. Made it clear that this is possible, not just a dream, but yes, kids can learn to be their own teachers.

I felt empowered. My love for teaching increased and so did my responsibilities.
Ian Peart caught up with the two keynote speakers to gauge their views on Azerbaijan, the conference and empowering learning…
Debra Masters'
feet had barely touched the ground when Visions met up with her on the first day of conference, but she was already fired up by the turn out and the prospect of discussing how best to empower learning; she asked and answered:
What has the biggest impact on schools? It's about collaboration, when you have students who can talk about their learning.
We talked about the problems of getting acceptance of the need for continual learning and training for teachers. Referring to the research she had done with John Hattie, she mentioned that aspects of the research specific to higher education had been drawn out, indicating that the impact on student learning was the same at all levels, and materials had been developed for discussion, but,
Higher education is the hardest area for us to get any interest in. There is interest from a research point of view but from their own teaching practice point of view they're just not interested.

Impressed by the attendance of well over 600 for the conference, we turned to how to maintain interest in continual learning and training in order to improve classroom practice and benefit students. Debra was very positive about building on the enthusiasm and demand at grass roots level, but was in no doubt about the size of the task:
In no system that we have worked in have the system leaders said on day one, "Right we want to look at the system right the way through."

But from her background in research, it was clear to her that the first step was to find out what the situation was in any educational environment, knowing that many people would have their views, for example:
This is what we aspire to, but what does it look like in practice? It's very important to have a vision and there may be views on what the problems are, there is so much gut reaction, but where's the evidence?
Then the necessity of longer term support for training to change behaviour is very difficult, and you need to see that a change in the way you do things can work before there can be changes in the way of thinking. The idea of long-term training and support envisaged at ATDC to achieve this was encouraging:
The work that Graeme has been doing here with the Teachers Development Centre, it's got to be a step in the right direction, starting a groundswell.

The concept of visible learning, students as well as teachers being aware of and reviewing the learning that was going on, was important to developing the classroom. And as well as focusing on problems faced in schools, Debra Masters was also keen to focus on and review the good that was being done:
Where are the schools in Azerbaijan that are doing really great work? Let's identify them and find out - What has led to that excellence? What does that excellence look like? Why is it happening in that school and how do we scale it up to other schools?
Bill Martin
had already been fully immersed in conference action by the time Visions met him late on the second day and asked him for his impressions.
I was asked to give the keynote, and at that point Azerbaijan was an absolutely unknown quantity in my life…. so I went ahead with my planning…. I talked with people like Graeme…. And I was struck by how important the education system seemed to be to everyone at every level in Azerbaijan, even within the family structure and you can see that since the early 1990s they've made a lot of progress. I was intrigued by how they've made so much progress so fast…. And when I started studying what they were doing, two ideas came into my mind. Teaching was very traditional there; they've come a long way, but everyone wants the child to be in the centre.
Those were the basics. I was intrigued. They seemed to want to make this transition from traditional teaching and learning to twenty-first century teaching and learning, and so I came. The first group of people I met were the trainers at ATDC, who just blew me away with their passion. And then I came to the conference and saw such a hunger and passion for learning from everyone who's been here.
And over the four days I've been here I've really got passionate about my own learning and what I was learning from them…. I thought that coming to Azerbaijan to do this keynote would be one of those one-time, come in, do the keynote, do a good job, go back and probably never come to Azerbaijan again. But right now I'm craving…. I'm really hoping I get invited to come back and continue to help Azerbaijan grow the education system.
The content of your presentation, about leadership and management, was particularly interesting…
And that will continue to be problematic as everybody tries to go forward, because you've got the old and the new. Even the old want to change and improve, but they've got those values and beliefs…. it's harder for them to shift than anybody else….
I never try to tell anybody what to do. I've no right to come into this country and tell anybody what to do. I'm just not of this country…. I'm just fired up having come here…. I'm beginning to deeply understand the context, the culture and what's going on here and then in my own way to facilitate Azerbaijanis to do what they want to do, the way they want to do it. The future of Azerbaijan going forward is going to be determined by conversations between people trying to hold on to the past and the people ready to move to the future. My sense is that this may be one of the rarest places where the gap may be bridged.
If you come back, what would you do next?
One thing I'd like to do would be to help the country to design a leadership development programme for the education system and in doing that what I'd like to do is use a concept of a training trainers' programme…. The second thing I'd like to do, given the new system and structure they've put in place, is to support teachers as "the rescuers of the nation" [from a quote by former President Heydar Aliyev – Ed.) I'd love to be able to come in and spend a year upskilling the trainers on how to do a magnificent job as they start to go out to work with Azerbaijani teachers.
About the authors:
Khadija Jafarova is a teacher trainer at Azerbaijan Teacher Development Centre. She is an experienced teacher and a PhD candidate. Ian Peart is a former editor of Visions.