- Mum, what are you going to cook tonight?
- Yarpaq dolması (grape leaf dolma), don't forget to buy a pot of yogurt on your way home.
- Ok I will, but please can we have kələm dolması (cabbage leaf dolma) next time or üç bacı dolması ('three sisters' or tomato, pepper and aubergine dolma).
- Next time I'll do pip dolma.
- What?
- As you heard - pip.
And I thought she was joking again…
I was planning a trip to the Ismayilli region this autumn and looking for interesting things to do. Regarding the region's cuisine, I read a paragraph where I came across the name of this mysterious meal again - pip dolma is the best thing to eat here, it said, especially in the settlement of Basqal. As a photographer I love photographing different meals, how they are prepared or served, and especially discovering local meals from the different Azerbaijani regions. After all the national cuisine differs from region to region, reflecting the local flora and fauna, climate and culture, and there is no shortage of expert foragers who can whip up a tasty meal.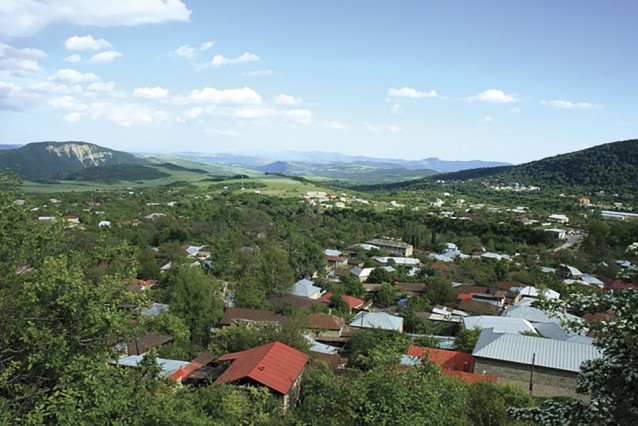 It seemed like a worthwhile idea to devote an article to this Basqal delicacy, but my plan had been to take a break from photography and leave the camera behind. But intrigued by the pip dolma I changed my mind, packed the necessary equipment and set off for Ismayilli.


The national cuisine differs from region to region, reflecting the local flora and fauna, climate and culture, and there is no shortage of expert foragers who can whip up a tasty meal
There are currently more than 25 varieties of dolma. The name 'dolma' originates from the Azerbaijani verb doldurmag (to stuff) and means various leaves, vegetables and fruits stuffed with minced meat. Depending on the time of year and the region, dolma is made from different ingredients - with vine leaves in spring; aubergines, tomatoes, peppers and cucumbers in summer; cabbage leaves, apple and quince in autumn; and with preserved vine leaves in winter. The filling is a mixture of minced meat, rice and aromatic herbs for dolma made with vine and cabbage leaves. Fried minced meat is used for other kinds of dolma. In some regions of the country dolma is also made with the leaves of lime, quince and beech trees, sorrel and bean leaves, from pennycress and other plants.
Basqal
According to historians Basqal was founded in the 4th century. The area in which the settlement is now located was once part of the ancient state of Caucasian Albania. Its name originates from Turkish and means 'built a tower.' Basqal consists of several quarters such as Qoshabulag, Deremehelle, Demirchibazar, Gelbgah, Kharabiyan, Qayabashi and while walking here you can feel the history from the architecture and roads. The village is also famous for its headscarves known as kelegayi, which are made from silk (For more on Basqal, explore Jeyran Bayramova's With Love from Basqal – A Kelegayi Fairytale).
When I arrived in Basqal it was 11 o'clock, the weather was ideal - sun, fresh air, singing birds and wonderful colours. I began to ask the local people where I could find somewhere that served pip dolma and everyone told me the same thing: I was in the land of pip and wherever I went the leaves would be tastier than elsewhere. After a little wandering I found a place called Qoşa Bulaq (Double Spring), situated close to the Emrek forest on top of a hill with a wonderful view and fresh air to enjoy while sampling Azerbaijani cuisine or drinking aromatic tea. I met the restaurant's chef, Khayyam Damirov, and asked whether it would be possible to observe how he prepares pip dolma. When I heard the response - with great pleasure - I was overjoyed. He also mentioned that this is the signature meal of the region and is prepared for guests or special occassions.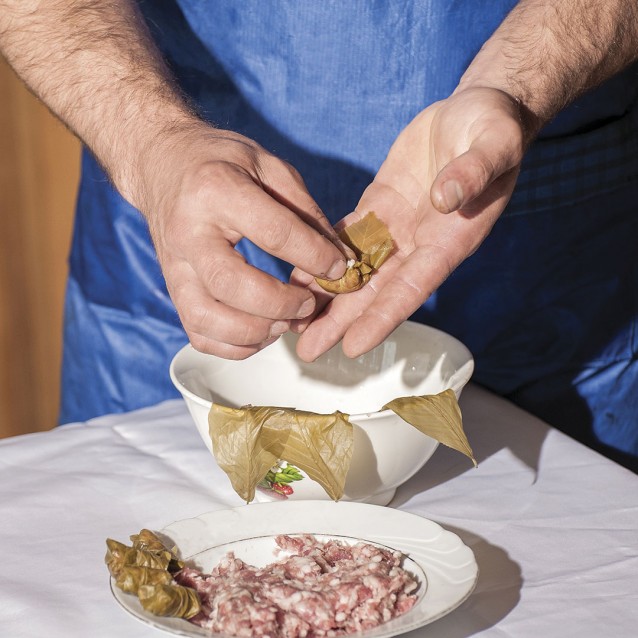 Khayyam is 24 years old and began working as a chef when he was 19. His uncle taught him to cook the national cuisine, but Khayyam admitted that he prefers to cook European meals. Of Azerbaijani cuisine he most enjoys making lule kebabs. Khayyam kindly shared all his knowledge with me and as a result I shall explain how to make pip dolma:
Ingredients (serving 4):
350-400g of minced lamb
1 chopped onion
50g of short grain rice kept in water overnight
1 bunch of coriander
½ bunch of dill
A palmful of dried mint
½ teaspoon of salt
½ teaspoon of pepper
Pip (beech tree) leaves pickled or boiled in water


How to prepare:
Take the meat and add onion, rice, herbs, salt and pepper
Mix well all together
Take the leaves in your palm and fill with 20 or 25g of meat stuffing. Roll the leaves around it
Put the ready dolmas in tidy rows one by one into a deep pan
Add 200g of water over the dolmas
Cover the dolmas with a plate (so the froth gathers underneath)
Prepare over a weak fire for 30 minutesPrepare over a weak fire for 30 minutes
Depending on the time of year and the region, dolma is made from different ingredients
Pip dolma must be served to the table with yogurt and garlic. Let me explain why this should be done for all kinds of dolma prepared with leaves: I was told that each edible leaf contains a 'leaf poison.' Beech leaves are popular precisely because they contain so little leaf poison as well as the fact that they are the thinnest of all the edible forest leaves. The leaf poison is not harmful for humans but in any case to avoid any form of intoxication it is better to eat yogurt with garlic with or after meal. Khayyam also explained that the best time to pick the beech leaves is between 25 April and 2 May before they become too chewy from exposure to the sun, and he recommended pickling them for the following winter too. Pickled beech leaves can be used for up to a year.
Nus olsun! Bon appetit! Enjoy your meal!
With our big thanks to Qosha Bulag restaurant in Basqal, especially chef Khayyam Demirov, for their help.
For more about Azerbaijani dolma, have a look at our article
Dolma – Parcels of Culinary Pleasure
from the January-February 2011 issue.