"Children must be taught how to think, not what to think."
Margaret Mead
Where we were yesterday, where we are today
A good teacher is not necessarily someone who knows the subject the best, but the one who can make sense of that subject well, who can make that subject appealing for student
Every year, on the 15th September, Baku descends into a grand traffic jam as parents rush their children to the first day of school. On this day, the city celebrates the Day of Knowledge, a change for the majority of people, myself included, who belong to a generation that celebrated that day and marched to our first day of school on 1st September and finished the year on 25th May. The change in dates was sensible considering that our summers don't usually cool off until the second half of September. But the weather is not the primary cause for parents choosing some schools over others and, for some, ultimately wanting their children to study abroad. The major reason is outdated teaching practices.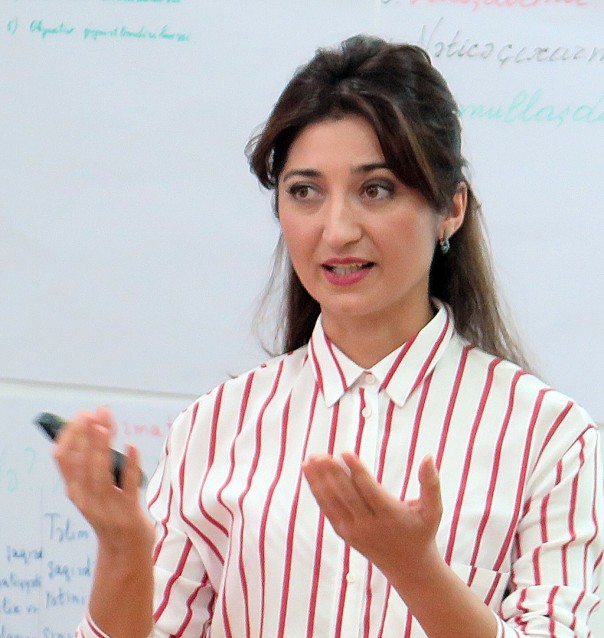 At the very heart of the whole experience of education are the teachers, whose professional development usually stops the day they graduate, with limited opportunity for ongoing research-based contemporary training. But teachers are on a par with doctors, whose development should never stop. The influence of the Soviet Union resulted in whole generations habituated to old methods and approaches. However, now the first steps are being taken to bring educational practices in Azerbaijan up to date.
Azerbaijan Teachers Development Centre
I am a firm believer that education is the engine behind a gradual positive change in any developing country. The 25 years since the declaration of independence have not been the easiest for Azerbaijan, as the country was rebuilding itself, undergoing changes in all spheres, including in the education system. However, the remnants of the Soviet past still prevail in both secondary and higher institutions and new generations of teachers naturally pick up the old habits of their teachers. It takes time and convincing arguments for teachers to adjust their old Soviet skills to the rapidly developing world into which their students are graduating.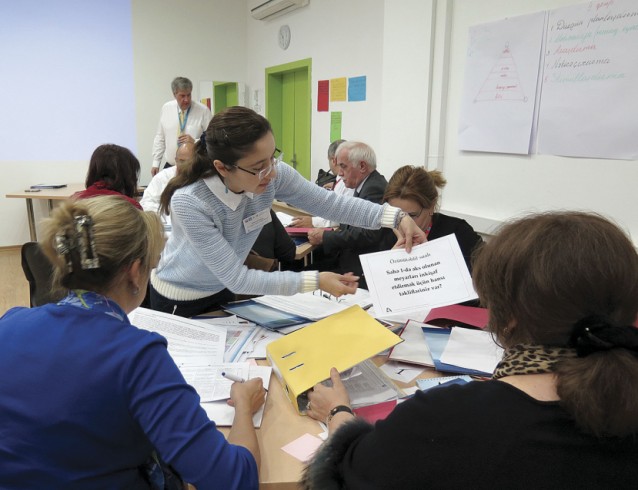 One organisation working towards this is the Azerbaijan Teachers Development Centre (ATDC), which has proven to implement effective teaching practices that are resulting in highly anticipated changes.
After a year of painstaking research and analysis of the resources available for teachers' professional development, ATDC, a novel, one-of-a-kind organisation (for Azerbaijan) started its activity in September 2014, and has taken the teaching community by storm. Sponsored by The European Azerbaijan Society, it offers training for local teachers in modern methods of education, preparing educators to advance the profession of education through research in the science and art of teaching and learning, the application of proven strategies and the effective uses of technology, according to its Training Information Booklet.
Its wide range of training sessions provide an ongoing professional development for teachers, being a pedagogically based set of courses focused on teaching and learning and making changes in the classroom, says Graeme Pollock, Director of ATDC.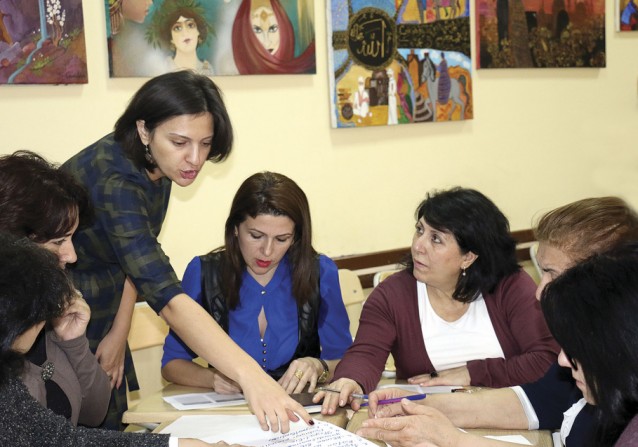 Today more than ever people feel the need to follow innovations in science, new research, emerging technology, and adjust to its rapid spread around the world. The teaching methods used five or even three years ago are fast outdated and need to be constantly synchronized with the newest research on how children learn, curriculum resources and international best practices. The job of ATDC is to gather those best practices and present them to teachers who in turn will apply them in their classrooms. These of course include the skills essential for advancement in the 21st Century – the 4 c's – critical thinking, communication, collaboration and creativity http://www.nea.org/tools/52217.htm. Essentially, students need to take ownership of their own learning.
Just in time for their input, the eight original trainers, who started their important mission two years ago, join us after their morning briefing. The room lights up like Christmas from the enormous energy they exude. All young, highly educated, truly loving their job, experienced in current pedagogy and educational practices, united by one aim and belief that they can and are changing the future. Sitting around the desk, all of them talk enthusiastically about what they love about their job and how crucial the existence of such an organization is for young Azerbaijan.
I think we are doing a very important job currently. As the whole educational system has undergone massive changes because of the technological revolution, we have to learn everything new and deliver it to our teachers so they can use it in their practice, because the majority [of teachers] are still teaching the old way, and need a lot of support and help actually. We are those helpers to them. Our role in the educational system is very important, says Chinara Nur, one of the teacher trainers.
Next to her is Gulaya Sadigova, who prior to joining ATDC worked in different international schools. Gulaya expressed her thoughts very poetically:
I love my job because if you think about it, we are training teachers. That means we are somehow touching the future of our children.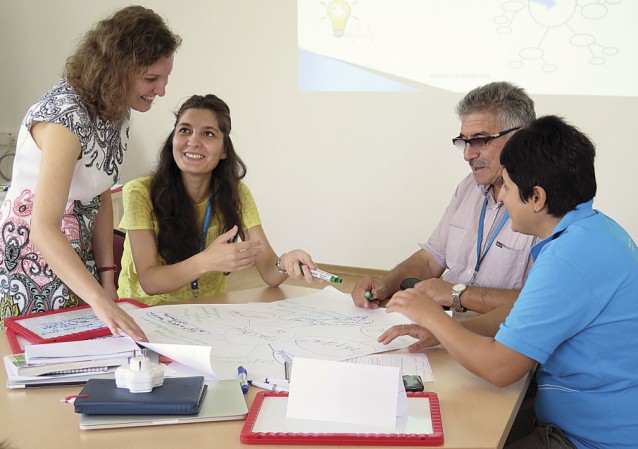 Each session is built with the aim of finding ways of improving what happens in the classroom. The demand for study abroad programs has grown over the years and it is not because the Maths is better somewhere else than in Baku. It is in the way it is taught rather than the essence of the subject itself. The trainers in ATDC do not teach new algebra. In fact, the training sessions are not about the curriculum, but about pedagogy and deep learning, a very different perspective on education.
Teachers of all ages and varying experience learn how to successfully engage children in learning and present them with new information.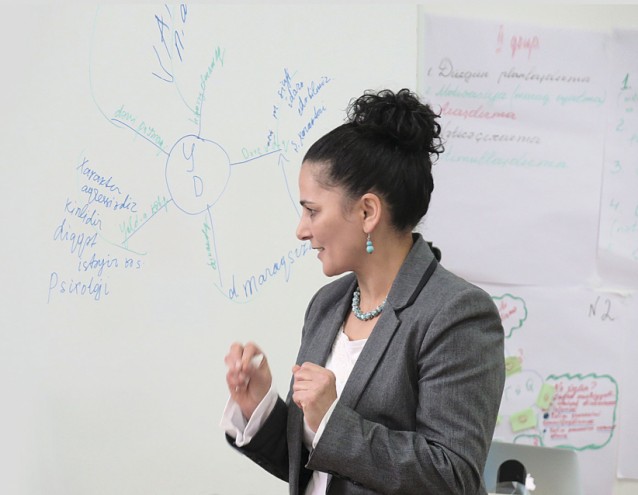 I love working with children and I think by training teachers, it's like another way of reaching the children. When you work with children directly, you work with 15-20 and you can only impact those 20. When you work with teachers, you automatically reach more and impact more, says Vafa Musayeva, also a teacher trainer.
During their sessions, the number of teachers is limited to 20 so teachers get maximum benefit. The duration is usually 1.5 hours and up to four sessions may be offered in any one day.
Training modules
As it turned out from my conversation with the trainers, student behaviour is one of the most important areas that teachers are having trouble with. This is addressed as part of the Productive Learning Environment training along with other topics to choose from. Dilbar Gasimova recalls that oftentimes, usually at the very beginning, teachers tell trainers that they have to be realistic and understand that some things are not going to work here. But usually, by the end of the session the trainers convince the teachers otherwise and later, when the trainers come back to observe the application of the taught material, it proves to have worked well. Dilbar continues:
Change doesn't happen overnight, it might take maybe five more years and it's ok with us. It does take time.
Each training session gives a teacher something they can apply in the classroom tomorrow
During the Student Learning and Engagement session, the essentials of student success in class are discussed, such as the ability to engage all students in a structured classroom discussion, and the importance of group work. At school, the institution where students spend the most time, their best qualities are either noticed and amplified or completely overlooked.
Antonina Rakhmatova, a teacher trainer and a child psychologist with experience working in international kindergartens, schools and summer camps, believes educational psychology is very important. She says that it is still a foreign concept that not everyone learns in the same way and it is our job to show to both teachers and children how we learn so we can help each other.
The Planning and Preparation module is designed to address (but is not limited to) the essentials of lesson planning, organising classroom assessments for improved learning, creating one's own (custom) lesson plans. Each training session is based on strategies that trainers follow, which then provide evidence that those activities do cause change in the classrooms.
After our training we go and observe how they [the teachers] implement our teaching. We don't work for a week or for a session; we really follow up and regularly check. It's improving, adds Vafa. We have to believe that what we do will change the way our educational system works, says Chinara.
We can't change the people, but we can give them a reason to change
21st Century Educational Thought is aimed at strategies to motivate and engage students, showing the correlation between mindsets and learning and empowering student learning. Speciality Training modules are aimed at successfully integrating devices and apps into classrooms to enhance creativity and productivity.
Effective Teaching includes sessions addressing the development of professional relationships between children and adults, behaviour management, child development, involving and interacting with families and supporting teaching and learning.
This is just a small summary of the training sessions currently taking place. Additional ones are constantly being added to the website (www.azteachers.az).
Resistance
In general, there is no resistance from the teaching community as such; after all there is an incredible demand for these sessions. But even the slightest cases of it, Antonina affirms, are used like research, because when you're facing resistance or misunderstanding, you're inevitably learning why [this occurred], what is going on in our schools etc. It's our database, and you can build on that for future sessions, which in return becomes more practical and useful. Each session starts with a set of questions, so we can learn from them first, and then based on their knowledge provide a better training experience for them.
We can't change the people, but we can give them a reason to change, says Chinara.
The biggest issue – lack of funding
The need for professional development is defined by the changes in international education and classroom practices. Each training session gives a teacher something they can apply in the classroom tomorrow. The way trainers work with teachers reflects how they want them to work in the classroom with children.
We are not lecturing teachers, training are very practical, interactive, discussion-based. It is something they can take and use in their classes. It's not something abstract. We always plan ahead and think what can work in local schools, says Antonina.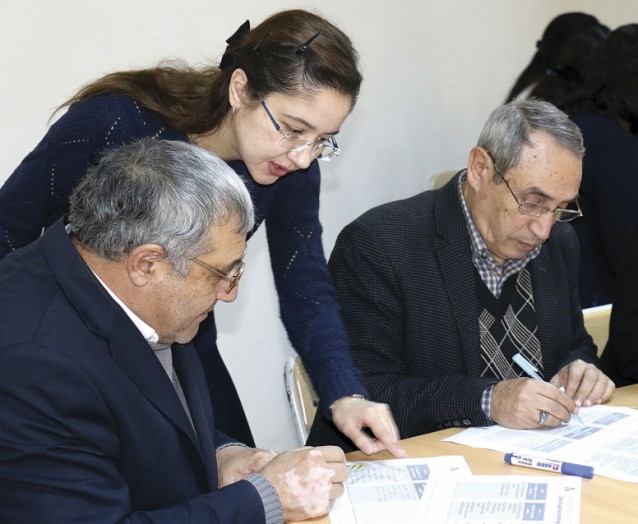 Both the principals and the teachers want to be up to date with the latest innovations in the world of education, but the biggest issue is the absence of resources and funding. Each teacher has to support their own professional development, as there are no resources allocated for that particular purpose. And while it may seem that the fee for each session is not much, given that the teachers' salaries are low, professional development suddenly becomes a luxury.
I remember, during my time in different educational institutions, that there were teachers who knew their subject well and teachers who knew how to teach well, and somehow the latter was more often favoured over the former. The difference between the teachers was not the subject they taught, although we can all agree that Maths is rarely anybody's favourite, but rather the way they were approaching the students with their subject.
A good teacher is not necessarily someone who knows the subject the best, but the one who can make sense of that subject well, who can make that subject appealing for students. We learn the best when we like what we learn, when we want to open the book at home and understand, says Raul Rzayev, a second year student from Azerbaijan State Oil and Industry University
I used to think that the only professionals that required continued studies were medical practitioners. They study as long as they live, and pay a high price for any mistake. But going back to the thought stated earlier, teachers really are on a par with doctors and their development is equally crucial and should not stop. Even though the mistakes of teachers are less noticeable immediately, the price we pay for them later in life is just as high.
It is thrilling to witness the enthusiasm of youth at ATDC and their eagerness to contribute to a new chapter in the development of Azerbaijani education.