Ian Peart and Saadat Ibrahimova spoke to Jamila Mustafayeva, designer of the mesmeric Azpetrol stations…
Flash of inspiration
Arriving home on a night flight a few years ago, we were jerked awake on Heydar Aliyev Prospect by a flash of brilliant white and green light and just had time to register that this latest addition to Baku's urban design was… a petrol station.
The conflict between the architectural panache and standard expectations of what a petrol station should be launched another quest. Whose idea was that?
It was some months later that in discussions about one of TEAS's many projects, there was casual mention that the designer involved was also responsible for Azpetrol's stations. That's how we came to meet Jamila Mustafayeva and to hear a story of a family's commitment to advancing the living environment through the twists and turns of their country's recent history.
Jamila khanim's paternal great grandfather was from Iran and in 1939 one of Joseph Stalin's many policy turns dictated that the family be exiled from Azerbaijan to Iran. Thus she was born in Tehran. While her mother was Iranian, her paternal grandmother was from Aghdam and ached to return to her home country. They moved to Baku in 1971 and six-year-old Jamila began to dream:
There weren't any architects in my family, but even as a child I was always interested in buildings and design. It was close to my inner world. Sometimes even my mother would tell me off for moving things in the house – 'When you have your own place, then you can change things around.'
There is also a natural talent. The bas-reliefs we saw during our interview in her apartment were evidence enough that she is also a gifted artist – some have also been used in commissions, but not yet in an exhibition.
Her dream persisted and while her mother wanted her to be the more traditional doctor, her father supported her choice of career. She entered the Azerbaijan Institute of Architecture and Construction in 1981.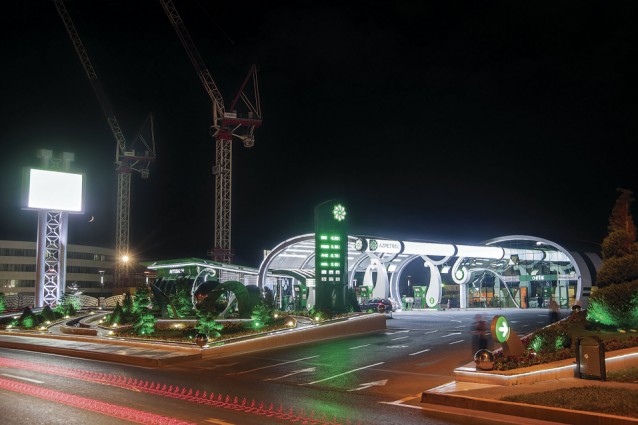 Meeting by design
Meanwhile, Nadir Mustafayev was approaching via a different route. Born in Baku into a builder's family, his interest was sparked by watching, and later helping, his father move around the Absheron to build houses. This, combined with a talent for drawing, indicated a natural destiny:
I learned from my father and when I was in the 9th grade, I got interested in architecture and began to read a lot. That was when I decided to be an architect. I was also drawing, making posters for the school….
Destiny continued to play its part, placing Nadir and Jamila in the same group at the Institute.
On graduating they worked at the Baku State Project Institute on urban project design. Their first son, Kamran was born and he now works there – naturally as an architect.
In 1992 Nadir was invited to work in Iran and they moved to Tehran for a year. That one year became fifteen as they set up their own company – Kamran Memar (architect) – and worked on private housing design. Those years also produced two more children: son Keyvan and daughter Deniz. With his brother, Keyvan completed his schooling in Iran and when the family returned to Baku he entered, of course, the by now Azerbaijan University of Architecture and Construction. There was some thought that he might pursue his talent for graphics, but the genes and a desire for more solid learning kept him on the building track.
His parents, meanwhile, were establishing their own niches; while Nadir stayed with building architecture, Jamila khanim focused more on design and landscape. Her commissions are mainly for interior design in private homes, but she has also worked on schools, embassies and, of course, the stunning – especially at night – Azpetrol stations. Like all artists working to commission she feels that given more time, they could have been even better, but through a layman's eyes it's hard to imagine how. As Keyvan enters his final year of studies, he helps with his mother's commissions, but the indications are that he will make his way as an architect in the future.
Style council
As for how the family's eclectic studies and experience might affect their public expression through design, there were hints in a discussion on preferred styles: Keyvan likes the modern styles of architects like Zaha Hadid (seen in Baku at the wondrous Heydar Aliyev Centre). For him it is easier to go beyond the rules within contemporary styles than in classical. Jamila khanim appreciates good design in all styles, but agrees that modern is generally more relaxed.
Asked to name their favourite buildings, however, they came up with a diverse selection. Leading off, Jamila went for Dom Soviet (Government House) near Baku's seafront – a fine setting for the start/finish of the 2016 European Grand Prix.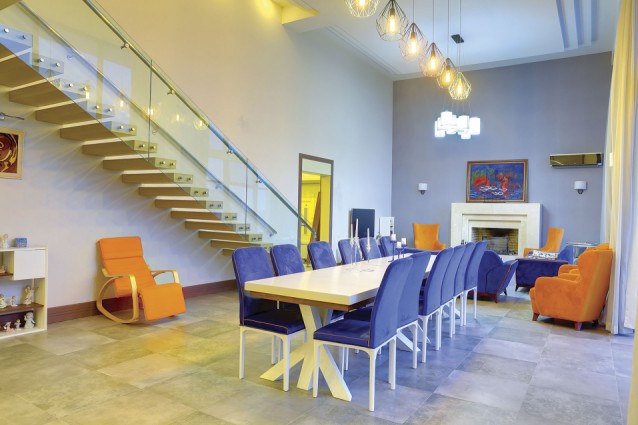 Beautiful and so exact in proportion. There are old buildings that are restored, but others that really should not be touched – Dom Soviet is one of them.
Another classical form, the Azerbaijan Technical University is also a favourite, but so are the flights of fancy in Antoni Gaudi's works in Barcelona.
Nadir, too, favoured the classical:
The monumental National Drama Theatre, in harmony with Fuzuli's statue, evokes restful eternity.
Abroad, he chose the ultimate in classical design: the Parthenon in Greece.
Keyvan admitted that his home-based choice of the Maiden Tower was from an emotional rather than architectural response, while his head selected Norman Foster's 'Gherkin' (St. Mary Axe) building in London.
Baku and other of Azerbaijan's towns and cities have undergone phenomenal change over the last ten years. The capital, especially, has sprouted the ultra-modern alongside its medieval, empire and Soviet architecture. In general the family is very happy with the development, as Jamila khanim says:
I like the rapid development and the broadening taste as the city opens up and its people travel more. And while in the early years there was perhaps too little control of the development, now there is a better appreciation of the need to maintain the valuable older buildings alongside the new. The heritage sites, like Icheri Sheher should be maintained, and it is better to use local stone, with traditional objects and ornamentation, to preserve the national characteristics of the city.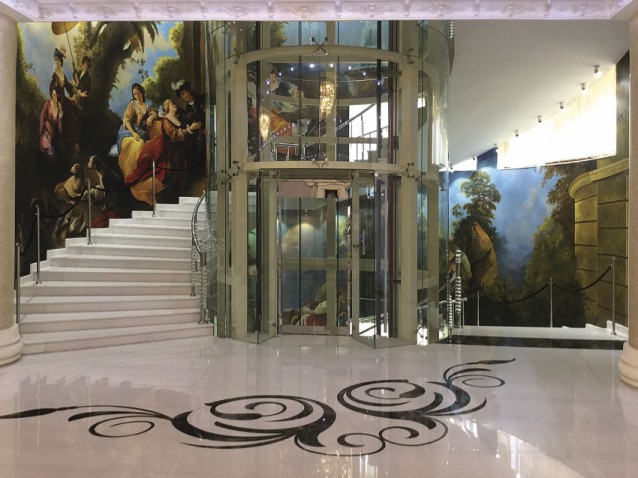 The customer is always…
Of course, design is not solely decided by the professional. The customer must be satisfied and all have their own tastes and ideas. So, what are the trends shared by modern day Bakuvians?
People are becoming more discriminating, but still wealthier clients tend to favour more classical design, while middle class people go for more modern styles. There is less kitsch than before, and those who want glitter want quality glitter.
Discriminating, but still quite conservative:
Beige, brown and white are favourite colours now, and strong contrasts are still generally not appreciated, especially in offices. But contrasts are interesting, especially when working out what combinations are possible. I think tastes will change in the future.
Much of Baku's striking classical architecture came out of the early 20th century oil boom and was produced by architects who came from, or had been sent to, the capitals of Europe for inspiration. Nowadays, guess where customers get their ideas…
From the internet. And there's work sometimes to convince people that what works in an apartment on the internet might not work in their home; each home is different, individual. I often spend time discussing ideas with customers and I think I am generally successful in guiding them towards a pleasing result.
Every professional needs to understand the client's psychology, and it's the same for a designer/architect. Some clients come knowing what they want, and some come with no idea. You have to understand both. There are few that I haven't been able to get on with.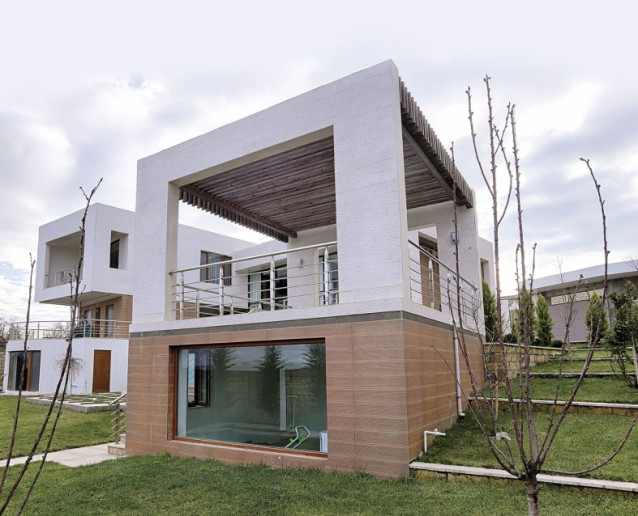 Our environment can shape the way we live, and Jamila is happy to relate one example of the difference a designer can make:
One man came asking for help; neither he nor his wife felt comfortable in their place after a redesign, and it was affecting their relationship. I went to look and the man admitted that he hadn't listened to the previous designers and had imposed his own ideas. I couldn't change everything, but I suggested perhaps a 30% change. He actually came back later, which is quite rare, to thank me for making his home liveable and repairing the relationship.
Designs on the future
Inevitably, Jamila believes, the more dramatic architecture that has embellished the cityscape in recent years will affect people's tastes.
So, are these radical changes in the urban environment being absorbed and reflected for the architects of the future?
Here, she makes a distinction, while unsure that education has caught up with the pace of change yet, her cheerful optimism is undaunted:
There are young architects coming up. It's important to have good academic and practical experience – and feelings. You need a feeling for combinations of colours. There are students who can progress by hard work and study. There are also those who are naturally gifted who can make the most of even basic education.
As for the Mustafayev family, with mother, father and two sons all in architecture/design, we naturally wondered about Deniz, the fifth member of this creative family – what is her destiny?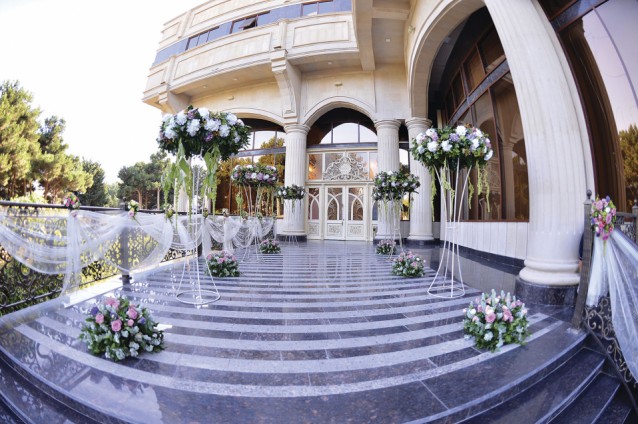 Well, she is in her last year at school and will aim for university next. We are waiting to see what she will decide. If she also chooses architecture, perhaps we'll change the family name to Memarzade!
('Architectson').