Shortly after this summer's Olympic Games had concluded in Rio de Janeiro a quite different Olympics kicked off in Baku. This September saw the 42nd Chess Olympiad unravel over two chequered weeks at the Crystal Hall, where over 1,600 of the world's best chess players competed from 175 countries. Of those, Eritrea, Kosovo and South Sudan participated for the first time. Ayan Sadigova describes her experiences volunteering at the event and Tom Marsden crunches the numbers.
I experienced those unforgettable days in 2015 when Baku hosted the 1st European Games. But this was not the last of my volunteering, which continued this summer at both the Baku European Grand Prix and the 42nd Chess Olympiad. As a result of all these experiences, I have learnt what it means to volunteer - integrity, equality, sharing and hosting.
This summer Baku worked non-stop. For me it began when I received a message from one of my managers from the European Games, which read: Ayan, I invite you to the 42nd Chess Olympiad, and I accepted immediately. Then a certain period of time passed, during which the Formula One was to be held on the streets of Baku. Just think: Baku was preparing at the same time to hold two massive events. The interviews for both events were held simultaneously. We had only just finished the three-day Formula One weekend (17-19 June) when I started receiving calls about the Chess Olympiad. We were invited for the interviews, instructions for the role and venue, uniform and accreditation sessions and the whole preparatory process finished very quickly.
The Olympiad was already due to start the next day, and after the grand opening ceremony on 1 September two weeks of chess began with the first matches on 2 September. Meanwhile I would be working with seven volunteers from an overall team of 70, selected from among thousands of my peers, and, as I was overjoyed to discover, I knew those seven from the 1st European Games.
A short history of chess
Most of you can probably play chess, but how much do you know about the game's history? Frankly speaking, I didn't know much before I attended volunteer training either. According to legend, chess, which is mainly considered an aristocratic game, was first created in India. Materials found during archaeological excavations suggest that chess originated between the 2nd and 3rd centuries B.C. Over time, chess spread from India to Iran, from Iran to Arab countries, from there to Europe and later to Azerbaijan. Today the game is known and played throughout the world.
Chess has a rich heritage here. It was referenced in the works of great Azerbaijani writers such as Khaqani, Nizami, Fizuli and Akhundov, but really developed with the first chess clubs of the late 19th, early 20th century. The first major tournament in Azerbaijan took place in 1922 and was won by the Makagonov brothers. Sports clubs such as Neftchi, Spartak, Nauka, Energiya, Medik and Iskra further grew the sport's popularity in Soviet times. It was during this period too that Gary Kasparov, the chess grandmaster many consider the greatest player of all time, grew up and honed his skills in Baku.
This heritage is reflected by the Soviet Union's total dominance of Chess Olympiads throughout the 20th century during which time the USSR won the competition an incredible 18 times, far outstripping the next best of six victories by the USA, and now Russia. Chess remains extremely popular in Azerbaijan today. Chess schools operate throughout the country and a special government programme was launched to grow the sport between 2009 and 2014.
Baku Chess Olympiad
The Chess Olympiad, organised by the Fédération Internationale des Echecs (FIDE), is considered the game's biggest international team tournament. The first official Olympiad took place in London in 1927 and welcomed 16 teams. Some irregularity followed until 1950, but since then the tournament has taken place every two years.
This summer some 323 teams took part in all competitions in Baku. Following the 11th and final round of matches on 13 September it was the US team that took the gold with a total of 20 points, their first victory in 42 years. The Huffington Post summarised the tight, tense and complex victory via tiebreak thus:
The last round in Baku was even more of a nail-biter and the gold depended on a single move. Only when an Estonian player took a wrong turn and lost to his German opponent could the Americans celebrate.
Meanwhile, The New York Times wrote: The success of the United States was not a surprise, as it had three of the top-10 players in the world and entered the competition as the No. 2 behind Russia, which perennially has the top-ranked team.
The article also emphasised that two of those talents had recently been imported: Fabiano Caruana and Wesley So had switched allegiance from Italy and the Philippines respectively. British newspaper The Guardian noted that this was far from unusual in Chess Olympiads:
There are much worse examples of Olympiad teams winning gold through nationality changes. The Soviet Union dominated the Olympiad for 40 years with the aid of an Armenian, a Latvian, and an Estonian, Paul Keres, who had tried to escape to the West [although the Soviet Union was actually one country - Ed.]. And Germany won in 1939 a year after annexing Austria, with that nation's Erich Eliskases on top board.
Second place was taken by Ukraine, also with 20 points. The Ukrainians were unlucky not to win and may have fared one better had their top player, Vasiliy Ivanchuk, not chosen to play in a draughts tournament in Poland instead. Russia, seeded top, finished third with 18 points. Azerbaijan's first of three teams ended with a strong win over local rivals Turkmenistan but, having begun as fourth seed, was a disappointing 12th overall. On a more positive note, the Azerbaijani women's team finished 8th in the women's competition, with Gulnar Mammadova the best player on board three. China took gold, while Poland and Ukraine won silver and bronze respectively.
One interesting story to emerge from the women's competition was the unlikely victory of the Latvian finance minister over the reigning world champion. Dana Reizniece-Ozola bested Hou Yifan of China in round four of the team event. Naturally she was temporarily excused from global commitments:
Her ministry confirmed she would not attend a September 9 meeting of EU finance ministers in Bratislava, Slovakia, in order to keep playing chess, wrote the French broadcaster RFI.
Other highlights, according to chess Grandmaster Lubomir Kavalek in The Huffington Post, included Baadur Jobava of Georgia scoring the best result on the top board (8.0/10), 64-year-old Eugene Torre playing in his record 23rd Olympiad and scoring the most points (10.0/11) and the world champion Magnus Carlsen leading Norway to a best ever fifth place. Ukrainian player Andrei Volokitin won the individual men's gold medal overall and Valentina Gunina of Russia the women's.
The 42nd Chess Olympiad drew to a close at a ceremony on 13 September at the National Gymnastics Arena, where, along with gold medals, the winners were presented with an Azerbaijani national hat – the papaq – and a kalagayi headscarf.

***

Player interviews
Now let's hear from some of those directly involved. First we spoke to the famous Azerbaijani chess player Orkhan Abdulov.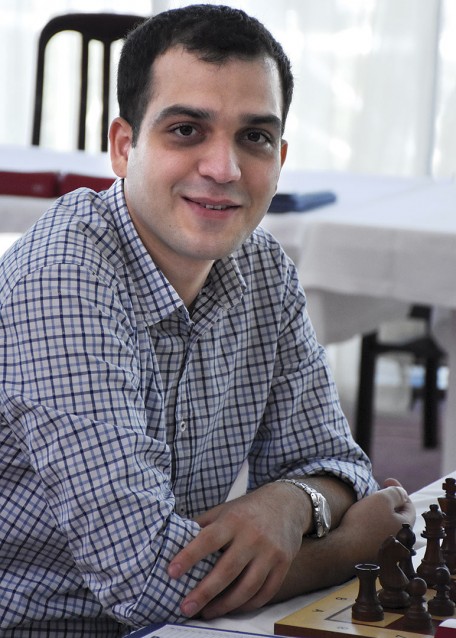 VoA - Hello Orkhan muellim, thank you for agreeing to speak with us. In Azerbaijan we know you very well but many of our readers may not, so could you briefly introduce yourself?
Of course, with great pleasure. I am Orkhan Abdulov, I was born in Baku in 1988. I started playing chess at the age of six or seven. My father was my first teacher and then I continued to play chess at the Ahita chess club and, after a year, I became champion of Baku. Of course, that wasn't my last success. After that, I became the champion of the republic many times and won chess competitions abroad. I won approximately 100 tournaments.
Today, I am an 'International Master' of chess and for eight years I have worked as a teacher at the state chess school. At the same time, I teach chess to my students at the chess club we established at the Baku French Lyceum. Along with that, I also provide online chess classes for people in Turkey and other foreign countries and I am very happy that my students have achieved great success.
What were your initial feelings and impressions when you learnt the Chess Olympiad would be held in Baku?
Of course I was very happy because it was a great success both for us – the chess players – and our country. I think the fact that Azerbaijan's name appears among such international projects gives pride to every Azerbaijani. If you pay attention to the general outcomes of the 42nd Chess Olympiad you will see that from the point of view of both organisation and the number of participating countries it was a record. Azerbaijan achieved this success.
You were one of the organisers of the event. Could you tell us why you decided to take part?
Yes, during the 42nd Chess Olympiad I was a member of the organizing committee and worked as the volunteer coordinator. During the Olympiad, solving the problems of volunteers and players comprised the main part of my job. Because I am a chess player, I was offered this job long before the Olympiad started, however because of the competitions and my classes, I could only join them later on. It may seem easy when observing from the outside, but in reality I think that our work was very hard.
I would especially like to thank Mahir Mammadov on behalf of myself and all local and foreign chess players for his attention and care, for being alongside us when we faced problems or difficulties at the 42nd Chess Olympiad and other tournaments. Ayan khanim, as you witnessed, the state security services also did their duties well during the tournament. I think that the 42nd Chess Olympiad was held at the highest level.
Do you think our government pays sufficient attention to chess?
Of course. Hosting the 42nd Chess Olympiad is a clear example. Above all, I would like to express my deep appreciation to Mr Ilham Aliyev and thank him for paying attention to chess. A presidential decree in 2009 gave the impetus for the development of chess in our country and chess classes started in schools.
As you know, in 2015 the World Cup was held in Baku and two of our chess players qualified to play against the world champion. At the 42nd Chess Olympiad held this year, three teams participated from Azerbaijan and this tournament was marked by the success of our women's team. Unfortunately, we couldn't fully achieve the result we wished. However, this isn't the end. I think that this Olympiad was a great experience for our chess players. I hope that our team will achieve greater results in future games. Besides, I also plan to participate in future competitions.
Orkhan muellim, we also share your wish and would like to express our gratitude for giving us your time and wish you good luck in the future!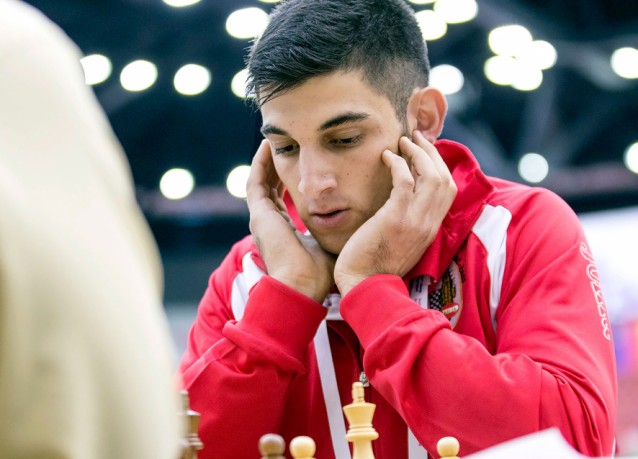 Eager to get a foreigner's perspective on Azerbaijan and the Olympiad, we also spoke to Robert Zerafa, a Maltese chess player:
VoA: Greetings, Robert. Firstly, could you give some information about yourself?
Hello, Ayan. Of Course. My name is Robert Zerafa and I am 27 years old. I live in Malta and I am also a chess player.
On Christmas day in 1995 my brothers and I were unwrapping the gifts our parents had bought us. My brother's present was a chess set which instantly intrigued me. Our father taught us how to play chess and from that day I became a chess player.
Is this your first time in Azerbaijan, or have you been here before?
Yes, this is my first time in Azerbaijan.
As a Maltese, I would be interested to hear your thoughts about our country.
I like Azerbaijan. The people I met were very friendly and helpful. My favourite place in Baku is Isherisheher (the Old City - İçəri Şəhər) because of its history and architectural features. Although I come from a traditional fishing village in Malta, I also admire contemporary iconic structures such as the Flame Towers and the Heydar Aliyev Centre, which project a unique and inspiring image. The massive Baku Boulevard is also a great place to spend time with family and friends after a busy day in the city.
I'm very glad to see you and people from other countries in Baku. The Chess Olympiad wasn't the first international tournament in Azerbaijan. What do think about Azerbaijan's hosting of such events?
I think the event was very well organized and I think hosting such events is a great marketing opportunity for Azerbaijan.
What do you think of Azerbaijan's preparations for the competition? Were you satisfied with the attention paid to chess by Azerbaijan?
The security was extreme, for example captains couldn't bring a reading book or camera to the playing hall. And I would also allow the resting players to enter the playing hall and watch the games. Despite minor details like this, the event's organisation was very professional. I think the exposure given to chess in Baku was good. Also interesting was the idea of chess buses and chess sets on the Boulevard.
And lastly, is there anything else you would like to say?
Thank you Azerbaijan for your hospitality. Azerbaijan is a beautiful country and I recommend everyone to visit.
The next stop for the Chess Olympiad will be the Georgian Black Sea city of Batumi in 2018 and then Russia's Khanty-Mansiysk in 2020. For Baku, the Islamic Solidarity Games await in the summer of 2017.