May is the most beautiful month of the year, when nature adorns its green floral dress and all the animals emerge; everything comes to life. As a photographer I know that this is also the best month to capture nature and to do so I travelled to Ganja, the second largest city in Azerbaijan and fourth largest in the South Caucasus, to meet an old friend.
Having arrived late at night, early the next morning I woke to the sound of singing birds and fresh air drifting through the open window. My friend was very pleased to see me again in his native city, we walked around and discovered some newly built places. As I was taking photos he suggested a new restaurant as an attractive spot for lunch. The restaurant's name - Epikür bağı or Epicurus Gardens – was intriguing enough for me to accept his suggestion without delay.
When we entered a well-dressed waiter met us with a beaming smile, led us to a table and brought us a menu. The unique design of the restaurant struck us straightaway - everywhere was a fresh white with various elaborate decorations to echo, like the restaurant's name, an ancient Greek style. A stunning baroque mural occupied part of the ceiling and the atmosphere was further calmed by the chillout music in the background. The restaurant's manager Kenan explained the concept:
Many people ask us why we chose this name for the restaurant. The name Epikür bağı was inspired from the school of philosophy called Epicureanism. The main ideas of our restaurant are freedom, kindness and brotherhood regardless of social status. All guests are welcome whatever their mentality or beliefs, as was the case with epicureanism in the 4th century. The school was open to everyone - rich or poor, slaves or free people, noble or illiterate people who wanted to become educated. It is the same here – everyone is welcome in our restaurant.
Looking through the menu I found saj, which gets its name from the large bowl-like pan in which it's cooked and is extremely filling and popular in Azerbaijan in summer, as chef David explained:
Saj is one of the masterpieces of Azerbaijani cuisine. It is delicious in all seasons but people tend to eat it more in summer, perhaps because it has vegetables and summer is the best season for these. In our restaurant we prepare it with different kinds of meat and full of vegetables to give people energy.
I didn't learn how to prepare saj in cooking school; I learnt it from my grandmother. We have a secret family recipe. My grandmother always followed the rules of Azerbaijani cuisine, she was renowned among our relatives and neighbours for being a good cook and when I was a child I always used to follow her style of cooking. Now I prepare saj in the same way but cooking is also an art, so I have my own secrets that create a special harmony between the taste and appearance of the meal.
The idea quickly followed to photograph the cooking process for the Visions cuisine column. Kenan was kind and sociable and happy to help. He and chef David prepared everything for the shoot.
So here is how to make an Epicurean Ganja saj:
Saj is served to the table on a special tray above burning coals to keep it hot. We recommend you accompany the meal with one of Ganja's high quality wines or fresh fruit juice.
Nus olsun! Bon appetit! Enjoy your meal!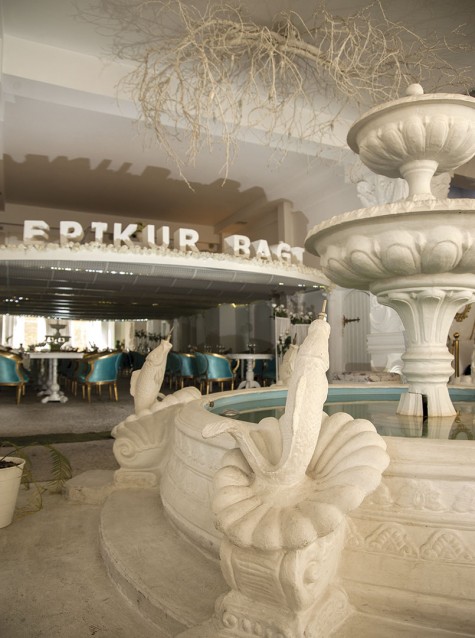 Ingredients (serving 4)
130-150g of chopped beef (try to find meat from the backbone because it is very soft)
250g of chicken
150g of mutton rib
90g corn oil
½ teaspoon of salt
½ teaspoon of pepper
1 green, yellow and red pepper
1 aubergine
1 chopped onion
3 chopped and 3 whole mushrooms
1 large chopped potato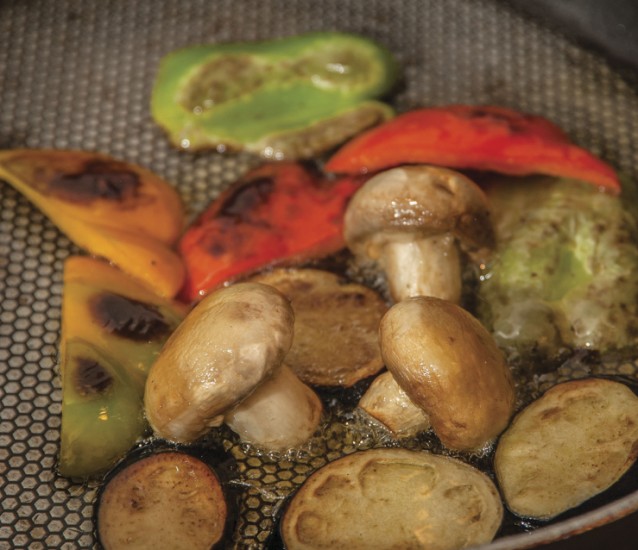 How to prepare:
Place the chopped beef, onion, and chopped mushrooms into the saj pan and cook them together on a high heat in corn oil
When it turns golden brown add the salt and put to one side
Now take the whole mushrooms, potato, peppers and aubergine and prepare it in a separate saj pan in the same way. When this changes colour and is ready, put it to one side as well
The final stage is to prepare the chicken and then the mutton ribs in the saj pan, putting aside once the meat is ready
Now it's time to put it all together in the following order: the part prepared first (beef and onion) goes in the centre with the part prepared second (the vegetables) laid around it. Finally the mutton ribs and chicken are placed over the top