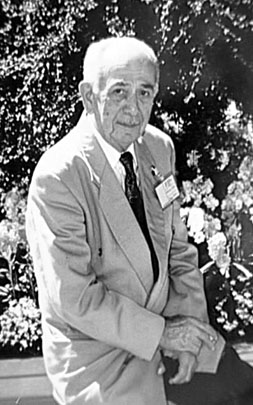 Pages 62-67
by Azad Sherif
The name Tofiq Quliyev may not be familiar to many visitors to Azerbaijan, but they will almost certainly have heard his music. His songs are played to this day in cafes and restaurants, performed by the greats of Azerbaijani music and the new generation of pop stars alike. Journalist Azad Sherif had the privilege of knowing the composer personally.
Tofiq Quliyev was destined to be a musician. All the children in his large family had a musical education and Tofiq learnt to play the piano. When he was 12 years old, he started the preparatory course for the conservatory. His first teacher, theory tutor Asaf Zeynalli, introduced Tofiq to composition. He advised him to set Mirza Alakbar Sabir's poems to music and the result was the music for Child and Ice (Ushaq ve buz).
Tofiq Quliyev studied in two departments at the Conservatory at the same time, which was rare in those days. When he founded Azerbaijan's National Conservatory, the great Uzeyir Hajibayov invited prominent musicians from Moscow, Leningrad and Kiev as teachers. Tofiq Quliyev was among the first students to benefit from this marvellous tuition. While studying, Tofiq also worked at the Drama Theatre.
In the 1940s Tofiq Quliyev and other Azerbaijani musicians including Qara Qarayev and Niyazi were sent to continue their studies in Moscow at the prestigious Tchaikovsky Conservatory. Tofiq's piano playing caught the attention of Professor Heinrich Neuhaus (Genrikh Neygaus in Russian) and he invited the young Azerbaijani to join his class, alongside the likes of Svyatoslav Richter and Emil Gilels. At that time Tofiq was greatly
Music and theatre life was rapidly developing in Moscow at that time and Tofiq performed in a small orchestra in a café in the famous National Hotel. Well-known jazz pianist Alexander Tsvasman heard Tofiq play and invited him to join his jazz orchestra. Playing in Tsvasman's orchestra inspired Tofiq to found the first national Azerbaijani jazz orchestra. He returned to Baku and with the help of Mirza Ibrahimov, responsible for culture in the People's Commissariat, he succeeded in creating the first Azerbaijani jazz orchestra. The orchestra gave their first concert in the Philharmonia's summer hall in September 1941. The concert was very successful. Unfortunately, World War II intervened to scupper the orchestra's plans. The whole orchestra was included in the 40th infantry division and they gave concerts at the front and in military hospitals. Some of the musicians were awarded medals.
Tofiq Quliyev's talent as a pianist always amazed audiences. Solmaz Qasimova and Zemfira Abdullayeva tell the following story in their book Tofiq Quliyev: "In summer 1949 Tofiq Quliyev saw a poster advertising Rashid Behbudov's concert at the Hermitage theatre when he was out for a walk in Moscow with his friends. They decided to go to their compatriot's concert, as they had a deep respect for his work.
Tofiq Quliyev worked with trumpeter Eddie Rosner, who led the Soviet State Jazz Orchestra, arranging compositions for him. Together they wrote a song dedicated to Victory Day. (After the war, Rosner, a Polish Jew who had fled the Nazis, spent 10 years in the Gulag on trumped-up charges.)
After the war was over Tofiq Quliyev decided to continue his studies and returned to the third course of the Moscow Conservatory. By this time he was already a well-known composer and pianist, but he realized the importance of fundamental theoretical knowledge and studied for a doctorate. Tofiq Quliyev was the only Azerbaijani to conduct performances at Moscow concert halls and conducted complex pieces such as Italian capriccios and Tchaikovsky's concert for viola and orchestra.
Tofiq Quliyev wrote more than 50 splendid songs in a composing career that spanned 50
Tofiq Quliyev's Sene de qalmaz (Your beauty won't last forever) with words by Rasul Rza is considered a wonderful example of lyric vocals. The song was performed by Rashid Behbudov at the World Youth and Student Festival in Moscow in 1957. With the delicate, sensitive melody typical of Tofiq Quliyev, Sene de qalmaz became one of the most popular songs of that era. In 1949 Tofiq Quliyev wrote a song to mark the first extraction of oil from the Caspian Sea bed. The song about the oil-workers soon became a symbol of Baku and was even performed at the opening of the world exhibition in Brussels.
In 1972 Tofiq Quliyev composed the wonderful Mehriban Yurdum mənim - Azÿrbaycan (My tender country, Azerbaijan) to the lyrics of Slovyov-Sedoy and Simonov.
Tofiq Quliyev and singer Rashid Behbudov were made for one another. For many years Tofiq wrote songs for Rashid and provided the piano accompaniment at his concerts. They complemented one another in their fine lyric interpretations.
Tofiq Quliyev united Azerbaijani musical
He wrote the scores for more than 20 films and four musical comedies, including Bakhtiyar which is still shown on Azerbaijani television. Tofiq Quliyev wrote three symphonies and many pieces for piano.
Tofiq Quliyev's childhood friend composer Qara Qarayev wrote once on Tofiq's birthday: "It was clear to me once more how much good you have done for people and how important your work is to them. I congratulate you and together with everybody express my gratitude for your exceptional contribution to Azerbaijani spiritual heritage."
Just as it is impossible to imagine Baku without the Caspian Sea, Maiden Tower and soft khezry wind, it is also impossible to picture it without Tofiq Quliyev's music. Tofiq Quliyev would have been 90 this year. His Sənə də qalmaz, Üzüyümün qaşı firuzədəndir (My ring has a turquoise stone), Bəxtəvər oldum (I became happy) and Bakı (Baku) will always remain. We salute the genius on behalf of present and future generations.
CD collections of Tofiq Quliyev's songs are available from good music shops in Baku. Azerbaijan International have produced a collection of Tofiq Quliyev's songs entitled Songs of the Heart which can be purchased over the Internet at
http://azer.com/aiweb/categories/music/AudioPages/Guliyev/guliyev.html