A group of macho young men jiggled their feet to the irrepressible lezginka one recent evening in northwest Azerbaijan. The venue was the top floor of a furniture mall in suburban Zaqatala, where a sizeable audience had gathered to enjoy the 8th March International Women's Day concert. Most were dressed to the nines; some chatted energetically while others stared vacantly in the direction of an improvised stage, where a local drag queen kept the evening's entertainment plodding along in between the staccato beat of Caucasian hits. It was a strange but enjoyable first evening in Zaqatala.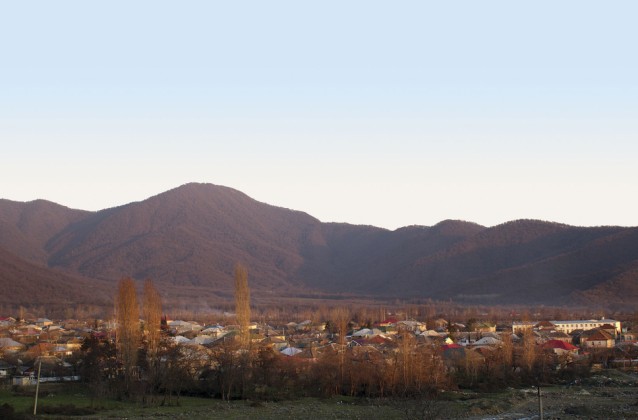 It was also very much unplanned, but then spontaneity has been the theme of my travels in the regions of Azerbaijan. Never more so than in Zaqatala, whose people turned out to be the defining feature of the region. Azerbaijanis are famed for their hospitality but Zaqatalans seemed to take it to a whole new level; in fact I had made two friends before I had even arrived. One of those was head of the Zaqatala Regional Tourism Information Centre, Tarlan Ahmadov, who introduced me to the region.
The Zaqatala sunsets, I discovered, are a mesmerizing coral pink
We have a lot of nations here, he explained as we sat at the edge of Dede Qorqud Square in Zaqatala's charming red-bricked old quarter, which harks back to the Russian Empire of the early 20th century. There are Azerbaijanis of course, Ingiloys, Avars, Tsakhurs, Russians, he continued, elaborating that the Ingiloys are Georgian Muslims who settled in the region in the 16th century, as did the Avars and the Tsakhurs, both of whom are Turkic Muslims. Hence there is a uniquely Zaqatalan atmosphere of tolerance in the city, which I was about to experience firsthand.
My first move was to scale the Zaqatala fortress which turned out to be closed, but fortunately I bumped into Mahmud instead, who offered to show me around. We strolled through some grim Soviet-era housing, fortunately little of which remains in Zaqatala and what does is cheered by colourful drooping washing lines and occasional national-themed murals. We passed the stadium of the Simurg football team that mysteriously folded at the end of last season and cruised into the Heydar Aliyev park with its dubious-looking Ferris wheel, small cafes and stunning view of the early evening mountains. The Zaqatala sunsets, I discovered, are a mesmerizing coral pink.
From here it was back down Heydar Aliyev Avenue, past the statue of the legendary Soviet-era female mechanic Sevil Gaziyeva, who reportedly died after her hair became tangled in a combine harvester. And several hours later I was at the concert with Mahmud and his friends, where the formidable lezginka was followed by an endless roll of Azerbaijani, Daghestani, Russian, Georgian and American hits. They continued until the early hours but with an anticipated trip to the fortress the following morning my evening drew to a premature close and luckily two of Mahmud's chums from nearby Balakan were on hand to deliver me back to the hotel. Their car was quite surprising – a souped-up Dodge with plenty of Caucasian bling.
Zaqatala fortress
Given the city's shortage of tourist attractions the Zaqatala fortress is the one outstanding site, around which today's city formed. Getting there is quite easy – from the Dede Qorqud Square you will see the old riverstone walls – but making sense of it is a challenge. For that you will need to find Rasim, the characterful multi-lingual guide who, if you manage to understand him, will bring the place to life.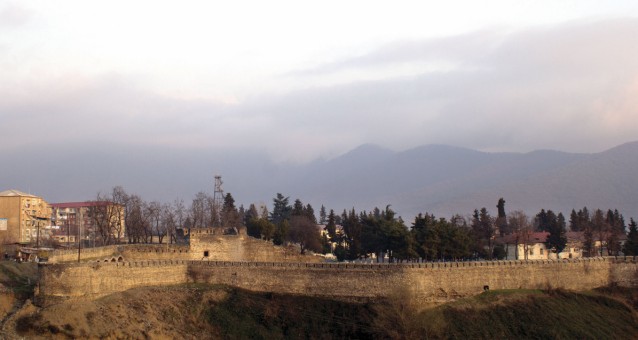 The fortress was built as a Russian military garrison in 1830 and effectively brought an abrupt end to the Jar-Balakani communities which had governed themselves since the 17th century. It was erected on the orders of General Ivan Paskevich to cement Russian authority in the region and protect from raiding mountain tribes. Indeed the garrison came under attack three times during the Caucasian War (1817-1864), once by the formidable Avar leader Sheikh Shamil in 1853. Several Russian historical personalities such as Lermontov, the Decembrists and the Battleship Potemkin mutineers were also based or imprisoned here, but, as the Russian traveller K.Gan noted in his report of a trip to the region in 1898 (Travels to Kakhetia and Dagestan), as early as the late 19th century the fortress already showed signs of disrepair:
Approaching Zaqatala we notice that instead of gardens there are expansive fields with millet, rice and various types of grain. Already from a distance the white, tooth-like walls of the citadel, reigning over the small town and its suburbs are visible. Soon we entered the town by its wide streets and stopped in "the club," standing on the square [today's Dede Qorqud Square – Ed.] in the shade of tall plane and lime trees. The citadel presents itself as an antiquated fortification, whose walls are already partly destroyed.
Their car was quite surprising

–

a souped-up dodge with plenty of Caucasian bling
Today it is still in crying need of restoration. Many of the original buildings are crumbling ruins and really all visitors can see is a once-grand fortress shell. Nonetheless with Rasim's energy and efforts I was able to conjure an imaginative picture of the 2,000 or so soldiers garrisoned here in the 19th century, the canons and watchtowers, prisoners and officers' life and of course the ever-present threat of fierce "Lezghin" mountain tribes.
Avar culture
Azerbaijan's Avar population officially numbers close to 50,000 and is largely based throughout Zaqatala, Balakan and Qakh. Notable Avar villages in Zaqatala are Jar and Katekh, the latter of which is some 8 kilometres northwest of Zaqatala, across the river Katekhchay and it is here that I hoped to experience a little of the local Avar way of life.
I first visited Katekh last autumn having unwittingly met a former PE teacher called Arif at the foot of the Caucasus Mountains. Arif had been picking berries and invited me for lunch. En route, I distinctly remember the fiery orange of persimmon trees overhanging quaint little gardens with waddling geese and hens and lightly coloured beehives. Agriculture is the lifeblood of the village… as well as the Russian furniture business.
That's Russian, said Arif, pointing out a gated palace with an emerald green roof during my latest visit… Russian… Russian… Russian, he continued as we drove along the gravelly roads dodging the wandering cows. A surprising number of these colourful modern mansions gradually appeared, juxtaposed with the modest, rural wooden houses of local farmers who clearly hadn't sought their fortunes trading Russian divans.
Nor had Arif, whose home was nonetheless large and cosy and whose wife, no sooner had we arrived, laid the table with aromatic tea and cornelian cherry jam. Hazelnuts and walnuts and a plate of khingali (heavy meat-filled dumplings) swiftly followed, meanwhile Arif picked up his tar and strummed a few Azerbaijani and Avar rhymes. Another of his hobbies turned out to be collecting antiques which he stores in an outhouse in the yard and include a bust of Lenin, some Soviet clocks and a 19th century German bible found in Kazakhstan. Like many of the Katekh Avars, Arif spoke several languages faultlessly – Azerbaijani, Avar and Russian. It's important to be cultured, he stressed.
I was curious to know how close the Azerbaijani Avars felt to their brethren over the border in Dagestan, where Avars are the biggest ethnic group. Pointing out that there are distinct linguistic differences as a result of the mixing of various Caucasian languages in Dagestani Avar, Arif explained: If we were to go to Dagestan we would feel like foreigners… in Baku nobody would ask what nationality we were.
What struck me most about my various encounters with Zaqatalans was their connection to the surrounding land, the knowledge of local flora and fauna and the ability to make a living by producing and selling nuts (hazelnuts, chestnuts, walnuts and pecans), honey and wine. In summer, a local restaurateur related, some farmers venture into the mountains for months at a time, living in tents, growing chestnuts and making honey. To me this seemed quite a romantic scene but it also highlighted the region's clear hiking potential.
Come back in the summer! was a plea I heard a number of times.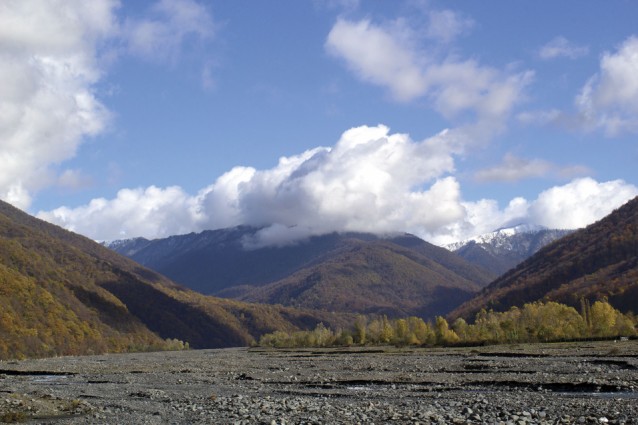 Honey is a local delicacy and Arif's brother-in-law Shahid is a leading village beekeeper, whose beautifully kept garden was scattered with softly coloured hives. He produces both meadow and mountain honey and migrates in summer in search of the perfect honey-producing climes, which are found either high in the mountains or on the banks of the Qanikh river. Dipping a spoon into first meadow, and then mountain honey, I found the former deliciously creamy and the latter light and sweet. Meanwhile Shahid's wife was busy preparing an Avar speciality, a sun-shaped pancake called makharra (meaning "sun" in Avar) made over a garden fire on a saj glossed with sheep tail fat. Next of course came another plate of khinkali but it was the peculiar shape of the makharras that left the deepest impression and seemed to reflect one of Arif's earlier comments –
This is a very ancient place, nobody really knows its history. This he had remarked while pointing out the ruins of an old caravanserai sunken and lost in the surrounding forest. Later he took me to a ghostly medieval watchtower sitting abandoned in a friend's garden. Somebody really needs to study all this, he remarked and I couldn't agree more. There was even a tree on the Zaqatala-Balakan road claimed to be a thousand years old. Its polyglot keeper, who owned the adjoining house, proved to be no less interesting.
Old Nurmagomed was asleep in a garden deck chair when we scrambled through the gate in the late afternoon. He awoke more than a little surprised. After all, in all his years of teaching English in the village he had never met a native speaker and here was an Englishman strolling across his peaceful lawn. Soon enough I found myself confronted by another huge plate of khinkali, this time seated at the dining table in Nurmagomed's front hall. Meanwhile he was brushing off his linguistic cobwebs, quoting Shakespeare and nursery rhymes, and strumming away a few more tunes on the soulful tar and guitar.
So came to an end my brief adventures in Zaqatala, a region of untapped history at every turn and remarkable characters sitting quietly in village gardens. And of course the ever-present Caucasus Mountains. It would be tempting to simply pass through on the way to and from Georgia, Sheki or Baku, but I would encourage you to linger a little longer. The likes of Arif, Mahmud, Tarlan and Nurmagomed will be ready and willing to host and show you around.