Arye Gut is one of the most prolific and determined writers on Azerbaijani affairs – particularly on the events and effects of the Armenian invasion of Nagorno-Karabakh – and to many readers this may seem strange. Why such enthusiasm for a Muslim country from a prominent Jewish citizen of Israel? One answer, from sources you may guess, suggests a mercenary motivation, but he responds to that with a laugh:
I have one house, two cars and great love for Azerbaijan!
From Baku to a "United Nations"
Of course, there is a history behind this love. Arye Gut was actually born in Baku some 40 years ago; he graduated from and taught at Baku State University (International Relations). Moving to Israel in 2000, he now shares his one house and two cars with his medical manager wife and their young son. Himself a project manager in hi-tech, he continues his thirst for learning as a PhD candidate at Haifa University. He says that there is a difference between Azerbaijanis in Israel and other émigrés:
In Israel we have Jews from many different countries – it's like a United Nations – but the Jews from Azerbaijan all talk about their love for the country. Many of the others don't want to remember the countries they came from. Azerbaijani Jews talk about Baku. You know in the Soviet Union, in the 1960s and 1970s, Baku was a very international city, a multicultural, multinational city. Here, Armenians, Jews, Russians, Azerbaijanis, lived together. I remember it, many people didn't know what nationality you were – you were from Baku. This was the tragedy of Karabakh. Many Armenians lived here very well, they had power… in the Soviets, in the Communist Party.
In part, this may stem from the different ways Jewish people were treated in the various regions under Soviet control. He tells of his family's experiences:
I am Israeli, I love Israel, I love Jewish people, but at the same time I love Azerbaijan, I love Azerbaijani people. I love the Azerbaijani land, because my father was raised here and I was raised here. My father was from Baku, my mother was from Ukraine. Because of anti-Semitism she had difficulties entering university – in 1969. She came to Baku, because she had an aunt here. She went to the Economic University and afterwards she met my father and they created a family. She didn't have any problems here, because Jewish people were an integral part of society. For example a Minister of Health in the Azerbaijan Democratic Republic [1918-1920 – Ed.] was Jewish – Yevsey Gindes. The director of the Central Bank in the ADR was Mark Mihailovich Aberguz, Jewish. It was fantastic, you know, in 1918! And I'm proud of that.
In Israel we have Jews from many different countries – it's like a United Nations – but the Jews from Azerbaijan all talk about their love for the country
Just two minutes in Arye's company tell you that here is a man with a mission that is driven by a will to ensure that the Azerbaijani story is known and understood. He worked within the sizeable diaspora in the city of Acre – 14,000 in a population of 45,000 citizens, he says – for seven years before expanding his ambition:
The way [forward] was promotion of Azerbaijan at academic level and to the mass media. This is the other path for my life…. I publish articles in the American Jewish press, in the Israeli Haaretz, the Jerusalem Post….
Special relationship
So what are the origins of these relations between the Jewish state and Muslim Azerbaijan, between religions about which the usual news concerns conflict?
We have a good image of Azerbaijan in Israel. The first factor in this is the Jewish community in Azerbaijan. We never see anti-semitism here….
Israel is a reliable partner for Azerbaijan. At the same time 45% of our petrol is Azerbaijani petrol…. There are good relations with Israel in agriculture, economy and the military and energy fields… We have trade worth $5 billion…. We have good political relations; former President Shimon Peres' visit was a historic event.
He went on to expand on the religious aspects of the relationship: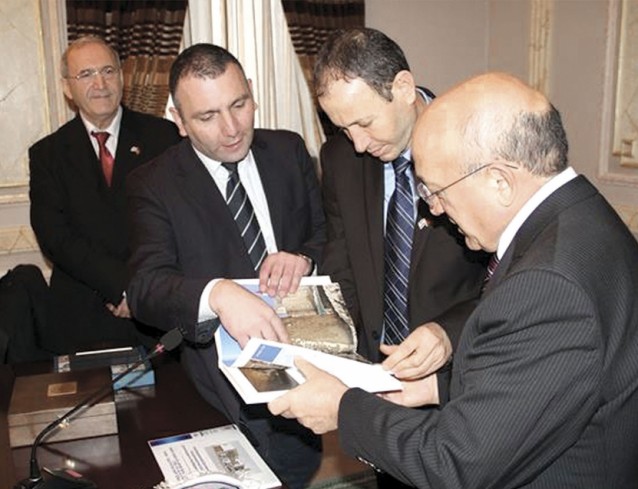 There are good relations with the Jewish community in Azerbaijan. Here there are Mountain Jews and Ashkenazy European Jews…. I am an Ashkenazy European Jew, but we have good relations with Mountain Jews… Some days ago I visited Shahidlar Khiyabani [Martyrs' Avenue – Ed.], the grave of Albert Agarunov, the Jewish hero of Azerbaijan, a tank commander; he is a symbol of friendship between Azerbaijan and Israel, between Azerbaijan and Jewish people…[See Visions Mar-Jun 2012, www.visions.az/spring2012_052,384 - Ed.]
And the relationship extends through all levels of Azerbaijani society – to the very top. Arye tells the story of how a new synagogue was opened in 2011 for the community of Mountain Jews in Baku:
The Rabbi told me that he asked the President, "Why do you only build mosques, why not synagogues?" and he answered, "What's the problem? Please choose the place and I can build." Well, you know, they say three Jews, fifteen ideas [laughs] and so the President said, "Ok, I'll find a place for you" and there was a place near what is now the Winter Park. The Rabbi said, "Mr President, we don't have much time. We have the Jewish Pesach [Passover – Ed.] in a few months." And he replied, "Ok, after a few months' you will have a synagogue." "Mr President, in a few months – it is impossible." "For me, it is possible." And after 6 months the Jewish people received a new synagogue.
It is a great thing here for the Jewish people – the President's attitude towards them… These are not "golden words" for Azerbaijan, this is the real attitude, the relationship between Azerbaijan and the Jewish people. Ask Azerbaijani people, "Who is a good doctor?" – "A Jewish doctor." "Who is a good teacher?" – "A Jewish teacher." "Who is a good engineer" – "A Jewish engineer."
However, Arye has by no means left his local diaspora behind, and his efforts with them are not only verbal:
Today there is a plan to create an Azerbaijani House in the city of Acre, the first one in Israel. The plan came from the mayor of Acre, Shimon Lankri – we were both in Azerbaijan and we had meetings at a high level here. We travelled to Quba, to Qirmizi Qesebe [Red Settlement, home to a large Jewish community – Ed.] which is another symbol of good relations and friendship between Azerbaijan and Jewish people. We would like to include a museum of Azerbaijani history, about Khojaly, and Albert Agarunov, and I suggested the street where the museum is should be named after Albert Agarunov.
The tragedy of Khojaly clearly burns within Arye Gut's soul; he has personal contact with survivors of the 1992 Nagorno-Karabakh war massacre and will not rest until the world recognises what happened there and there is a just resolution.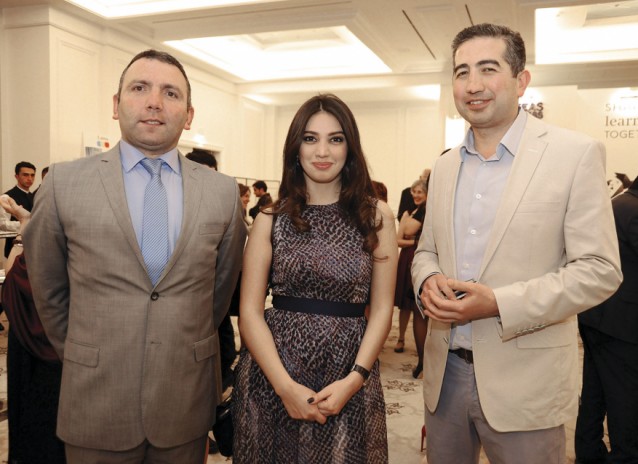 "Pain" & Khojaly
For me Khojaly is the pain of the Azerbaijani people… I began in Israel in cooperation with Ganira Pashayeva, a good friend [and parliamentary deputy – Ed.]. I called her and told her I didn't have any information in English and asked her to help me. She helped, visited Israel twice.
We have to work with academics and the media on this. I have been to many events here and people say, "The world knows about it," but in reality, many people don't know about Khojaly.
There are many different ways we can do this. For example Durdane Aghayeva was held hostage after the attack. She was a radio engineer in Khojaly and was held hostage for 8 days... She visited California. The American Jews hosted her and they talked in a Jewish synagogue about Khojaly and the hostages held by the Armenians.
Those many different ways are not restricted to academia and news media. Arye is nothing if not imaginative; he comes from a creative family and it would be a shame not to use the resources available there:
My father was a TV film director in Azerbaijan for 35 years. Today he lives in Israel with me. About 8 months ago I said to him, "Father, we have a great chance now to write a novel about Khojaly." He visited the town about 2 months before the tragedy. He was there. He thought about it for some time and then we decided to write a novel about Khojaly, called "Pain." We are writing it now. We also plan to publish it in English. It will be about Khojaly from an Israeli point of view….
A Minister of Health in the Azerbaijan Democratic Republic was Jewish – Yevsey Gindes. The director of the Central Bank in the ADR was Mark Mihailovich Aberguz, Jewish. It was fantastic, you know, in 1918!
Gut Sr. was indeed a filmmaker immersed in documenting his creative compatriots.
My father made a film about Sattar Bahlulzade, I think in the 1970s, a documentary. He made about 70 films. My father's name is Ahmed Abdullayev, but in Israel, Amir Gut. If you go to the carpet museum you can see a film made by my father, a film about Latif Karimov [famous Azerbaijani carpet designer – Ed.]. I remember, because my father took me to his house.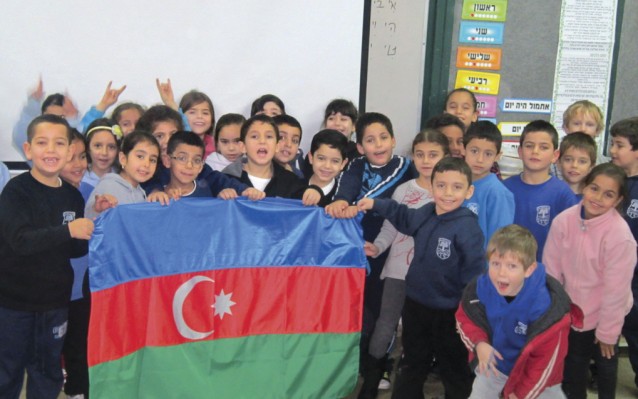 He went on to outline an intriguing sketch of the novel that father and son were writing together; a human story with elements of the recent history of the country and its Jewish communities. We'll give no spoilers here, but will be sure to let readers know when this latest project of the passionate and prolific Arye Gut hits the bookstands.