Back in February Visions spoke to Herman Tilke, designer of the Baku European Grand Prix circuit, about the challenges of constructing a street circuit through central Baku and his impressions of Azerbaijan…
Visions of Azerbaijan: Could you briefly tell us about your background and your experience in designing Formula One tracks?
Herman Tilke: Sure. I have been driving in races since my 18th birthday and just stopped a couple of years ago. My racing experience was the decisive factor in studying constructional engineering. After my studies I started my own business. I always wanted to do something related to motor racing. It started with tiny assignments, for example to design a short section of a service road. That was my entry into racetrack design. A few years later they called me an expert.
We are one of the most experienced companies (Tilke Engineers & Architects - http://www.tilke.de/en/ – Ed.) when it comes to planning and construction management pertaining to major projects within the automotive industry and motorsports sector. We now have more than 30 years experience in designing tracks worldwide in the motorsport sector.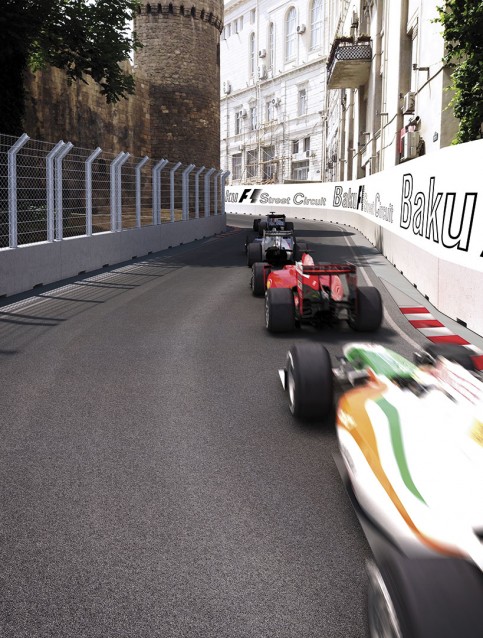 What is the process for designing a Formula One track? And what are the key elements you have to bear in mind?
Basically, every circuit is unique. In every country we have worked in so far, we have been confronted with totally different starting situations. Baku is challenging, because street circuits are challenging in general and in this special case we will go round the historical centre with its narrow streets. We will have to temporarily cover the cobblestones and face some more unusual measurements for F1. A racetrack in general is a multi-functional system. There are many aspects which have to be taken into close consideration. We always start with a first analysis of the plot, which is about requirements concerning widths, possible positions of building, safety issues and technical aspects.
After a first visit we develop the initial concepts and sketches. These concepts will then undergo a 3D simulation, which will help us get a better understanding for the design of radiuses and vehicle speeds and the overall implications for the racing dynamics. After the concept phase we need to obtain approval from the FIA (The Fédération Internationale de l'Automobile – Ed.) and the FOM (Formula One Management – Ed.)
One of the main challenges was finding an adequate way to preserve the historical cobblestones
By the way, Baku for example will be one of the world's fastest city racetracks with an approximate top speed of 340km/h. A lot of requirements have to be kept in mind. First of all safety regulations, but of course also requirements regarding the necessary electronic equipment…

After everything has been clarified with the client and authorities we apply for a building permit, which is a challenge on its own as a racetrack will not fit into any building regulations. After we have got the permits we start with the construction works. Usually we are working until the very last moment, because regardless of any previous delays the date of the first race is fixed and immovable.
How is work progressing on the track in Baku? Is everything going according to plan?
Currently [interview was conducted in early February – Ed.] we are applying an upper layer of ballast on top of the cobblestones. One of the main challenges was finding an adequate way to preserve the historical cobblestones. We had various possible approaches on how to handle this sensitive issue. As I mentioned, we finally decided on applying an upper layer of ballast on top of the cobblestones to resolve the issue. The upper layer is only temporary and will be removed after the race event.
It certainly is still an interesting experience for us. The most thrilling moments are still to come. Baku will be a one of a kind. We are looking forward to the opening. There is a positive and great atmosphere between all participants, who are all experts and really professional. It will be an awesome event. Everything is going according to plan.
Could you summarize the Baku circuit? For example which features will it have and how will it differ from other tracks you have designed?
It will be one of the fastest city tracks worldwide for Formula One - the long straight allows top speeds of approximately 340 km/h. The other main highlight will be the track around the historical city. It will create a unique atmosphere.
What were the main challenges or considerations you faced in designing the Baku track?
To work in a very vibrant city is one of the difficulties. We are realising a circuit on a public space, which means any change we make, will have direct impact on the people living in this city. Life needs to go on even if we are constructing a track. People continue to use the city's infrastructure; they go to work and they go to parks. Our job is to build the track, without interfering too much, which isn't always easy.
It will be one of the fastest city tracKs worldwide for formula One
During the construction works we have to realign some of the pipes, cables and gas lines. There will be tunnels and bridges that need to be opened or closed corresponding to the construction phases. For example we are also constructing a temporary two-storey building on top of an existing two-storey garage.
Baku will be transformed for a couple of days to be able to host this huge event. I am really looking forward to this. For sure, the atmosphere during the event will be remarkable.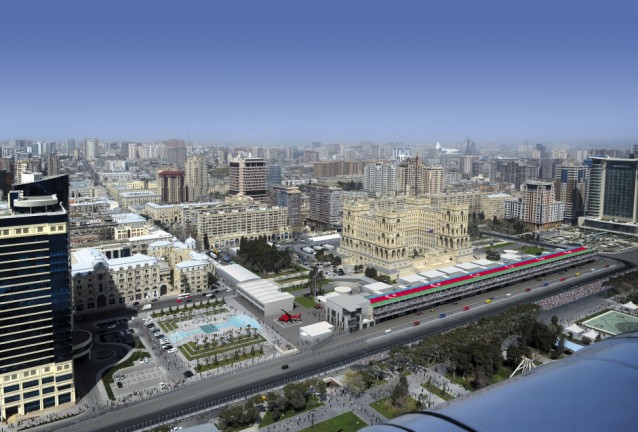 What would you say to critics who believe there aren't enough overtaking opportunities for drivers?
The problem does not result from the racetracks, but from the technique of the Formula One cars. Nevertheless we have seen a lot of spectacular and exciting overtaking manoeuvres last year. As circuit designers, we take every effort to solve this problem.
Baku will be a one Of a kind
What would be your ideal track? Is it more interesting for you to design street tracks or racetracks or a mixture of both?
My "dream track" would be in the mountains, more than 20km long. No costs involved. It`s always a challenge to build both street tracks and racetracks. We are not only building racetracks for Formula One, we also do tracks for Motor GP, kart tracks etc. For me every new track is a challenge.
Do you have a favourite Formula One track on the Formula One circuit, past or present?
The Nordschleife at the Nürburgring (Nürburg, Germany). It is not a Formula One track anymore, but it is still a stunning course.
What are your general impressions of working in Azerbaijan? Has it been an interesting experience for you?
It is always a pleasure to work with such ambitious people. We are working with amazing experts. Yes, it has been an interesting experience for me. It is fascinating to develop a circuit in a city like Baku.
It is never too late to learn something new. Advancement is one of our main tasks.
Have you managed to travel around the country a bit?
I had been to Azerbaijan several times before we started to work on the track. It`s an amazing country and I always look forward to coming back.