The Azerbaijani transport sector has produced many large-scale projects in recent years. Highway construction and railway modernisation, the new Baku International Sea Port complex, modern international airports and global transport corridors all aim to make Azerbaijan a regional transport hub and expand the country's global reach. Azerbaijan's significance as a transit country between Europe and Asia will increase further after the completion of the Baku-Tbilisi-Kars railway line.
Another key project nearing completion is the International North-South Transport Corridor. Initiated by Russia, Iran and India, this multi-modal corridor is designed to connect Northern Europe and Southeast Asia. The North-South Corridor will connect the railways of Azerbaijan and Iran, which in turn will provide a wider transport connection between India, Iran, Azerbaijan, Russia, Turkmenistan and Kazakhstan.
When it comes to the development of trade and economic relations with its southern neighbour, Iran, Azerbaijan prioritises transport links. Both countries' future economic success is closely tied to this. An important step forward was made during President Aliyev's one-day visit to Tehran on 23 February this year, when an agreement was reached between Azerbaijan Railways and Islamic Republic of Iran Railways to construct a railway bridge over the Astara river on the border between Azerbaijan and Iran. This was one of several significant bilateral documents, strengthening cooperation with Iran across sectors, signed during the visit. Perhaps most significantly however, some very important steps were taken to advance the North-South project.
North-South
The North-South Corridor will offer a direct transport route between St Petersburg and Mumbai. This means Azerbaijan and Iran bridging two continents, Europe and Asia. In other words, the Astara-Astara section (a rail link between Astara in Iran and Astara in Azerbaijan) will play a vital role in linking North and South by land and developing relations between individual countries and continents. It will strengthen trade, transport and economic relations between the countries of the Middle East, Southeast Asia, Northern Europe and Russia.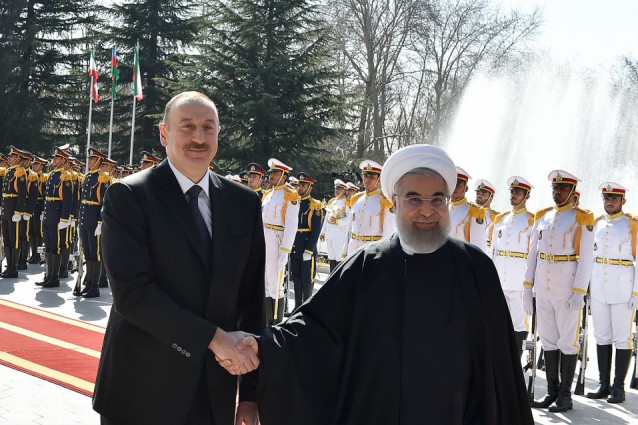 The new corridor will be more competitive in time and cost than alternative routes such as the Suez Canal-Mediterranean Sea-Northern Europe and Turkmenistan-Kazakhstan-Russia-Northern Europe routes. The current sea route via the frontiers of Western Europe, through the Mediterranean and the Suez Canal takes 40 days; the new North-South Corridor envisages reducing this by half and even delivering goods as quickly as 12 days. Goods will be transported via the corridor from India to Russia and Europe and in the opposite direction. The annual transit through Azerbaijan will consist of millions of tonnes of freight: initially five million tonnes of goods, but later rising to 10 million tonnes.
Due to its location on the corridor and role as a transit country, Azerbaijan stands to gain substantially from the North-South project. Firstly, it will bring millions in foreign currency. Secondly, it will give an essential boost to the Azerbaijani non-oil sector. Thirdly, it should significantly improve the transport infrastructure of the region. And most importantly, it will open up access to the Arab Gulf countries for Azerbaijan in the future.
The project not only develops relations between individual countries, but between continents too
All this will be possible once the last remaining line, the Qazvin-Rasht-Astara railroad, has been constructed and opened in Iran. Then, the annual profit to Azerbaijan will increase by $300-400 million from transit between Central Asian and European countries and the Persian Gulf and the Indian Ocean. This equals Azerbaijan's current income from all types of cargo transportations.
Advancing quickly
In this way the Astara-Astara transit corridor is very important for Azerbaijan and Baku is naturally extremely interested in implementing this project. The North-South Corridor will be key to realising the country's transit potential, generating additional income and jobs, and strengthening the Azerbaijani economy in the region.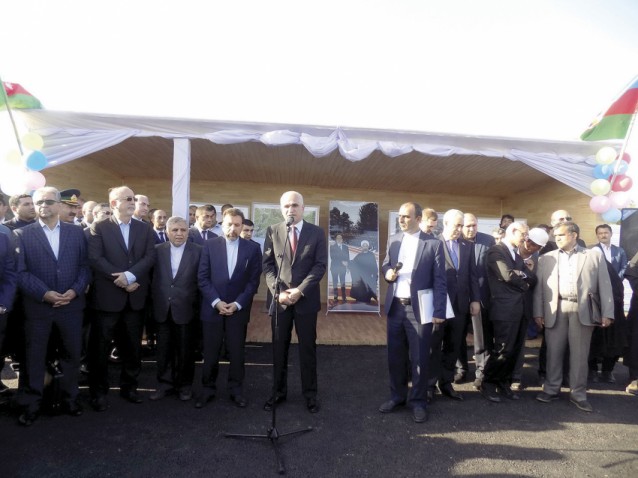 The foundations of the railway bridge over the Astara river were laid on 20 April at a ceremony attended by the co-chairs of the State Commission for Economic, Trade and Humanitarian Issues – the Azerbaijani Minister of Economic Development, Shahin Mustafayev, and Iran's Minister of Communication and Information Technologies, Mahmoud Vazei, as well as other high-level representatives from both countries.
Azerbaijan will construct its railway line - only about 8.3 km - to the Iranian border by the end of this year. At the same time, a 10 metre wide and 82 metre long bridge will be built over the Astara river; also scheduled for completion by the end of 2016. Expenses for the bridge will be covered by Azerbaijan and Iran equally.
As for the Qazvin-Rasht-Astara railway line, Azerbaijan has agreed to provide Iran with a loan of $500 million to finance the construction of the Rasht-Astara section. In so doing, Baku hopes to accelerate the implementation of the North-South project. Iran has declared that 92 per cent of infrastructure works on the Qazvin-Rasht railway line are already complete. The line is expected to be fully complete by the end of this year.
East-West
Meanwhile, the North-South Corridor is not the only regional railway with global implications for Azerbaijan. The Baku-Tbilisi-Kars railway will also bridge continents and is projected to begin operating in 2017. In global terms, the BTK route is designed to connect China and Central Asia with Europe. Passengers will be able to travel from Beijing to London in just 12 days. Regionally, it aims to strengthen trade between the three countries involved – Azerbaijan, Turkey and Georgia – while isolating Armenia to help bring an end to its occupation of Nagorno-Karabakh.
The BTK project has been postponed several times, having originally been set for completion back in 2009, but at a recent trilateral meeting in February this year the Azerbaijani, Georgian and Turkish foreign ministers announced a new deadline for early 2017.
The North-South Corridor will be key to realising the country's transit potential, generating additional income and jobs, and strengthening the Azerbaijani economy in the region
When it is finally ready, the Baku-Tbilisi-Kars route is initially planned to transport about five million tonnes of freight and a million passengers per year, rising to 17 million tonnes of goods and a few million passengers annually in future. It promises to bring the South Caucasus closer to Europe, provide a fast link between Azerbaijan and Turkey and strengthen Georgia's and Azerbaijan's role as transit countries.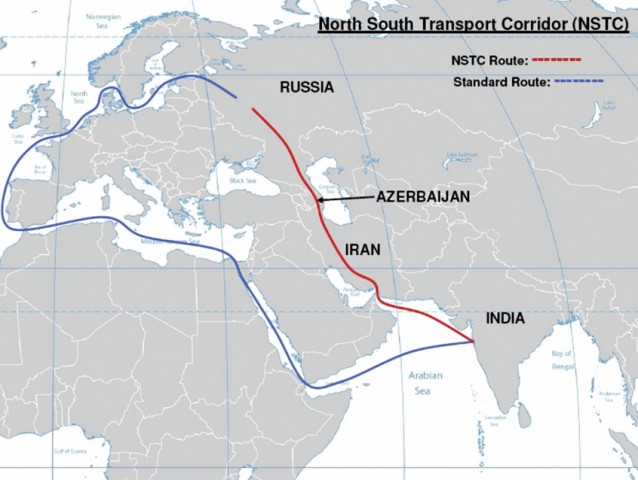 Both the North-South and Baku-Tbilisi-Kars projects are likely to be of great benefit to Azerbaijan.
About the author: Parviz Heydarov is an independent journalist specialising in economic analysis