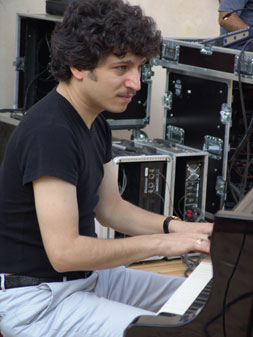 Pages 78-84
by Ian Peart & Saadat Ibrahimova
Shahin Novrasli is a name that will surely become more widely known across the world. It belongs to a musician from the shores of the Caspian who is creating ever greater waves in the world of music. In 2007 Shahin took his talent to the heartland of European jazz, the Montreux Jazz Festival, and made quite a splash.
Baku's jazz tradition is yet another of the treats in store for the inquisitive visitor. There have been jazz big bands here since the 1940s and, despite official disapproval and even repression during Stalin's time, there has been an unbroken line of enthusiastic and innovative musicians drawn to the music of improvisation. There were breakthroughs to the West even during the Soviet period; the flamboyant and pioneering Vagif Mustafazadeh journeyed from clandestine huddling over jazz on BBC America presenter, Willis Conover, as "the most lyrical pianist I have ever known".
Aziza Mustafazadeh continues her father's work and is now firmly established on the European jazz circuit.
The new Jazz Centre, opened in 2004, and the Baku International Jazz Festivals of recent years have provided local musicians with opportunities to reach a wider audience and enjoy contact with musicians from abroad. Thus we first saw Shahin on the fringes of a festival in 2003 and his upbeat, crowd-pleasing performance marked him out as one to watch. When he was given a regular spot at the Jazz Centre, Sunday nights became events not to miss, and we soon realised there was more to his music than a feel-good stomp.
Shahin, like most of Azerbaijan's jazz musicians, benefited from a rigorous, classical education at the BulBul School of Music and the State Music Academy (Conservatory); by 18 he was a prize winner for his playing of Rachmaninov's 2nd Concerto. Restlessly creative, he was fascinated by the improvisation and harmonies he had heard on a cassette of music by Vagif Mustafazadeh. At the time, this was a new dimension, he says, "You can't add to classical music, you can't say of the music, 'It's me'. I started to think about composing, and jazz, with its improvisation, was the obvious direction."
One of Mustafazadeh's major contributions was his ingenuity in combining the distinctive Mugham folk music of Azerbaijan with jazz. Improvisation is the essence of both forms and the best exponents of both use the most precise timing and changes of direction to express themselves fully to their audience. Thus, while Shahin was taking in the jazz of Chick Corea, Bill Evans and Keith Jarrett, he was also learning about Mugham from his tar-playing brother Arslan.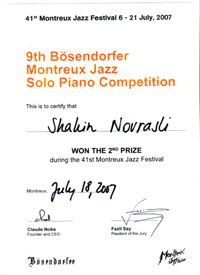 Novrasli's album J´z Mu was recorded live at the Jazz Centre, just a month after it opened, and those who were there knew that something special was being coaxed from those 88 piano keys. His improvisation of the Azerbaijani folk song, Alinda Sazin Gurbani, draws you in to moments of such quiet, high tension that you find you are holding your breath, waiting for resolution and release.
The Jazz Centre played a role in broadening Shahin's experience when he met up with visiting guest musicians, American bass player Nathan Peck and Russian drummer Alexander Mashin; their feel for the rhythms of Azerbaijani folk, combined with their jazz-based expertise, made them ideal complements to the sound he was pursuing - and a new trio was born. A couple of wellreceived appearances at Hot Summer Jazz festivals in Minneapolis strengthened the American connection and his performance at the 2006 Baku Jazz Festival saw Shahin playing with New Yorkers Jeff Lederer (saxophone) and Matt Zebrowski (drums).
The Americans may well not have heard of Uzeyir Hajibayov before meeting Novrasli but they combined in an affecting interpretation of the pioneering composer's Gulchohra´s Cry from his comic opera Arshin Mal Alan. And the influence of national music was even more evident in this year's 2007 Baku Jazz Festival when the basic Azerbaijani/American/Russian trio was joined by Shahin's brothers, Nurlan (kamancha, vocal) and Arslan (tar) and percussionist Tofiq Jabbarov. The tar - a harder, less resonant form of guitar, with a figure-of-eight shaped soundboard – and kamancha - a bowed, lyre-type instrument with a deep, circular soundboard - are the essential elements of a Mugham trio. The folk instruments were given full rein in a 30 minute performance of Eternal Way which was both technically and emotionally absorbing. One of those concerts where you can't help but be aware of the skill on display, while being totally drawn in to the emotion and expression of the passing moments.
Five weeks later, Shahin was in Montreux, battling with the world's best young pianists in the Jazz Solo Piano Competition; other competitors were from countries with strong piano traditions including France, Germany, Cuba and Hungary. During the selection process, the semi-finals and finals, competitors had to display versatility as well as technique and imagination. Thus Shahin played blues and compositions by Jimmy Rowles and Enrico Pieranunzi, as well as his own compositions. The latter included Clajamu in the final - the title indicating the synthesis of classical, jazz and Mugham in his playing.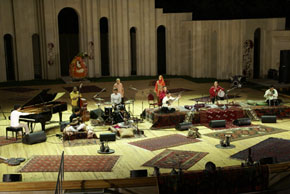 Shahin Novrasl, Alim Qasimov and Farqana with musicians at Baku´s Green Theatre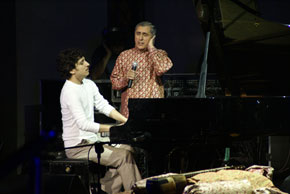 Alim Qasimov and Shahin Novrasli in Baku's Green Theatre, September, 2007
Finally, he was being applauded for his second place award by his former teacher, Farhad Badalbeyli, Rector of the State Music Academy (Conservatory), and Abulfaz Qarayev, Minister of Culture and Tourism - both proud that their country's first entrant to this prestigious competition had carried the flag so well. Novrasli himself was just a little disappointed not to have come first - as those who know him would expect - and was soon turning his mind to new projects. But not before heading off to Paris on a honeymoon held over for the duration of the competition - he had got married some two weeks earlier. The last word on his performance at Montreux may be left to Turkish pianist Fazil Say - "One of the best currently performing pianists in the world."
An eventful year for this rising star of the music world was not done yet. This was also the year that Shahin Novrasli turned 30 and he wanted to celebrate in appropriate style. By chance it was also the year that the great Alim Qasimov, Azerbaijan's leading Mugham singer, reached his half century. Thus, on 27 September, a grateful Baku audience assembled in the Green Theatre to be treated to 50-30, a concert by Alim, with daughter Fergana, and Shahin with musician brothers Nurlan, Arslan and poet brother, Tarlan. More celebration than innovation, still the evening was a tasty reminder of progress made and tantalising aperitif for what may lie ahead. In a recent interview, Shahin was reluctant to look back at his success in Montreux , more obviously excited by a new project he had in mind; "It was very little. I still have a lot to do in music... I am always thinking about new music projects and every project starts from zero - I don't have anything."
He was coy about the detail of the new project, saying only that we have to wait until May, or perhaps the next Baku International Jazz Festival. Meanwhile, a solo concert in Prague in December, a master class and conference in Toronto in January and other concerts lined up in Moscow and Strasbourg for 2008 will keep him ticking over.
More generally, his earlier plans for a return to classical music are on hold. His experience of jazz improvisation has helped him understand, he says, how he can put more into it - perhaps his own concerto in the future. There is a feeling, as with many maturing musicians, that categories of music have less meaning for this "former" jazz musician, and can act as restraints, "I am just a musician."
But what a musician! Be sure to look out for Shahin Novrasli.