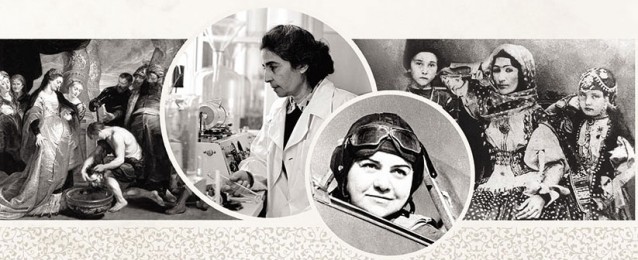 Over the centuries oriental women, as representatives of the weaker gender, have often been regarded as helpless 'hostages', yet history disproves this. Azerbaijani history is certainly a rich and interesting one, especially so for having unique, strong women, some having earned reputations as women 'firsts' across the East.
Their social and political activity resulted in innovations in our history and even helped to prevent seemingly inevitable bloody conflicts. There is almost no sphere untouched by their influence. For many years, for many centuries, a woman was often just a being without rights. Azerbaijan preceded the entire East and even some western countries to become one of the first to give rights and freedoms to women (in 1918).
Despite the clear differences between West and East, Azerbaijan, which combines these two worlds, has tried to benefit from both civilisations. In terms of the East, Azerbaijan has treated women – whether mother, daughter, sister or wife – with a special care and respect. These predominantly Muslim women are active domestically and socially, they are the family's dynamo and support, and have often made uncredited contributions to the work of their famous husbands and children.
In relation to the West, they are noted for their modernity, involvement in the physical, life and social sciences and have registered 'firsts' in many spheres.
For all these reasons, Azerbaijani women occupy an irreplaceable position in the country's history. Here we will list just some of the most famous and significant of them, covering the period up to Azerbaijan's renewed independence in 1991. Thus we include women who lived and created from the 6th to the 20th centuries on Azerbaijani territory. This is just a taster. We will return to some of these women in more detail in future editions.

Tomyris Khatun (6th century BC)
The first woman ruler on Azerbaijani lands? (Herodotus's geography is imprecise). The all-conquering Persian king Cyrus the Great finally met his match in 530 BC when the queen of the Massagetae advised him to get back onto his side of the Araxes river or receive more blood than he could drink. Their armies fought, he died. She sank his head into a skinful of blood....
Sara Khatun (15th century)
The first woman diplomat in the East? Imagine being sent to negotiate with Mehmed II, the fiercesome 'Conqueror' who took Constantinople and brought down the 1,000 year-old Byzantine Empire. In 1463, she gained valuable breathing space for her son Uzun Hasan, leader of the Ag Qoyun (White Sheep) state and already in Mehmed's sights, despite being a brother Turk.
Mehseti Ganjavi (11-12th centuries)
The first renowned Azerbaijani poetess. From Ganja, now Azerbaijan's second city, she wrote many rubai, gitah and ghazals. Her lively, sometimes satirical poetry tells us most of what we know about her life. For example:
I am Mehseti, in appearance past compare.
In Iraq and Khorasan, I'm admired even there
Hey, come to me you mullah's son of Ganja
Leave me not to the heat of separation's flare.
Natavan Khurshudbanu (1832–1897)
This eminent Azerbaijani poetess was the daughter of Mehdiqulu khan Javanshir, the last khan of Karabakh. Alexandre Dumas describes meeting her in his book Travels in the Caucasus. Prominent for her charity and social activity, Natavan was first to provide her home city Shusha with drinking water. She also organised mixed literary salons.
Tahira Tahirova (1913-1991)
A double first: she was the first Azerbaijani woman to achieve a university degree in the oil industry and the first to become Minister of Foreign Affairs (of the Azerbaijan SSR,1959-1983). After leading the effort to keep the Soviet army supplied with oil in World War II, she went on to become the minister who insisted on relinquishing other duties to concentrate solely on foreign affairs.
Qamar Salamzade (1908-1994)
The first female movie director, not only in Azerbaijan, but in the East as a whole. Born in Nakhchivan and inspired by her poet father's work with the popular satirical magazine Molla Nasreddin, she went on to achieve her childhood dream of giving life to the pictures she saw there.
Their armies fought, he died. She sank his head into a skinful of blood....
Qamar Almaszade (1915 – 2006)
The first Azerbaijani professional ballerina. Inspired by a childhood friend, she enrolled, secretly from her disapproving father, in a private ballet studio and eventually made it to be Princess of the Azerbaijani stage with help from the great composer Uzeyir Hajibeyov.
Leyla Mammadbeyova (1909-1989)
The first woman pilot in Azerbaijan, the Caucasus, all of Southern Europe and the Middle East. Her first flight was in 1931. She followed this by becoming one of the first women in the USSR to parachute jump and during World War II she trained hundreds of paratroopers for action. All this and, as the mother of six, she was awarded the state's Motherhood medal.
Zuleykha Habib Qizi (1919-1999)
The first Azerbaijani woman military pilot and also a prizewinning parachutist. The first woman navigator to enter Moscow's Zhukovsky Military Air Academy. Flying in the face of prejudice and death, she recorded 500 sorties in World War II. We'll tell you how she shot down an enemy plane over Stalingrad in a future edition of Visions...
Vajiha Samadova (1924 – 1965)
The first professional woman artist in Azerbaijan. She lived a short, but highly creative life. Encouraged by her artist husband Latif Feizullayev, she worked, travelled and painted with him in a variety of genres.
Rahmanzade Maral (1916 – 2008)
A pioneer woman artist, she was the first to paint (prolifically) about the notoriously difficult Oil Rocks (Neft Dashlari), the 'oil city at sea'. Her works can be seen in museums in the UK, USA and Russia.
Shovkat Salimova (1920 – 1999)
The first Azerbaijani woman ship's captain. One of two women captains serving in World War II, sailing to the Mediterranean, Marmara, Aegean and Black Sea harbours. She was awarded the Red Star and a medal for defence of the motherland.
Hanifa Melikova (1856 – 1929)
One of the first and most prominent women in Azerbaijan's enlightenment movement. Her husband was Hasan bey Zardabi, an intellectual and founder of the Azerbaijani press with the newspaper Ekinchi (Farmer). She instigated the first Azerbaijani women's charitable society, established in 1908 and was principal of the Baku School for Girls. Despite opposition and other pressures of the time the society opened a number of free schools, educating many future intellectuals.
Hajar (1860 – 1914)
Legendary folk hero. With her husband Gachag Nebi, for over 20 years she was part of a running campaign across the south of Azerbaijan and Nakhchivan against Tsarist forces. They were captured and released several times but never gave up the struggle. Many songs, poems and epics have been written about their heroism and love.
Hamida (Javanshir) Mammadguluzade (1873 – 1955)
Another woman who was prominent in the enlightenment period, she was married to Jalil Mammadguluzade, founder of the popular satirical magazine Molla Nasreddin. Her charity work included opening a medical centre and campaigning for women's freedom; she also published articles in Molla Nasreddin. She left her fascinating Memoirs for future generations – a valuable reflection of Azerbaijani society around the times of its first independence.
Nigar Shikhlinskaya (1878 – 1931)
The first Azerbaijani nurse. She provided medical aid to those injured during World War I, chaired the Azerbaijan Red Crescent Society and was a founder of the Gold Crescent Society. Wife of Port-Arthur hero General Aliagha Shihlinski (who also led the newly independent country's military forces from 1918).
Sona Taghiyeva-Arablinskaya (1881-1932/1938)
The daughter of Tsarist general Balakishi-bey Arablinski, she was one of the richest and most influential women of the early 20th century. As wife of oil baron and philanthropist Haji Taghiyev, she was involved in a number of projects and managed the first girls' school in the Muslim East, the Baku School for Girls (sponsored by Taghiyev).

Shafiga Efendizade (1882 – 1959)
Publisher, writer, one of the first women educators in Azerbaijan. After graduation she was invited to work as one of the first teachers at the newly-opened Baku School for Girls. She campaigned for education, freedom and rights for women and was a delegate to women's events in the Caucasus and Russia.
Sona Velikhan (1883 – 1982)
The first woman to receive a PhD in medical sciences in Azerbaijan. Her specialism was in glaucoma, trachoma and eye injuries. She attracted the attention of the Nobel Prize Committee with her paper On the Pathological Anatomy of Endolphthalmitis. Unfortunately, the start of World War II intervened and the paper was found in the Nobel Archives years later.
Khadija Alibeyova (1884 – 1961)
The first woman editor in Azerbaijani history. From 1911-1912 she was editor of Ishig, the first women's newspaper to be published in Azerbaijani. It called for Muslim women to have an education, participate in public life and to know their rights while still performing their family duties. Her husband, lawyer Mustafa bey Alibeyov published the paper. Later she moved from Baku to Sheki and worked as a gynaecologist.
Govher Gaziyeva (1887 – 1960)
The first Azerbaijani actress to perform in public (in Georgia). She was born and began her career in Tiflis (Tbilisi), appearing in Najaf bey Vezirov's tragedy Musibeti-Fakhraddin. She soon became famous and known as the Goyerchin (Dove) of the Azerbaijani stage. Marriage ended her career and there is a heartrending story about her son who went missing for 15 years.
Ayna Sultanova (1895 – 1938)
The first woman minister in Azerbaijan, first editor of the magazine Oriental Woman, one of the first women revolutionaries. She was a People's Commissar of Education of the Azerbaijan SSR, Chairman of the Supreme Court and Minister of Justice. Her close association with the Bolsheviks makes her a controversial figure in the post-Soviet era. Despite her lifelong devotion to Marxism, she fell victim to Stalin's purges. In 1938, along with her brother Gazanfer Musabeyov and husband Hamid Sultanov, she was shot as an "enemy of the people."
Shovkat Mammadova (1897 – 1981)
The first professional opera singer - she studied in Milan with help from the famous oil baron Taghiyev and his wife Sona. At 15 years old she was the first Azerbaijani woman singer to appear on the professional stage in Azerbaijan, encouraged by Uzeyir Hajibeyov.

Surreya Aghaoghlu (1903 – 1989)
The first female lawyer in Turkish history, also a writer, publisher, orientalist, women's rights defender. Born in Shusha to the prominent Azerbaijani political figure Ahmed bey Aghaoghlu, she fled with him to Turkey on the fall of the Azerbaijan Democratic Republic. She graduated in law from Istanbul University and later became the first president of the International Women Lawyers Society and was the only woman lawyer at the International Commission of Lawyers.
Izzet Oruczade (1909 – 1983)
The first woman chemist in Azerbaijan and also the first movie actress. Although she spent most of her life as an oil chemist, it didn't prevent her from becoming an actress. The prominent playwright Jafar Jabbarli saw her once and made cinematic history – she was chosen to play Sevil in the film based on Jabbarli's novel of the same name.
Valida Tutayuk (1914 – 1980)
The first Azerbaijani woman to receive a PhD in biological sciences. Student expeditions to the Talysh, Greater and Lesser Caucasus Mountains with leading Russian scientists inspired her to a successful career. It was a career that took her to an international congress in Montreal and saw a prolific output of textbooks and papers including The Structure of Multi-petal Flowers and directorship of the republic's Botany Institute.
Shafiga Akhundova ( 1924 – 2013)
The first woman opera composer in the East and a People's Artist of Azerbaijan. She made history in 1972 with her opera Gelin Gayasi. A student of Uzeyir Hajibeyov, she endowed Azerbaijani music with songs, romances, opera and operettas, symphonic suites and other works in various genres.
Pustekhanim Azizbeyova (1929 – 1998)
One of the first women academics in Azerbaijan and the East. A Doctor of Historical Science, she was also a movie consultant and director of Azerbaijan's History Museum. Incidentally she was the granddaughter of Meshadi Azizbeyov, a revolutionary who encouraged anti-tsarist movements within Russia and Sattar Khan's revolution in Southern Azerbaijan (in Iran).
Munevver Rzayeva (1929 – 2004)
One of the first women sculptors, she was born in Shusha into a family of carpet makers. She created statues of Ayna Sultanova, Sevil Gaziyeva, Mehseti Ganjevi, Mikayil Mushvig, Nasimi and others throughout the country, and was equally proficient in granite, marble, bronze, wood and other materials.
Sevil Gaziyeva (1940 -1963)
The first female mechanic in the Azerbaijan SSR. Inspired by a newspaper article she rapidly became much in demand for her skilled work. However, machinery was ultimately to turn against her. There are several versions of her death, but it seems that one night in the fields, her hair became tangled in the mechanism of the combine she was working on.