It's easy to imagine how short 10 years is but when you consider what you have done during this period you end up with a very long list. It's the same when I look at my photo archive of approximately 4 memory cards, more than 280 folders, over 30,000 photos - imagine the challenge this presents if you need a particular photo for a new issue of the magazine! But among all of these there are some memorable moments that I still remember as if they happened yesterday…

Eldar Farzaliyev tells the story behind some of his favourite shots for Visions.
Proud moments

2010: Patrick Jephson in Azerbaijan -
Perhaps you haven't heard of him but the person who had the greatest impact on me was Patrick Jephson, the former private secretary to Diana, Princess of Wales. To photograph him was something special for me.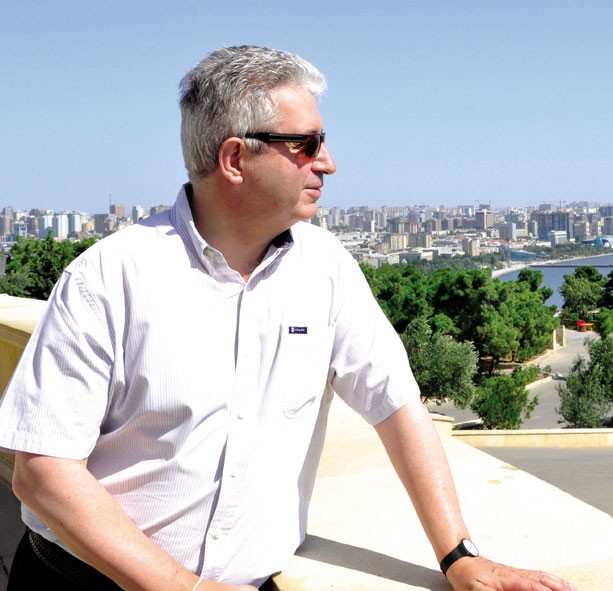 We all know Lady Diana and how famous she was, so photographing her private secretary - my first such assignment - was very responsible work. But he was a very kind and sociable person and so it was easy to photograph him in front of the Baku panorama.

2012: Khojaly exhibition - An Indelible Record - Frederique Lengaigne is now a documentary filmmaker, but in 1992 she was working for Reuters in Moscow. When fighting intensified in Nagorno-Karabakh she travelled to Azerbaijan and was in Aghdam at the end of February 1992 to photograph the bodies and refugees, victims of the Khojaly tragedy.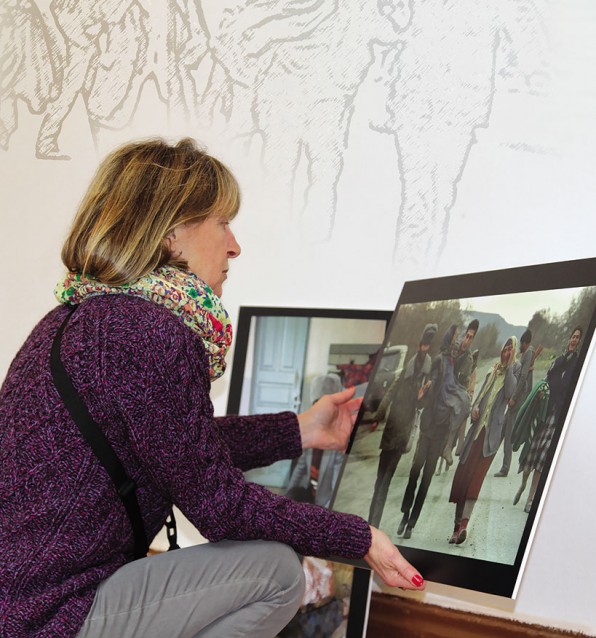 During this exhibition she passed me her camera and told me to take her photo as a memory. While she was looking at the photos she took in Aghdam in 1992 she seemed extremely sad, as though she had been transported back to that very day. Taking a photo of a photographer like her with her own camera was a really proud moment for me.

Dangerous moments

2015: Muchuq waterfall - Off the Beaten Track in Azerbaijan - We may have spent only a few hours getting there, but they were some of the most challenging of our lives! Climbing to the Muchuq waterfall I experienced a moment I wasn't able to capture with my camera so let me explain with an excerpt from the article:
We had seen a flock of sheep and two shepherds across the valley, but thought nothing of it. Suddenly, we realised that a pack of sheepdogs was heading straight for us. There was nowhere to run, so we stood our ground, making no sudden movements. Five barking dogs surrounded us, ready to attack. We all held hands, feeling like hostages awaiting our final moments. The dogs seemed so vicious. Those enormous jaws would have been the last thing we ever saw, if the two shepherds hadn't realised in time what was happening.
For more on the perils of Caucasian sheepdogs, see Camping Azerbaijan: Hiking and Homestays in Quba, November-December 2015.

2015: Mingachevir in the Spotlight - At the end of our day photographing in the city of Mingachevir I wanted to take a general view of the city and found a 13-floor old Soviet-era apartment block with a suitable view from the top. I had great difficulty getting onto the roof because the passageway leading there was dark and shut, so I asked some residents to find the key and eventually a small child brought it.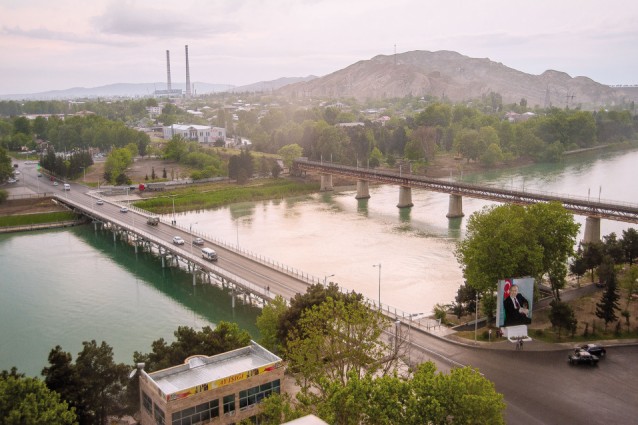 On the roof it was extremely windy but even so I decided to clamber up onto the very edge to take this photo. When I was back in the hotel later that evening I realised how dangerous this manoeuvre actually was, that it could have been my very last shot.

2014: Chovgan - A Champion Game - Do you see how the horses are coming straight towards the camera? Taking this photo was one of the most dangerous moments in my life. As a photographer you want great photos but sometimes you risk too much in making a beautiful shot and it becomes equal to your own life.

Disappointing moments

2013: His Majesty Khash - Love it or loathe it, khash is a local institution. There's nothing that Azerbaijani men like more than to start a winter day with a steaming bowl of this glutinous, stewed trotter soup. Khash enjoys a reputation as a hangover cure, especially if it's accompanied by some hair of the dog – a glass or two of vodka. (Extract from His Majesty Khash, January-April 2013).
For a photo of khash I spent two weeks searching to find a restaurant or someone to prepare this dish, but nobody wanted to. I was about to change my plan for the magazine's cuisine column, thinking I would have to find another meal, but thankfully I finally found a fantastic Azerbaijani restaurant (not just in Baku), the Shirvanshah Museum-Restaurant, which welcomed me in exemplary fashion and did exactly as I wanted for the photo shoot.

2014: Season of Mists and Mellow Fruitfulness - This photo was once on the back cover of the magazine, so you might ask - how could I be disappointed?
I was photographing the beautiful fruits sitting on counters at the Yashil (Green) Bazaar and once finished I planned to exit from the rear entry. When I passed nearby I heard a man complaining that some photographers come here and photograph things that aren't beautiful and then I understood that he was speaking to me. I approached and asked for permission to take photos of the pomegranates he had cut into beautiful shapes.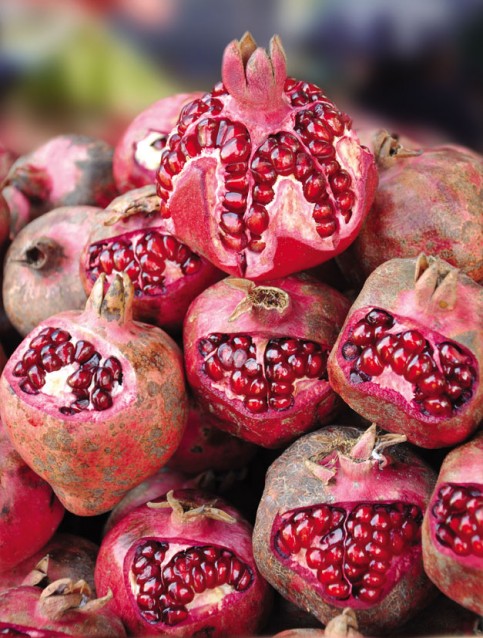 Pomegranates, 2014
It was fortunate that I decided to leave through this exit, heard those words and shot those pomegranates, but the disappointment was the realisation that sometimes we don't pay enough attention to the beauty that surrounds us.
I would like to congratulate all the staff who have ever worked with us on the anniversary of our magazine - long live
Visions of Azerbaijan
!