It has been an exciting year for children's literature in Azerbaijan. Children, teachers, parents, aunts, uncles, and grandparents are sharing the joy of reading!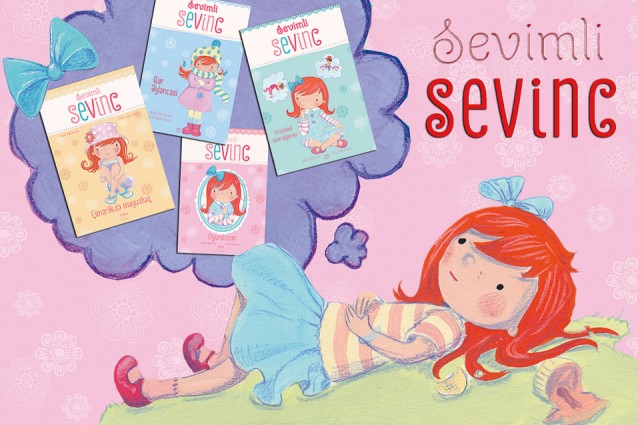 TEAS Press launched its children's division – 3 alma – in November 2014. Our selection of children's books was impressive: 21 titles of fiction, including picture books, early readers, chapter books, classics and genre novels. Since then the press has branched out into non-fiction. Our new series cover many interesting and up-to-date information books for children's reading pleasure and for research to support the school curriculum. Over 25 non-fiction books are already in print, covering such topics as big cats, food chains and webs, endangered species, landforms and infographics. Other highlights include a big format world atlas with lift-the-flap features and a wall map. The press has also produced toy books and a lift-the-flap book for toddlers – the first time in Azerbaijan!
3 alma is bringing out new titles in its popular series such as Sevimli Sevinc, Monster Hunters, and Riki. New series include the exceptionally popular Froggy series by Jonathan London and graphic novels for children. 3 alma has won translation rights from some of the world's top publishers – Capstone and Raintree, Penguin, Barefoot Books, Clavis Press, and Hyperion Disney.
3 alma books are being sold online, and in local bookstores and Mothercare stores. Our attractive 3 alma displays garner a lot of attention! Parents are thrilled to find such high quality books in Azerbaijani. Children just can't resist reading them!
Here is a sampling of comments about our books.
3 alma has won translation rights from some of the world's top publishers

Matt, an English teacher from Australia had this to say:
Hey,
I was in Mothercare the other day and I saw the 3 apple stand. A little girl was fascinated and reading one of the books. Nice work mate! I saw some interesting stuff for school there. I especially liked the non-fiction books about mountains and volcanoes. They fit perfectly with our current Unit of Inquiry. Awesome!
Chinara, an Azerbaijani teacher commented:
I had my class read the Elmer series by David McKee. The children found the illustrations very attractive. They read them with enthusiasm. It was great to see them smiling as they read the books. I think 3 alma books encourage kids to read and definitely improves their reading skills.

Zahir, a Grade 3 student had this to say:
There is a lot of information in this book – What If There Were No Sea Otters – that I didn't know before. Now I know that if there were no hungry otters then the number of sea urchins would grow out of control.
A parent, Sevinj, made this comment about our series Sevimli Sevinc [Lovely Sevinj]:
These are beautiful books for children. The design and pictures encourage children to read. The quality of the book's production is outstanding, world class! The language of the translation is easy to understand.

Another Grade 3 student, Maarif, said this:
I read the Big Cats series. These books are fantastic! Very interesting. They are important books for children because you learn a lot from them. After reading them I know that more tiger cubs survive in zoos than in the wild. Tigers born in zoos are later released into the wild.
What will our second year bring? We have many exciting new projects! A new series of levelled readers will be launched in Azerbaijani, English, and Russian. These levelled and laddered readers are an ideal addition to preschool and early elementary classrooms. They will be sold as a package with assessment sheets, teacher guidelines, audio CDs and online learning activities. 3 alma is proud to announce the release of new children's titles by Azerbaijani writers and artists. These will include picture books, chapter books, fantasy novels and biographies in Azerbaijani, Russian and English. Azerbaijani children's literature is flourishing! Stay tuned for news of these exciting book launches!
3 alma continues to work closely with schools to support teachers, students, and parents. An educational consultant has been hired to do outreach and organise book fairs for children. We look forward to offering new online products for this important sector.
Azerbaijani children's literature is flourishing!
TEAS Press is also publishing books for adults that have "YA cross-over" appeal for young adults. TEAS Press is now established in Istanbul as well. Thus, 3 alma will be bringing its vision and expertise to Turkish literature for children. In addition, it will be translating some of the best children's literature from Turkish into Azerbaijani.
Visit 3 alma at 3alma.az and on Facebook. Coming soon to Instagram.
About the author: Colleen MacDonell is head of 3 alma.