Elshad Rzayev looked unfamiliar in dark trousers and a crisp white shirt instead of his usual dusty overalls when I met him on a balmy summer's evening in Baku. It was 7.30pm and we hurried from his recently abandoned workshop in the shadow of the Flame Towers down towards Icherisheher, jumped on the metro and headed towards 28th May square. That evening there was an extra skip in his stride; he was returning for the summer to his native Lenkeran, following a year of toiling as an old-fashioned luthier in Baku.
I first met Elshad in the winter, largely because we lived on the same street. I'd become used to marching past an intriguing workshop, with traditional stringed instruments – kamanchas and tars – hanging decoratively from the walls, and a small moustachioed figure in overalls and a cream Muslim cap scrupulously measuring, crafting and toiling throughout the day. Once, I entered, and uncovered a deeply philosophical character with an utterly singular tale.
A musical revolution
Large and rough, with thick thumbs shaped by constant manual labour, Elshad's hands bear witness to his raison d'être. For the last 30 plus years he has been engaged in a solo mission to revolutionise traditional Azerbaijani stringed instruments, more specifically the tar and the kamancha. His goal has been to create a family of instruments with varying ranges, seven in total, to allow musicians to do justice to Azerbaijani classical music.
The context for this is the following. Up until the twentieth century the Azerbaijani national instruments used in concert ensembles were limited to the tar, the kamancha and the daf (Persian frame drum played by the khanande or mugham singer), which were enough to convey the essence of the mughams of the time. But at the beginning of the twentieth century legendary composer Uzeyir Hajibeyli expanded the range and form of national music, beginning with the opera Leyli and Majnun. To perform these complex compositions, new instruments were needed with a wider range.
The problem for Azerbaijan's luthiers was to create a prototype for national symphony orchestras, explained Elshad. So, since there are two main, dominating instruments – the tar and kamancha – I took the basis of these instruments and began to create more complete instruments of a lower range.
In little over 30 years Elshad has created some one hundred instruments but only about 25 remain, the sound quality of the others not being good enough. He has adapted the original kamancha into alto, baritone and cello versions; and has created tenor, baritone and contrabass modifications of the basic tar. He's built them in a different way too, by assembling separate parts rather than carving each model from a single trunk of wood.
Once, I entered, and uncovered a deeply philosophical character with an utterly singular tale
And he's been treading a new path -
I'm an idiot because throughout history I don't know of a case of one luthier working to create six new instruments, normally they just work on one.
Each instrument demands several years of painstaking work, from drawing up the initial plans, researching acoustics, wood types and string lengths, designing, testing and moulding materials, sawing, measuring, calculating, nailing, gluing and putting the whole thing together, only to knock it to pieces when the sound simply doesn't make the cut. In which case it's a question of picking up the pieces, finding motivation and starting again, one step at a time.
Elshad described the moment of testing an instrument:
I wait until evening when there's nobody around. I tighten the last string, I'm scared at this point, and I pluck once very carefully at the strings. You can't imagine the pain [if the sound is bad – Ed.], every part of my body hurts – I am a complete failure
Despite his successes - Elshad has recently completed his sixth and last new model - he would stress the evolutionary nature of the work, the constant testing and modifying that can last years, decades or even centuries. As a starting point he needs better quality materials - wood from fir trees in the Italian Alps and maplewood from the Balkan Mountains rather than their Azerbaijani equivalents.
Needless to say, it's a project that requires monumental purpose and patience, and an added spiritual incentive too.
Mission from God
This is a mission from God – to create these instruments for the Azerbaijani people, Elshad would say as we drank tea on several occassions amongst the chaotic debris of his workshop – wood-chippings, hammers and nails, old jars and bottles, sandpaper, vices and files, newspapers, measuring implements and matchboxes.
Life is like a chain, everything is interlinked, he would continue, deeply convinced his life, its trials and triumphs have been a carefully laid path.
To create these instruments you have to be a musician and an artist, to know the different types of wood and their characteristics, to know the science of acoustics well, to be a good carpenter and craftsman, to know the history of making instruments and the work of previous luthiers. You have to have all of these skills, and God gave me just enough of all of them.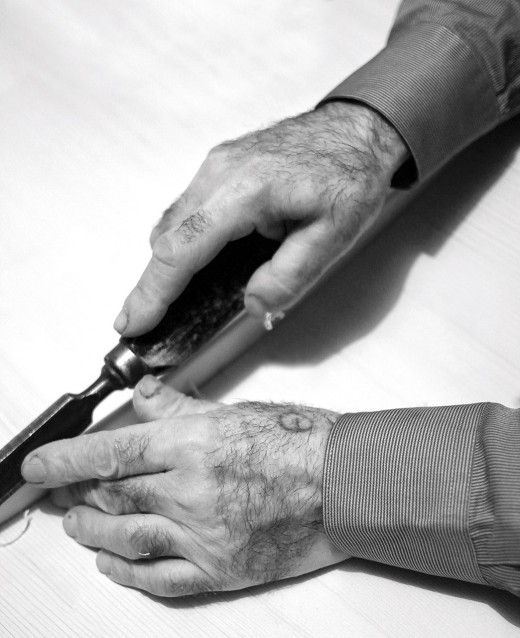 It's the strength of this conviction too that's led Elshad to continue the project single-mindedly despite a lack of funding, spartan living conditions and nobody, astonishingly, really knowing about his work. Which is why he took up the invitation of a sponsor a year ago, after losing his two small workshops in Lenkeran, to continue his work in the hope of greater things in Baku.
Since arriving Elshad worked like a man possessed on a dubious diet of tea and slim cigarettes. He's 60 years old and acutely aware of time, so much so that he hasn't had a day off since beginning the project in 1982. You go for coffee in the morning, I can't afford to do that, I just can't allow myself … I have to work, without work I can't function, he once said. This is too big a project for one lifetime, he believes, and without apprentices or written records Elshad is fuelled by an immense fear of the last 33 years slipping helplessly to waste.
The problem for Azerbaijan's luthiers was to create a prototype for national symphony orchestras
From Lenkeran to Leningrad
Elshad grew up amongst the peaceful Caspian shores and weathered fishermen of the city of Lenkeran, near the border with Iran. His father was a hairdresser, his mother a factory worker, and Elshad was one of eight children. The Lenkeran he remembers was a poor, rough environment where he and two brothers would spend summer holidays making boxes for tomatoes from wood imported from Russia. But it was here that Elshad nurtured a passion for art and music.
Ask me how old I was when I made my first instrument, Elshad once asked during a habitually philosophical conversation one evening in his workshop.
Ten years old! He exclaimed and then described taking a long piece of wood, hammering a nail in either end and attaching a string. How I did it I don't know … it was God, he said, pointing towards the sky.
Elshad spent his childhood dreaming of becoming an artist. He described painstakingly arranging his application to study at the art institute in Baku, only to be rejected for using pastel in his portfolio pieces rather than watercolour. Soon after he was drafted into the Soviet army and swept off to far-flung Leningrad, where he served two years, followed by six months working as a factory machinist and a further 18 studying art, enjoying visits to the Hermitage.
A heart-shaped tattoo at the base of Elshad's right thumb is a reminder of the romantic dreamer he was at this time. What's the story behind that? I had to ask. It's in fact the Russian 'f' or 'ф,' the first letter of a former girlfriend's name back in Lenkeran. That relationship didn't work out – She stopped writing, Elshad said, casting his mind back through the thickness of time.
Visit to Lenkeran
Two months after accompanying Elshad to Baku's central station, I took up his invitation to join him for a weekend in Lenkeran, where he lives a stone's throw from the sea in a quaint two-storey gated house, which of course he built with his own two hands. From here, Elshad used to go fishing in a rubber dinghy every morning, the sea being an important element in his creative process – there is nothing to distract you on the sea.
Elsewhere, Elshad's friend Namik drove us along the wiggly roads and breathtaking valleys of the Talysh Mountains towards the curious mountaintop town of Lerik, famed for its centenarians. Astonishingly Elshad had never visited here before, so absorbed has he been in his life's project. Back in Lenkeran, Elshad showed me the maroon-coloured music school where he taught guitar in the 1980s – now a library - and the two-floored workshop in a rundown industrial courtyard where for well over a decade, beginning shortly after the fall of the USSR, he spent the mornings working as a machinist and the late afternoons and evenings as a luthier.
I want you to see life here as it is, without all the bells and whistles, Elshad said as we strolled through the lively litter-ridden bazaar, where he stopped every few paces, greeted by countless locals. We ate dolma at a workers' joint and drank tea in Lenkeran's many chaikhanas, where at 15 qepiks a pop, locals spend much of the day philosophising and killing time.
Elshad's friend Namik drove us along the wiggly roads and breathtaking valleys of the Talysh Mountains towards the curious mountaintop town of Lerik, famed for its centenarians
It's as though time has stopped here, Elshad commented, bemoaning the lack of dynamism and opportunity, particularly for young people, some of whom he mentors. But whilst today's Lenkeran might potter to a sleepy beat, traces of life and beauty were visible from times gone by – the old lighthouse fortress near the station, the tired Officer's House built in 1955 and the overgrown parks and squares which could be revived with some care and attention.
But all the while, Elshad was itching for news from Baku …
The bittersweet taste of success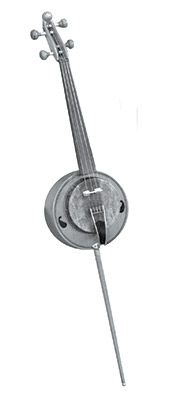 In late April I had dropped in to see Elshad. Normally characterized by chaos, his workshop was relatively free of clutter and two polished instruments were quietly propped against a table. Are they finished? I asked. Yes, he said, his softened face beaming with a grin. Understandably - these two instruments were six years in the making.
Most importantly, how's the sound? I asked. It's what I dreamt of, Elshad replied poetically, as though released from years of torment formed of the guilt, debt and desire for recognition that's been intertwined in his journey.
Soon after finishing his final two instruments, Elshad called to say his collection was being exhibited in the former Lenin Museum (now the Museum Centre) on Neftchilar Avenue and would I come along? I found him in a spotless black suit, engulfed in crowds of school children, teaching them about his work. His exhibition was set to stay in the museum throughout the summer, which he hoped would generate enough attention to allow him to continue his project in the autumn.
There are two things I need – the means and conditions to perfect the instruments, to find the mistakes and correct them, and to be able to create a national polyphonic chamber ensemble which can do justice to Azerbaijani national classical music, concluded Elshad.
However he told me in Lenkeran, following his brief trip back to Baku in June, that he'd arrived at the Lenin Museum to find his instruments had been packed away. Meanwhile, he was politely advised, by the national Conservatoire, to stay in Lenkeran whilst his instruments might be used to create an ensemble in Baku. Naturally, this wouldn't do for the tireless luthier from Lenkeran, who remains as committed as ever to creating a small revolution in Azerbaijani classical music.