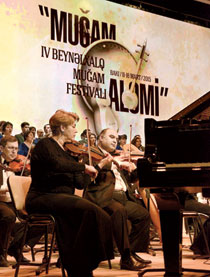 The Fourth International Mugham Festival, World of Mugham, took place in Baku from 11-18 March. Organised jointly by the Heydar Aliyev Foundation, the Azerbaijani Ministry of Culture and Tourism and the Azerbaijan Union of Composers the festival featured a symposium, contests and musical performances by local and international masters of mugham and attracted musicians from some 40 countries. Musicologist Turan Mammadaliyeva reviews the highlights.
The mission of a music festival is to entertain and give people something new, to bring them new trends in world music and the cultural heritage of other nations and ethnic groups. In this respect the Fourth International Mugham Festival, 'World of Mugham', will be remembered for its joy and determination in spreading awareness and study of the music culture of the East.
Now a tradition, the World of Mugham festival began in 2009 on the initiative of Mehriban Aliyeva, Azerbaijan's First Lady, President of the Heydar Aliyev Foundation and UNESCO Goodwill Ambassador. She wanted to showcase mugham to wider sections of the public and to showcase it from different angles - as a unique musical culture, as a subject of academic research, exploration of alternative art forms and as a competitive stage for performers from different cultural traditions.
The Academic Symposium
Given these objectives, the fourth scientific symposium to date was among the festival's principal successes. In previous symposia, one trend was especially prominent – the gradual development and classification of themes from the issues raised by academics and musicians. An important development was the programming of reports, strictly drafted to themes: mugham and makam in the light of tradition and innovation; the terminology and notation of mugham dastgahs (the main modes or patterns in mugham - Ed); and mugham and modern forms of music.
Performances were given by the symposium's participants and guests in the Uzeyir Hajibeyli Concert Hall at the Azerbaijan Union of Composers, and the articles and reports presented were published. These reports contained the interesting ideas and opinions of academics from different regions and touched upon diverse issues, particularly in relation to research and performance.
One such report was by Aleksander Djumaev, who explored the deeply studied work of Ari Babakhanov, a classical rubab (a lute, originally from Afghanistan - Ed) performer of the Bukhara School, whose interpretation of the Bukhara shashmaqam received special attention. The work of Abdulkadir Maraghi, a great musical theorist of the East, was explored by musicologists Suraya Agayeva and Gultekin Shamilli.
Young researchers discussed the problems with innovative approaches and were particularly clear and encouraging: Imina Aliyeva looked into weaknesses in musicological and ethno-musicological approaches and highlighted the relationship between the sound sequences of Azerbaijani harmonies and Nikolai Garbuzov's 'zone' theory of musical perception. The historical dimension of the development of mugham culture and its conceptual progress were other topics of discussion.
The symposium's final declaration highlighted a need to draft thorough reports on closely defined musical themes. The issue of transcribing and promulgating mugham dastgahs was another keynote.
From the organisers
The symposium certainly left its mark - problems in need of urgent attention and study were flagged up, and solutions proposed. But what did the organisers think? Dr. Suraya Agayeva, symposium coordinator, gave us her view:
The first mugham festival and academic symposium took place in 2009 and covered broadly all that had been done in Azerbaijan and other national cultures. By 2011 we had a specialized musicological symposium focused on specific themes, held together with the seventh conference of the UNESCO-recognised International Council for Traditional Music (ITCM).

On this occasion ITCM had planned to study various aspects of Azerbaijani mugham. Together with them and Prof. Jurgen Elsner, Chairman of UNESCO's makam academic research group, we came up with the theme: "Makam, Mugham and the Work of Modern Composers" which would cover trends, interpretations and composer adaptations of mughams - in general, the roles of makam and mugham in various areas of modern music. One of our concerns is terminology, and how to transcribe mughams. This is a very difficult problem; it requires thorough study, but unfortunately it isn't given sufficient attention in our musical culture.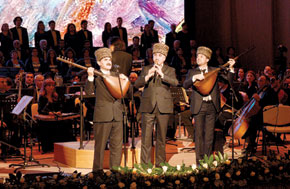 From the opening ceremony of the fourth international mugham festival, World of Mugham.
Photo: Azertaj

It's essential to hold national symposiums, conferences and preparatory discussions regularly. This means serious preparation and work. We should also hold conferences between republics – between conservatoires and universities – and communicate more regularly.

As for transcribing Azerbaijani mughams, the great Uzeyir Hajibeyli spoke about this as far back as the early twentieth century. The tar player Ahmed Bakikhanov also raised it. Otherwise, the old system of communicating mughams, transcribing and reproducing them distorts above all the sounds of our mughams.

Regarding the symposium itself, like previous ones I think that it was successful. There was a lot of time for questions and answers after the reports, and, importantly, for musical demonstrations and concerts of different genres. As the foreign guests and participants agreed, unlike similar events held abroad, the World of Mugham music symposium wasn't formal or theoretical - a lot of room was left for music and discussion.


Vibrant Music
In truth, what distinguished this year's festival was the dominance and power of the music itself, deeply expressive Azerbaijani mughams colourfully juxtaposed with other traditional cultures – Tajik and Arab makams and their song-like lyrics, Spanish flamenco, Uzbek shashmaqam. Individual representations of the different Azerbaijani mughams alternated with concerts of contrasting genres – operas, symphonic concerts, chamber music, and ethno-jazz.
This year, ethno-jazz was well represented by acclaimed musicians like Salman Gambarov's trio Bakustic Jazz, Jamil Amirov's Savab and the young pianist Elchin Shirinov, whose colourful compositions were supported by British musicians, basist Andrea Di Biase and drummer Dave Hamblett. A memorial evening was also held in tribute to the great maestro of Azerbaijani jazz, Vagif Mustafazadeh.
An exciting discovery
An exciting discovery for many in Baku was talented jazz pianist Ruslan Agababayev, who proved to be a composer with great potential. Born in Baku, he graduated from the Hajibeyli Baku Academy of Music and now lives and works in America, where he is an enthusiastic promoter of Azerbaijani music - the legacy of both Mustafazadeh in particular and Azerbaijani classical music in general.
Agababayev performed several pieces at the memorial evening for Vagif Mustafazadeh and then he performed his composition, Heydər Babaya Salam (Greetings Heydar Baba), based on the poem by South Azerbaijani poet Mohammad Huseyn Shahriyer, together with a large collective of performers at the end of the festival.
This piece impressed with its powerful orchestration, beautiful transitions into ethnic style (most notably with the introduction of a solo by the oud) and the expressive, melodious vocal part performed by tenor Samir Jafarov.
Credit for Agababeyev's successful debut as a composer should also be given to the Azerbaijan State Symphony Orchestra and its conductor Fuad Ibragimov, the Azerbaijan State Capella Choir led by Gyulbaji Imanova and soloists Samir Jafarov, Babek Niftaliyev, Shakhriyar Imanov (oud), Shirzad Fataliyev (balaban), Kamran Kerimov (nagara) and Elnur Mikailov (kamancha).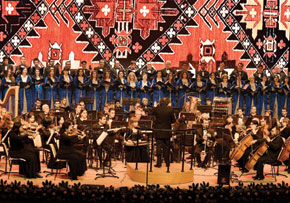 The Uzeyir Hajibeyli Azerbaijan State Symphony Orchestra and Capella Choir during the opening ceremony of the fourth international mugham festival, World of Mugham. Photo: Azertaj
Mugham and modern times
Equally representative and vibrant was the Mugham and Modern Times chamber concert organised by the Azerbaijan Union of Composers, led by its chairwoman and Azerbaijani national artist Frangiz Alizade. It very succinctly furthered the aims of the symposium: to promote mughams and their modern variations more widely.
Rufat Halilov's The Contrasts Created in Silence and Jalal Abbasov's Quartet No. 2, composed with minimalist delivery of sound and in line with the contrasting nature of the genres, were among the most striking interpretations. The late composer Oleg Felzer's composition A la Muqam was remembered for its dramatic expression and subtle delivery of mugham monophony. Absheron Metres by the young composer Tair Ibishev was a subtle address to the rhythmic elements of mughams and the soft, acoustic sounds and clear, contrasting composition of Aliya Mammadova's Humayun was dedicated to the most profound and sorrowful of Azerbaijani dastgahs.
The festive finale was provided by Reaction by Elmir Mirzoyev, increasingly familiar to the West. In this work the author drowns us in a struggle between competing sounds and tones, enticing the listener into a world of exquisite harmonies. And towards the end, in an echo effect from the tar, the noble character of mugham rises as though from the ashes, with a piercing cry delivered in the Rast mode.
Mugham and Modern Times was truly a most fitting musical offering to mugham, for here we heard its modern breath and imaginative adaptations from modern composers. And the musicians who presented it should be given their due here; along with conductor and national artist Fakhraddin Kerimov the soloists were Sahib Pashazade (tar), Chinara Mutallimova (qanun), Eyyub Aliyev (cello), Zakir Asadov (piano), Samir Asadov (violin), Ujal Mammadkhan (percussionist), Nijat Salmanov (flute), Shafa Kerimov (oud) and others.
I think that in the future these music symposiums will gain yet more creative experience, giving more and more room to thought, words and music and becoming a major source of creative ideas and practices on the music culture of the East.
About the author:
Turan Mammadaliyeva (PhD Arts) is a musicologist who specializes in mugham and jazz. She is the author of a study entitled
Jazz Harmony in the Works of Azerbaijani Composers.
Photos courtesy of Azertaj.