How does it feel to live in a palace fit for a 21st century Louis XIV? You don't need to be a plutocrat to find out as Mark Elliott discovers near Shamakha.
Those familiar with today's Baku might think they've seen glitzy neo-classical style taken to the furthest limits of opulence. But step inside the Rixos Samaxi and you're still likely to gasp. Despite the lonely location on a windswept rural ridge between Shamakha and Agsu, the sheer scale of this daring Las Vegas Versailles is nothing short of breathtaking. Oozing with brocade, gilt, hardwood and polished marble this is a structure designed to impress. Yet, as I rapidly discovered during a recent visit, the experience is simultaneously very human and personal – an unexpected paradox that underlies the philosophy of the tight knit management team – multi-lingual Turkish expat families who pour love and decades of shared experience into their gilded cage.
Welcome
I arrive late one February afternoon with neither pre-arrangement nor booking. Tired and dirty from several days on the road I'm feeling entirely under-dressed for the hotel's dazzling foyer. Nonetheless I'm greeted with faultless grace by immaculately dressed staff proffering lokum (Turkish delight) and a refreshing shot of sweetened lemon juice. The hotel complex is vast yet without any ado I'm whisked off on a very thorough 'info-tour' introducing me to every nook and cranny of the opulent building from the Klimt-y spa and optical-illusion indoor pool to the Monty Pythonesque nightclub whose soaring dome ceiling forms a surreal red 'sky' filled with flying horses.
My guide is the tirelessly friendly guest relations manager Dina Yuksekova. Perfectly attired this elegant Moldovan-born lady is fluent in English, Russian, Romanian and, most helpfully given past roles in Azerbaijan, Antalya and Kazakhstan, Turkish. Indeed most of the hotel's upper management appear to be Turkish including Dina's effortlessly entertaining husband, the operations manager Ergin Sarp. An hour into the 'info tour' we break for 'half time' and over an excellent layered latte, Ergin and Dina recount many a humorous tale of their globetrotting lives, notably the comical misunderstandings of dealing with Anglophones abroad - Cockneys in Antalya, Scots and Geordies in Astana or Texans in ten-gallon hats out in the Russian Far East. Remotest Russia had been Ergin's baptism of fire, spending two years on Sakhalin Island as a food manager in the oil & gas industry.
It could be -30 degrees with a 60kph wind – when that blew you'd just lie down and hope that the roof would stay attached to the building!
There were some 3000 people to cater for yet when he arrived the potatoes to feed them all were still being peeled by hand by a team of
babushkas.
This place is an enormous contrast continues Dina. One guest wrote on Trip Advisor – or was it Booking.com? – that there's too much gold! Well for her maybe. But not for many of our guests – and not for me – crystal and gold makes it comfortable. It looks beautiful. But it's still a real home. This is a place for families and we're families ourselves. All the main workers live here. Pointing across the corridor, she adds for emphasis, look there – getting into the elevator - the head-chef's wife and kids...

International Quality, Local Flavour
The Rixos ethos, they tell me, means combining international quality with local/Turkish hospitality and plenty of personal touches.
We are constantly looking for new ideas. For example, we heard that Baku people associate Shamakha with country food. A bulb was switched on in our minds – let's have a 'local corner' for the buffet breakfast – regional cheeses, a series of rustic jams, pickles, real farm eggs – all kinds of local specialities made from local recipes or sourced from the market in Shamakha. And serve them in traditional earthenware bowls with carved wooden spoons.
This has proved so successful that they've taken the idea further, now selling many such products in beautifully presented pots sealed with patterned cloth and tied with ribbons creating gift-souvenirs that are an artful blend of the traditional and the stylishly modern.
The local theme is being extended, changing an outdoor bar-area into a mangal (barbeque) facility for those who want the pleasure of the Azerbaijani picnic experience of roasting kebabs without all of the fuss and preparation. And further kids' activities are planned including a clever 'adopt a goldfish' idea. After all, the vast majority of guests are Azerbaijani families.
They just love to come back. We've barely been open for 10 months and already one family has come eight times. Each time more pleasure. In two days a person is not touching all the places in the resort – so there's always something more to find on a return visit. Many Baku families think of a holiday as going to Turkey. But now that this place is operating, they don't need to go all the way to Anatalya – just drive up here in a couple of hours and you have all the same facilities.
And with the recent devaluation of the manat, the management hope that ever more families will be looking for such a holiday closer to home. Of course the most obvious difference from Antalya is Shamakha's lack of any beach – after all this is mountain foothill territory – but there's certainly no shortage of summer activities. The hotel grounds include a woodland quad bike circuit, clay pigeon shooting (1AZN per round), bowling (8AZN), pony riding, indoor and outdoor pools, dance, aerobics, mini golf, tennis, kids' club, toy shop, etc etc...
There's also an enticing wine shop and tasting room - a good showcase for the vintages of co-owned AzGranata, a winemaker and juice packager based in Agsu down the long winding pass from the hotel. Bottles of signature Kəhrəba come with a cunning stick-on thermometer strip to help ensure that it's served at the right temperature. The wine is a delightfully full flavoured yet light white with just a hint of effervescence on the tongue, far too good it seems to have put half a bottle into our 'drunken chicken' dish but that's exactly what the chef has done this evening. Meanwhile Ergin recounts the tale of a French guest who refused to believe that she'd ever choose an Azerbaijani wine over a French one, only to discover in a blind tasting that she had done just that.
Impressions of Azerbaijan
I can't help asking Ergin what he loves most about Azerbaijan.
Well... when I was in Turkey I did know that Azerbaijan has a similar culture, but coming here I realised that it's far more than just 'similar'. People say that Azerbaijan and Turkey are two countries, one nationality – and now I realise how true that is – I feel easily the emotion. Before Azerbaijan we had worked in Kazakhstan. That's Turkic too. But there you feel that people are still partly Soviet. Here of course the history has its Soviet themes too, but you feel that people are one hundred per cent Azerbaijani. One hundred per cent patriotic. So for me [as a Turk] there's a feeling of home that I never had in Astana. Kazakhs look to Russia. But here, when I turn on the TV or the radio, I hear Turkish music.

"And as a place to work?"
It's exciting. Things are really moving here. There is so much opportunity, so much to create. OK so it isn't quite like the Gulf. At one time I worked at the Al Bustam Palace in Oman – it was above a beach that they oddly called a marina, though there weren't any yachts. Sure the Rixos Shamakha is full of beautiful gilt trimmings. But at the Al Bustam they used real gold. For hoteliers Dubai and the Gulf is Champions League. But Azerbaijan is not far behind. Azerbaijan is UEFA! It's a very exciting place. And Rixos is the first international chain to have a regional HQ in Baku. We're proud of that. And we are expanding –
the newest projects including a hotel currently under construction beside the observatory at Pirguli.
But there's a lot of work.
Germans came to Turkey thirty or forty years ago and taught us all about the hospitality industry. Now it's our turn to show the folks here in Azerbaijan. It's important for us to bring jobs into the local economy. But how can villagers know what luxury means? Some of them barely graduated from high school and they've never been abroad. So there's a lot of teaching to do.


And clearly Ergin and Dina are looking for more than a stiff formulaic sense of 'yes-sir' posh. They exude a warmth and enthusiasm that feels far more than professional manners, and this is the essence that they are trying to pass on to their hardworking staff.
We've just met yet now we're chatting like close friends, says Ergin picking up the theme. And it's the same with our guests. Anyone can build a building – even a special building like this one. All that takes is the money. But the special touch is people – that's what puts meaning into a building.
Of course – that's the kind of slogan that any organisation might repeat as a mantra. But I'm in no doubt that Ergin is speaking from the heart. As if on queue two children of a regular guest come running up to greet Dina and Ergin like their own family. It's Ergin's day off and he's still here – an ebuliently charming figure keeping a paternal eye over all that goes on. It's a gilded cage –
we hardly go anywhere
he admits, but it's home. And well worth a visit if you're ever driving by.
Practicalities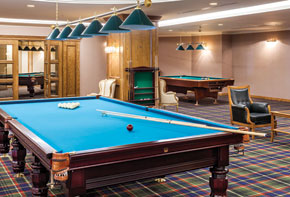 Known in full as the Samaxi Palace Platinum by Rixos (http://samaxipalaceplatinum.rixos.com), the hotel building is very conspicuously on a commanding mountain-view ridge beside the Shamakha-Agsu road, an easy 8km of good asphalt south of Muganli, the Baku-Sheki road junction.
If you're driving along the Shamakha-Sheki road and want a quality yet sensibly priced meal that's a change from the usual kebabs, it's worth considering the short detour to eat here. The any-time lobby-menu includes Pesto Fettuccine (7AZN), Caesar Salad (7AZN), club sandwich, schnitzel, burger or chicken focaccia with melted mozzarella and fries. For more exclusive dining, the evenings-only Lalezar Restaurant (from 7pm, main courses in the 20-30AZN range) is a place you somehow expect to see Michaelangelo finishing off the gilt-work on Italianate barrel-vaulted ceilings.
At the far end of the extensive grounds lies the former Sharadil Hotel, full of Escheresque arches and a Tuscan style tower. Recently acquired by the Rixos, it is being rebranded as Wine and Wild – a top-notch restaurant featuring game dishes (the 'wild' bit) washed down with quality wines served in cut-crystal goblets worth almost 100AZN per piece.
About the author:
Mark Elliott is currently travelling around Azerbaijan and updating his essential guidebook, Azerbaijan with Excursions to Georgia, first published in 1998 and now in its fourth edition.
Photos courtesy of Samaxi Palace Platinum.