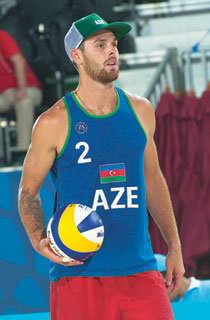 In between events at Baku2015, Visions caught up with a number of athletes to capture their thoughts on the inaugural European Games
YAROSLAV RUDYKH (AZERBAIJAN)
How did it feel to represent Azerbaijan, the host nation, during Baku2015?
Firstly, for me it was a great honour and pride to represent Azerbaijan in these Games. I am very happy that it gave me the opportunity to represent the country and for me this is the first big event like this in my career.
How do you assess your performance overall?


Firstly, we were preparing for these Games for a very long time and for us this was the main event of the season. I can't think our results were good but I also can't say they were bad. All the teams that came to these European Games were very strong. Every game for us was difficult, but we fought in every game until the last ball and tried to show everything we could. But our work doesn't end there - now we are going to evaluate our performance and continue to work. We have the opportunity to reach the Olympic Games in Rio in 2016 and we hope to get there.
How long have you been playing beach volleyball and how did you start?
I started playing beach volleyball professionally only last year. Last season was the first for me. Before that, I played indoor volleyball for my student team but I also had some experience in beach volleyball. But really I learned what real beach volleyball on a professional level was like just last year. And now it is a big part of my life.
What were your overall impressions of the European Games - do you think they should become a regular and significant sporting event?
I felt a lot of positive emotions during these Games. Everything was at the highest level. I gained a lot of experience which will be useful later in my career. I just want to say thank you to the Azerbaijani fans, it was great to play with such support. Of course I believe that an event like the European Games has to become regular - this is a great event!
SOPHIE VAN GESTEL & JANTINE VAN DER VLIST (NETHERLANDS)
ROUND OF 16 IN WOMEN'S
BEACH VOLLEYBALL


What are your impressions of Baku2015?
SVG - We've only been in the Athletes' Village and here (European Games Park – Ed.) so far, but it's really good. The organisation is excellent - Baku is doing a great job. JVV - The atmosphere in the stadium is great, there's lots of cheering.
Do you think the European Games are a good idea?
JVV – I know that the Asian Games are really big. Hopefully the European Games can become like that.
SVG – Baku 2015 is a great start, and it's also really good preparation for other competitions like the Olympics.
How are you finding Baku and Azerbaijan?
JVV – We haven't really seen much so far, but I came last year and thought the city was really nice. The people are very friendly and open, they seem very proud.
CLAUDE GODART (LUXEMBOURG)
4th IN MEN'S 110M HURDLES


How long have you been competing in athletics?
Since 1990, I started in track and field when I was 10. I'm 34 now and still doing it.
What are your impressions of Baku2015?
I said to my wife I would stop competing after 2013, but then I was told I could compete at Baku, that it was the first European Games, so I thought, Why not? This is a nice competition, because normally I can't run the minimum [qualification time – Ed.] for the European or the World Championships - my personal best was seven years ago. I'm not so far away but it's far enough away [not to qualify – Ed.].
Have you had a good time at Baku2015?
Yes, it feels a little bit like the Universiade (World University Championships – Ed.) and that was my biggest competition - I liked it very much. I really like this too - you have different countries, lots of competitions, although we really don't have much time to watch the others because we have to concentrate on our competition.
What is the atmosphere like in the Athletes' Village?
It's really nice - we all eat in the same area, we exchange badges (with other athletes – Ed.), play PlayStation and table football, so you're always around other countries.
The athletics competition at Baku2015 is the third tier of the European Team Championships - would you rather compete with all nations or is it good to have leagues?
I think it's good to have leagues because when you look at Austria and Slovakia, they are very, very good. The way it was before we were in a league in which we were always last. When you're always last you begin to think you haven't got a chance, but here the mix is very good. It's nice to be motivated to try to come first or second in the league to get promoted.
VALERIO LUCHINI (ITALY)
GOLD MEDALLIST IN MIXED & MEN'S SKEET SHOOTING
How does it feel to be the first European Games champion in this event?
I'm very happy. This was a very important competition for me and it's a very important result to win this medal.
What are your impressions of the shooting range and the facilities at Baku2015?
It's really a wonderful venue and infrastructure. The only thing I've seen that comes at all close was at the Mediterranean Games in Turkey some time ago but other than that this is an absolutely unique structure.
What are your impressions of Baku2015 - do you think the European Games are a positive event?
It's been a wonderful experience for me - the Games have been great. It was great to have the Athletes' Village which created a wonderful atmosphere, being near all the other athletes. So I really hope that this will continue and that the European Games will be repeated.
ANASTASIA MUCHAYEV (ISRAEL)
3rd IN WOMEN'S SHOT PUT


What are your impressions of Baku2015?
Well first of all the audience here has just amazed me, people here are very friendly and nice, and everybody approaches us. Not only me but the other Israeli athletes say the audience is very supportive. It's just an amazing environment. We arrived on Friday (19 June - Ed.) so we missed the opening ceremony unfortunately, but I watched it from the US actually - it was amazing.
So what did you think of the opening ceremony?
It was just so beautiful because I didn't expect the organisation level to be this high, so I think they (the Baku2015 organisers - Ed.) have set the bar very high for the next country that will host the Games.
Should the European Games be repeated?
Yes, actually I think it's a good opportunity for athletes too. For example, I didn't qualify for the Olympics so this competition is the closest one to the Olympic Games that I will ever have. It's a great opportunity to talk to other athletes and just to compete.
You study in America - does anyone know about the European Games over there?
Actually I know some other people here who are competing and also go to colleges in the US. We've been talking about it a lot so lots of people have heard about it through us, spreading the word.
Do you know much about Baku and Azerbaijan?
It's my first time here and I'm just amazed by everything.
MATYAS FILE (HUNGARY)
LAST 32 OF MEN'S INDIVIDUAL EPEE


How long have you been fencing for?
For 15 years. I love it. Fencing is like a lover – sometimes she loves you, sometimes she hates you. It's a very technical sport. I'm always thinking about the next move, and when it comes off it feels great.
Have you do feel about your performance?
I made the last 32. The competition was so difficult because there were 36 fencers, and they were the best in the world. I fenced well, but my opponent was better than me.
What are your thoughts on Baku2015?
It's the best sports event in my life. I was at the Universiade in Kazan in 2013 but Baku is better.
How are you spending your free time here?
Recreation, massage, gym. I just try to be in the best shape to compete.
NIAMH DWYER (IRELAND)
QUARTERFINALIST IN WOMEN'S BASKETBALL 3X3
How are you dealing with the heat?
It's extremely hot out there, within a minute you're really looking for air and considering we never play outdoors in Ireland and the weather isn't anything close to this, it's been a learning experience for us with the heat. But we're taking on fluids all the time, our physio is excellent, we have the ice jackets for the game and we're doing everything we can to be the best that we can over here.
What do you think about the 3X3 format as opposed to 5X5?
Oh I love it, I think it's the way forward, especially for teams like Ireland that haven't been in a five a-side international tournament for the last six years. So this is a way for us to be back on the international scene at the highest level. I love the physicality of it, I love the speed, it's intense and it's good fun.
What are the critical differences in 3X3?
It's speed and change of direction really because once you've scored there's no stopping, there's no jogging back. You have to play straightaway. You have to get to the three-point line. You have to be able to turn quickly, move quickly, it's a 12 second shot clock, so you need to be able to create scores very quickly whereas in five against five you have 24 seconds. This makes it a very exciting game, especially when it's played well.
Is 10 minutes long enough?
It's short but really intense when you're playing, especially in this type of arena – hot and outdoors. The sun is beating down on you, there's no air conditioning. The 10 minutes is challenging on you. It's like saying - is 100 metres enough for Usain Bolt? I think it's a good format, I think the 10 minutes works.
What do you think of the concept of the European Games?
For me I think it's very positive. It's a great chance for alternative sports like [basketball – Ed.] 3X3, beach volleyball, beach soccer. I wouldn't want to see solely alternative sports, I like the fact that there's athletics and swimming, because it gives it that prestige as well.
And how are the facilities here in Baku?
Brilliant. I've been to the World Student Games twice and I have to say the facilities, the food, the services provided - there's really no pressure, everything is provided for the athletes. I was speaking to some of the Irish team - the badminton players and boxers - who went to London and they say the set-up is just as high a standard as London, which is a great compliment to everyone here in Baku.
KRISTENS KRIGERS (LATVIA)
SEMIFINALIST IN BMX MEN'S MOTOS
How do you find the track and the facilities in Baku?
It's perfect I think, I can't say anything bad about it. Everything is super new and the facilities are great, so yes, everything's good.
How long have you been doing BMX?
This is the 14th year. I started when I was four. I have attended the World Championships, they are quite similar, but this is the first time (the first European Games – Ed.) so this is a big deal too. I think they are similar to the World Championships.
What is it you love about BMX?
It's not just a sport for me anymore - it's my passion, it's my life. It's what I have been doing all my life, I just couldn't think of anything else that I could do. I love the feeling it gives me riding my bike, travelling all over the world, making it onto podiums.
How important are the European Games for BMX?
They are quite big, because in every competition we gain points for Olympic qualification for our countries. The top four countries get three places each for the Rio Olympics, so if I do well here, I get some points and my country moves up. Qualifying for Rio is a major goal.
ANNA KORAKAKI (GREECE) SILVER MEDALLIST IN THE MIXED TEAM 10M AIR PISTOL
How would you summarize your overall experience of Baku2015?
The First European Games, successfully hosted in Baku, were undoubtedly a valuable experience for me. I believe that every new competition added to an athlete's schedule is a new challenge. Especially when this competition includes Europe's best athletes in every discipline and takes place every four years. The Baku Games were another small bit of experience to add to the experience I already had. I had the chance to compete in senior competition - the best of Europe; that's great experience for a young shooter like me as it makes me even more mature.
You are still very young - for how long have you been doing pistol shooting, how did you start and what is it that you love about this sport?
I started shooting when I was twelve. The motivator was my dad, he was a shooter as well and a member of the national team for many years. Even though I've known shooting as a sport since I was a little kid, I never had the temptation to visit the shooting range - it seemed dull to me (until I held the pistol in my hands). I practised many sports and activities as a child, like athletics which I love, volleyball, swimming etc. I faced a couple of problems with my legs so I had to quit athletics. As a perfectionist and a huge lover of sports, I had to find something else to do.
That was perfect timing for my dad to ask me if I'd like to join him in the range. I wasn't so enthusiastic about the idea at first, but I thought I had nothing to lose; I'd probably like it. And I finally did. I'll never forget the feeling I had when I held the pistol for the first time. It felt like I already knew what I had to do, like I'd been doing it for years. Plus I shot quite brilliantly during my first training, my dad was very pleased, so that was a great motivation and gave me the confidence to begin!
What I like about shooting is that it's a mental sport - the importance of controlling your mind, thoughts and psychology, which affect your scores. No matter how well prepared you are physically, if your mind is weak or fearful, full of doubts and lacking confidence or focus, thinking about what you have to score in order to reach the final or a medal, then your match is over before it starts. Even if your heart is beating or you are stressed, it doesn't matter. Most of the time that is what helps (at least for me). It makes you focus more, pay full attention to everything, and think only about technique. All of this makes me love shooting. For me, it's the most challenging sport of all!
How did you enjoy Baku - what did you do during your free time?
There was a variety of facilities in the Athlete's Village, so you almost never got bored! The recreation centres which were full of games, the numerous bikes around the village and the rest areas, always kept you busy. During my spare time, I used to visit the physiotherapists of the Greek team. That gave me the chance to meet some athletes from other sports and share our thoughts and experiences. Most of my free time though was spent with people that make me feel relaxed and happy. Those are my shooting mates and friends and my boyfriend Pierre, a member of the French national shooting team and a great motivator of mine. We always have something to do, we relax and laugh a lot.
How important are the European Games for shooting sports?
As I mentioned, every new competition added to an athlete's schedule is a new challenge for him/her. Especially when this competition includes Europe's best athletes and takes place every four years. One of these is the European Games. In shooting particularly it's another competition added to the existing, quite rich competition schedule. Furthermore, one quota place for the Olympic Games is given in every discipline, unlike other sports at the European Games - that couldn't make us shooters anything but pleased!
Photos by Tom Marsden and Eldar Farzaliyev