It was a fittingly cold, grey morning in Baku as a few dedicated devotees made their way to Sabir Gardens and to an unseasonal open-top, double-decker bus. The occasion was an anniversary observed regularly by this loyal band of friends, but 16 March 2015 was a day especially not to be missed. For it marked 75 years since Vagif Mustafazadeh came into the world. Baku's jazz maestro is no stranger to regular Visions readers (see especially the May-June 2011 edition, http://is.gd/umpjpX), who will know of his pioneering role in introducing traditional Azerbaijani mugham music to the jazz world.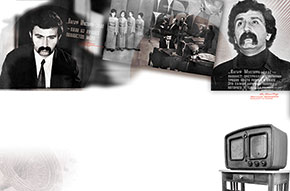 Of course, like the early 20th century satirist Mirza Alakbar Sabir, whose statue was our departure point, Vagif's art ran counter to prevailing orthodoxies. While Sabir fell foul of the reactionary mullahs of a century ago, Mustafazadeh had to contend with Soviet bureaucrats who regarded jazz as the product of a degenerate West. The resulting pressure on both men led to their early departure – aged 39 in the jazzman's case.
A DEGENERATE MOUSTACHE
So, there was a respectful mood as people assembled on the bus. One of the first to arrive being Elshad Farajullayev, who was as keen to interview a foreign payer of respects as we were to hear his story of Vagif.
Vagif's mother Ziver khanim was Elshad's piano teacher and his daughter Aziza Mustafazadeh, now herself a well-known jazz musician in Europe, had also helped Elshad's sisters with their maths, so the families were acquainted. However Elshad and Vagif first met around 1968 at the radio station where the former was a programme director. They became friends and worked together sometimes for the radio. Elshad recalls Vagif's character:
He had a gentle nature, but when they were rehearsing he would push the musicians to the limit, until they got the music exactly right…. It was a pleasure to work and to talk with him. He could connect with your inner thoughts in a very gentle way. When working, whatever came into his head would not let him rest until it was achieved.
As for the problems that Vagif faced, it seems Soviet officialdom could be inventive in its reasons for denying the jazzman greater exposure, they told him:
Get rid of the moustache and we'll put you on television.
More seriously, Elshad says,
There is no second Vagif Mustafazadeh and what he did will live on for years. He brought mugham and jazz together.
Coming from a musical family – his father was a cellist acquainted with the Baku-born Mstislav Rostropovich – Elshad had known about the jazz that had come from America through other pioneer musicians like Tofiq Guliyev, but Vagif made an immediate impact even on people not so familiar with that music; they called him 'Golden Fingers'. He played first to small gatherings in music schools and had some time in Tbilisi, the other cultural capital of the Caucasus.
Elshad's sisters Rena and Seva were singers with Sevil, the harmony group that Vagif set up in 1971.
As a friend, as a musician, as an ordinary man from Azerbaijan I think Vagif's music, with its mugham and jazz, is great music – and he will live in my heart forever. There is no second Vagif.
RESPECT IN PEACE
There were other early birds on the bus and Jamal Eminli, too young to remember Vagif in person but already making his mark as a versatile singer in clubs and hotels, was surely aware of his influence:
His music is absolutely different…. I am quite new to jazz, but I think that everyone who likes jazz can understand his music…. As for me, it can make me fly; I love listening to it…. 'Dushunje' (Thought) is my favourite piece, I can really find myself in that one…. Jazz is music where you can go your own way.
And why people were still gathering to remember after 36 years was quite clear to Jamal:
Vagif is a legend; there's no way to forget him. You see from those gathering here that they love him and he means something really special for them. He is known in Russia and other countries and some try to copy him, but they can't, because there is mugham in Vagif….
Finally all were settled and we set off for the western edge of the city. Passing the cemeteries where the country's great and good are honoured, we edged down a road just wide enough for the bus to a modest, shady corner of the huge Yasamal cemetery. There stands Omar Eldarov's beautifully sculpted headstone marking Vagif's grave. As a mullah intoned verses from the Quran, respectfully whispered reminiscences continued alongside the intimations of mortality.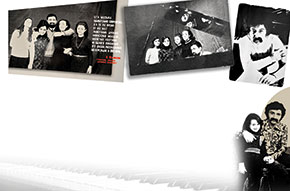 LEARNING JAZZ THE RADIO WAY
Returning to the city, we made for the house museum in Icherisheher (Old City – Ed.), again helpfully indicated by an Eldarov portrait relief on the passageway corner of Zeynalli Street.
Settling down in the homely apartment, naturally with tea, sweets and savouries, we asked Mammad Aliyev about his celebrated cousin, wanting to know how he came to jazz. We had heard stories about his devotion to Voice of America programmes that played the music – the radio is still there:
Of course I knew him from when he was very little, but I remember his wedding; it was in this room…. And I remember that radio; Vagif was always listening to it for the music. As soon as he heard something good he would go straight over to the piano and play it the same way. I would play the rhythm for him on the table or a chair.
As for his character, we were getting a familiar refrain:
He was Vagif. He was a very pure and open person, completely open to anything. There was no second Vagif.
Rahib Azeri is a familiar and much-loved figure around Baku, especially to jazz lovers and Old City devotees. Host of many a concert, festival and radio programme, his knowledge and joy in Baku's creative musicians are invariably conveyed in introductions that move the audience to take the music seriously. Of course we asked him where Vagif fitted in to Azerbaijan's pantheon.
He represents jazz; not only for jazz-mugham, for all jazz. If they ever put two words together to represent jazz, those words would be Vagif Mustafazadeh. For me, he was the one who took me to the world of mugham; it was through him that I first listened to it. I am sorry now that when I saw him in the street I could never go and shake his hand and say 'It's so nice to meet you' – I would just stand there and watch him.
There are some who don't like changes to tradition, so what was Rahib's response to those who had reservations about Vagif's playing with traditional mugham?
Only great musicians, who really know what they are doing, can do something like combining jazz and mugham. I'm quite conservative myself and I don't like too many changes, but the way Vagif did it only a great musician could do.
And what could young musicians learn from him?
Everything! Getting to know Vagif is like learning the alphabet; it is the basis, the start. They should learn that alphabet. Gradually the tea and remini
scences drained and we drifted away with our thoughts. Normally that would have been it until an evening concert, but this year being the 75th, more stops had been pulled. Shaqir Eminbeyli, never a man to let moments pass by unmarked had dreamed and found support from local businesses to take the day onto the streets.
THEY CAME, THEY STAYED, THEY SWAYED
By afternoon the sky was crying for Vagif, but heartening numbers were still attracted to a covered stage, improvised near the powder magazine tower within the Old City walls. Under Rahib's guidance, many of Baku's finest delivered their music in tribute to the great jazzman while an encouragingly mixed and enthusiastic audience of hundreds bounced, swayed, huddled and sang - when not vying for tea, soft drinks, CDs or selfies with the stars.
Shaqir had countered the grey skies with colour – on banners, badges and wigs – and competition. In keeping with the afternoon's slogan Vagif Sayağı (Vagif Style) prizes were handed out to those wise enough (given the rain) to don wigs in his distinctive fashion – mercifully, they were excused the moustache. Shaqir explained why this was the year he had taken the plunge, pulled in contacts like the ubiquitous Thomas Goltz and persuaded those who could, to give material backing:
I had been thinking of organising a tribute to Vagif Mustafazadeh for a number of years, and for a variety of different reasons. The first should be obvious: despite being the jazzman from Azerbaijan, no one appears to have been interested in creating a festival in his name. In other words, I felt like I could fulfil an obvious need.
The second reason is of course the coincidence of March 16 being what would have been his 75th birthday — and occasions like that are what other international music festivals are usually built on. There's Bach, Beethoven, Mozart in the classical world, and people like Duke Ellington and John Coltrane in jazz, and even Elvis Presley in pop music—so why not create an annual Vagif festival?
The actual creation of the event was surprisingly easy thanks to certain like-minded individuals who could put up the minimal funding for such an event, as well as the current crowd of jazz players in Baku, who all might be regarded as students of the late, great Vagif, to volunteer their time and talent to participate in the event. The municipal authorities in Icherisheher were also very enthusiastic and helpful.
The only one who seemed to disagree with the open-air festival was Old Man Weather, who threatened but did not succeed in scaring everyone away with a few rain showers.
The crowd came, stayed and swayed.
AN ANNUAL VAGIF FESTIVAL?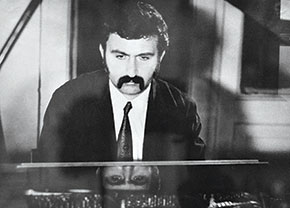 After the bravery and joy of the afternoon, the evening concert in the Jazz Centre seemed a little tame, but we had chance to catch up with the Baku jazz world's most popular percussionist, Tofiq Jabbarov. Now in the veteran class, Tofiq worked with 'the other' leading jazzman of the time, Rafiq Babayev (and just once, in Tbilisi, with Vagif's then 16-year-old daughter Aziza).
Of course both of them were top musicians, for us they were the peak, musically unreachable. But they were also both fine human beings and they gave us so much pleasure, Tofiq said.
Vagif's main contribution to Azerbaijani music was the synthesis of jazz and mugham; Rafiq Babayev had that, too, but based on harmonies, while Vagif preferred the music of the soloist. These days, many young musicians try to copy Vagif and Rafiq, but they were unique. The young guys should play their own way, as those two did.
An unexpected, positive day in so many ways, the pictures reflect the power of and respect for a jazz pianist's legacy, some 36 years after his death, and also the joy of free, live music, even in the rain. This doesn't happen everywhere, so thank you sponsors, thank you Shaqir, whose challenging last words were:
I have every intention to make it into an annual event,
and thank you, Vagif Mustafazadeh!