A global filmmaking project called the "One Minutes Junior," already familiar to many countries, was brought to Azerbaijan in February of this year thanks to cooperation between Unicef and the British Council in Azerbaijan, and support from Independent Life (Müstəqil Həyat), a local organization helping disabled young people reintegrate into society. Murad Mammadov from Independent Life witnessed the teamwork, creativity and technical skills that went into the resulting 16 short films, which can be viewed via the following link: https://www.facebook.com/BritishCouncilAzerbaijan/videos.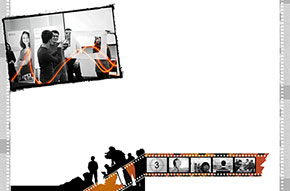 Established in 2002 by an organisation called The One Minutes, part of Amsterdam's Sandberg Instituut, the One Minutes Junior workshops give young people the opportunity to learn how to make short one-minute films on topics relating to child protection, social inclusion, the health and wellbeing of children, healthy life styles, violence and peace building. Participants learn to edit and produce their own short films within a week, forming a fascinating documentary of children's lives throughout the world and underlining the power of film as a means of self-expression for young people. So far this year, the One Minutes Junior project has travelled to Albania, Kyrgyzstan, the Philippines and recently, with the support of the British Council and Unicef, to Azerbaijan.
A Special Partnership
It all started with the British Council's preparations for the British Film Spring in Baku (8-12th April 2015) during which, according to Elizabeth White, Director of the British Council in Azerbaijan,
we decided that we wanted to have one element at least in the Film Spring that reflected our commitment to diversity.
Unicef came as a natural partner to go with,
explained Nigar, following joint British Council-Unicef celebrations of the International Children's Day and the 25th Anniversary of the Convention on the Rights of Children in Kiev in November 2014. Unicef had also just organised a Ukrainian One Minutes Junior workshop in Lviv the previous summer, where internally displaced children were given the opportunity to create and direct their own films.
The two organisations then invited local NGO Independent Life on board and set about staging the One Minutes Junior in Baku.
In Baku
As a result, Baku's Park Inn Hotel hosted a five-day filmmaking workshop on the theme "Ability is Limitless" during the final week of February. Its main purpose was to teach Azerbaijani teenagers aged from 14-18 and representing various vulnerable social groups how to make a short one-minute film on any topic they were drawn to. However, another major goal was to enable young people with and without disabilities to work together and feel part of the same community. In total, 16 teenagers came together to paint a colourful moving portrait of young Azerbaijanis' lives.
The training was led by experienced filmmakers David Djindjikhachvili (Georgia), Lyuba Matyunina (Russia) and Chris Schuepp (Germany), who taught the participants to write scripts, edit, act and operate the camera. Their influence and guidance prompted the young filmmakers to make films based on real-life issues, which personally affected them. Some produced films based on their own life stories, some on those of their friends and some on their hopes and dreams for the future. Together the 16 varied films - shot throughout Baku, at schools, sports halls, homes, theatres, the Boulevard and other parts of town - produced a variety of thought-provoking social messages worthy of serious consideration, such as overcoming personal complexes, the tragic consequences of speeding, the talents and abilities of disabled people and the psychological trauma children experience in family conflicts.
Professional filmmaker and One Minutes Junior coordinator Chris Schuepp explained:
We tried to keep the focus on abilities versus disabilities. Half of the group were children with disabilities, so we tried to focus on things that they can do best, that they feel comfortable with. Because everybody has his or her own preferences in life and talents, you could expect that you'll get a series of videos that are completely different and look at life from different perspectives.
A theme running throughout the workshop was the false stereotypes and negative perceptions surrounding disability and disabled people. That disabled teenagers managed to produce films tackling the issues above by themselves is remarkable and showcases the creativity and ability that they possess, contrary to the general public perception which is often based on appearances. In reality, the One Minutes Junior in Azerbaijan showed that having a different appearance or characteristics doesn't affect a person's talent or creativity, and served as a reminder of the many great people with individual peculiarities and physical limitations throughout history (such as Beethoven who was partially deaf) who have left their mark on the world.
Ability Really is Limitless
The "One Minutes Junior" project in Azerbaijan proved that ability really is limitless, that everyone, despite the various difficulties they might face, is able to achieve great things, as these teenagers did by producing powerful one-minute films in only five days.
The project culminated with prizes awarded to winners of a Facebook competition. Once the five-day workshop had finished, the 16 one-minute films produced by each participant were posted on the British Council in Azerbaijan's Facebook page. The film to receive the most 'likes' would win, with two runners up. Third prize was awarded to 15 year-old Suleyman Mutallimov for his film entitled "Sound Ball." Set at the school for visually impaired students where Suleyman studies, the film is about the game "Goalball," played by blind people, and portrays the active sporting interests and skills of disabled people.
By contrast, the "Art of Acting" by 16 year-old Zaur Rustamov, which won second prize, focuses on the producer's future dream of becoming an actor and depicts him making a mock speech to a grand audience as part of his acting training. The winning film was "Jump" by 16-year old Togrul Humbatov, a keen athlete who is partially blind but whose disability doesn't stop him from loving life and being active, as we discover in the film, which shows Togril practicing the long jump.
Impact
Competition aside, all the young filmmakers' films were screened, applauded and awarded at an event held in 28 May Cinema on 10 April, joined by Elizabeth White of the British Council in Azerbaijan, and Nafisa Binte Shafique, Deputy Director at Unicef.
Most of these children had never been to the cinema before and they were excited to see their films on a big screen, said Nigar Baimova, Programmes Director at the British Council. Before we started the screening we asked the children what had happened in their lives after the films and they said they had become friends, were invited to celebrate a birthday of one of them and that "it was a great party where we danced a lot,
Nigar continued.
The films were then shown (a few at a time) during the British Film Spring over the next few days. In terms of the future, the 28 May Cinema have expressed interest in offering internships and making inquiries with local production companies and Unicef have plans to continue working with the children too. Unicef has also since conducted a second One Minutes Junior in Baku called "Sport for All," with boys and girls from the national under 15 and under 17 football leagues.
I think the project was a great platform for children and adolescents to express their view on the challenges they face and the issues they care about. It was a huge success due to their commitment to creating their own stories, and the excellent results you can see on screen,
said Ayna Mollazade from Unicef Azerbaijan.
In the meantime, all the films can now be viewed on the British Council in Azerbaijan's Facebook page (www.facebook.com/BritishCouncilAzerbaijan/videos) or on the One Minutes Junior website (www.theoneminutesjr.org).
Here, some of the young Azerbaijani filmmakers reflect on their experiences:
Namiq Mahmudov
What did you get from the training sessions?
Although I learnt a lot of interesting things, the most memorable was how to use the camera during filming and I also found out important things about video editing.
What are your plans for the future?
To be honest, I'm studying a technical subject. I'm not very interested in literature, history and other subjects. That's why I can't say for sure if I'll work in this field, however I enjoy making films a lot.
Do you plan to make films in the future?
Of course! Because it's my hobby, although it's not so easy to film good frames.
Adila Aghayeva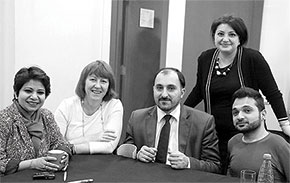 What did you get from the training sessions?
I always thought that making films wasn't that difficult. However, during the seminar, I learnt the difficulty of writing scripts, the director's job and editing. I gained experience and made my first film. I met various new people. I was working in a new environment different from the one I'm used to. And in fact, I saw that people with disabilities are even more active and creative than we are.
What are your plans for the future?
I don't like making plans for the future. However, I would like to study abroad after graduation from university.
Do you plan to make films in the future?
Presently, I'm doing some initial training for film production. My major is related to filmmaking, so I want to work in this area in the future.
Aysel Abbasova.
What did you get from the training sessions?
During the training I wrote a script for the first time in my life, I also learnt really interesting things like how to hold the camera, from which side to hold it when making films.
What are your plans for the future?
My future plans include becoming an actress as well.
Do you plan to make films in the future?
Maybe, if I learn everything I need to about making films.
Zaur Rustamov.
(Zaur's film, "The Art of Acting," won second prize).
What did you get from the training sessions?
First of all, I would like to say that this was my first work experience in any type of group, so I gained group work experience. At the same time I learnt how to use the camera for filmmaking.
What are your plans for the future?
In the future, I want to be an actor and become famous.
Do you plan to make films in the future?
Of course! I plan on making new films and getting roles as an actor in good films.
Ali Mutallimov
What did you get from the training sessions?
The main point is that I learnt which mistakes should be avoided. Besides this, I learnt how to use a tripod, camera and other technical things.
What are your plans for the future?
In the future, I would like to work as a photo and video editor.
Do you plan to make films in the future?
Why not, if I get the chance.
About the author:
Murad Mammadov is a trainer at Independent Life, an Azerbaijani organization helping disabled young people to reintegrate into society. He also blogs on disability issues at mammadovmurad.blogspot.com.
UNICEF & The British Council
We [the British Council in Azerbaijan – Ed.] have been partners with UNICEF on a number of programmes before. One of the recent ones was International Inspiration, London 2012's sports legacy programme, which we delivered in partnership with UNICEF, UK Sport, the Youth Sport Trust and the charity International Inspiration.
As a result of this programme, for 3 years of International Inspiration in Azerbaijan we worked closely with UNICEF Azerbaijan and together promoted physical education (PE) and sport in selected schools in Azerbaijan. Teachers received the skills and access to training resources to make PE lessons more meaningful, innovative and exciting for young people. Nigar Baimova, Programmes Director, British Council in Azerbaijan.
UNICEF in Azerbaijan
(http://www.unicef.org/azerbaijan/) promotes the rights and wellbeing of every child, focusing special efforts on child protection, health & nutrition, education, and children & youth participation, serving as a bridge from children's ideas to government policy markers.
The British Council in Azerbaijan
(http://www.britishcouncil.az/en). The British Council creates international opportunities for the people of the UK and other countries and builds trust between them worldwide. Wherever they are, their work falls into three broad categories. Arts – Finding new ways of connecting with each other through the arts. English – Encouraging learning of the English language around the world and improving teaching and assessment. Education and Society – Leading and learning in international education and contributing to a more inclusive, open and prosperous world.