Most of the venues for Baku 2015 are, not unsurprisingly, in or around Baku. However, the Kayak and Canoe Sprint events of 14-16 June are an exception. They'll be held in Mingachevir, Azerbaijan's fourth biggest city, nearly five hours' drive away from Baku. So the chances are you'll need to stay overnight if you're visiting. Visions took a look around town to see what's on offer for visitors beyond the events themselves…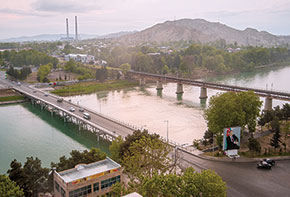 THE TOWN AND KURA RIVERSIDE
Mingachevir is a neat, planned city of well-tended wide green avenues, attractive parks and several interesting public statues. Now home to around 100,000 souls it was built in the mid 20th-century, a couple of kilometres downstream from its raison d'être, a 1550m arc of hydroelectric dam. That dam created a vast reservoir of around 600 square kilometres that's now Azerbaijan's biggest lake. Meanwhile, the river gorge through which the waters once surged is now calmed into a steady-flowing wide waterway that cuts the city in two, the Kura forming a limpidly perfect setting for Azerbaijan's national rowing and canoeing centre.
The centre is a state-of-the-art facility popular throughout the winter with Russian rowers seeking warmer climes. And the main section of rowable river lies handily close to the main bridge at the heart of town. Paralleling that bridge, a cable car is under construction to offer a novel alternative for pedestrian spectators crossing the river. And that's only one of several projects still underway as Mingachevir makes the final preparations for its three big days in the international spotlight. Behind a new section of broadwalk, another 55-room Aghsaray Hotel, a stepped white arc of marble-floored indulgence was almost finished when we visited.
Just north of the bridge, a tree-shaded park attractively filters the sunlight for tea drinkers at comparatively unsophisticated summer cafes. One of these, the quirkily photogenic Sahil, sets tables around a scaly metallic hemisphere that looks like an alien space pod designed by a Soviet Blue Peter. Across the river there's a far more developed riverside promenade focused on three new waterfront cafes with rooftop seating shaded by retro-modernist wave-form panels. At the back of the cafes are a couple of jetties from which visitors can take very short pleasure cruises – daring the superstitious to ride on a boat named 'Titanik'. A few hundred metres south of here is the main sports complex that includes a full Olympic size swimming pool and a river-view tower-restaurant which looks like a futuristic airport control tower.
AWAY FROM THE RIVER
East of the river the town appears to pivot around a large oval of mid-Soviet era public buildings dominated by an archetypal theatre named after Marziyya Davudova, an actress of Tatar descent who reached the height of her fame in 1949 (named People's Artist of the USSR) just as Mingachevir was being built. To the southeast, the city's sizeable mosque is worth a look for its oddly shaped minarets, like intercontinental ballistic milk-churns. To the north there's a sweet if rather decrepit history museum and a small, dowdy but well endowed art gallery.
At first glance the gallery doesn't seem at all encouraging to visitors – it's hidden away at the base of a dreary apartment tower decorated with stick-figure camel designs, and the functional entranceway overhang is losing its unsophisticated stone cladding. But if you dare to push at the clunky old aluminium framed doors, the collection has some very accomplished works. Soviet realist delights include A.Hasanzade's 'Atommash', a colourful evocation of the optimistic nuclear age and Boyukagha Mirzazade's luminous portrait of a Kolkhoz worker. Fazil Najafov's stone figure expresses a vivid feeling of nervous tension with wrung hands and undersized head. There's a small studio area at the back where resident sculptor Hagverdiagha Hajiyev carves wooden fantasies, but rather more interesting are his composites of found rocks and driftwood from Mingachevir Lake, assembled into art. And best of all, the artist himself is often present to show visitors around.
TO THE RESERVOIR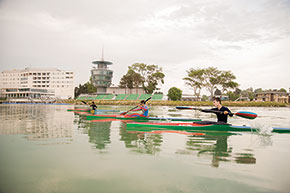 No visit to Mingachevir is complete without seeing the dam and reservoir lake. The dam itself can't be visited but you'll see it well enough as you drive north (currently via a slightly bumpy detour avoiding further building works for the Games). A couple of kilometres further, above town, the views are memorable with cliffs and curious sharp knolls of dry, eroded clay surrounding the wide expanse of turquoise blue water that dazzles in the sunshine. A few of the somewhat tatty, litter-marred beaches have summer cafes of which the most attractive is named Bora Bora though the scene is more reminiscent of the rugged Arabian coast than of the South Pacific. If you're very lucky and have perfect visibility, then the scene gains a special ethereal quality all of its own with the snow capped Great Caucasus Mountains apparently floating magically above the lake's far horizon.
SLEEPING (Mingachevir tel: 24)
The main choices are three 21st-century hotels, all built at the waters' edge.
Hotel Kür
(kurotel.az; tel: 2730315; single/double 88/99AZN) on the river's east bank is around 500m south of the main promenade right in the heart of the 'Olympic Complex' with free guest use of the huge pool. All of the 48 rooms have river views, and most have balconies (there's an AZN13 discount for the few that don't), but the architecture feels a little boxy compared with the more style-conscious soon-to-open
Aghsaray
across the river.
South of the Aghsaray on the west bank, the friendly River Side Hotel (riverside.az; tel: 2749373, 055-744 4590; double without/with river view 70/80AZN) is a decent mid-range choice with a spacious feel though note that most 'river view' rooms have only oblique glances towards the water - for the full river panorama you'll need to opt for one of the 'pol-lux' rooms (100AZN) or full blown suites (150AZN).
For those on a budget,
Särin Otel
(tel: 050-726 1211; double/suite 30/40AZN) is an unpretentious 14-room riverside option with wifi, AC, transclucent curtains and wood-effect vinyl floors. There are simple dining/beer platforms set right at the waters' edge.
Backpackers might find an 10AZN bed at the
Orxan Hotel
(tel: 2756920), a functional, traders' hotel with shared squat loo and hot shower above the covered hardware/cloth market. No Wifi.
The
Bus Station Hotel
(tel: 2750046, 070-226 1301) is less central but marginally better quality if you don't mind a male-centric clientele (mostly truck drivers). Most rooms are single/double 10-15/20-25AZN with shared, somewhat whiffy squat toilets and shower, or 40AZN for double ensuite. TV, wifi and winter heating are included but not air-con or toilet paper. A sparkling new
AzPetrol
station 200m further east is building a motel.
EATING AND DRINKING
At the riverside, the distinctive
Tower Restaurant
on the towpath outside the Hotel Kur is a popular choice (currently under restoration for the Games) while our favourite café,
Elit,
is primarily a bar but serves limited food including some of the best piti (3AZN) you're likely to taste outside Sheki – chomp carefully in case of cherrystones.
The main city-centre competitor is
MingO Park
(tel: 2742821) behind a dodgem rink where the main street, Heydar Aliyev Pr., swings through 45 degrees north of the theatre. Here you get three dining experiences in a single complex. On the ground floor choose from 'fast food' style diner or the more mood-lit section with high-backed chesterfield padded seating. Both have notionally different menus but essentially similar (good) prices for pizza, doner, chicken nuggets and a range of salads.
At first glance the upstairs appears to be nothing more than a selection of modern arcade games. However, 'secret' stairs lead up to the more upmarket if slightly glitzy second floor dining room counterpointing green up-lighting with purple lamps and décor – it looks better than it sounds. Here you can get a decent range of Azerbaijani food along with trout (6AZN) and several other bargain value western style meals plus a range of cocktails.
TRANSPORT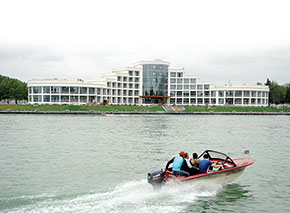 Buses from Baku take around five hours, mostly driving via the Ganja highway then cutting northwest through Goychay, Aghdash and Khaldan. The bus station is at the eastern edge of town accessed by city bus number 8 which also passes the bazaar and cheaper hotels.
Don't try to go by train. Although there are two railway stations, the nearest to the city is on a spur line that no longer has passenger services. So if you buy a ticket to 'Minagchevir' you'll actually arrive in the middle of the night near Aran at an isolated little halt on the main Baku-Ganja line some 16km further southwest.
About the Author:
Mark Elliott is the author of the guidebook
Azerbaijan with Excursions to Georgia,
which was first published in 1998 and is now in its fourth edition.
Photos by Eldar Farzaliyev