I could never understand the love of collecting things. I thought, this is just a hobby, people do it because they have too much time, it's just a waste of time and energy, and so on. But when I saw Dilgam Ahmadov for the first time I was quite surprised: he had an old photo and I was looking at him. He was holding that old, yellow photo in his trembling hands and his eyes were full of happiness. Then I understood that there was something more to this hobby, that it was something much bigger than just a means of occupying free time. I decided to visit Dilgam at his home, to see his collection and to have a conversation with him, and it was obvious what my first question would be.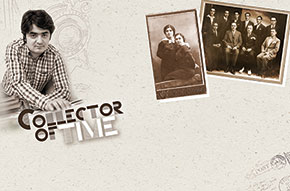 VoA - Who are collectors and what do they do?
DA - Some people do it as a hobby but some approach it as a historical responsibility. At first sight, a collector is a person who collects something based on a special theme. I can give an example – the cheapest type of collection is to collect money and stamps from around the world. Usually people begin this job by collecting those sorts of things. There are different ways of building a collection within each theme. For example, you can narrow your collection and only collect the money of your country or the countries situated nearby, or you can choose a particular historical period and collect money from that period, or maybe you might want to collect money from a very long time ago, and this also concerns stamps.

A collector should be a patient person because in order to complete your chosen theme, you will need a lot of money. Sometimes you only need one piece in order to complete the theme but it might be impossible for you to get that piece. I can give an example: one of my friends who is busy collecting money can't get the only piece of money belonging to the first Azerbaijan Republic since that piece of money was printed in very small quantities and is sold very rarely. When it is sold, it is very expensive and my friend can't afford it.

Also, there is one type of collecting which everybody can do: collecting postcards. I am also interested in this and I especially try to collect postcards on the theme of Azerbaijan and Baku from the time of tsarist Russia, as well as postcards from the Caucasus and the Middle East. I am very interested in images from these regions. For example, if the theme of the postcard is about people, you learn how people were 100-150 years ago and the clothing they wore. If there is an image of the city, you learn what the city you live in was like a century ago. By this I mean that the information contained within a postcard is very important. During the tsarist period, it was mostly foreign companies that printed postcards but we also had the Orujov Brothers publishing house, which printed them too.


Seeing my interviewee's enthusiasm I asked my second question and gradually started to look through the old postcards, photos, documents and manuscripts. Most of the manuscripts were in Arabic script since this script was used in Azerbaijan until 1929.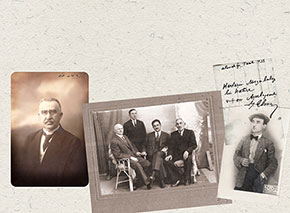 How did you begin collecting things?
I began by collecting calendars. I didn't do it in a planned way; I was just collecting calendars from different countries while studying at school. Then I started collecting money, but these were not serious pursuits, they were just hobbies. I began this main collection as a serious job for a year as a historical responsibility rather than as a hobby. My main collection consists of historical photos and documents. Besides being collectors' items, the photos and documents are also historical documents.

I am mainly interested in the period from the beginning of the nineteenth century until 1920. This is the period when Azerbaijan emerged from its Eastern ways and transformed into a modern society. But I am also interested in the emigration of Azerbaijani intellectuals during that period. After the Soviet Union was established in Azerbaijan, many intellectuals moved to France and Turkey. The state managed to preserve some items belonging to those who stayed in the country in the national archives, but it is a great pity that the archives of most of the intellectuals who emigrated were lost following their deaths. We are trying to find signed books, photos and manuscripts belonging to them.


As Dilgam spoke, women wearing chadors in the streets of old Baku and sailors in the port stared out at me from the worn postcards and I felt lost in the mists of time.
Could you tell us about the most interesting items in your collection? Which is the most interesting one?
There are some interesting photos in my collection. For example, there is one photo with Topchubashov. It has writing in the old alphabet, which says "Representative of Azerbaijan". I have a photo signed by the émigré poet Almas Ildirim for the politician Mirze Bala Mammadzade. I also own a photo of Almas Ildirim that was taken in 1935 in Amasia, which nobody has seen. There are some other intellectuals and scholars in the photo too. Almas Ildirim was a teacher then. I have some rare photos belonging to the politician Ahmet Agaoglu, who worked in very important positions in Turkey. There are also two interesting photos of Agaoglu's burial ceremony. There are photos of Mammad Amin Rasulzade with his friends, two original photos of Friedrich von Bodenstedt who came from Germany and studied with Mirze Shafi Vazeh and some photos of Haji Zeynalabdin Taghiyev with teachers of the School for Girls.
What other things do you collect?
I also collect books, especially books written by and about Uzeyir Hajibeyov. Generally, I try to collect everything about Uzeyir Hajibeyov. I have more than 40 books, including Hajibeyov's book The Basis of Folk Music in Azerbaijan, which was published while the composer was still alive. I also collect medals and badges devoted to his memory. Lately I began collecting the first books to be printed using the Azerbaijani alphabet. Between 1922 and 1938 books were published in Azerbaijan using the Latin alphabet; during that period the Azerneshr publishing house published many books but very few remain. I am trying to find them and build a rich collection of books.
But which is the most important item, which do you like best?
The most important items that I am most proud of are two letters belonging to Heyat newspaper, which has an important place in Azerbaijan's press history. Just imagine – the official letters date back to 1906. They have been well preserved; the envelope and the letter itself have stayed very clean. One of the letters is from the well-known Azerbaijani Alibey Huseynzade. I was proud of having a manuscript written by him. The other letter is from Isa bey Ashurbeyli.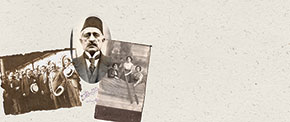 As one of the most important items, I can also show you a photo of representatives of the first Azerbaijan Republic, taken in the Embassy of Iran. The photo was taken on the eve of the Novruz holiday and the three-coloured flag of Azerbaijan is clearly visible. There are very few photos from that period where we can see our flag, it is almost impossible to find them. There is also an interesting note on the back of the photo that can be considered a historical document too. I have another photo from the first Azerbaijan Republic, of a crowd on Istiglaliyyat Street on 28 May 1918. The date of the photo is written as 28.05.1918 on the back so it could be a photo of when our parliament was first declared. We are currently trying to clarify the exact details of this photo.


What are your plans for the future?
I have already begun the first plan for my collection. I wrote a book named Exceptional People (Ferqliler) which contains articles about 25 people who played an important role in Azerbaijan's history. The photos I mentioned above will be in the book too.

I have also begun to put together a very important book called The Agaoglus: an Azerbaijani family with a significant role in Turkish history. It is about Agaoglu, who was a very important person for both Azerbaijan and Turkey. His children were Semet Agaoglu, Sureyya Agaoglu, Tezer Tashkiran. We found rare photos, documents and manuscripts belonging to this family. It is just a pity that some items are very expensive and we can't afford them, but I can say in advance that this book will be wonderful.


Dilgam didn't tire of showing and speaking about his collection. His eyes burned with excitement as he took his postcards and photos one by one and explained them to me, but I was also interested in whether there were any photos or documents he couldn't get and how he felt about this.


Once I saw an original photo of Sheikh Shamil at auction. It was about $2000 for a small photo and I am very sorry that I couldn't buy it.


Are there any societies for collectors in Azerbaijan?
There is a society of very serious collectors. Societies like these are very useful for collectors like me who can exchange knowledge and collectors' items. We support each other.
When I left my collector friend, I felt as though I was stepping out of a distant past. Dilgam wanted to give me an item from his collection, but I refused to take it. Not everyone feels a sense of responsibility towards the past but at last I understood what a valuable and serious thing a collection is.


About the author: Guler Kasimova is a researcher and author of the documentary novel Open Literature.


Alimardan bey Topchubashov (1862-1934)
– Azerbaijani journalist, politician and statesman who served as Minister of Foreign Affairs and Speaker of Parliament of the Azerbaijan Democratic Republic in 1918. Topchubashov headed the Azerbaijani delegation to the Paris Peace conference in 1919.
Almas Ildirim (1907-1952)
– famous Azerbaijani poet who was exiled to Dagestan and later to Turkmenistan, arrested whilst escaping to Iran and eventually settled in Turkey. Many of his poems evoked his longing to return to Azerbaijan.
Ahmet Agaoglu (1869–1939)
– Turkish publicist, journalist and politician. He was a strong advocate and founder of pan-Turkism.
Mammad Amin Rasulzade (1884-1955)
– a renowned Azerbaijani statesman, writer and public figure, Rasulzade was a leader of the Azerbaijani national independence movement and became the first and only president of the Democratic Republic of Azerbaijan from 1918 to 1920. His expression "Bir kərə yüksələn bayraq, bir daha enməz!" ("The flag once raised will never fall!") became the motto for Azerbaijan's independence movement in the 20th century.
Mirze Shefi Vazeh (1794-1852)
– celebrated Azerbaijani teacher and poet known as the "sage of Ganja." In 1840 he moved to Tiflis where he met a German traveller named Friedrich Martin von Bodenstedt, who reportedly translated, adapted and published a number of Vazeh's poems in German. The poems were subsequently published widely in Europe in the nineteenth century.
Uzeyir Hajibeyov (1885-1948)
– Azerbaijani and Soviet composer, playwright, teacher, publicist and social figure who composed the music for the national anthem of the Azerbaijan Democratic Republic, which was re-adopted after Azerbaijan reclaimed independence in 1991. Hajibeyov is credited with laying the foundations for contemporary Azerbaijani music.
Ali bey Huseynzade (1864-1940)
– prominent Azerbaijani writer and literary figure, philosopher and doctor, who designed the national flag of Azerbaijan and played an important role in forming a national Azerbaijani ideology.
Sheikh Shamil (1797 – 1871)
– Avar leader of the North Caucasus famed for leading a fierce resistance against the Russians during the Caucasian War (1811-1864). Sheikh Shamil was the third Imam of the Caucasian Imamate (1834-1859), a state comprising Chechnya and Dagestan.