Murad Sultanov is one of four candidates undergoing an intensive training programme to compete for a place to represent Azerbaijan in mountain biking at the European Games in June. Trained by both Azerbaijani and international coaches, the aim is to bridge any gaps between themselves and more experienced international athletes. Visions catches up with the 20-year-old, also one of 11 Azerbaijani Athlete Ambassadors for the Games, to talk about his tough training regime and what it would mean to represent the country at Baku 2015.
You've been preparing for the Games since last summer. What does the training involve?
Mainly we train on the roads at the moment, to keep the intensity high, and we go into the mountains, but not so often. It depends on the training schedule but when the coach decides we go to the mountains in the Khojahasan region.
On the roads we sometimes do sprints, sometimes uphill against the clock individually, and sometimes we just ride slowly. It's normally about three hours training minimum per day, five hours maximum, without a break. A day off is when we have very light training, two hours for example, at a very relaxed tempo.
It seems that you have very little time to make up ground with the other international athletes.
[Last summer, Baku 2015 wasn't even on Murad's radar but after his talent and potential were spotted at a selection meeting for the national team, he was short-listed as a candidate to represent Azerbaijan]
How do you feel about that?
Well I'm not saying that I'm going to come first but I'm going to try and do everything to perform respectably and do myself justice.
Looking back, where did your passion and interest for cycling come from?


When I was really small I just fell in love with bikes. As a child I rode about and loved it. I started cycling as a sport in 2010.
And when did you start cycling professionally?
I can even say exactly, at the end of November 2013. Before serving in the army I was training but not in mountain biking, just on the roads. We didn't used to have mountain biking. I wanted to start mountain biking before going into the army but we didn't have it [in Azerbaijan]. My coach always knew this and when I returned from the army he said: "we've got mountain biking now".
And what is it about mountain biking in particular?
The adrenaline. It's extreme - you don't just ride a mountain bike, you also feel the adrenaline. And I just really like the style of mountain bikes, how they look.
What do you think about the European Games being held in Baku?
I think it's a positive thing that the European Games are being held here because apart from anything else there are countries that probably don't know anything about Azerbaijan. They will come to see our culture and sport and how developed it is all-round, of course this is good.
You were chosen as one of 11 Azerbaijani European Games Ambassadors along with road cyclist Elgun Alizade. What's your role as an ambassador?
It's of course a big motivator that they chose me and I'm going to try to compete as well as possible. My main job is just to get a respectable result but I also want to show how developed sport is in Azerbaijan, particularly this sport [mountain biking], that it's already starting to progress and that we will be able to compete well in other countries in the future. Of course the other teams that come here will get to know our culture and traditions, and beyond my job as a sportsman I want to make sure everything goes well.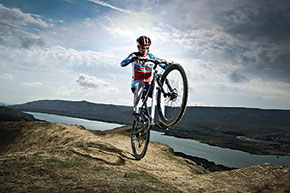 How is cycling developing as a sport in Azerbaijan?
It's not really popular at the moment. Before, not many people knew that cycling existed as a sport in Azerbaijan but over time more and more amateurs are taking up the sport and more kids are wanting to go on and cycle professionally in the different disciplines – mountain biking, BMX and road. Most people are starting to take an interest in cycling now. I'm really glad that I do this sport, I have lots of help from trainers and the Federation (The Azerbaijan Cycling Federation), and I hope that I keep continuing to develop and do my country proud in the future.
What do you do when you're not training?
Even in my spare time I just ride around the city - cycling is my hobby too. I meet close friends, we go to relax somewhere and sometimes take our bikes. Some of my friends also cycle, some just ride bikes because they enjoy it, not professionally.
As a Baku native, what's your favourite place in the city and where would you suggest to those coming for the Games?


My favourite place is the city centre and Torgovaya Street (now Nizami Street). I like Café City, between the Boulevard and Torgovaya street, it's a good place to meet friends. I like walking on the Boulevard - it's very beautiful. And Icheri Sheher (the Old City), there's lots of old-style restaurants there where tourists can really see our customs, not the modern ones but the real Azerbaijani ones.
SUPPORT FOR CYCLING
Cycling is receiving increasing attention in Azerbaijan, with greater efforts being made to promote the sport throughout the country and make it more accessible to everybody. It is also one of the major sports that will be represented at the European Games in June, with competitions in three disciplines: road cycling, mountain biking and BMX.
One of the key drivers for accelerating the development of cycling in Azerbaijan is the Azerbaijan National Cycling Federation (www.avif.az/en), founded in 1997, which helps to promote the sport through events in Azerbaijan's regions and enables people to acquire bikes and cycling equipment, which before just simply didn't exist. The Federation also supports young cyclists such as Murad Sultanov by providing bikes, clothing and other equipment, as well as funding their participation in competitions abroad.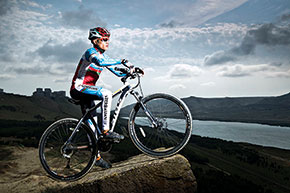 Another major factor is the Tour of Azerbaijan (tourdeazerbaidjan.com/en/), which has taken place each May since 2012 and became the first professional cycling event in Azerbaijan. In 2014, 150 cyclists took part representing 25 teams from 33 countries. Many locals see the race in action as it passes through towns and cities including Baku, Sumqayit, Ismayilli, Qabala, Sheki, Pirqulu and the Absheron Peninsula. The event is also widely televised throughout the country.
MOUNTAIN BIKING AT BAKU 2015
Over 75 cyclists (46 men and 31 women) will compete in the men's and women's mountain biking events during one day of competition at the Mountain Bike Velopark in the hills of the western suburbs of Baku.
The Velopark is the first professional mountain bike course to be built in Azerbaijan and provides capacity for 500 spectators. The course is 4.2km long. Riders will have to race over up to six laps of steep hills and sharp bends, with the first across the line being crowned the winner.