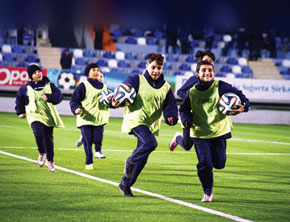 Ten years ago nobody would have believed that Baku could host matches in the European Championship. But nearly a decade of work to boost football in Azerbaijan has borne fruit. Baku has been chosen as one of the host cities for Euro 2020!
Party all over Europe
Talking about Euro 2020, many football fans are interested in one question more than any other: why is the Championship being held in 13 countries, rather than the usual one or two? The answer is largely down to one man, UEFA President Michel Platini. The French football veteran, who once said of himself, My hair is gone, I've got a big belly; it's time to be president, is now known for his bold moves as a football administrator rather than as a creative midfielder.
From his early days in office, he has paid attention to the countries where football is not so well developed, especially in Eastern Europe. When the traditional bidding process to decide the country to host Euro 2020 ground to a halt, Mr Platini saw a way of sharing the tournament with some of the smaller footballing nations. He proposed holding the 60th anniversary Championship across the continent. As UEFA General Secretary Gianni Infantino put it, Instead of having a party in one country, we will have a party all over Europe in 2020.
Mr Platini's idea was accepted by UEFA without need for a vote but reception from commentators and fans was mixed. Some argued that the tournament would lose the character and cohesion provided by a single host country, while others were concerned at the potentially long distances teams and fans would have to travel as they criss-crossed Europe.
When 19 of Europe's football associations showed interest in hosting the tournament, Mr Platini had a strong argument to silence the naysayers:
We are extremely proud to see the huge interest in the bidding process, with more than half of our member associations willing to host matches at UEFA Euro 2020. The finals will be a great celebration of football across the European continent, and the 60th anniversary edition will be truly special, by really coming to the doorstep of all football fans.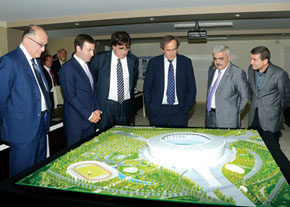 Third time lucky
You probably don't know it, but this was Baku's third hope of hosting a European Championship. Back in 2004, Azerbaijan was one of eight countries that applied to host Euro 2012, but they were knocked out of the race in the first of three selection rounds, along with Russia and Romania. The tournament was eventually awarded to Poland and Ukraine. Azerbaijani football's governing body AFFA was keen to host Euro 2016, but at bidding time Baku had applied to host the summer Olympics so all efforts were concentrated in that direction.
Azerbaijan and neighbouring Georgia initially expressed interest in making a joint bid to host Euro 2020. However, when UEFA announced its plans for a continent-wide tournament, Baku was in a strong position to make a bid to host some of the matches. Just as the country's economy had developed over the past decade, football and sporting infrastructure had developed too. Key to the bid was the construction of the new National Stadium with seating for over 65,000. (The stadium's first major event will be the opening ceremony of the inaugural European Games in June 2015.) Add to that, the work done to improve training and other facilities under the "State Programme for the Development of Football in the Azerbaijan Republic for 2005-2015" and the Baku bid became even more attractive.
Four matches in Baku
The Euro 2020 host cities were determined by vote at a meeting of the UEFA Executive Committee in Geneva (Switzerland) on 19 September this year. The committee members first selected the city that would host the final and semi-final matches. London's Wembley Stadium was chosen without a vote after its only rival, Munich, withdrew its candidacy. Next came Baku's moment of glory – the vote for the four venues that will each stage one quarter-final and three group matches. Baku came second, behind Munich. The victors were Munich (38 points), Baku (37 points), St Petersburg (29 points) and Rome (20 points). Unlucky at this stage were Brussels, Cardiff and Budapest.
The final two rounds of voting determined the cities, from six geographical zones, that will host one last-16 match and three group matches. The winners were Brussels (Belgium), Copenhagen (Denmark), Budapest (Hungary), Amsterdam (the Netherlands), Dublin (Ireland), Bucharest (Romania), Glasgow (Scotland) and Bilbao (Spain). Cardiff and Stockholm (Sweden) lost out in the voting, while the bids from Minsk (Belarus), Jerusalem (Israel), Skopje (Macedonia) and Sofia (Bulgaria) had already been ruled out for failing to meet the selection criteria.
Baku and St Petersburg will be hosting matches in the same group. Twenty-four teams will compete in six groups in Euro 2020, with 51 matches being played in all.
Practical considerations
Jubilant UEFA President Michel Platini saw the vote as a nod to the quality of the winners' transport and tourist infrastructure: Here you have cities with major international airports. The vote wasn't based on national teams and the beauty of the country – there were criteria linked to airports, transport and accommodation.
He said that a good geographical spread had also been an important factor in the choice of venues: When you look at the quarter-finals, two are in the east and two are in the west. I think the Executive Committee members tried to find a balance: the [south] with Rome and Bilbao, while up north, there is Copenhagen and St Petersburg.
Welcome
The UEFA Executive Committee's decision delighted Azerbaijani football fans. The unexpected had happened and the dream had come true!
Azerbaijani President Ilham Aliyev, who is also president of the National Olympic Committee, looked forward to a busy few years of sport:
Next year we will host the first European Games and in 2017, the Islamic Solidarity Games will be held in Baku. In just two years, both the European and Islamic Games will be held in Azerbaijan. This is our role as we try to unite peoples. In September a historic decision that is very important for us was made – the European Football Championship will be held in Baku in 2020. Only 13 cities in Europe have been selected and one of them is Baku. This is Azerbaijan today. We are members of both the European family and the Muslim family and we prove that this is possible.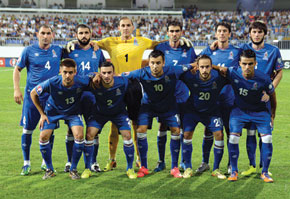 Promoting Azerbaijan and football
Speaking after the meeting in Geneva, AFFA President Rovnaq Abdullayev, described the decision as a success for each and every one of us and I believe that it will contribute to the development of sport.
AFFA General Secretary Elkhan Mammadov also looked to the commercial benefits:
There are sporting and commercial sides to hosting this contest. The European Championship will promote Azerbaijan and contribute to the further development of football in the country and help to make it more popular. Regarding the commercial side, in holding such a prestigious tournament as the European Championship, the host country obtains income from the sale of tickets, advertisements, tourist flow and other spheres.
Could Azerbaijan qualify?
Azerbaijan's national football team have never reached the final stage of a major tournament. The poor start in the Euro 2016 qualifiers does not bode well for a place in France in two years time either. Chief coach Berti Vogts resigned after Azerbaijan lost their first four qualifiers – at home to Bulgaria and Norway and away to Italy and Croatia, including a six-goal thumping in Zagreb.
It will be up to new coach Robert Prosinečki to restore morale and steer Azerbaijan to a win against Malta in the next qualifier in March. The former Croatian midfielder has signed a three-year contract with AFFA, which will take him to the end of the qualifying campaign for the 2018 World Cup. Since getting through to the World Cup final stage is more difficult, as there are fewer places available for European teams, it is logical for Azerbaijan to pin their hopes on Euro 2020. Though this time the host countries will not qualify automatically for the finals, with 24 teams competing there are still plenty of places up for grabs.
Euro 2020
When?
June-July 2020
Where?
Finals and semi-finals:
Wembley Stadium, London
One quarter-final plus three group games:
National Stadium, Baku
Allianz Arena, Munich
Olympic Stadium, Rome
Zenit Stadium, St Petersburg
One last-16 game plus three group games:
Amsterdam, Bilbao, Brussels, Bucharest, Budapest, Copenhagen, Dublin, Glasgow