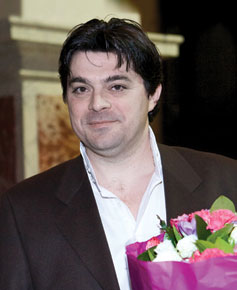 I meet French composer Pierre Thilloy on the roof terrace of a small hotel in Baku's old walled city (Icheri Sheher). The Maiden Tower and glittering Caspian beyond form an appropriate backdrop for an interview that has Azerbaijan at its heart.
Pierre's first acquaintance with Baku was through the French embassy here.
The first time I was in Azerbaijan was in 2003. I was in residency with the French embassy – as composer-in-residence normally I just have to stay one month. At the end of my first time, they said they would like me to come back, if possible, and we signed a new residency for three years. After a new ambassador arrived he said, 'Oh, I want maybe you make something new,' and then three years more. After that, I worked with Azerbaijanis, not with the French embassy.
I wondered what it was that had attracted him so much.
When you come here, you are full of energy. In Europe, everyone is depressed. The first time when I arrived in August – it's a very special time, I want to know all about music in one month so it was completely crazy. It's a big discovery because I knew nothing about Azerbaijan and in one month I discovered it's a wonderful and fantastic place, very open to all of the world, but the world is not open to us – it's a problem, I think.
Musical culture


The conversation naturally turned to music, with Pierre talking about the aspects of Azerbaijani music he liked the most.
The authenticity, maybe. One friend said, you can ask anybody in the street right up to the top of the government and they know a lot of music, folklore music. The French president is actually in Baku – I'm not sure that he can sing something by a French composer. You know, the Azerbaijani culture is a musical culture; maybe in Azerbaijan the music is something very strong.
Like cellist and conductor Dmitry Yablonsky, whose recording of two Qara Qarayev (Kara Karayev) ballet suites was reviewed in Visions earlier this year, Pierre is enthusiastic about Azerbaijan's composers: I love a lot the great composers like Qara Qarayev, Fikret Amirov, Musa Mirzoyev, Khayyam Mirzazadeh. I love Ashraf Abbasov. There is a lot, a lot of composers.
Azerbaijan's traditional mugham music has also made an impression.
Mugham of course – it is evidently something very special, very strong. It's very particular for all the world. I think there is no strong music like this, except maybe in Spain, flamenco. I love a lot of Azerbaijani music, the jazz too. I love too much, too many things.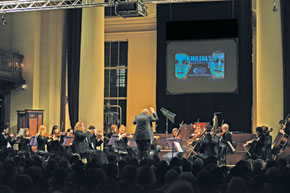 Spiritual memories
Pierre Thilloy has been composer-in-residence at the French embassies in Uzbekistan and India and also worked in the Nordic countries. I was curious to know how he settled into a new place.
I love to be in the same position as someone who lives in this country. I don't want voyeurism. For example, I practically never take photos. It's not because I don't want to have photos. I think it's more because for me it's more important to develop spiritual memories. The light is amazing in Azerbaijan, but for me it's not for photos.
Khojaly 613
In 2012, The European Azerbaijan Society (TEAS) commissioned Pierre to write a tone poem to commemorate the 613 victims of the Khojaly massacre – the single biggest loss of life during the Armenian-Azerbaijani conflict over Nagorno-Karabakh. Khojaly 613 received its world premiere during the TEAS Khojaly Commemoration Concert in Paris in 2013 and had its London premiere a few days later.
I took a long, long time before I wrote it. First, it's not possible to write a piece like this at the beginning. Three years ago, or two years ago when TEAS asked what I wanted to make, I said maybe now it's OK, I can do it. We need to speak about this problem, about Khojaly, about the repressed population. I think this is important and now I can speak about this, because I've been a long time in Azerbaijan.
Pierre met some of the survivors of the massacre when he was writing the piece.
I spoke with some of them personally. There are very strong moments, all the archives are very, very strong and hard, too. So the music is – I don't think my music is for the world, it's for peace.
Since the premieres in London and Paris, Pierre has made a chamber arrangement of Khojaly 613, designed for performance by standard instrumentation anywhere in the world. It was premiered at this year's Khojaly Commemoration Concert in Paris and heard again in London.
Pierre has received threats from some sections of the Armenian community in France, but despite this remains dedicated to his work for Azerbaijan.
I asked about future performances of Khojaly 613.
Next year I hope we will perform in Turkey and in Baku too. Maybe we will perform in Nakhchivan as well. It's impossible of course to play it in Khojaly, but one day we should, the final performance should be in Khojaly.
Mehseti Ganjavi
Asked if he was working on anything related to Azerbaijan at the moment, Pierre replied,
All the time, all the time. I am also writing a piece for strings and voice dedicated to Mehseti Ganjavi. It's a work in progress.
The 12th century poet from Ganja is little known in the western world, but led an extraordinary life for her times. As Pierre says, few of her poems have been translated into French, and the situation is the same in English.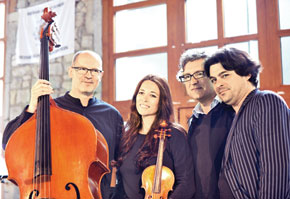 Syam Festival
When we met, he was organising a large festival of chamber music in France at which Azerbaijan would be 'guest of honour'. The second Syam Festival, held in July at a chateau in eastern France, featured 47 works reflecting the 47 countries of the Council of Europe. Azerbaijan took over chairmanship of this European institution in June.
Chamber music by Azerbaijani composers such as Uzeyir Hajibeyov, Khayyam Mirzazadeh and Ashraf Abbasov was interspersed with classical and modern pieces by European composers from Bach to Pierre Thilloy himself. The festival encompassed all Pierre's Azerbaijan musical preferences with mugham and jazz as well.
Composing
I wondered what his main musical influences are at present, since he travels so frequently and has broad musical tastes.
I think I have written a lot of pieces, so I have my language. Now the influences are very particular – maybe I ate something very good in India like biryani and this can develop something or I have some very good friends from Azerbaijan, so I want to develop something with them. Everything in the world can influence me.
And Pierre adds something that perhaps explains his musical philosophy: I don't want to be comfortable as a composer.
Metamorphosis
And finally we talked about all the changes in Azerbaijan since Pierre has been coming here.
Someone might say it has changed very quickly and it's not good; some very beautiful houses were destroyed. Yes, maybe yes, but I think Baku is the capital – when this person tells me they have seen Baku, I say, well, you know, Hausmann, Mr Hausmann, destroyed old Paris to make a new city – I think it's the same actually. It's a metamorphosis. For a long time Azerbaijan, Baku, was a prisoner of the Soviet Union. Now I think Azerbaijan is Azerbaijan. We are something else. The metamorphosis has to be very strong and fast, maybe furious!
Pierre Thilloy – Brief Biography
Born on 30 September 1970, Pierre came to music comparatively late, at the age of 20. He studied in Nancy, at the Conservatoire in Luxembourg and the Mozarteum in Salzburg. His first commission for a full orchestra 1999 produced his second symphony, L'Homme apocalyptique, for over 100 musicians and two accordion players. Pierre has won many international awards, including the Olivier Messiaen prize from the Berlin-based Guardini Foundation in 1998. Between 1999 and 2002 he was composer-in-residence at the Abbaye de La Prée in central France. This was followed by stints as composer-in-residence at the French embassies in Azerbaijan, Uzbekistan and India. Since 2006, he has been professor of composition, orchestration and film music at the University of Nancy. Pierre has composed over 200 works, including two operas, eight symphonies and four scores for silent films.