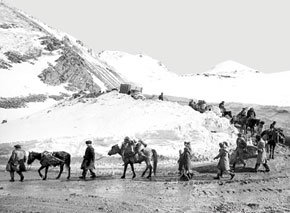 IDPs from Kalbajar, on Murovdagh Mountain, 1993. Photo: Ilgar Jafarov
Neil Watson of The European Azerbaijan Society (TEAS) talks to former mediator Ambassador Jacques Faure and Research Fellow Dr Kamala Imranli-Lowe.
The year 2014 was one of great volatility in the Armenian–Azerbaijani conflict over Nagorno-Karabakh. Two decades on from the cease-fire, tensions escalated to a new level during the summer, with over 30 casualties on both sides. Three meetings took place between Azerbaijani President Ilham Aliyev and his Armenian counterpart Serzh Sargsyan in Sochi, Newport and Paris. However, just as the Paris summit concluded in November – regarded by commentators as positive – Armenia conducted military exercises in the occupied territories of Azerbaijan. During these, two military helicopters threatened Azerbaijani forces defending the 'contact line', and one was shot down.
At this time of heightened tension it was, therefore, appropriate that a roundtable entitled The Nagorno-Karabakh Conflict – the Uses and Misuses of History should be organised on 26 November by the University of Birmingham Research Group on the Caucasus in collaboration with the Centre for Russian, European and Eurasian Studies and the Department of Political Science and International Studies. This provided the opportunity to gauge the opinions of two experts on the region – Ambassador Jacques Faure (JF), France's former co-chair of the OSCE Minsk Group, and Dr Kamala Imranli-Lowe (KL), research fellow at the Centre for Russian, European and Eurasian Studies, University of Birmingham.
On 12 November, an Armenian helicopter was shot down over occupied Aghdam by Azerbaijani forces. Almost immediately, Azerbaijan declared a no-fly zone over Nagorno-Karabakh and the surrounding districts. Armenian President Serzh Sargsyan nonetheless flew by helicopter into the airport in Khojaly, recently reopened by the Armenians despite objections from Baku. What are the ramifications of these acts?
JF: Well, firstly, it's difficult to assess, because I haven't been on the spot. I know that OSCE teams are doing their best to investigate and get a proper explanation on what has happened. Secondly, it is difficult to understand the rationale behind these huge-scale Armenian military manoeuvres, especially following the Paris summit, which was quite successful. Thirdly, there appears to be a lack of concern regarding the loss of human life, regardless of the number of deaths.
KL: In my opinion, such an incident was expected and it happened. This will be the case as long as this occupation continues, as long as there is a notion like a 'contact line' within the internationally recognised borders of Azerbaijan, and as long as Armenia holds military exercises within the internationally recognised borders of Azerbaijan. In order to avoid this, the international community should be more active and be on the side of justice, rather than justify the separatism. There should not be any justification for the occupation of another country's territories. As a historian, this is a moral issue for me. The principle that I follow in relation to any conflict, be it in Azerbaijan or other countries, is to maintain respect for territorial integrity and the fixed, internationally recognised borders of all countries. I suggest that efforts should be made to withdraw Armenian occupying forces from the Azerbaijani territories. Only then can we talk about peace, otherwise more casualties are unavoidable.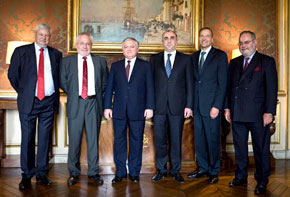 (Far right) Jacques Faure, former French co-chair of the OSCE Minsk Group, poses for a group photo in Paris in 2012 alongside (from left) Andrzej Kasprzyk, personal representative of the OSCE chairperson-in-office; Russian Co-Chair Igor Popov; Armenian Foreign Minister Edward Nalbandian; Azerbaijani Foreign Minister Elmar Mammadyarov; and former US Co-Chair Robert Bradtke. (Photo: French Ministry of Foreign Affairs/Julien Faure)
Azerbaijan shot down the Armenian military helicopter over its internationally recognised air space – this contained three pilots from Armenia – not Armenian civilians from Nagorno-Karabakh. If the root causes of the issue – Armenian territorial claims and occupation – are not tackled, the conflict will continue.
JF: The return of the occupied territories remains part of the peace proposals, and that is clear to all. We all have to be extremely cautious because we are discussing matters that are very important for human lives on both sides. I believe that politicians in both countries still intend to solve this conflict by peaceful, negotiated means. However, this is made very difficult when there are deadly incidents. The OSCE Minsk Group has proposed peaceful means for the solution, but we must also deal with situations that have been transformed by the warfare, by the ethnic cleansing and by peoples being displaced from their homeland, etc. This is a tragedy for human beings. We also have a different de facto situation, which is the occupation of the seven districts around Nagorno-Karabakh.
It may be very difficult for the Azerbaijani side, and I understand this, to consider that evacuation of the occupied territories could be a bargaining chip for something else. However, if Azerbaijan genuinely wants to go, in good faith, towards a peaceful settlement, it implies that every side is involved and the necessity for compromises. Without this approach, it will be difficult to achieve a peaceful, negotiated settlement.
KL: I disagree with the terminology that you use when you say 'Nagorno-Karabakh and the occupied territories of Azerbaijan', as if they are separate, because Nagorno-Karabakh is also an Azerbaijani territory under Armenian occupation. Azerbaijan has offered the region of Nagorno-Karabakh a high level of autonomy within Azerbaijan.
In my view, territorial autonomy is never a solution to any conflict, but instead lays the foundations for future conflicts. In fact, the status of territorial autonomy granted to Nagorno-Karabakh on 7 July 1923, following the Kavburo [Caucasus section of the Russian Communist Party – Ed.] decision of 5 July 1921, whilst not granting the same autonomy to Azerbaijanis living in Armenia, remains the basis of the current stage of the conflict.
In order to avoid future conflicts, I support the idea of cultural – not territorial – autonomy.
JF: Some Armenians already understand that unless they move towards a negotiated peaceful solution, they will risk their state and their population with more violent actions. If the situation continues for 10 or 20 more years, a solution is impossible. On all sides, politicians need to decide that the time is right to try to speak to their populations about the elements that would possibly lead towards a peaceful solution. However, I understand that they do not consider that this is that moment, but in the future they should definitely consider such compromises. Maybe I am being overly optimistic, but I think they are very conscious of this situation.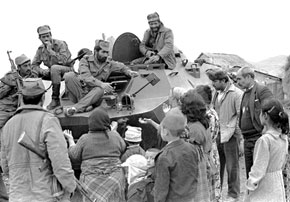 People ask if they have to leave their houses, Aghdam, 1993. Photo: Oleg Litvin
This year has been particularly bad, with between 30 and 70 servicemen being killed on the 'contact line' between 27 July and 6 August. Why do you think it happened this year?

JF: There is a human factor. When you have a contact line separating two different armies by 300–500m, with both armies using the most modern available armaments, including long-distance rifles, casualties are unavoidable. I have visited the 'contact line' many times with the other OSCE Minsk Group co-chairs, and can understand how this happens. When night falls, and you see the soldiers' faces – particularly those who are posted on duty at night – the look on their faces speaks for itself. You understand that they are scared, and when any incident occurs, guns are fired. It's not logical, human, or good, but the situation may result in many casualties and losses of human life. This should be a strong argument for the leaders to seriously pursue a policy of negotiations.

The year has also seen three meetings between the Azerbaijani and Armenian presidents in Sochi, as an immediate reaction to the summer clashes, and then in Newport and Paris. Do you believe these meetings have helped reduce suspicion and increase understanding, despite the subsequent helicopter incident?

JF: I believe these meetings were ultimately positive, although this is really a question for the two presidents. I hope and believe that the outcome of the recent incident will be the opportunity for tête-à-tête talks. Their recent dialogue has assisted in developing perceptions of their opposite numbers and their position in relation to the conflict. They have a great responsibility for leading their people towards progress and a better future.

What can the EU and UN do to end the conflict?

JF: This is also a question for the leaders of the conflicting sides. What are their expectations? From what I understand the sides are committed to working within the OSCE Minsk Group format and they hope this will produce positive results. The OSCE Minsk Group has a mandate and mission to fulfil, and we are doing our best to achieve this whilst in direct contact with both heads of state. With regard to UN proposals for the peace settlement, there is, of course, the need for some international peacekeeping operation, force or something of that nature. This would be necessary to help the conflicting sides trust each other better – this trust does not otherwise exist to a sufficient extent.