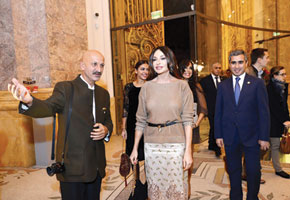 Reza welcomes Azerbaijan's First Lady Mehriban Aliyeva to the exhibition
Images of Azerbaijan have reached the heart of Paris in an exhibition of work by renowned photojournalist Reza. Azerbaijan – The Elegance of Fire opened in the Petit Palais, a museum between the Champs Élysées and the River Seine, on 25 November.
Two albums accompanying the exhibition were presented on the 28th – Massacre of the Innocents and Azerbaijan – The Elegance of Fire. The books were published with the help of the Heydar Aliyev Foundation. The Foundation's president, Azerbaijan's First Lady Mehriban Aliyeva, attended the presentation and viewed the exhibition.
Massacre of the Innocents
Addressing guests at the presentation, Reza thanked Mrs Aliyeva for the Foundation's support. He spoke about his relationship with Azerbaijan:
Since 1987, when I made my first trip to Baku, I have visited Azerbaijan several times as a photojournalist. I've covered for international media powerful and tragic moments in the history of the country, such as Black January in 1990, the conflict in Nagorno-Karabakh and the massacre of the village of Khojaly in 1992.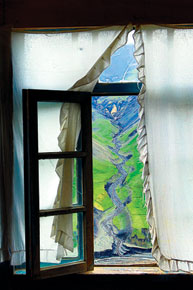 From Azerbaijan - The Elegance of Fire ©REZA
The book Massacre of the Innocents includes images from the Armenian-Azerbaijani conflict over Nagorno-Karabakh, from camps for refugees and people displaced by the war and from the Khojaly tragedy.
Most of my life has been spent in conflict zones, Reza said. Every photo I have taken during a conflict has made me live that conflict. My experiences during the Nagorno-Karabakh conflict made it one of the bitterest times of my life.
Azerbaijan
The photographer described the second book, Azerbaijan – The Elegance of Fire, as a visual and poetic ride, a testimony in images to the evolution of a country, to the plurality and richness of its ancestral cultural identity.
From the Caucasus mountains to the steppes of Shirvan, Reza's photographs in both the book and exhibition show ordinary life across Azerbaijan. He has captured the ancient sport of chovgan and Azerbaijani ballet, children playing and craftsmen at work.
Impressions
A real discovery of a little-known country. An original design, very aesthetic. One has the impression, in November, of leaving for the countryside to meet very beautiful characters, reviewer Estelle Grenon wrote of the exhibition (etat-critique.fr).
Another reviewer, Gwendolina Duval, was struck by the contrasts: The exhibition is a mixture of strength and poetry. Two contradictory forces that confront one another. It is hard and soft at the same time. (Actuphoto.com)
Reza has such a compassionate view of our world, Anne Kerner wrote on Ouvretesyeux.com. This is a very beautiful exhibition that shows the ambivalence between a country at war and all its beauty.
Reza
Reza Deghati, who prefers to be known simply as Reza, was born in 1952 in Tabriz, capital of Iran's East Azerbaijan Province. He has travelled the world as a photojournalist, mainly for National Geographic, and won a host of awards.