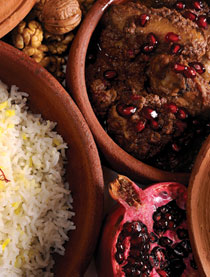 Someone has overhauled my kitchen. The apples in my fruit bowl are joined by pomegranates and greengage plums; the fridge houses natural yoghurt, soured cream and an abundance of dill, tarragon and coriander; and my newly exotic cupboard is crammed with chestnuts, sour cherries, rose water, saffron and a mountain of shelled hazelnuts and walnuts. The culprit? A duo named Tahir Amiraslanov and Leyla Rahmanova, with their collaborative recipe book The Azerbaijani Kitchen.
Published by London-based independent Saqi Books which specialises in North Africa and the Middle East, The Azerbaijani Kitchen takes you through the most popular, traditional dishes that formed part of family life and celebrations in ancient times and still do in modern Azerbaijan. Split into chapters from Stuffed Vegetables and Leaves and Fermented Milk Dishes to Offal – "thrifty Azerbajianis utilise every part of the animal they eat" – Kebabs, Sweets and Desserts and Drinks, it's a tempting compilation of more than 100 recipes, many of which "claim health-giving and curative benefits", says the Foreword.
Most recipes are laid out in about four or five short steps which makes them easy-to-read and nice and approachable. So, I dive in: Chicken Pilaf with Qazmaq (golden rice crust), a fried chicken dish with raisins and apricots, accompanied by saffron-infused steamed pilaf and its sweet, crunchy crust.
I made it my mission to stick as closely to the recipes as possible, so out went my FryLight 1 Cal Spray cooking oil and in came the tablespoons of butter, in which my chicken legs were gently browning on the hob before being transferred to the oven, while the saffron, raisins and apricots steeped in boiling water, all waiting to be served with the fluffed-up rice.
My qazmaq in progress wasn't quite so easy going. Made from a mixture of flour, vegetable oil, soured cream, natural yoghurt, sugar and salt, there was no chance my sticky goo was going to "roll out thinly into a circle larger than the base of the saucepan". But I stuck it in the pan anyway, layered the rice on top, poured over some melted butter and the saffron infusion, and after 40 minutes of patient steaming produced a wonderful rusty-orange coloured rice crust, just like it was supposed to be! So, who are these masters of national cuisine and authors of this book?
Chef Tahir Amiraslanov has many accolades to his name: president of the National Culinary Association in Azerbaijan, chairman of the Traditional Food Committee of the International Popular Art Organisation under UNESCO and vice-president of the Russian Culinary Association. He has spent months researching dishes, traditions and etiquette of 9th-12th century Azerbaijan, and has judged various cooking competitions internationally. Leyla Rahmanova graduated with a Master's degree from the University of Languages, Azerbaijan in 2003 and now works for the Golden Books publishing house. She grew up around cooking and hospitality, and her family continues to run a local restaurant in Baku.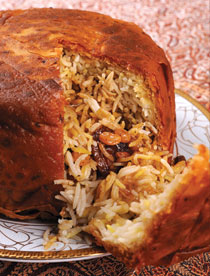 As a team they have compiled a truly beautiful book with flower and bird motifs, sumptuous-looking photos, and charming explanations about the origin of signature dishes and their part in festivals and celebrations, with both their Azerbaijani names and their English equivalents. It's a gentle, delightful introduction to what is a varied, complex cuisine – and culture – influenced by both Eastern Europe and South-West Asia.
As I write this I'm sipping delicious Lemon Sherbet, as traditionally served at weddings, dinner parties and banquets. In this part of the world sherbet is not a sorbet or fizzy powder sweet, "but an unfizzy drink prepared from lemon, basil, mint, saffron or other herbs, flowers and fruits", usually served over ice, and which "could possibly be considered the national soft drink". Simple to make, you boil the rind of six lemons with two litres of water and leave it for four hours to infuse. Then you mix in 500g of sugar and the juice of the same lemons to create a sweet, tangy drink like old-fashioned lemonade.
The ingredients in the book are those that have always grown in Azerbaijan, with its fertile soil and 11 climatic regions providing rich and varied seasonal produce. This includes fresh herbs such as mint, marjoram and watercress, vegetables such as aubergines (egg plants), tomatoes and peppers, not to mention the fruits – watermelon, mulberries – and the spice sumac.
Of all the fruits, the pomegranate is the country's trademark and the book calls upon it frequently, its juice, syrup, molasses, and decorative ruby-coloured seeds. Chicken Stew with Walnut and Pomegranate Sauce is a "special occasion dish…slowly cooked" in which you can choose the juice, syrup or molasses depending on what's in your cupboard. Another well-considered recipe, after boiling the chicken with onions and stock, you simply stir in the pulverized walnuts and pomegranate syrup with a little lemon juice and sugar, and cook on a low heat for one hour. Then serve with steamed rice (syuzm plov). Soon after we sit down to eat I can hear my boyfriend's appreciative "Mmm"s. Then he swallows, and gives his biggest cooking compliment ever: "This is definitely the best thing you've ever made."
And I've hardly started. Next on the menu is Crown Pilaf with lavash crust, which you crack open to reveal the steaming rice with chestnuts and raisins, then the Fruit-Stuffed Trout with cherries, or perhaps the Tandoor-Baked Sturgeon with turmeric and prunes. There's also Sugar Pies to try, sweet, wheat Halva, not to mention the Walnut Pastries – Pakhlava. It might take a bit more time to work up to the Calf's Foot Soup, though.
The Azerbaijani Kitchen is an ideal gift or memento for yourself of Azerbaijan, and a fabulous introduction and must-have for anyone exploring the traditional cuisine of the Caucasus region, which you can do right from your very own Azerbaijan-style kitchen wherever you are in the world. Pick up a copy at Kitab Evi on Fountain Square in Baku, or order online at Amazon.