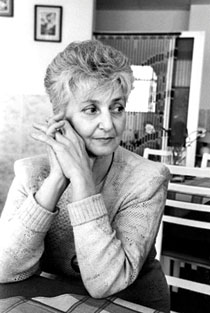 I have chosen beauty, not happiness, because God shows his face through beauty.
I first met Sara Oghuz Nazirova on an early summer trip to the races. Though racecourse and horses had clearly seen better days – this was 1997, when the young Azerbaijan Republic was still finding its feet – it was typical of Sara khanim that she should admire the grace of the animals and skill of the jockeys.
Compassion and love of beauty infused Sara Oghuz Nazirova's work as a writer and art critic. She was born in a stunning part of Azerbaijan, the north-west district of Oghuz in the foothills of the Caucasus, and took Oghuz as her pen-name. She went to Baku to study at the Azerbaijan State Pedagogical Institute, then began work at the State Art Museum in 1966.
In over 20 years at the museum, Sara Oghuz wrote a wealth of articles on individual artists for different publications and arranged exhibitions of their work. With an eye for true talent, she was often the first critic to write about an artist. She championed the work of painters who at the time were frowned upon by the establishment but have since been recognised as masters of Azerbaijani art. Fellow author Menzer Niyarli recalled that it was Sara Oghuz who coined the name Absheron School for a group of remarkable artists, led informally by the inspirational Mirjavad Mirjavadov, in the 1950s and 60s. The term Absheron School has since become accepted in Azerbaijani art history.
While Sara Oghuz's work included articles about history and culture, film scripts and plays, she is perhaps best known for her novellas and short stories. Menzer Niyarli wrote:
When [her first book] was given for review to a strict critic, Akif Huseynli, I saw the professor absorbing her stories, underlining and rereading parts in admiration.
The professor was impressed by Sara Oghuz's rich use of the Azerbaijani language and the individual voices of her characters.
Sara Oghuz's stories are full of warmth and authentic detail about life in the Azerbaijani provinces and Baku. But her tales are without sentiment – the village may be home to beauty and tradition, but it is also a place of suffocating convention. In later life she worried for the girls growing up in the Azerbaijani countryside whose opportunities in life are being ever more restricted.
Sara Oghuz is no writer of strident prose, but "speaks to her reader in a whisper", to quote fellow author Menzer Niyarli again. Those whispers were published in several collections –
Qadir Aghaji (Someone Who Knows their Own Worth), Tale Damghasi (Seal of Fate) and Beton evden yazilar (Letters from the Concrete House)
in 1986, 1992 and 1996 respectively. An anthology in English of her novellas, stories, plays and articles, Selected Works, was published in 2009 by AME. A copy is held in the Bodleian Library in Oxford, making her the third Azerbaijani author in the collection after medieval poets.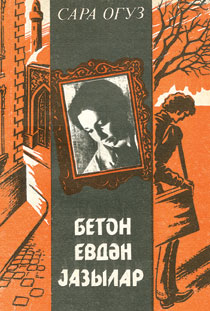 In 1984 Sara Oghuz became a member of the USSR Artists' Union and in 1988 of the USSR Writers' Union. The same year she began work for the Azerbaijan Writers' Union, most recently heading the prose department of the union's publication Azerbaijan. In 2012 she was awarded the title Honoured Arts Worker of the Azerbaijan Republic.
Sara Oghuz cut a distinctive figure, as these photos show. I've always held onto my hat, she told me once, and with characteristic generosity lent me a very fine hat to complete my wedding outfit.
Her two most recent projects were films. She returned to the work of the Absheron School in Stepping Over the Horizon (Üfüqü Ötənlər). Sara khanim wrote and presented this very personal style of documentary, although she had to absent herself from filming for sessions of chemotherapy in Moscow. Such was her enthusiasm for the project that she said that filming helped her health, rather than hindered it.
Her final major undertaking was a film about the medieval poet Mehseti Ganjevi, Sirli bənövşə (The Mysterious Violet). She was inspired by her research into the extraordinary life of this 12th century woman from Ganja, about whom relatively little is known. Illness, which Sara Oghuz had fought bravely for several years, robbed her of the opportunity to write for Visions about Mehseti.
Three of Sara Oghuz's stories – The Khan's Road, The Blonde Bride and When the Grass Grows – have been published in Visions, as have her articles The Hamam Culture of Old Baku and A Painter's Madrigal about the artist Qayyur Yunus.
Sarah 'Oghuz' Mollachi qizi Nazirova, born 29 December 1944, Oghuz District, Azerbaijan; died 23 June 2014, Baku.