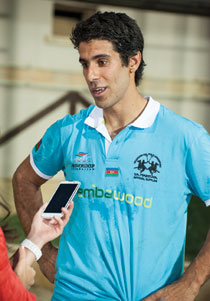 At only four months old, the Azerbaijani team achieved an impressive third place at the Grass Arena Polo World Cup Azerbaijan tournament. Visions' Jeyran Bayramova talks to Argentina's Raul Laplacette, a top international polo player who trained with and played for the Azerbaijani team.
First of all, Visions would like to congratulate you on winning Most Valuable Player of the tournament, and to thank you for contributing to the national polo team of Azerbaijan, a country new to the polo world. How did it feel to take part?
Thank you very much. It felt great! Thanks to the guys from my team, thanks to our fans, thanks to all of Azerbaijan.
Did you expect your team to come third?
The only thing we knew in advance was that it would be a very tough tournament against very strong teams. We did our best. Unfortunately, on the second day we met the very strong Chopard team, but we had good results on the final day and so achieved third place.
Last year Argentina came third out of four teams, but this year, they won. You know the team well as your brother and cousin play for them. Why do you think they won?
This time Chopard was a really strong team, right from the start of the tournament. They prepared well and were in good shape. No wonder the first day they beat Baltika-7, and again on the last day of the tournament.
Even though Baltika-7 won last year's tournament…
Yes, that's true. Baltika-7 is good team, but it seems Chopard was a little bit stronger this time. It's a game, you know…
What do you think about the new Azerbaijani team?
Well, they've improved a lot. Despite being just four months old, they have progressed significantly, but there is still a long way to go. We need more young players to train with them too.
The Azerbaijani team is formed mainly of chovgan players, and chovgan, as you know, is a little different to polo. You've played polo since childhood. So, what do you think Azerbaijani players should focus on to improve their game?
The main thing is to play and play again. The best way to learn polo is to practise. They should enter more tournaments. Indeed, there will be losses and victories, but it all helps to improve polo skill and form strong players. Right now many Azerbaijani players display good skill and I'm really surprised by their game.
So what are the chances of Azerbaijan winning the next tournament? Will they do better next time?


I am sure they will. The more we play, the closer we will get to a victory…
So, are you still going to play for the Azerbaijani team?
I hope so. That would be great.
And has Azerbaijan surprised you at all? How do you feel when training with the team?
I love the people and the country as a whole. Of course, there are many differences between Azerbaijan and my homeland Argentina, to do with religion and culture. But, you know, it is another experience for me and I'm happy to play here.